Published on:
Coconut Telefax November 11, 2019

A New Wine Store in Ponton: H&H Fine Wines and Spirits
Friends and clients of Arion Wine Company were invited for a casual afternoon reception on the occasion of the official opening of H&H Fine Wines & Spirits in Ponton.
The event was catered by The Little One, with attending guests treated to bottomless flutes of Kir Royal and a premium selection of red and white wines from among labels carried by Arion Wine Company.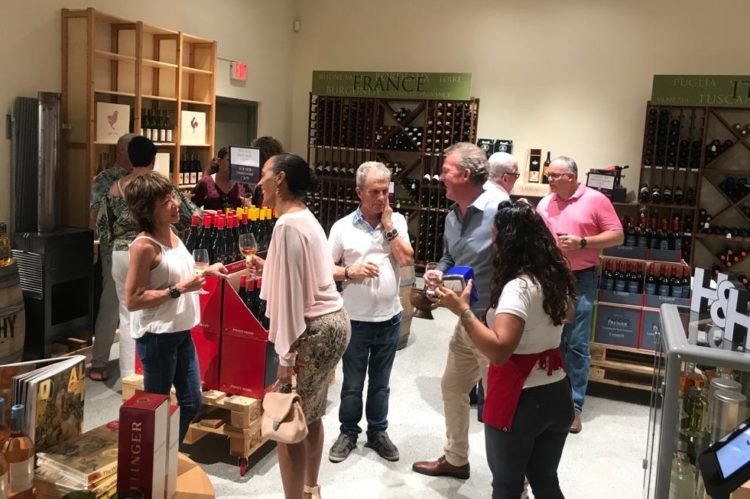 The official opening was affected by owners Bobby Holmes and Govert Van Der Hout, who teamed up to build, decorate, and merchandise the modern, stylish retail store.
Outstanding wineries were represented, including Wente Vineyards, Jordan, Simi, Marchesi Antinori, Catena Zapata, Louis Latour, Jackson Family Wines, and many others from all over the world.
The store also carries many specialties, shipped to Aruba in small batches, which are not available wholesale.
Looking for a special gift? How about large format bottles—1½ liters, 3 liters, or more—including bubbly, or an interesting set of wine glasses to go with your wine gift?
The store also carries Rewined Candles in sauvignon blanc, chardonnay, and pinot noir, which are naturally fragrant soy candles in repurposed glass.
Please stop by the store to shop any time.
Call 588-7676.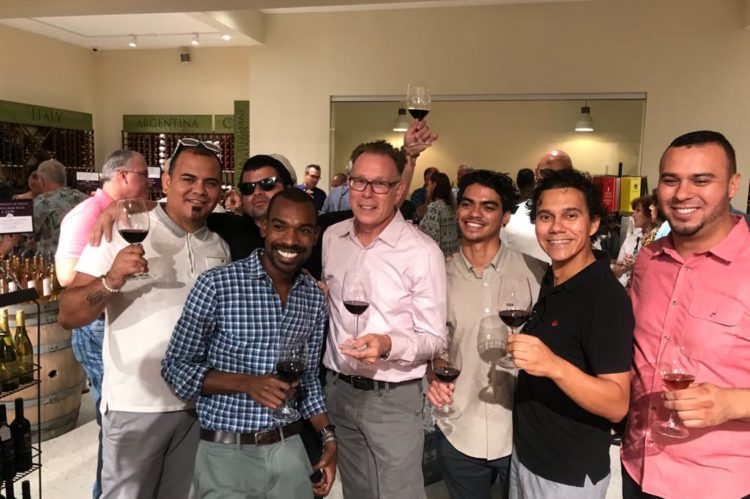 Ling & Sons Opens a Health & Beauty Store within a Store
The popular Ling & Sons Supercenter has been under renovations for a while, as it was purchased last year by Alfabet Holdings, an investment group led by Gassan Azan, a Jamaican businessman who founded the MegaMart Wholesale Club in Jamaica.
Last weekend, its Health & Beauty store-within-a-store was opened with the L'Oréal Paris Glam Squad handling makeovers over sparkling wine and snacks.
The Beauty Lab operated at the Health & Beauty store all day under the direction of Sonam Sujan, who recently joined the team at Romar Trading.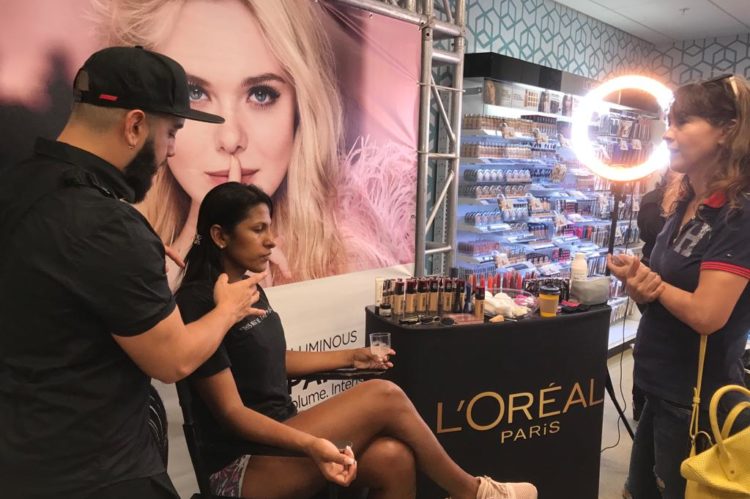 Owners' representative Omar Barrientos, country manager for the supercenter, reports his list of things to do has almost been accomplished, and the complete transformation of the Ling & Sons store is now very visible with professional lighting; innovative display shelves; an open and friendly layout; premium fruits and vegetables; a great butcher shop, with a just-introduced Prime USDA Angus beef program besides the customary Choice and Select; an extended cafeteria for hot meals; a rich salad bar; grab-n-go sandwiches, wraps, salads and fresh juices; the famous bakery, featuring breads, cakes, pastries, and desserts, including custom-cake service; a 72-door unit offering frozen meals, pizza, ice creams, and frozen fruits and vegetables; a full-service liquor store with an extensive portfolio of fine wines from California, Italy, Chile, and Argentina, and many favorite champagne labels; and the just-opened cosmetics store—all artfully illuminated and artistically displayed, with attractive graphic accents and friendly signage.
The big store-reopening party is just down the road; meanwhile, with the opening of the Watty Vos Boulevard, Ling & Sons Supercenter is more accessible than ever.
SMAC Launched Program, Jingle & Logo
Stichting Maneho di Aruba, SMAC, unveiled innovative plans for the upcoming Carnival season, with new board members on the planning committee dedicated to more colors, fresh designs, more cultural aspects on parade, and most importantly, making Carnival more accessible to visitors.
Board members include Vice President Darren Van Ommeren, Zuleika Wever, Ivor Lee, Jason Brown, and Mitch Almary.
The theme for the upcoming Carnival season is "Celebration of Cultures."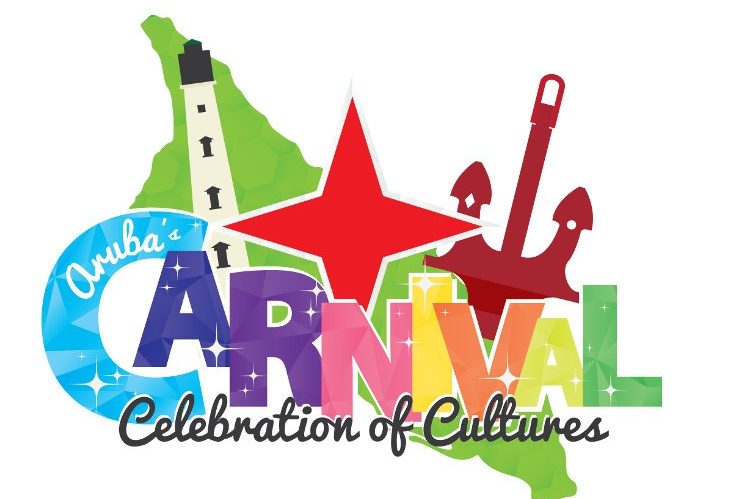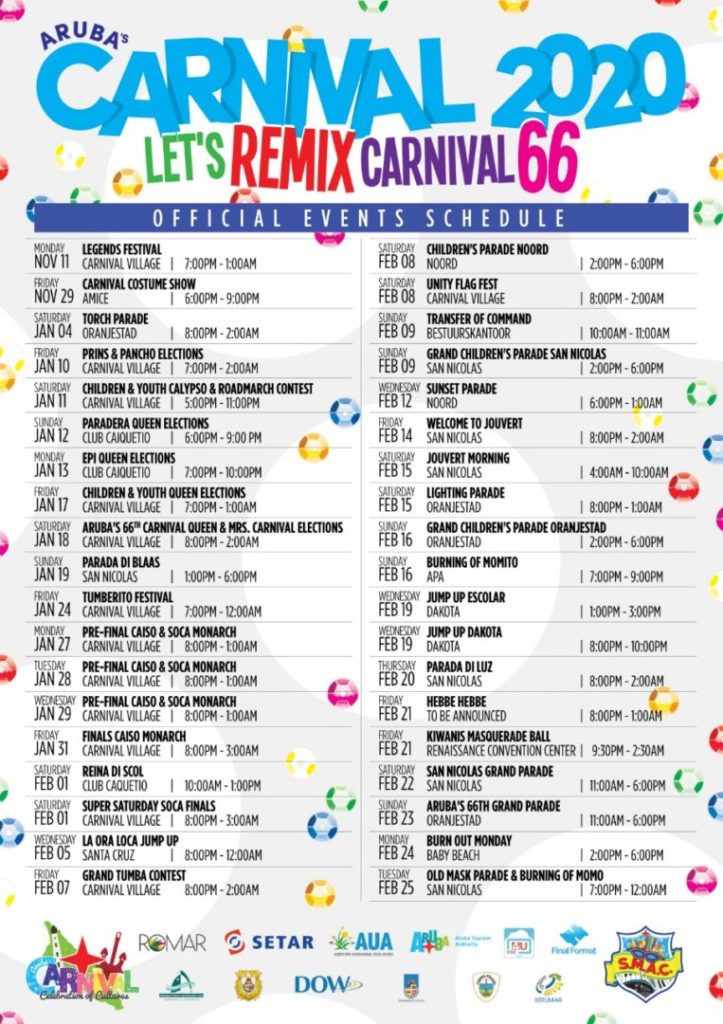 WSOP, World Series of Poker, Coming in November
Over the past months, the team at The Casino at Hilton Aruba has made great efforts and invested considerable funds in making Aruba a circuit stop on the World Series of Poker. They hoped it would become an annual event in the shoulder season, designed to boost the island's economy when needed.
The series is targeting 165 professional poker players, but will attract up to 300 vacationers, family members and friends, similar to the successful way the Ultimate Bets poker tournaments worked more than ten years ago.
The casino's teamwork will be rewarded from November 14 to November 24, when The Casino Aruba and Island Gaming NV host the World Series of Poker organization, which can easily be compared to an Olympic event or a world championship.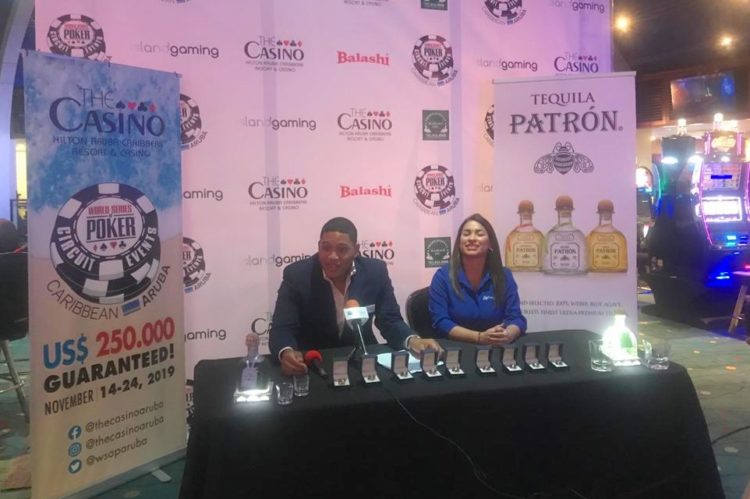 On the schedule: ten official events, presenting winners with an expensive commemorative gold ring, and one final table on Saturday, Nov. 23, in the afternoon hours, with an attractive cash prize guarantee of $250,000.
The series will start with a welcome reception at the Casino Aruba and will conclude with a poolside farewell party, both in partnership with Tropical Bottling (Bacardi & Patron) and other generous sponsors.
It is good to note that Island Gaming NV is a local company, and its ambition to put Aruba back on the world's poker map is admirable.
Players and their families will be staying at a number of high-rise hotels while all the action takes place at the Hilton Aruba Caribbean Resort & Casino.
You are invited to come watch the professionals do their magic from behind their dark sunglasses.