Published on:
Coconut Telefax November 4, 2019

Raffle, Car Show & Car Wash Fundraising Event by Mustang Sport Boys Results in a Generous Donation to Casa Cuna
The Mustang Sport Boys organized a special event on the linear park recently, where a car and motorcycle show of over 100 collectors' vehicles was paired with a marathon of bands and music to draw a large crowd of locals under the stars. As Rincon Boys, DJ Vibes, Nutzbeatz, Buleria, Vallenato, and Tsunami entertained, notary Yarzagaray, along with Christina and Ruben Yrausquin, representing Ford USA, handed a donation check over to the director of Casa Cuna, Renate van Dongen.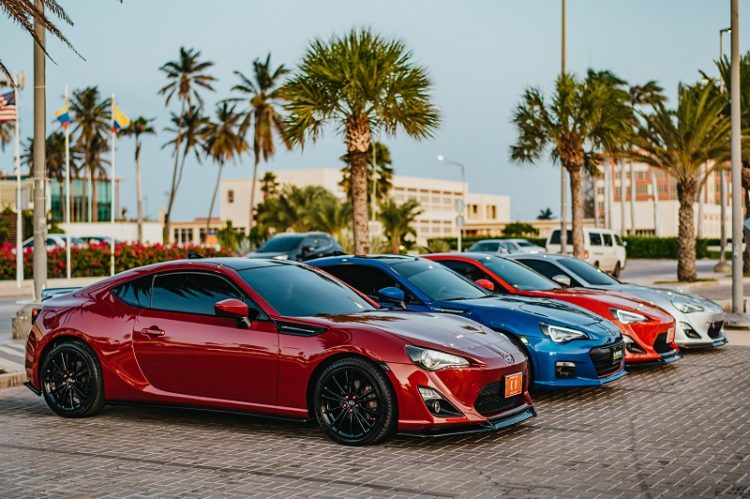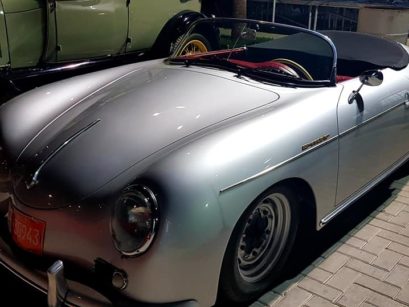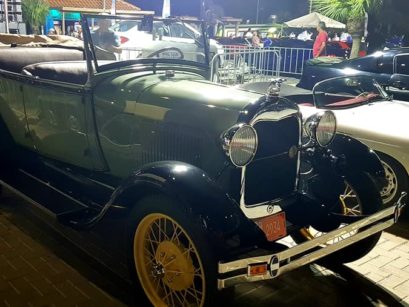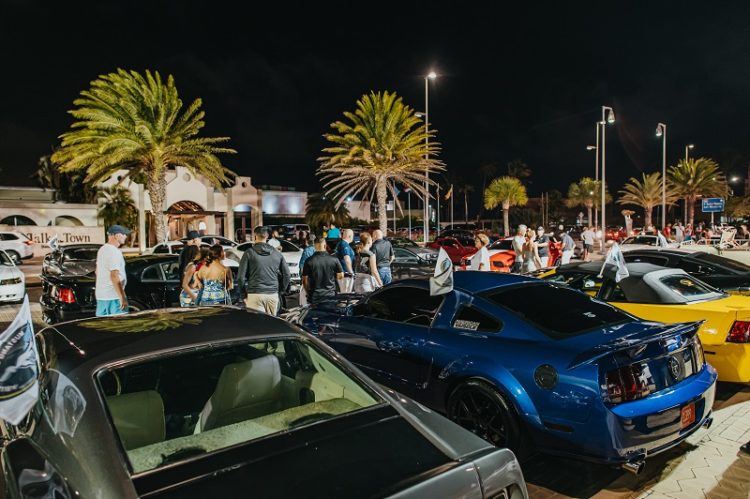 Thank you to all the generous sponsors: Yrausquin, members of Mustang Sport Boys, Marriot Aruba Surf Club, Sams, Hilton Aruba Caribbean Resort & Casino, Superfood Plaza, Bohama Aruba NV, Elite Productions, Magic FM, Rincon Boys, Vallenato Plus, CERD, Red Cross Aruba, Meteoro, Talk of The Town Resort, DJ Vibes, Nutzbeatz, Aisette Rivera, Erin Croes, and Zen Design.
Congratulations to all raffle winners, among them Anthony Alders, winning a Ford Figo 2020.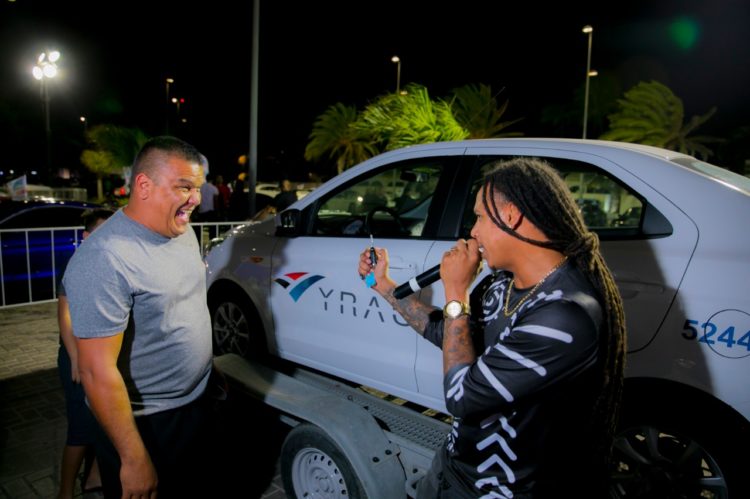 Aruba Airport Hosted the 1st Airport Funstacle Challenge
For the second time, Aruba Airport Authority (AAA) organized an event with the aim to bring airlines and ground handlers together in a fun and team-building activity after a long work day at the airport. This year, the Air Service Development team, together with Funstacle Masters, prepared a fun yet challenging course for all 10 teams to complete. Each team, consisting of five airline or ground handler employees, went head to head in an extremely fun obstacle course.
"We value the hard work and dedication that each of the airline and ground handling employees puts into their daily jobs at the airport. We are aware that processing thousands of passengers every day at our airport can have its challenges and be quite stressful at times, but these efforts are not unnoticed by AAA. It's with pleasure that we organize such stress-free events to encourage the team spirit among the airport community/family," said AAA Chief Commercial Officer Barbara Brown during her speech directed to the participants.
Aruba Airport would like to thank Team Genair-Ramp, Team Copa Airlines, Team United Airlines, Team American Airlines, Team Delta Air Lines, Team KLM, Team jetBlue Airways 1, Team jetBlue Airways 2, Team Avianca, and Team Aruba Airport for their participation. Congratulations to first-place winner Team Genair-Ramp, second-place winner Team Aruba Airport, and third-place winner Team Avianca.
The successful and fun Airport Funstacle Challenge will be back next year!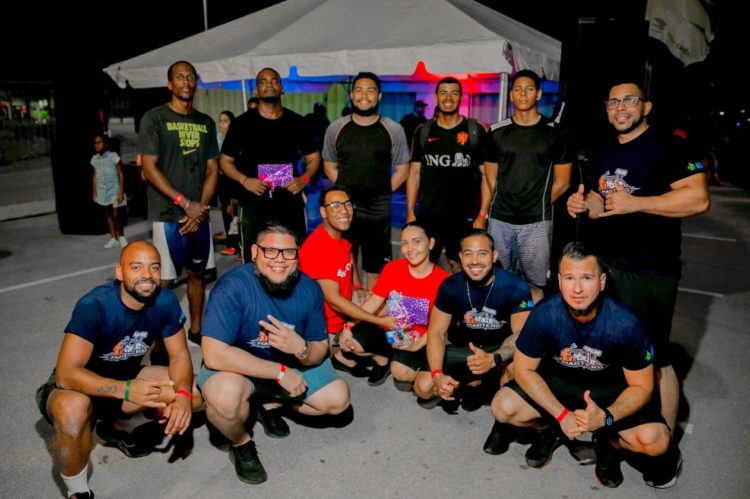 Ban Lanta & Planta
Following a post on Facebook, Ewald Biemans of Bucuti & Tara Beach Resort inspired a group of friends to launch a tree-planting initiative—not any tree, but fruit-bearing trees in local yards, where the trees will be watered and tended to.
Santa Rosa, the local department of agriculture, and other avid local gardeners jumped on board, and the small grassroots organization conducted a press conference this week, calling for a national tree-planting campaign.
The Ban Lanta y Planta campaign is inviting companies and individuals to plant trees and send in videos and pictures to the dedicated Facebook page, with a chance to win attractive prizes, including dinner at Elements restaurant, lunch at Baz-rrr, tickets to De Palm Island, vouchers for Fantastic Gardens, a hotel stay, and much more.
How to participate in the Ban Lanta y Planta Facebook campaign: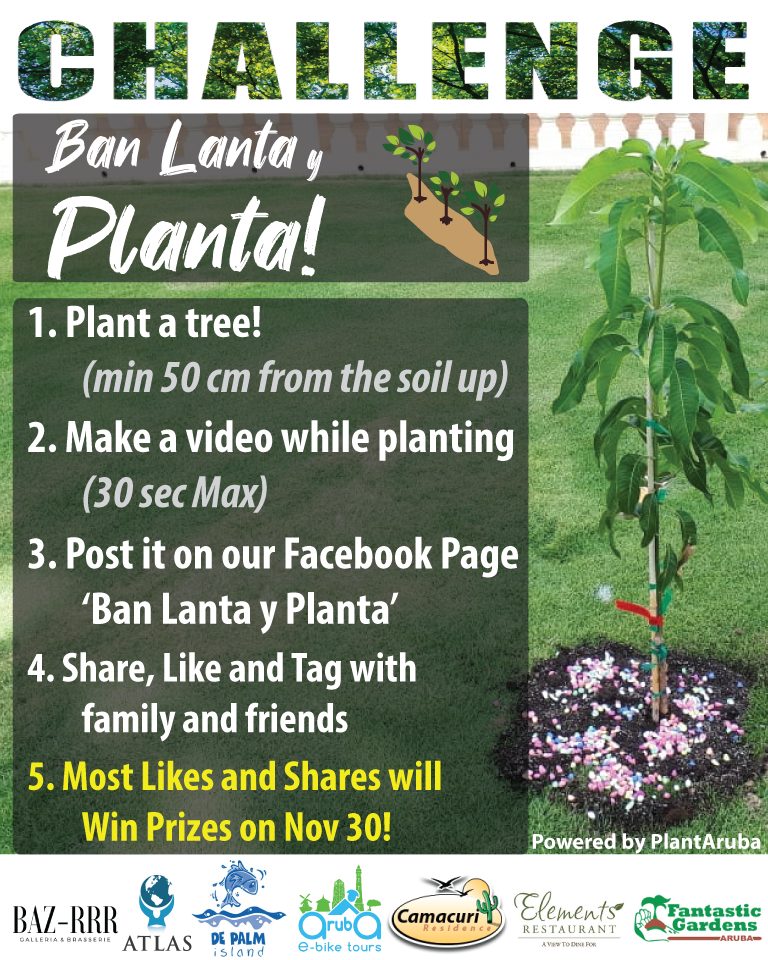 At the end of the campaign, on November 30, Ban Lanta y Planta will select winners among the posts with the most shares and likes.
And the WINNER is, from Aruba, Playhouse Entertainment
The 5th edition of ATECH brought to us by Tristan Every, Rudy Croes, and the rest of the CR38te team concluded October 31 with the announcement of the winners of the Startup Pitch Competition. Participating this year and reaching the finals were an apparel & fashion startup from California, a renewable energy startup from Puerto Rico, and a children's education & entertainment startup from Aruba.
The winners, Playhouse Entertainment, an adorable husband-and-wife team with Jessica Posner and Marald Van Montfoort, captured the judges' attention and the public's imagination.
Their story makes sense and is relevant and relatable. Their two kids demonstrated considerable English language skills, thanks to YouTube, and less-than-perfect knowledge of Papiamento. The fix? An animated YouTube channel modeled after Kids TV, with cute animated videos teaching kids how to count and tell colors and shapes in Papiamento, and allowing them to visit Shon McDonald at his cunucu, of course—Old McDonald and his farm, translated.
If you think the videos are cute, wait until you see the books. The protagonist of the series is an animated spider with a high-pitched voice by the name of Nini, and if you ask Marald why a spider, he will tell you it just felt right.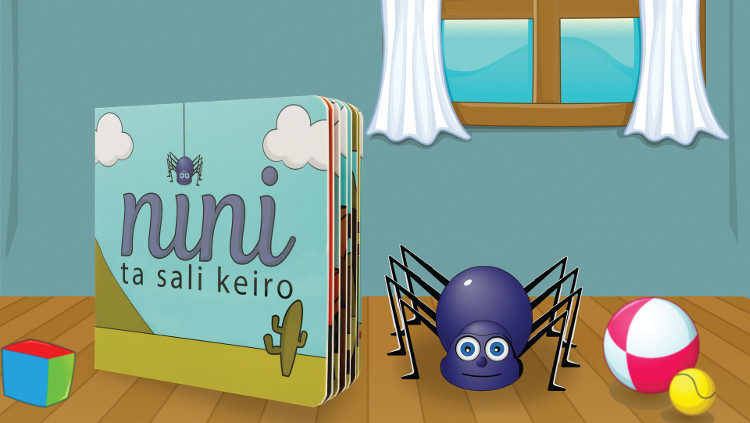 Jessica wrote the text and Marald handled the tech aspect, and as a result of their dedicated collaboration, which was one of the conference's themes, their own kids' Papiamento improved greatly.
In their interactive startup competition pitch, Marald and Jessica explained there are 26,305 Papiamento-speaking kids in the four Dutch Caribbean islands between the ages of 0 to 5, and they are the target audience.
Nini was recently introduced in the local library, and parents swooped in on the local book stores and bought a few hundred books. The TV channel garnered a respectable number of subscriptions without any formal marketing efforts.
The higher purpose: There are 3,423 registered languages at risk of disappearing, thus Nini the spider has her work cut out for her.
While the ATECH Conference was winding down, I watched Jessica & Marald waiting in the back of the room for the competition results. They were among finalists—he had his chin on her head as she was gathered in his arms. They were tense—they had been working for a number of months and hoped for the best.
They won, receiving $10,000 towards the promotion of their innovative project.
Congratulations, love birds. Miffy the Rabbit is so yesterday. Long live Nini the Spider!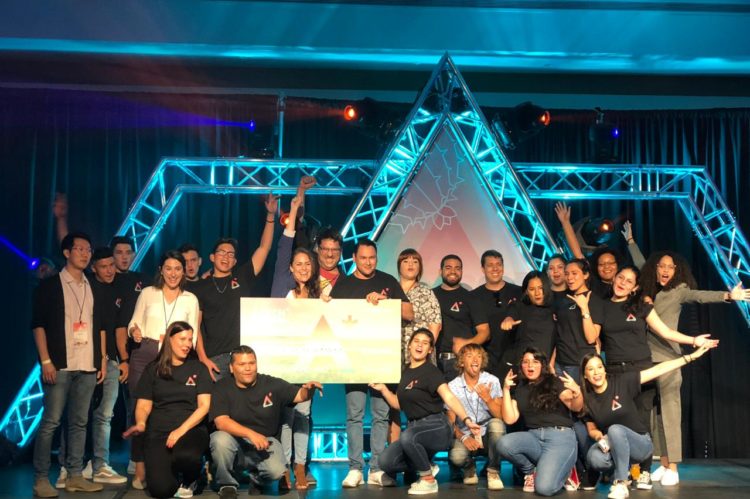 Lucio Maduro & Javier Geerman Win Tito's Putts for Paws Fundraising Tournament, Benefiting Sgt. Pepper's Friends
Divino Aruba, importers of Tito's Handmade Vodka, initiated the "Putts for Paws" Charity Golf Tournament on October 26 at Divi Links, benefiting Sgt. Pepper's Friends animal rescue foundation in view of October being "Animal Month."
Generous supporters made the event by sponsoring tournament holes, participating in the auction, and providing attractive door prizes for participants.
The nicely organized 18-hole, 2-man scramble tournament, followed by lunch and awards ceremony at Windows on Aruba, was attended by 64 golfers, Sgt. Pepper's Friends volunteers, and a number of local vets and animal advocates.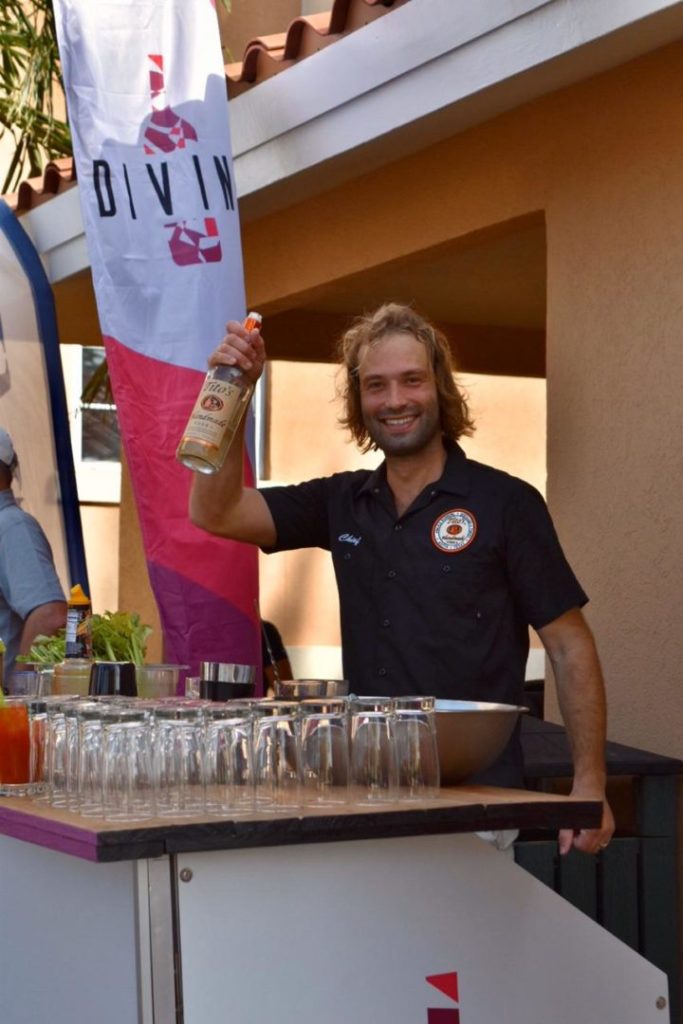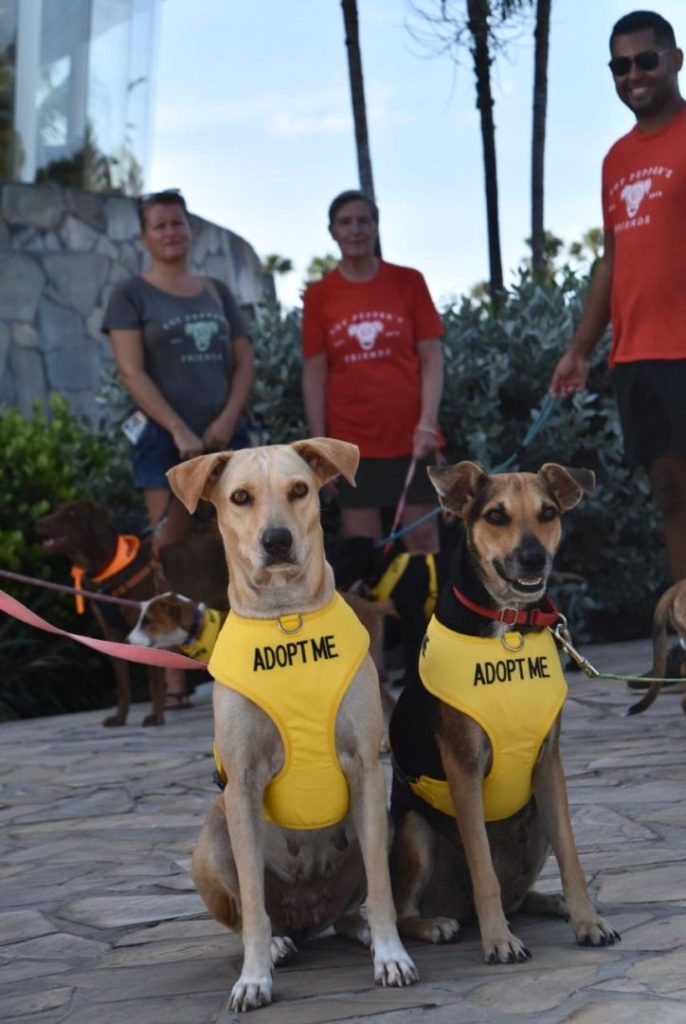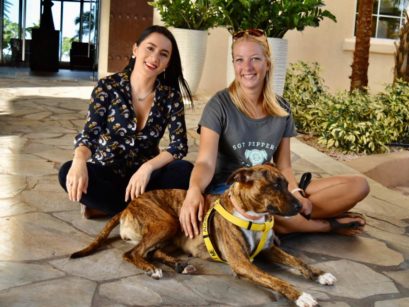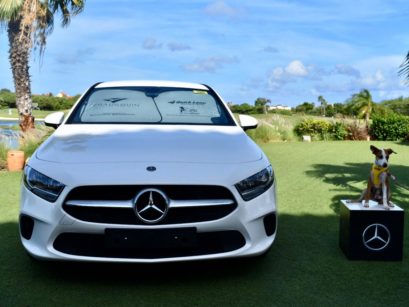 1st place: Lucio Maduro / Javier Geerman, received 2 round-trip tickets to Amsterdam, 3 hotel nights, and 2 rounds of golf
2nd place: Harold Hagens / Vijay Luidens, received 2 Tito's golf bags
Closest to pin, on hole 3: Lucio Maduro
Longest Drive Gents: Cisco Quandt
Longest Drive Ladies: Marriot Gorter
2nd place equal: Juan Boache / Orlando Luzardo
Hole-in-one sponsor: Irausquin (Mercedes Benz A-Class)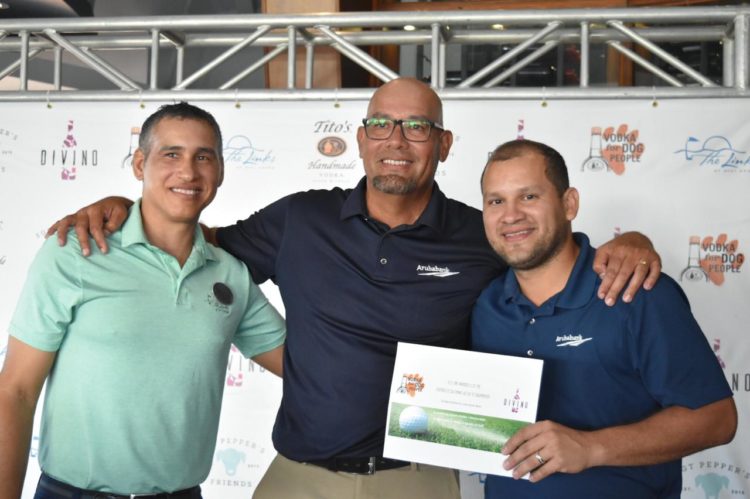 Hole sponsors: Crown, Garage Centraal, Grant Thornton, Compra / Purina, Caribbean Mercantile Bank, Bonbini Cargo, Benu Caribbean, Digicel, Aruba Investment Band, Atlas, Guardian Group, BonBini Cargo, ASD, Glitz Casino, and AAA Reina Beatrix.
Contributed to raffle: Aruba Marriott Resort & Stellaris Casino, The Salamander Group, Aruba Aloe, Fusion Wine and Piano Bar, Amsterdam Manor, and Screaming Eagle.
Contributed to the auction: Casablanca Jewelers, Matthew's Restaurant, The Ritz-Carlton, Windows on Aruba, Flying Fishbone, Indulgence by the Sea, The Ritz-Carlton Spa, Pure Indulgence, Renaissance's Fresco, Sunset Grille, Riu Atlantis Restaurant, Riu Antillas, De Palm Tours and De Palm Island, Casa Nonna, artist Eliza Lejuez, La Cabana Beach Resort & Casino, Divi Village, Divi Phoenix, Jolly Pirates, and Gallery L'America.
Best feature: The parade of adoptable dogs from Sgt. Pepper's Friends, who posed for a photo opportunity at the shotgun start.