Published on:
Coconut Telefax October 14, 2019

Prime Minister Evelyn Wever-Croes Joins Fire Prevention Month Parade
Visitors wondering why fire-fighting equipment and emergency services were on full display on Friday afternoon in the heart of Oranjestad were pleased to hear it was a mini parade of kids celebrating Fire Prevention Month with the island's firefighters (or in the local language, Papiamento, Nos Cuerpo Di Bombero).
The annual celebration of Siman di Prevencion di Candela, hosted by Brandweer Aruba, passed in front of the government building where Prime Minister Evelyn Wever-Croes and the Minister of Justice Andin Bikker welcomed it and thanked the island's emergency services for their commitment to public safety and the prevention of calamities.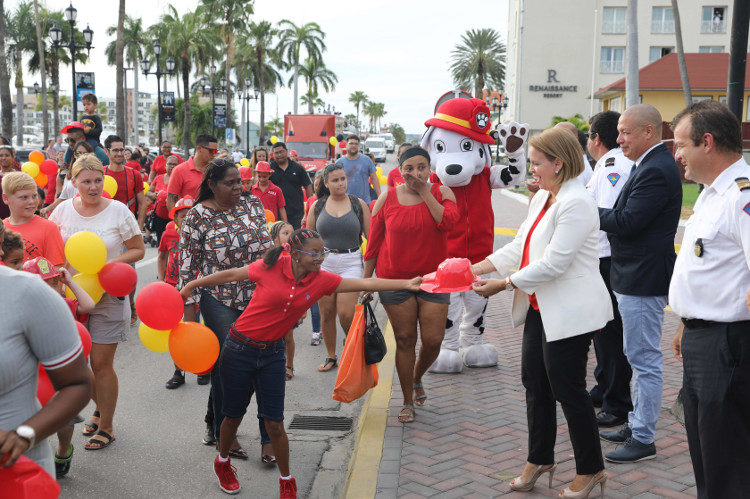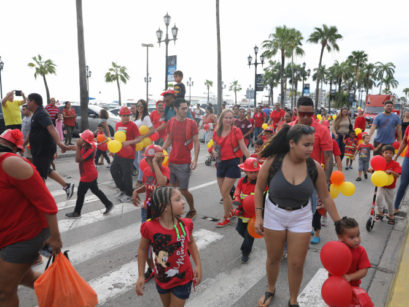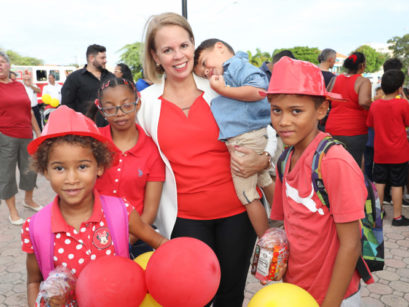 The kids were mostly thrilled to climb all over the firetrucks and admire the professional fire-fighting equipemt. The event, organized by Dienst Brandweer Aruba and its not-for-profit foundation, Stichting Korps Brandweer Aruba, delayed downtown traffic in the late afternoon, but Aruba is famous for its love for parades, and this was just a short one.
Beware of Utterly Sexy Partygoers at MooMba's Halloween Party
Sexy Latin Night is the theme of the upcoming Halloween Party at MooMba. Your sexy outfit can be scary, totally weird, or exceptionally revealing—as long as you are sexy, you might win one of the prizes for Best Costume. The Halloween Party will be held on Thursday, October 31. Starting at 7 pm, C-zar will perform on stage, and at 9 pm, DJ Bradley Fonseca will play his music. Casamigos tequila shots on special will caress the throats that have been screamed raw, and ice-cold Corona will also go on special per bucket.
Howling winds, crackling noises, and shattering laughs all belong to Halloween, so prepare yourselves for a night filled with FUN. Beware!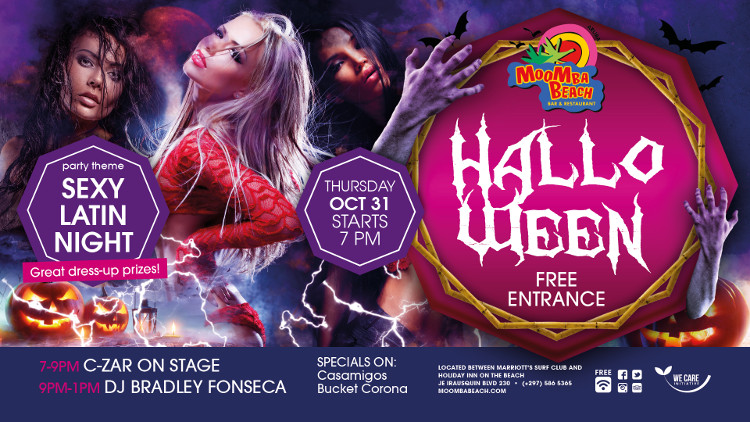 Government Recognizes Social Responsibility of RIU Palace Antillas
The minister of social affairs and labor, Glenbert Croes, met with Riu Palace Antillas management to present it with a token of appreciation in recognition of social projects and giving back to the community.  The recognition stated that the family of RIU Hotels & Resorts in Aruba, members of staff and management, have a social heart of gold.
Minister Glenbert Croes praised RIU Hotel's great sense of social responsibility saying, "We bestow this recognition in appreciation of RIU Hotels and Resorts' generosity, under the stellar leadership of General Manager Juan Blanco."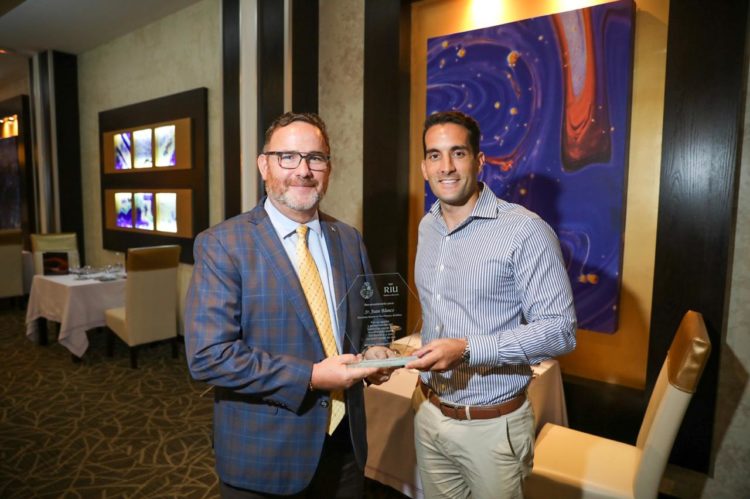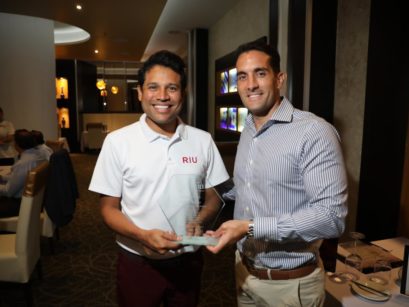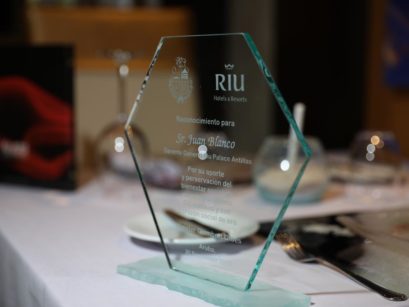 The minister then went on to speak about the importance of private/public sector partnerships in alleviating social challenges.
Juan Blanco shared the plaque with the hotel's Corporate Social Responsibility department, responsible for community work around the globe.
Amsterdam Manor Beach Resort and MVC Eagle Beach Join Aruba Reef Care Project 2019
On October 4, 2019, the 25th Annual Aruba Reef Care Project, organized by the Aruba Reef Care Foundation, took place with the dynamic teams of Amsterdam Manor Beach Resort and MVC Eagle Beach as active participants.
They covered various areas during the cleanup, such as Bushiri Beach, Eagle Beach, Palm Beach, Surfside Beach, Mangel Halto, and Grapefield, collecting great quantities of marine debris.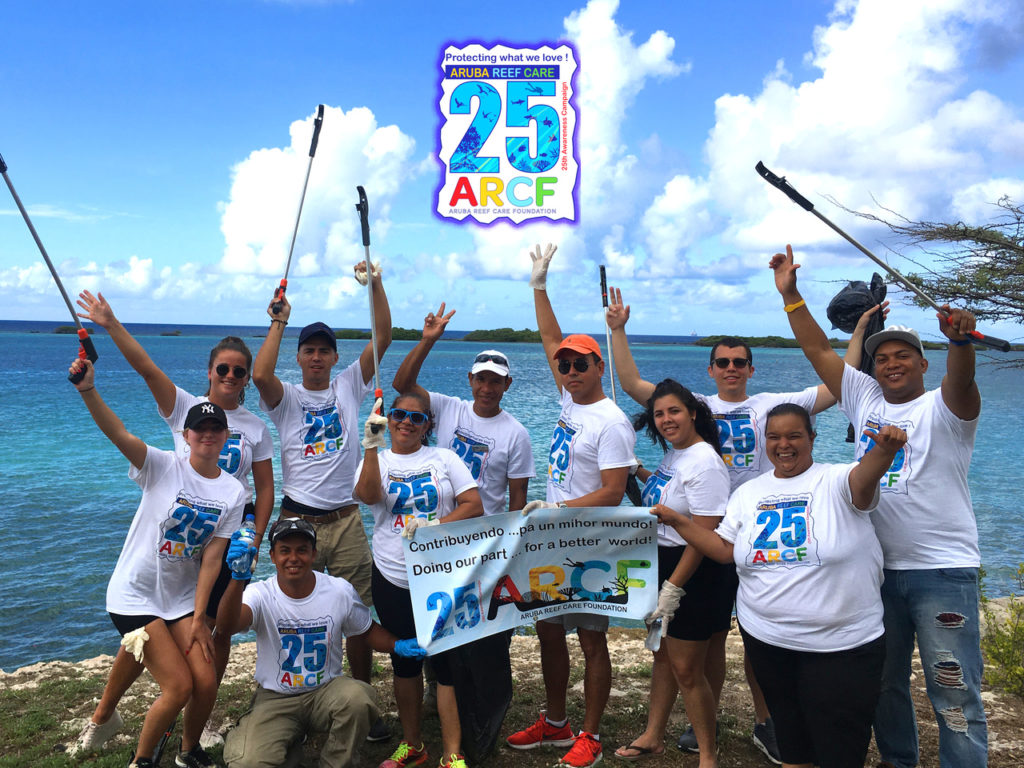 Headquartered at Neptali Henriquez Park, adjacent to the Surfside Beach, all volunteers received a commemorative certificate, a tee shirt, water, and refreshments.
Both resorts proved once again their total commitment to Aruba's environment, helping maintain beaches above and under water.
Thank you, generous sponsors, for making it all possible!