Published on:
Coconut Telefax Sept. 16, 2019

In Preservation of Local Folklore & Culture
Minister of Culture Xiomara Ruiz-Maduro recently joined the Brazil neighborhood for a colorful parade and cultural manifestation.
It was Brazil Day in the neighborhood just west of San Nicolas. The neighbors got together for a parade and a cultural manifestation and had a great day, as our pictures attest.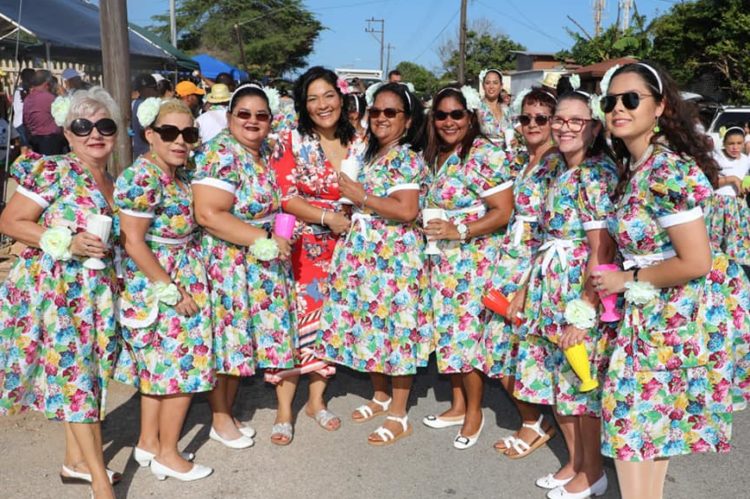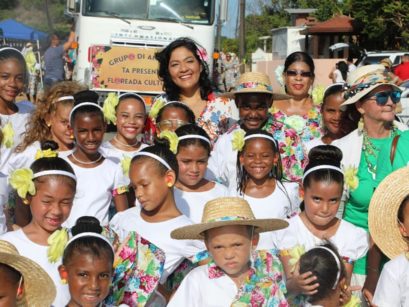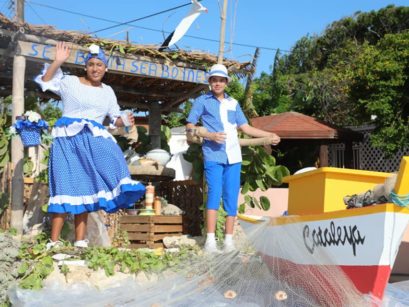 The event was organized the ninth year in a row by Fundacion Chico Harms, Centro di Bario Brazil, and Comision Eleccion y Parada Cultural. Kids and adults came out into the street in folkloric costumes, played typical music, enjoyed local snacks, and danced with the performers of Grupo di Corsou.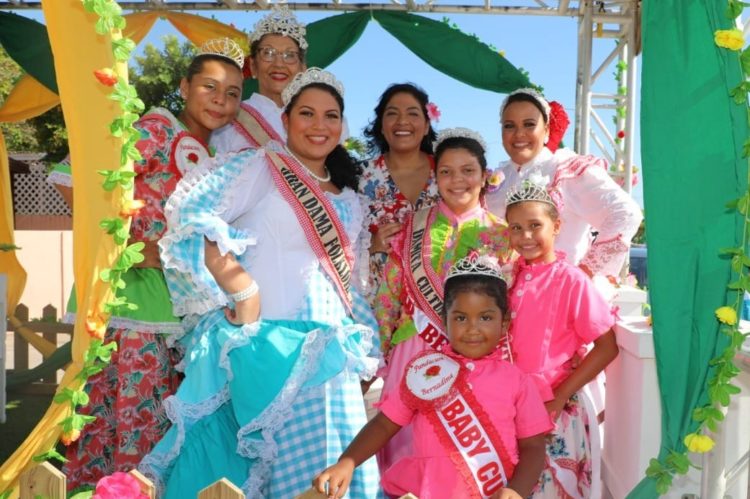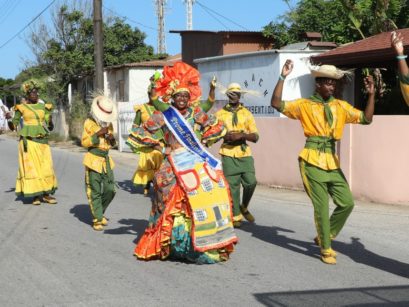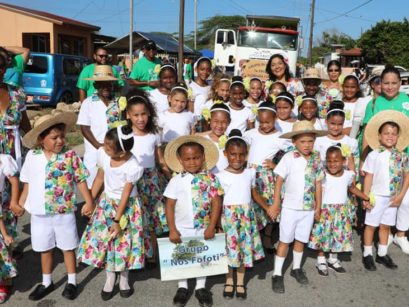 Garage Centraal Hosts a Mega Hunter Car Sale Event
Garage Centraal Aruba, official dealer of Hyundai, Volkswagen, and Isuzu vehicles, has been the island's premier car dealership since 1995. Recently, the garage hosted an open house designed to bring locals into the giant showroom at Sabana Blanco, in Oranjestad.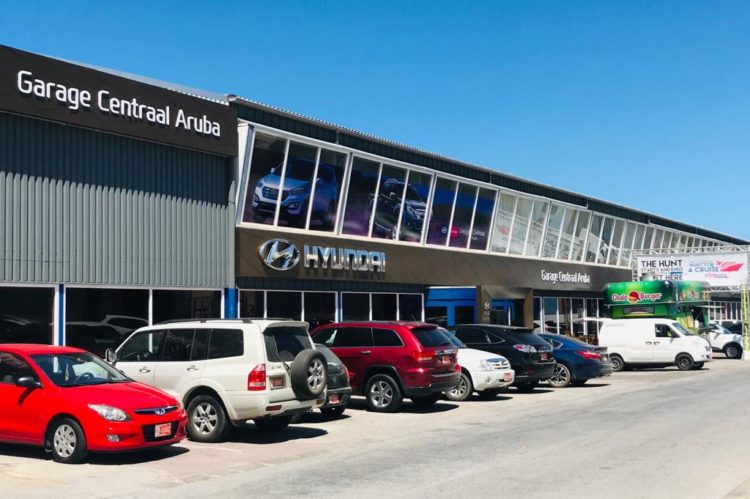 Visitors to the showroom were treated to quality burgers by renowned Chalo Burger food truck and tropical smoothies with The Little One, a popular party caterer.
A fleet of expert sales agents welcomed car shoppers, and those prepared to consider an immediate purchase were directed to the Aruba Bank agents on location.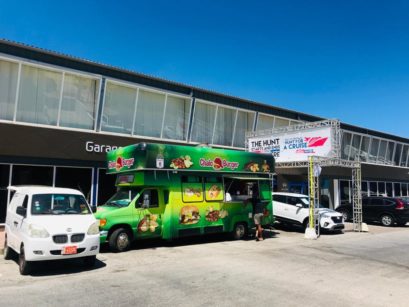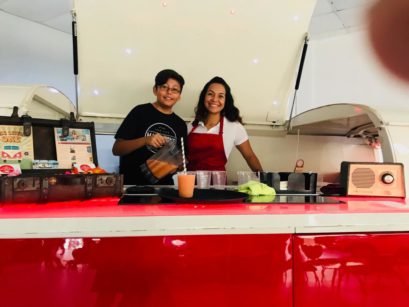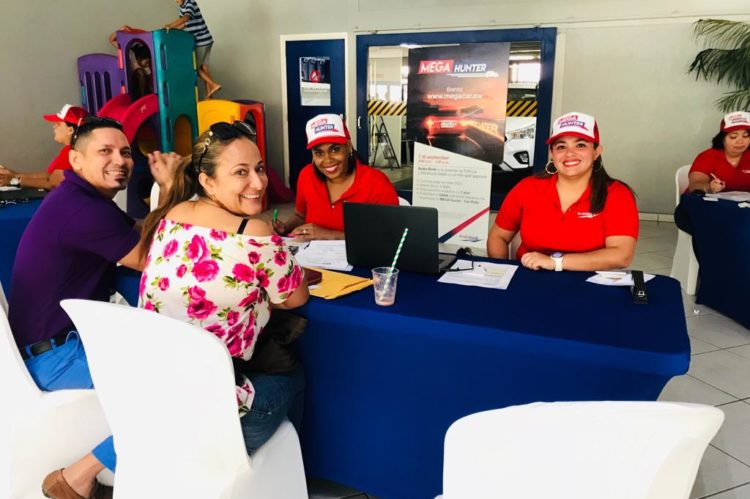 All visitors were included in the Mega Hunter raffle for a fully paid cruise vacation leaving from Miami, airfare included.
CarVenience, a car rental agency, is affiliated with Garage Centraal, operating a fleet of Hyundai Accents. [email protected]; Tel.: +297-568-0383
Farewell to General Manager Gerrit Griffith
General Manager Gerrit Griffith announced his retirement recently, having worked at Divi Resorts for 43 years. He retired as general manager at the Phoenix Aruba Beach Resort and announced his intentions to spend time with friends and family members, including a cute granddaughter; travel with wife Leonora; and join Ban Uni Man Pa Cria Nos Muchanan, a local not-for-profit foundation, where he will serve as their fund raiser with the ambitious goal of securing finances to continue feeding over 650 disadvantaged elementary school kids breakfast every day.
His farewell reception at Divi Links Club House Plaza was nicely attended by members of the community, government ministers, industry partners, and colleagues, including his successor, General Manager Pearl Lake, and Divi Resorts President & COO Marco Galaverna.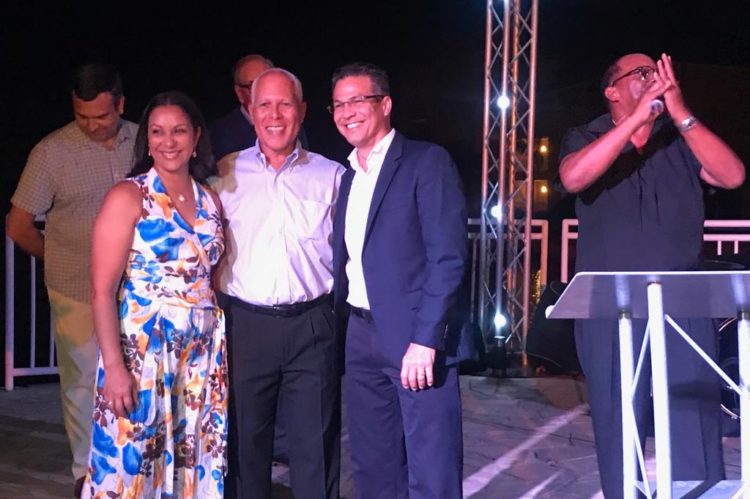 The party featured many heartwarming and grateful speeches, as well as a most entertaining and insightful video starring company and community personalities talking about Griffith as a leader, a friend, and a role model.
Glenbert Croes, the minister of labor and social affairs, wished Griffith good luck on behalf of the Government of Aruba. While hospitality is losing a strong player, he said, social affairs is gaining a gladiator, a formidable contributor to the those in need of help.
Calypsonian Lloyd Baptiste gave a guest performance singing "Celebrate Good Times….Come On," reenacting his gig at the Tamarijn Beach Resort Happy Hour on Sundays, 40 years ago.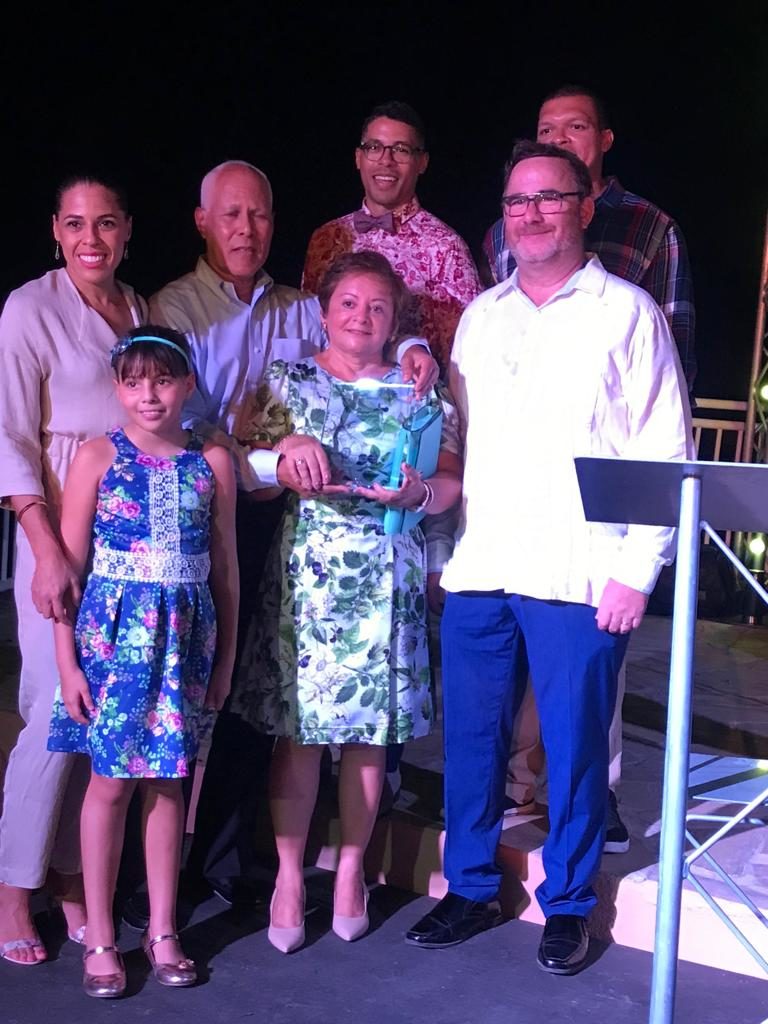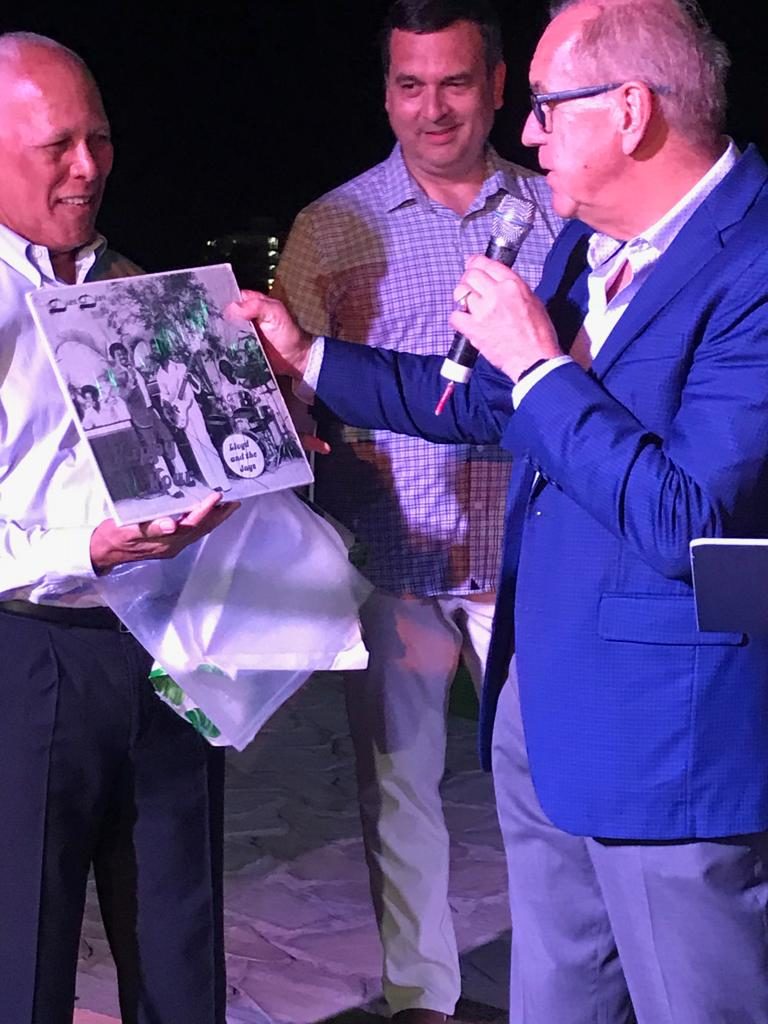 Griffith accepted the gift of an all-inclusive European vacation for two and a rare vintage vinyl record produced by the resort 40 years ago, featuring Lloyd and the Jays, the house band of yesteryears.
Gerrit Griffith graduated Cornell University in Ithaca, NY, along with a group of other local kids, who are all still working and enjoying good careers. Upon his return, he was hired at the 75-room Tamarijn Beach Hotel as assistant manager. Those were the days. He then moved on to manage the hotel as it expanded into a resort, and during his years with the company, he left his mark on Divi Divi, Dutch Village, Divi Village, the chain's Flamingo in Bonaire, and its hotel in Sint Maarten. Finally, he served as GM at Divi Phoenix Beach Resort. Somewhere in between, he went to Barbados with Divi, and immediately came back to Aruba. He enjoyed diverse settings and personalities under just one employer, and left it all behind September 1, 2019.
Griffith reports he enjoyed an exceptional run with the company. There is something about Divi, he says: Once Divi, Always Divi.
Managing Director Alex Nieuwmeyer took advantage of the occasion to also introduce recently recruited Ferry Zievinger, Divi Village & Dutch Village general manager.
With six different bars and ten beautifully presented food stations, the party was a first-class production with everything from butler-passed hors d'oeuvres to sushi, Italian, and Latin specialties, a carving station, a sizzling grill, and enough bitesize desserts to feed an army.
Thank you, industry partners, for pitching in: Elite Production, Smiley Band, Aruba Trading Company, Romar Trading, Pepia Est, The Little One, Sunny Ray, Divino NV, and Bersa.
Gerrit Griffith was the recipient of the Aruba Hotel & Tourism Association Lifetime Achievement Award in 2011.
Imeldahof Celebrates 65 Years
Nos Feria, a bake & white elephant sale, was organized by Kinderhuis Imeldahof just recently in order to collect funds for home renovations.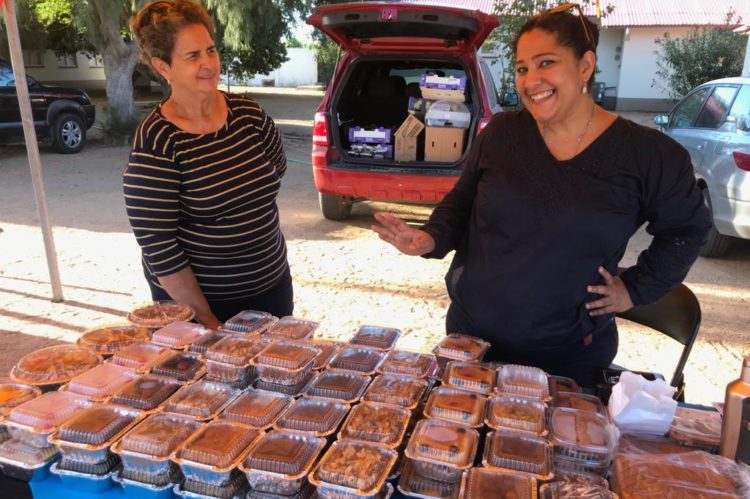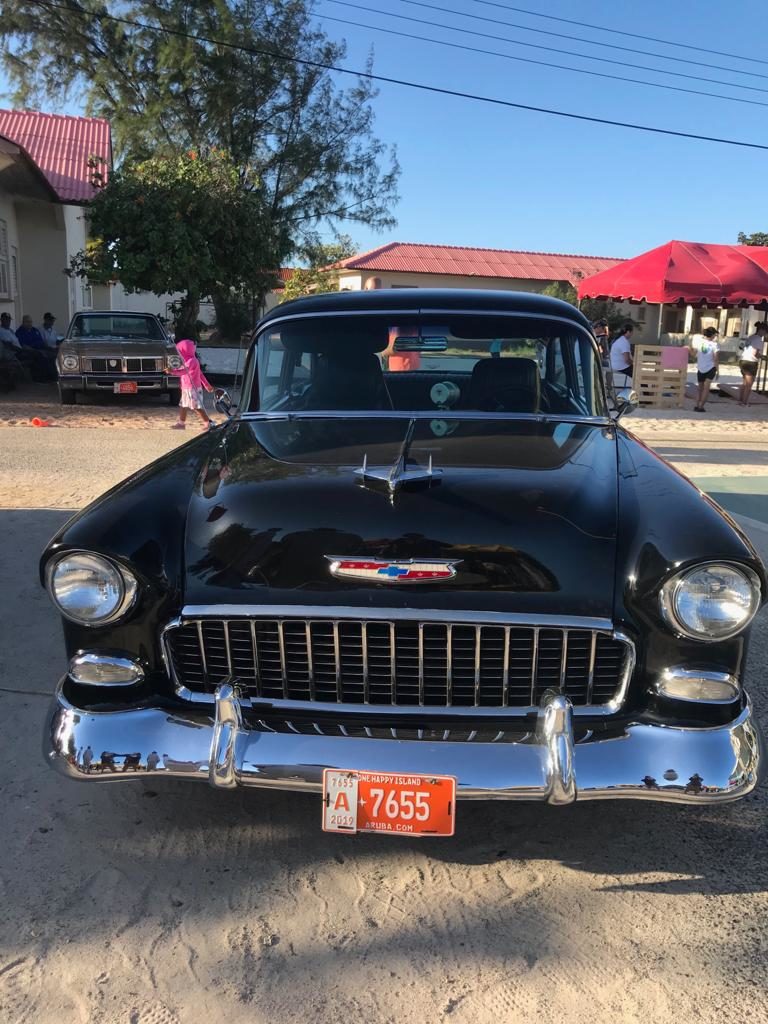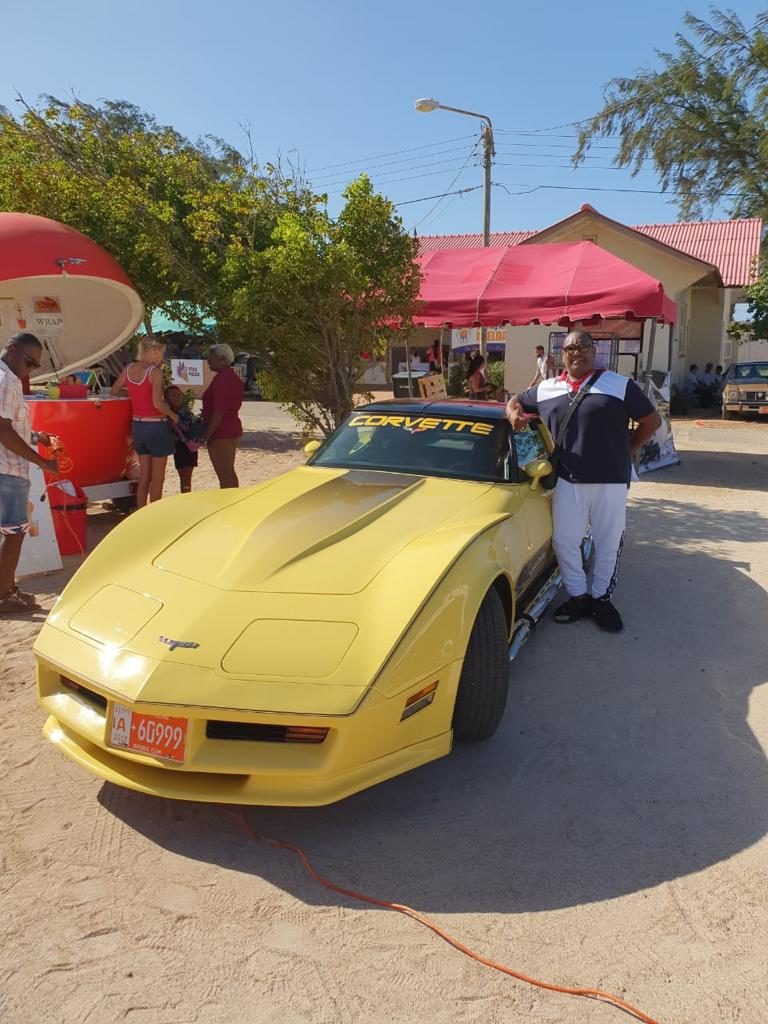 The fair featured an extensive selection of cakes, cookies, and sweets for sale; essential oils and homemade remedies by Shamila Thijsen; massages by efora spa, Hilton Aruba Caribbean Resort & Casino; a display of vintage cars; a deejay booth; games for kids, including a dunk tank; and a flea market with flowering pots for sale.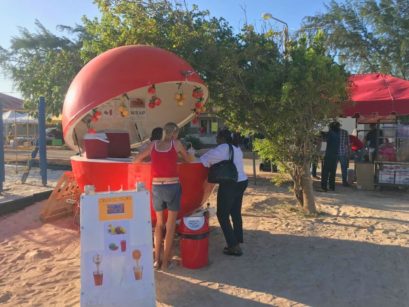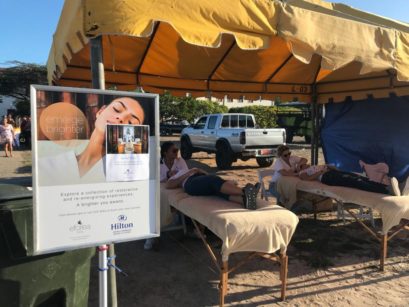 A number of resorts on Aruba have the children's home listed on Pack with a Purpose. Resort guests provide the resort with much-needed donations, such as bedding, clothing, school supplies, and educational materials, which the resort then delivers to the children's home. Travelers who want to bring meaningful contributions are welcome to join.
About Imeldahof
Imeldahof first opened its doors on November 25, 1954, with the help of the Roman Catholic Sisters of Bethani and was managed by the Bethani Dutch Antilles Foundation. In 1976, the organization altered itself whereby Children Home Imeldahof Aruba (Stichting Kinderhuis Imeldahof Aruba) was founded as a private foundation, subsidized by the government. The subsidization concerns the salaries of the personnel and approximately Afl. 11,- per child on a daily basis to cover expenses. These expenses include provisions, attire, school material/fixed costs, activities, and all other expenses to manage the foundation. Furthermore, the organization is dependent on the community for financial and voluntary support in order to provide special activities or projects for the children.
The objective of the children's home is to offer a temporary home and guidance for children who, for a variety of reasons, are unable to remain in their own homes. In most cases, this is until placement with their own family or relatives or a foster family can be found.   A few of the reasons are mental, psychical, and sexual abuse, neglect, and alcohol or drug abuse by parents.
Cuba's Cookin' Now Offers a Full Vegan Menu
It's been 19 years since Cuba's Cookin' opened its doors in Aruba. It was first located on Wilhelminastraat, and a few years ago, it moved to Renaissance Marketplace.
Owner Douglass Marcus regularly goes back to the "big" island to keep up with family and friends, bringing back new paintings and photographs for his restaurant's walls, and the collection now includes many fabulous pieces. And the music is great too—nightly live salsa and son, as well as mambo and chachacha, with an open and inviting dance floor.
Food, says Douglass, is a part of our contract with life.
His restaurant offers some of the best authentic Cuban food on the island in an ambiance reminiscent of Havana circa 1959. Ropa vieja, stuffed pork, picadillo, and palomilla steak are served nightly and can be washed down with a fabulous mojito made with real Cuban rum.
While the menu offers a variety of fresh and delicious food for every taste, the restaurant also features a great selection of vegan and gluten-free dishes.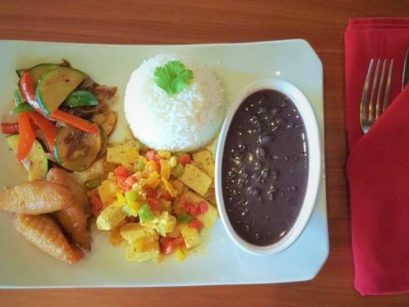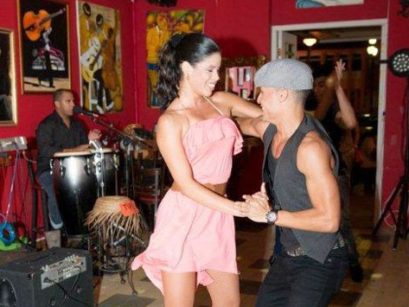 On the VEGAN menu: Tropical Salad, topped with fried tofu cutlets; Plantain Pizza Medallions; Portobello Ribs in BBQ Sauce; Tofu Ropa Vieja; Havana Chinatown Pot; Grilled Vegetable Platter, a la Parilla; and Mean Woman Pasta, the Cuban version of pasta primavera.
Location: Renaissance Marketplace, Downtown
Reservations: +297-588‑0627; [email protected]