Published on:
Coconut Telefax September 9, 2019

Bucuti Unveiled
A giant queen conch shell sculpture, named Bucuti, was just installed at the Bucuti & Tara Beach Resort in the lobby. It was commissioned by the resort, produced by ARTopia Foundation for Public Arts, and designed and executed by local sculptor Gilbert Senchi.
He was inspired, he says, to create a queen conch shell for the entrance of the resort because the shells were abundant in Aruba as a favorite food item on the menu of the island's early indigenous population.  It sustained the local Indian tribe and can now be found fossilized in archaeological digs, or as shards on beach walks.
Gilbert's artistic interpretation of the shell relies on the island's historical past. The work is monumental and cast in bronze with old gold patina applied. Guests are invited to curl up inside the conch and take souvenir pictures of their fantastic Aruba vacation. The piece was designed as an interactive sculpture that visitors can touch and sit on.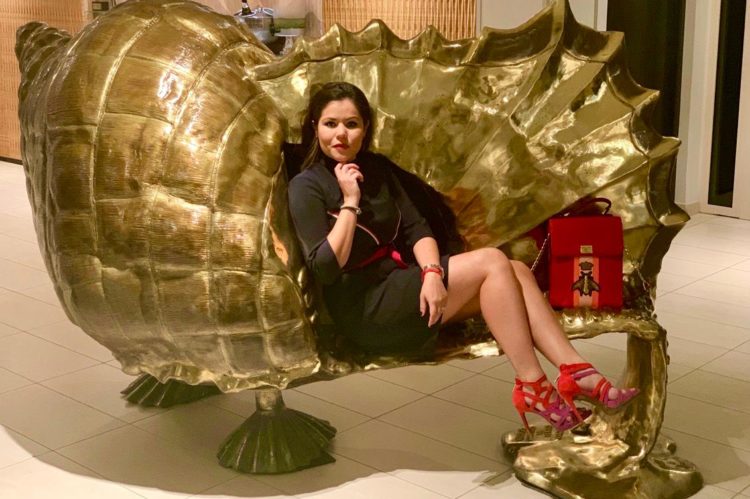 For those interested in the artistic process, the work was first made in clay as a life-size model, then it was cast as a negative mold with plaster and filled in with wax, before heading to the foundry for the final bronze casting process.
Gilbert's work can also be found in San Nicolas, at Gold Coast Residence, The Links at Divi Aruba, and the lobby of the Divi All Inclusive. In 2013, Gilbert was the artist behind the Fisherman Lost at Sea monument, located on the waterfront adjacent to Wilhelmina Park. His work is also on display in public areas in Colombia, where he produced impressive, large-scale monuments.
It's Burger Mania at Salt & Pepper Restaurant
You are invited to go tall, taller, or tallest. Salt & Pepper Restaurant in the Arawak Garden is ready for its lunch special, XXL Burger Mania. A Double Bacon Cheeseburger, with bacon, cheese, lettuce, onions, tomatoes, pickles, and fries, is the starting point at just $16. From there, guests are invited to build and build some more, choosing extra toppings for $2 each, going as tall as possible according to their taste. Picture crisp bread, fresh vegetables, and a juicy XXL burger—we are sure your mouth is watering! How tall will you go? Bon appetit! Check out XXL Burger Mania at Salt & pepper on FB and Instagram: #saltandpepperaruba.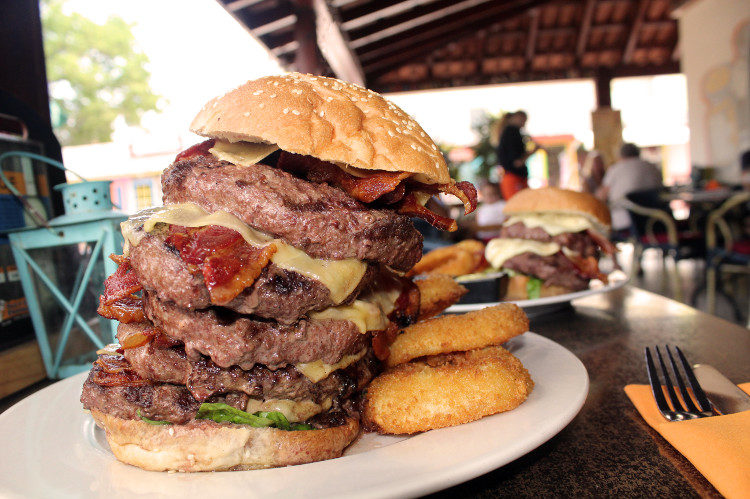 Salt & Pepper Restaurant is one of the fabulous places of Arawak Garden, located across from Barceló Resort on the high-rise strip. Open from breakfast time to late in the evening, with a wonderful, cozy bar, the restaurant is always filled with happy guests. Tapas are what Salt and Pepper specializes in, but there is a full menu available as well.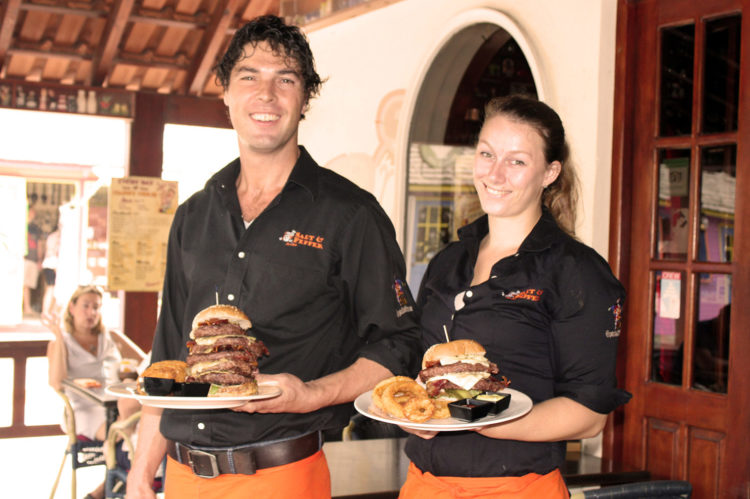 Hadrey Gallery Opens at the Holiday Inn
General Manager Kevin Anderson, Marketing & PR Director Eva Ruiz, Associate Director of Sales Luigi Wix, and Director of Food & Beverage Harmen Gieske hosted a tropical gathering in the Holiday Inn's courtyard in honor of the resort's upcoming 50th anniversary. Party invitees included longtime resort employees, press members, and the Aruba Tourism Authority's CEO, Ronella Tjin Asjoe Croes.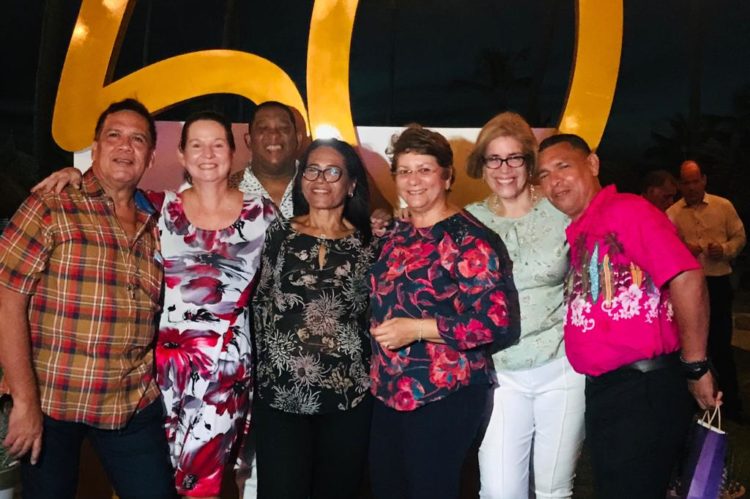 The Holiday Inn will be 50 on October 22, 2019, and the resort is planning a series of festivities involving the community, guests, and the resort's industry partner.
The first event, the opening of the Hadrey Gallery, occurred just recently. Three lobby walls received a photo installation, two featuring nostalgic images of the resort over the years, including one from the very early days, and one wall featuring professionally taken photographs of the resort's loyal veteran employees, including Irma Romney, who has been working uninterruptedly for 46 years.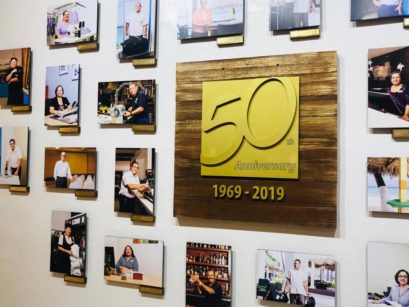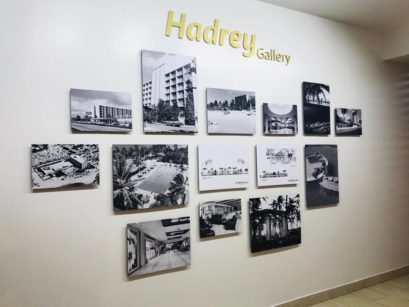 The Hadrey Gallery derived its name from the Papiamento word that refers to the living space of traditional Aruban cunucu houses. Just as the owners of cunucu homes welcomed their guests in, the Holiday Inn hopes guests will travel back in time to look at the resort in its different incarnations as depicted in the gallery.
The Holiday Inn in Aruba has maintained a steady presence on the island for five decades—same name, same logo—while other hotels rebranded over time, and the chain, standing for "America, Motherhood & Apple Pie," remained a constant on our tourism landscape.
With 590 rooms, the resort now has the most diverse array of offers, a mix of all-inclusive and EP, in a great number of categories, in many markets, with something for everyone, maintaining a solid three-star-PLUS rating and an enviable average daily rate in comparison to the chain's other regional properties.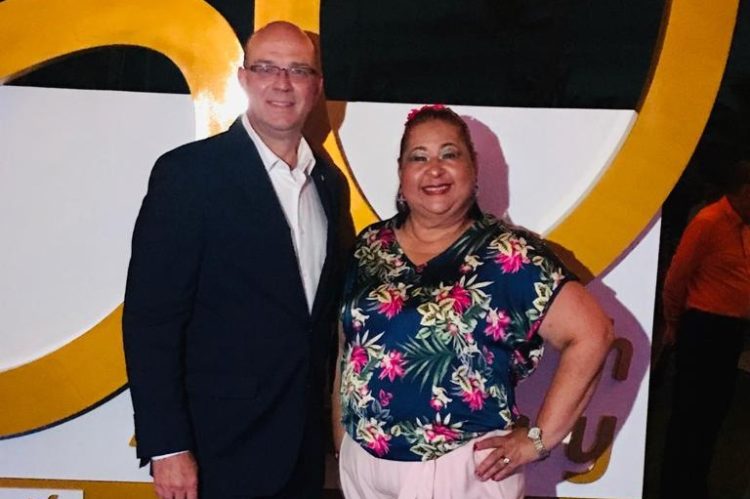 A Purchase of a Souvenir at T.H. Palm & Company Rewarded with a Return Trip to Aruba
Jodi Putnam, from Boston, MA, invited her beloved older sister to Aruba just recently using her complimentary round-trip airfare to enjoy a one-week stay at Playa Linda Beach Resort, all courtesy of The Salamander Group!
The popular retail group has been offering an annual free trip to Aruba through a raffle on its flyers and ads at its most popular location: T.H. Palm & Company at Playa Linda Beach Resort.
Of the thousands of raffle entries, Jodi Putnam, a repeat visitor to the island, had the winning ticket, which she filled out with her purchase of a souvenir at T.H. Palm & Company. Jodi was very pleased when the phone call from Aruba announced that her dream of a complimentary round-trip airfare and a one-week stay at the Playa Linda Beach Resort had just become a reality. The call came in January, and the sisters managed to get here recently, in September.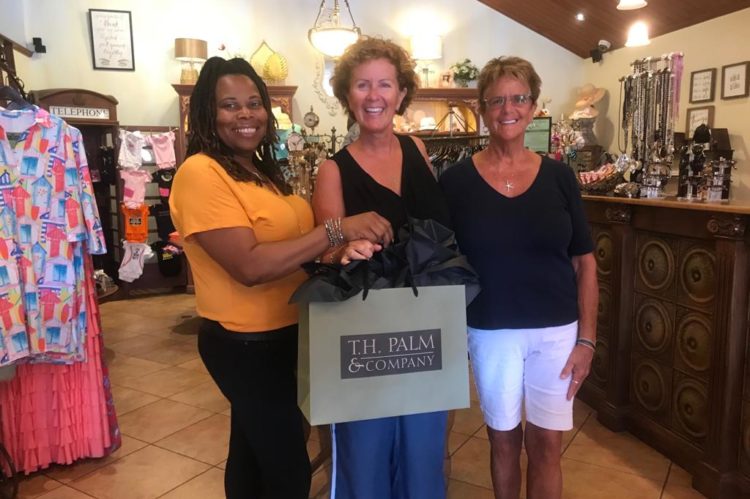 Jodi and her sister were warmly greeted at the resort upon check-in. The following day they loved using a surprise shopping spree gift certificate at T.H. Palm & Company, where a photo was taken of them surrounded by enthusiastic sales associates.
They were also given a special gift, Island Life, a book by Rona Coster, with the author present to sign it. The book is available for sale at T.H. Palm & Company.
You too can win a free return trip to the island! Make sure you fill in an entry ticket when visiting T.H. Palm & Company at Playa Linda Beach Resort.