Published on:
Coming to Terms with the "V" Word
Veganism—it has always had this mystique surrounding it.  I would put it in the unattainable column for me, right alongside waify runway model.  Vegetarian, ehhh, maybe…maybe.  But I grew up in the South—most meals feature one or more items like meat (especially pork), gravy, cheese, cream sauces, or butter.  So there's that.  I was the pit master for Hollywood Smokehouse.  Heck, just a few days ago, I was smoking several hundred pounds of meat for the Eat Local Food Truck Festival.
Don't get me wrong—I love salads and vegetables. Occasionally I stumble onto vegan meals, ordering them because they sound delicious, not because they are vegan.  But last year, I had my first purposeful vegan dining experience.  I was doing a feature on Island Yoga's Nourish Café, and I tried several dishes on the menu.  I loved every single one.  It wasn't just an it's-not-bad-for-vegan-food kinda experience—I truly enjoyed every bite.  I thought, If I can eat vegan meals like this every day, I don't need to eat meat or dairy.
I've always been envious of vegans.  It takes discipline.  And planning.  And resourcefulness.  I figured I had two choices.  The "easy" route to preparing vegan meals is just to go raw. A rabbit's diet all day, every day—nope.  My second option, I thought, was to spend hours painstakingly preparing vegan dishes that mimic the meat dishes my palate is so accustomed to (I was wrong—more about that later).
My perspective on veganism received a much-needed tweak recently with an enlightening culinary experience.  During a special vegan dinner at The Kitchen Table by White, my friends Reena and Tesh were introduced to an international vegan chef vacationing on the island. Next thing you know, an impromptu vegan cooking demo was organized for the next night.  Reena and I love to talk about food and we both enjoy cooking, so she thought of me.  Did I want to join?  Yes!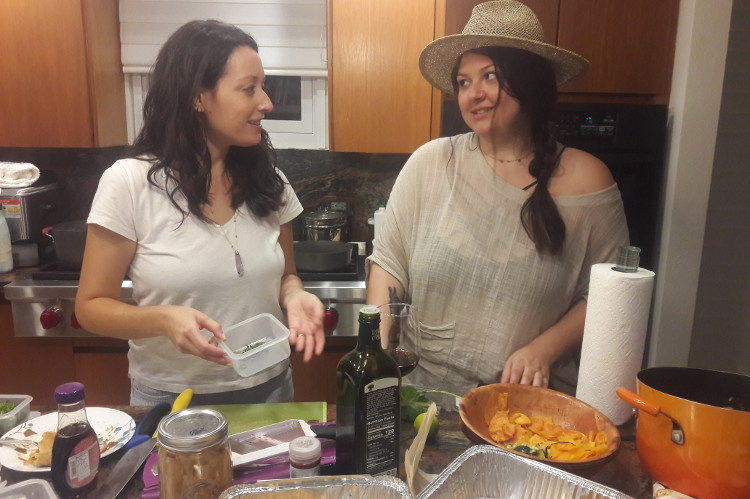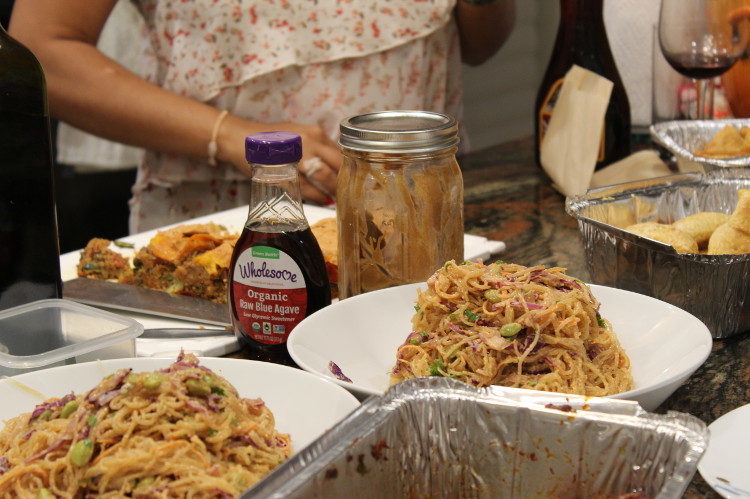 Reena and Tesh have the bomb kitchen that any chef would admire, and its spacious layout is perfect for entertaining. Our group camped out around the kitchen island, glasses of Migration Pinot Noir (available at Pepia Est Aruba) in hand.  Our guest (and chef) of honor was international vegan chef Karley Ray.  A New Englander living and working as a private chef in Baltimore, Karley developed an interest in healing cuisines while attending Johnson & Wales University, where she graduated cum laude. During an internship at Rhode Island's largest farmer's market, she was inspired to transition from a standard American diet to a vegan, localvore lifestyle. Her education continued while working on an organic farm in Washington state, followed by a 900-hour professional chef certification program at Natural Epicurean Academy of Culinary Art in Austin, Texas.  She continues to nurture her expertise through travel and education, completing courses in Thailand at May Kaidee's Vegetarian Cooking School, as well as online with the Matthew Kenney Culinary Academy.
Joining Karley in the kitchen was Meredith Marin, our local vegan expert and culinary consultant to Manchebo Beach Resort & Spa, Fishes and More, Hadicurari, Cuba's Cookin', Elements Restaurant at Bucuti & Tara Beach Resort, Las Ramblas at La Cabana, Asi Es Mi Peru, and other restaurants ready to serve vegan gourmet.  Reena, an excellent home cook, started the evening off with a couple of her vegan Indian specialties—samosas with a homemade tamarind sauce and puff pastry stuffed with a delightful mushroom melody.  Blenders, food processors, and an ice cream maker whizzed away as our two vegan chefs prepared several courses:
Vegan pizza with a crust made of cauliflower and almonds, a sun-dried tomato cashew cheese spread, and a topping of crispy fried chickpeas
Moussaka with lentils, quinoa, thinly sliced butternut squash, and zucchini
Vermicelli with homemade Thai peanut sauce, tamari maple tofu, julienned carrots, and red cabbage
Green tea ice cream prepared with a coconut cashew base flavored naturally with matcha and vanilla beans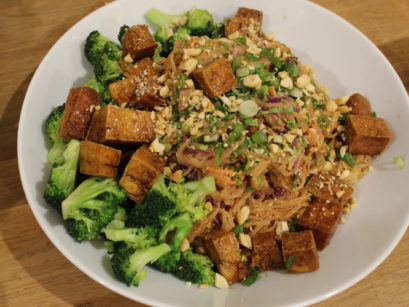 Yes, to make vegan dishes like this, it does require some effort.  But it's not complicated nor does it require advanced culinary skills.  In fact, my husband reminded me that when I cook dinner, I am peeling, chopping, dicing, blending, roasting, sautéing, etc., and spending anywhere from 30 minutes to a couple of hours overseeing the meal.  True.  A home-cooked meal from scratch—vegan or not—does require effort and time.  It's really just a matter of the learning curve to prepare vegan dishes—learning the tricks of the trade, boning up on vegan ingredients and products and where to source them on the island, and fine-tuning your seasonings to impart dynamic flavors.
I think for me, the most important take-away from this experience is how my husband and I felt after the meal and hours later.  No indigestion, no bloating, no lethargy.  We did a repeat of the meal the next day with our goodie bag of leftovers with the same result, feeling energized, satisfied, and wholly nourished.  Although I can honestly say that I won't soon be a full-on vegan, I am already researching alternative vegan ingredients and dishes to incorporate regularly into our diet with the goal of moving closer and closer to what I once thought unattainable.