Published on:
Culinary Paradise on the Beach
Text by Tina Causey-Bislick / Images by Steve Keith
Aruba boasts one of the Caribbean's most vibrant dining scenes, featuring just about everything from world-class fine dining to authentic local grub from roadside food trucks. So many choices, so little time! But we suggest you make time for one decidedly "island" must while vacationing here—an elegant toes-in-the-sand culinary experience set on the shores of the Caribbean Sea. One of our favorites is Pampered in Paradise, curated by the Hyatt Regency Aruba Resort, Spa & Casino.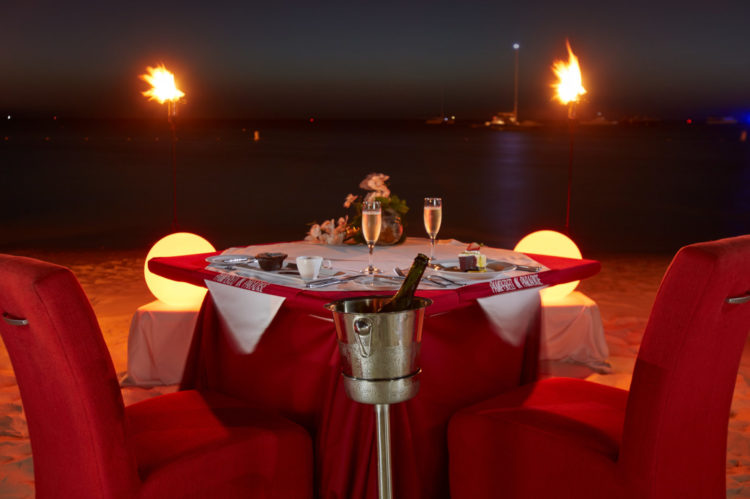 This romantic private dining experience on the shores of Palm Beach begins with a champagne toast paired with one of Aruba's famed magical sunsets. Three courses prepared by the chefs at Hyatt's signature restaurant, Ruinas del Mar, are served to you and your loved one at your private table.
First Course Options
Lobster Crab Cakes Duo, served with pickled onions, herbs, and rémoulade sauce
Caprese Salad, with fresh burrata cheese, roasted tomatoes, pesto balsamic reduction, and arugula
Mediterranean Tomato Salad, with cucumber, onion, feta cheese, black olives, mixed greens, and raspberry vinaigrette
Scallops "A La Plancha," with fresh ginger, coriander, coconut milk, sweet chili, cilantro, red onions, and lime
Dutch Onion Soup, with sweet onion and Gouda gratinée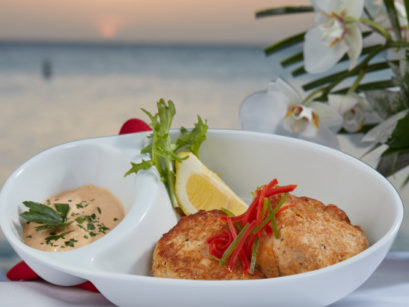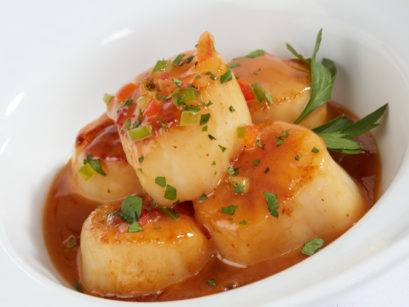 Main Course Options
Basa Fish Fillet, with roasted coconut, fresh broccoli, carrots, roasted tomato, potato, coconut-pineapple relish, and sweet chili sauce
Manhattan Strip Steak, with shrimp linguine, asparagus, pumpkin, and green peppercorns in a delicate cream sauce
Roasted Chicken Supreme, featuring grilled artichoke, asparagus, onions, roasted pepper, and Creole potato in a demi-glace
Seafood Linguine, filled with shrimp, lobster, scallops, mussels, and clams, and topped with fresh parsley (served with either marinara or Alfredo sauce)
Classic Grilled Beef Filet Duo, with cabernet sauce and fresh Caribbean lobster tail accompanied by roasted tomato, garlic broccoli, mashed potato au gratin, and clarified butter
Cedar Plank Salmon Fillet, served with shrimp and spinach risotto and roasted garlic oil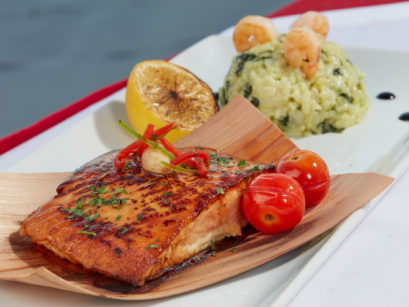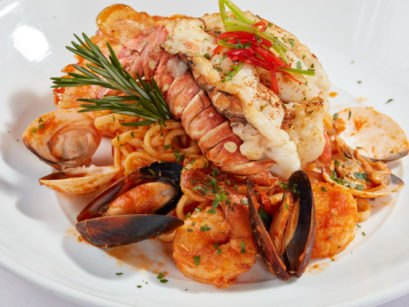 Dessert Choices
Cheesecake Duo, with scratch cheesecake and red velvet cake
Tiramisu, with coffee ice cream and Kahlúa
Apple Pie, served with dulce de leche ice cream, almond croquant, and caramel sauce
Lava Cake, served with vanilla ice cream and ganache sauce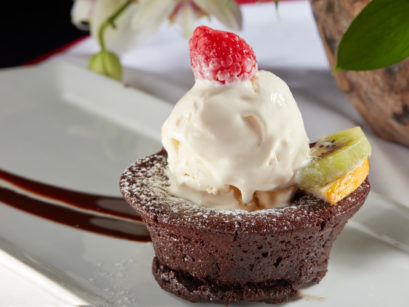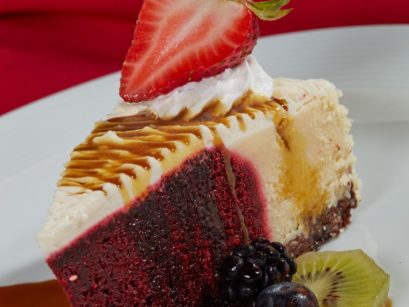 Hyatt's Pampered in Paradise is an exclusive experience; it is highly recommended to make reservations far in advance. For more information, visit the dining page of the Hyatt Regency Aruba's website or call directly to make your reservation at +297-523-4577.