Published on:
Curaçao—Where Old World Caribbean Charm Meets Contemporary Hospitality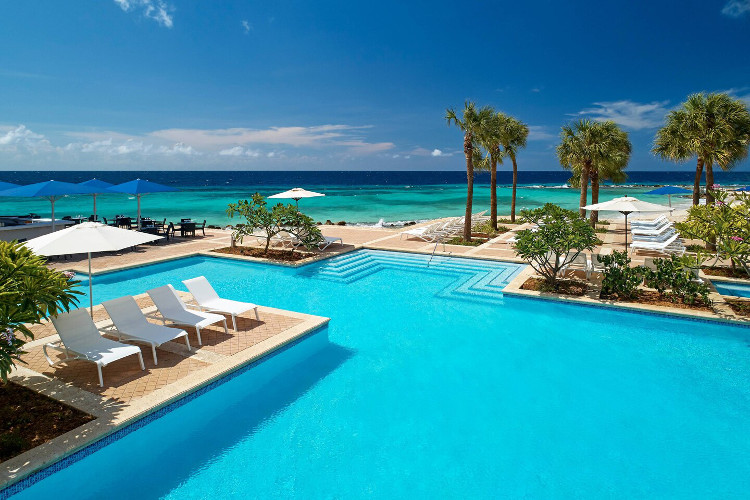 By Tina Causey-Bislick
Curaçao, it's been a while, and my how you've changed!  A few years have passed since we last wrote about our sister island of Curaçao.  Always a prime destination for history and culture seekers, the island's evolution to a more diverse destination offering world-class hospitality while still keeping those cultural roots firmly planted begins as soon as you step off the plane.  Curaçao International Airport (also known as Hato International Airport) recently underwent a major renovation, including an expanded terminal, more seating and relaxation points, and an enhanced shopping and food & beverage experience.  Going through Customs and Immigration was a seamless process, and we breezed through to quickly pick up our luggage and head to our home for the next few days—the newly reopened Curaçao Marriott Beach Resort.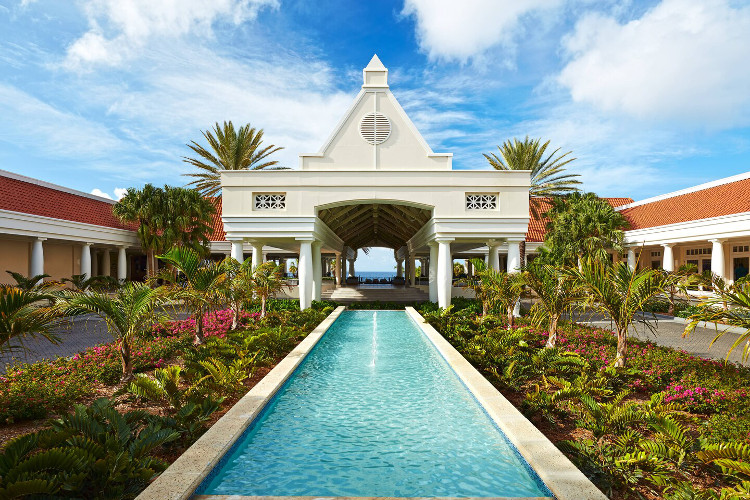 Fresh off a $40 million-dollar investment, the Curaçao Marriott Beach Resort, managed by Aimbridge Hospitality, added an additional floor of 70 guest rooms (for a total of 328 rooms) and completely renovated every nook and cranny of the property, while also reconfiguring spaces to offer stunning views from just about every angle.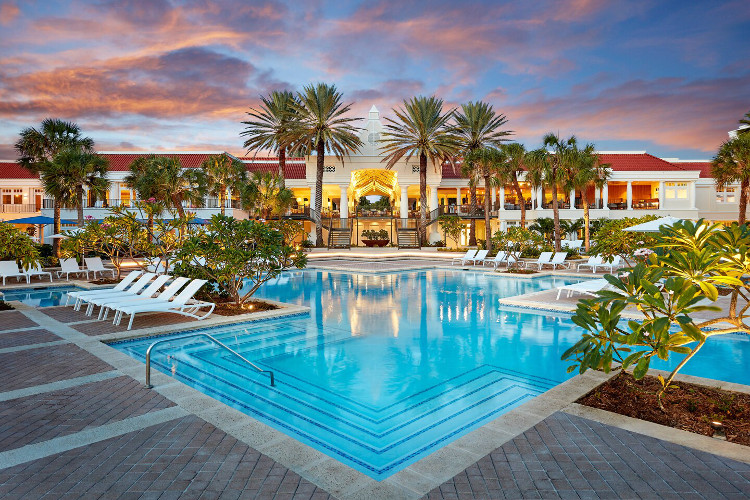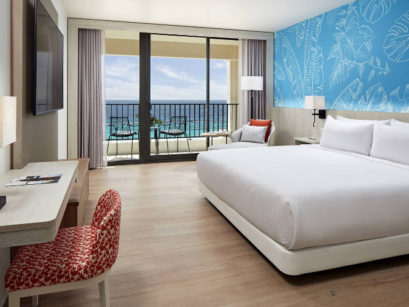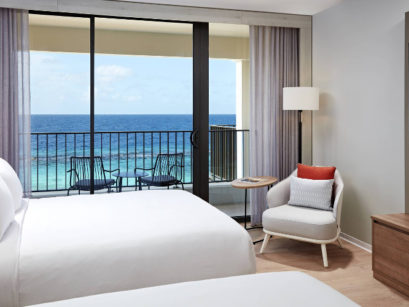 The six-acre property, primely positioned at Piscadera Bay, has a bevy of relaxation spaces, including a family-oriented swimming pool centrally located, and a luxurious, adult's-only, zero-entry infinity pool.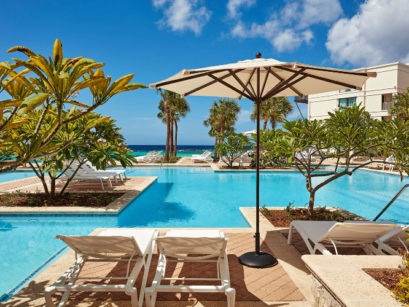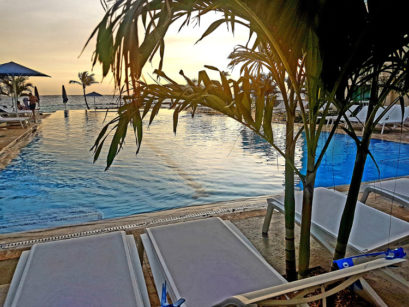 One of our favorite gathering spots was in the lobby.  Remember when hotel lobbies were just a pass-through and a place to check-in/check-out?  The Curaçao Marriott Beach Resort has embraced the on-trend "great room" concept, where we found ourselves enjoying coffee in the morning and sipping wine at sunset…and thanks to the lively Zala Lobby Bar and neighboring Zala Gastro Pub, our happy hour turned into dinner where we had a delish tapas session of shared platters and small plates of gourmet noshes (Korean short rib tacos? Yes, please!) paired with craft cocktails one night, and a feast of sushi from Izakaya Sushi Bar (also in the lobby/Great Room space) another evening.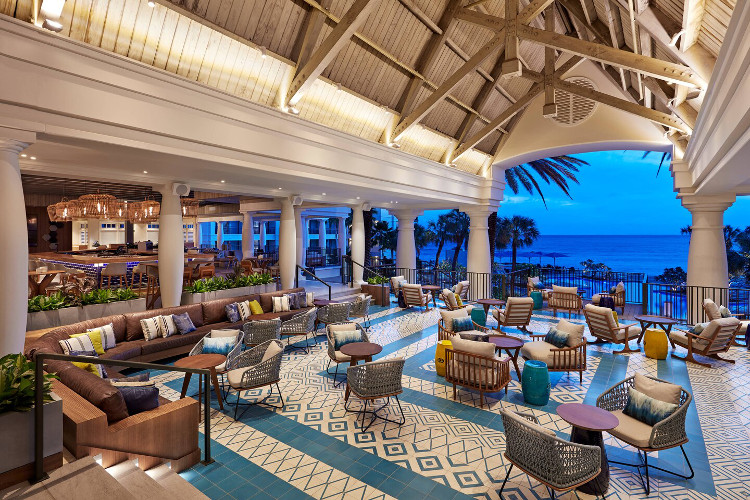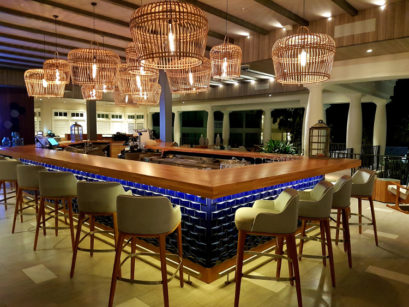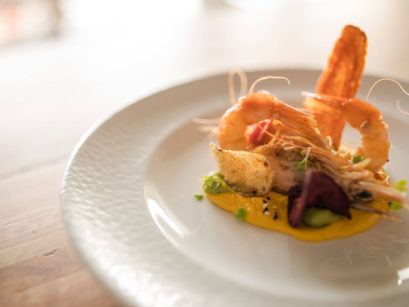 As much as we enjoyed our leisurely evenings in the Great Room, we spent our final evening in Curaçao dining at the resort's signature C-Spice, where Caribbean-born chef Dino Jagtiani has created a menu of Caribbean-fusion cuisine and gourmet brick-oven pizzas.
But perhaps the most notable evolution of not just the Curaçao Marriott Beach Resort but of the island in general, is the modern hospitality mindset.  The service was impeccable and authentic.  The team at the Marriott oozes authenticity—they really, truly want you to feel welcome on their island.  They are the generation-next for Curaçao, and the enthusiasm and thirst for providing top-notch hospitality assures a bright future for this resort and the island.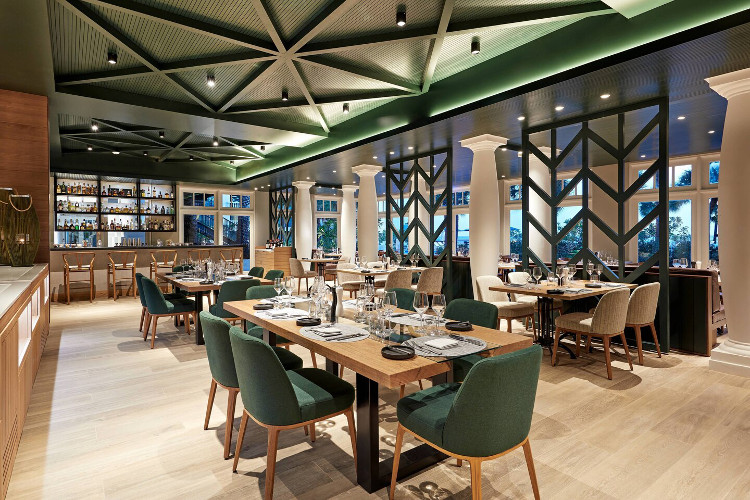 Although we were perfectly content to spend our days and nights enjoying the pleasures of Curaçao Marriott Beach Resort,  this is an island that beckons exploration—from active adventures to cultural pursuits to shopping.  We spent a day with Curaçao Tourist Board's Janine de Windt who gave us a whirlwind update on some of the island's cherished locales, while also sharing some of the new projects on the horizon.
Our first stop was Sambil, a contemporary indoor mall with more than 100 shops, a variety of restaurants, cinemas, and entertainment.  While this may not be a magnet for North Americans who have no shortage of shopping malls, us locals in Aruba crave shopping experiences like this.  Once upon a time, Arubans could take a quick, direct flight to Puerto Rico to shop affordable, major brands and retailers for the weekend.  That easy jaunt ended a few years ago when American Airlines eliminated the direct flight.  Now, locals in Aruba can make an even quicker journey to Curaçao for a glorious weekend of shopping for the affordable brands they cannot find in Aruba.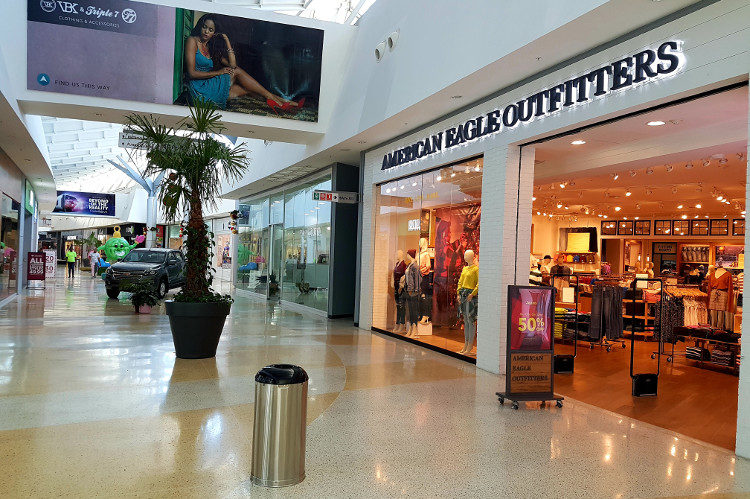 While touring the sights and sounds of historic Willemstad (the Dutch colonial architecture is fascinating), a stop for an island creole meal at Plasa Bieu was a must.  This iconic soul-food market is an al fresco dining hall lined with food vendors offering traditional cuisine.  Recently renovated, the market draws in local bankers, executives, office workers, and blue-collar workers alike, gathering at long tables—grab a seat, any seat—for a no-fuss midday refuel.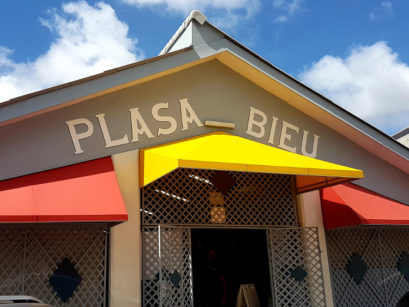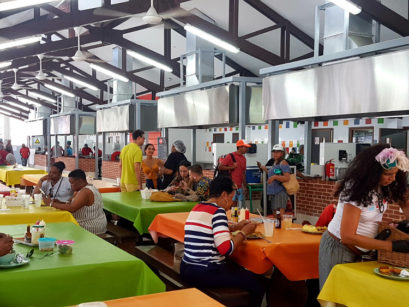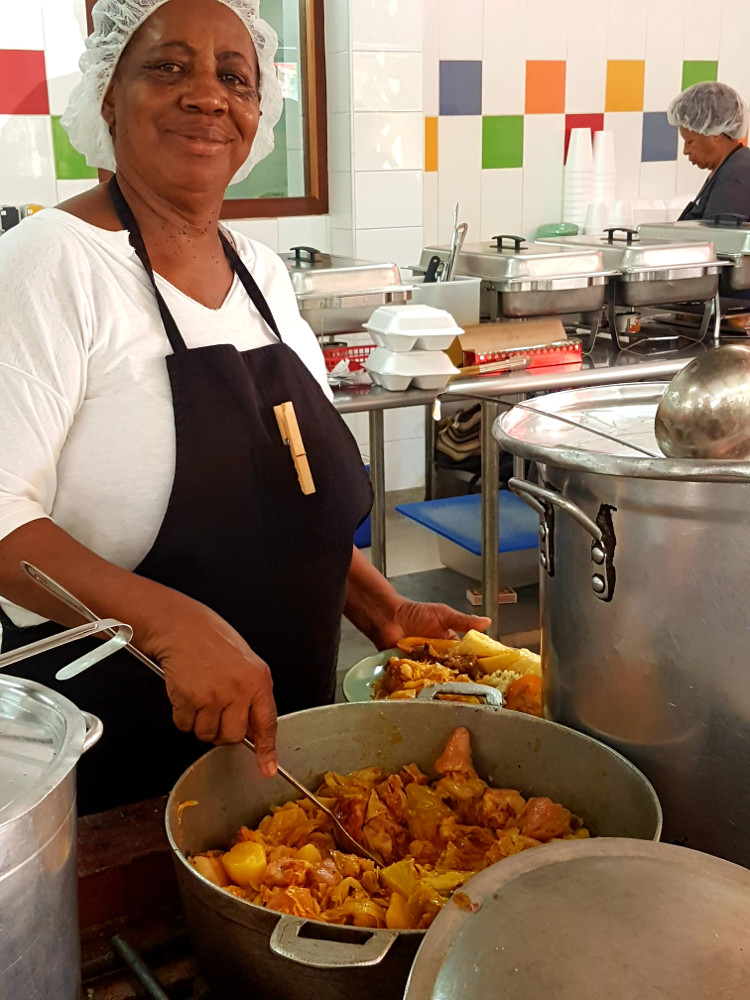 I'm a stoba (local stew) fan, and when in Curaçao or our other sister island of Bonaire, I seek out this island stew.  We zeroed in on the savory aromas coming from Zus di Plaza, a favorite creole cook and one of the most popular food stalls at Plasa Bieu. Her karni (beef) stoba, soaked up with some creamy funchi, did not disappoint, and I washed it down with the simple but refreshing local drink called awa lamunchi—a local lemonade. We also sampled the fresh catch of the day in a tomato creole sauce.  Dessert was arepa di pampuna, a sweet pumpkin pancake-like delight.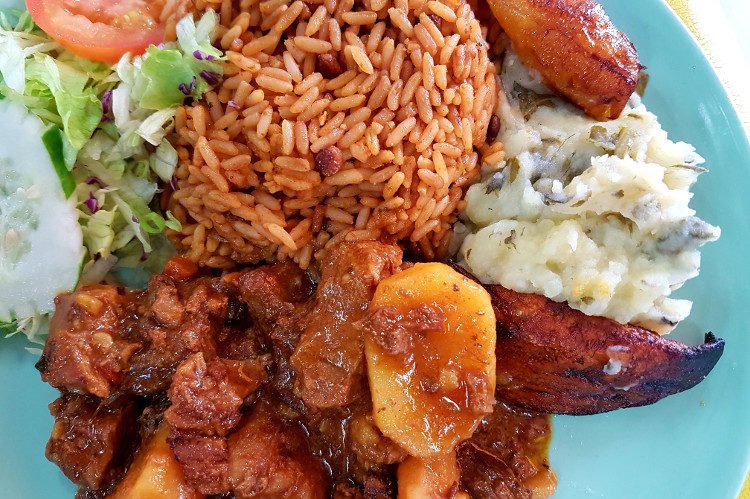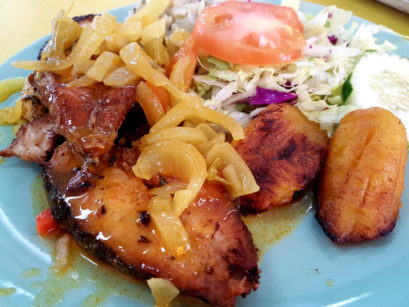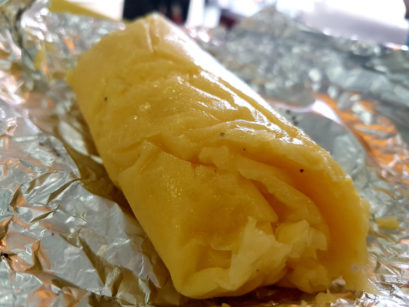 We spent another day on Klein Curaçao.  In all of my visits to Curaçao, I had never made the boat trip to this tiny slice of paradise with no permanent inhabitants.  We went on a day-trip on the Miss Ann yacht, where we anchored a few yards off a beautiful stretch of virgin beach.  The Miss Ann crew set up shop in a sheltered picnic area, serving us a barbecue lunch in between walks on the 1.7 square-kilometer island, touring the 19th century lighthouse, a guided snorkel tour (we saw several large sea turtles that leisurely swam around us—just a wow moment!), and lounging under our palapa soaking up the scenery.  Heading back at sunset, cruising on this luxury yacht was a magical way to close our final day on Curaçao.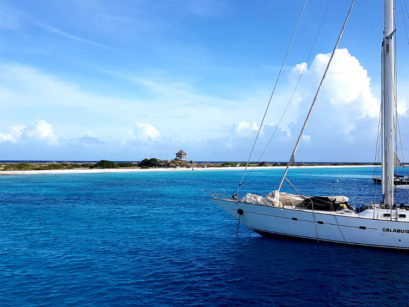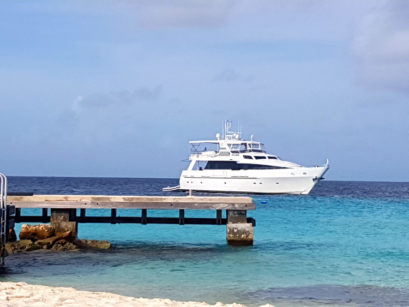 So much to do and so little time—but we will be back!  During our time with Janine, she introduced us to several new resorts that are under construction, and others that are making substantial upgrading/renovation investments.  Stay tuned for more updates on Curaçao's hospitality evolution.  Whether you are a local in Aruba or visiting Aruba, this island gem is worth a puddle jump!