Published on:
Destination Dining on a Private Island
Text by Tina Causey-Bislick / Images by Steve Keith
Experiences—it's all about the many experiences within the overall experience that add the rich layers to a memorable vacation. And when dining out while on vacation, nothing beats a culinary experience that stands apart not just because of the food but also because of the unique environs. For many of us, an island vacation must-do is the quintessential toes-in-the-sand dining experience (tiki torches included!). There are several venues along Aruba's coastline that offer their own variation of barefoot seashore dining, but journeying by boat to a private island for a dining experience feels so exclusive, so unique, and worlds away from life back home.
Renaissance Aruba Resort & Casino's private island has captured social media by storm, thanks to the resident flamingos that have become Instagram gold. But unless you've been a guest of Renaissance or one of the lucky few to stand in line to get one of the limited day passes available, scoring a boat ride to the island has always been just about impossible…until now. Every Wednesday evening, Renaissance offers a private island dining experience that anyone can enjoy, even if not a guest of the resort.
The idyllic evening begins dockside at the downtown marina (behind Lucy's), where you are greeted with a welcome cocktail before boarding the shuttle boat that will whisk you away to the island.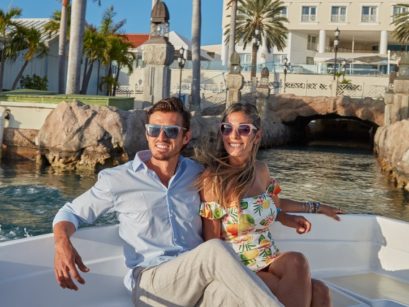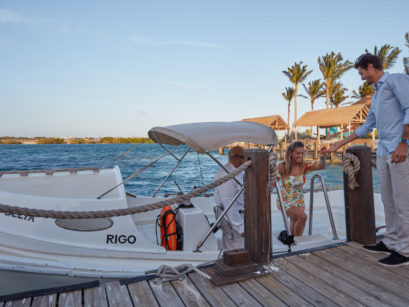 Once on the island, slip off those shoes and settle in for a culinary adventure of four courses catered to your seaside table as dusk settles and the stars start to twinkle.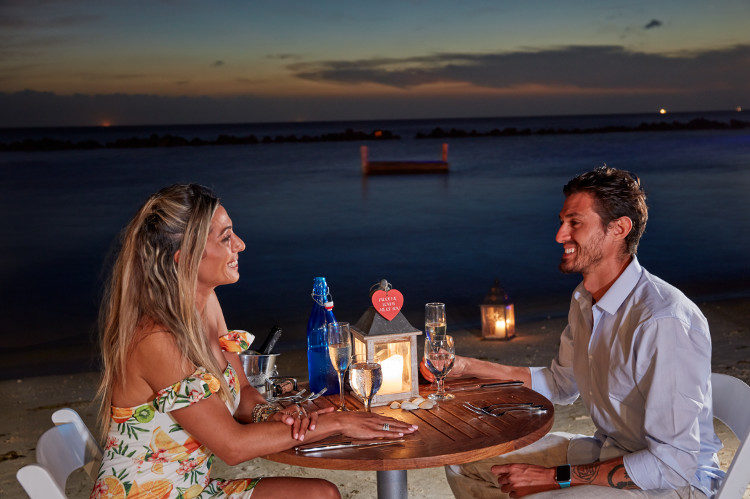 The evening begins with an amuse-bouche, compliments of the chef, accompanied by live music, followed by an appetizer, the main course, and dessert. The dishes alternate from week to week–here are a couple of sample menus:
MENU #1
AMUSE: Andalusian gazpacho with extra-virgin olive oil
APPETIZER: King crabmeat salad served with caramelized peaches, bourbon vinaigrette, and sweet pepper compote
MAIN COURSE: Tortellini stuffed with beef short ribs, served with creamy mushroom sauce, garlic crostini, and Parmesan foam OR Chilean sea bass served with pumpkin mashed potatoes and grilled asparagus with vanilla carrot sauce
DESSERT: Piña colada mousse with pineapple compote and coconut Chantilly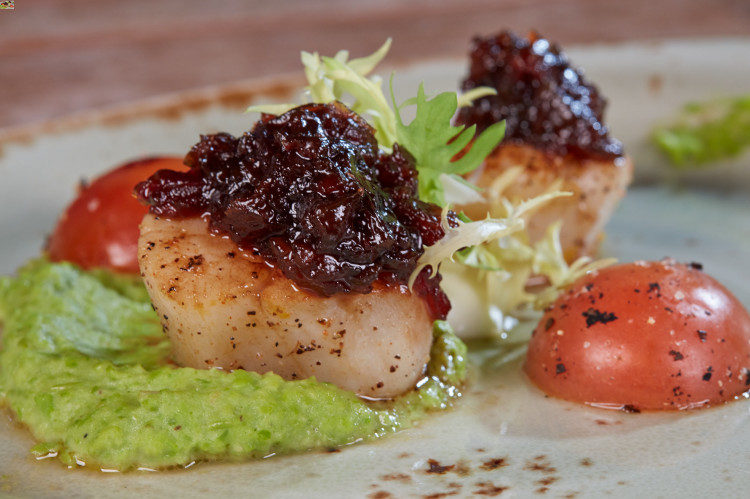 MENU #2
AMUSE: Sweet potato and carrot mousse served with crisp bacon chips
APPETIZER: Seared scallops served with potato foam, shallots, apple marmalade, and green pea puree
MAIN COURSE: Herb-crusted lamb chop with five-spice roasted pumpkin puree, glazed chile, and baby bok choy OR pan-seared salmon with celeriac puree, served with orange soy reduction, pickled onion, and green asparagus
DESSERT: Black forest double-chocolate cake with ponche crema sauce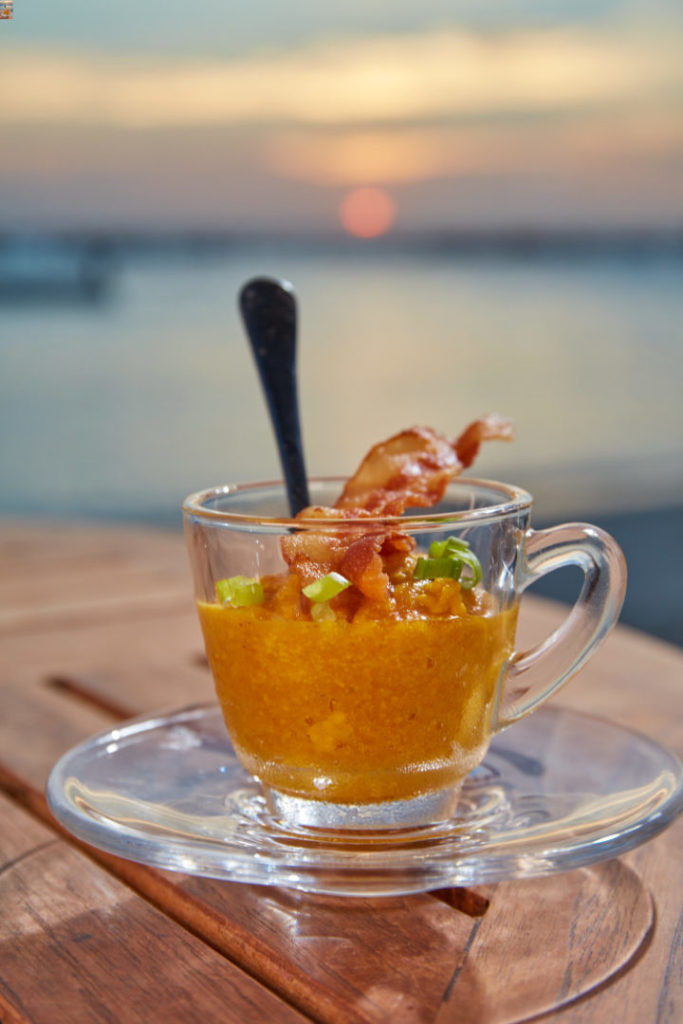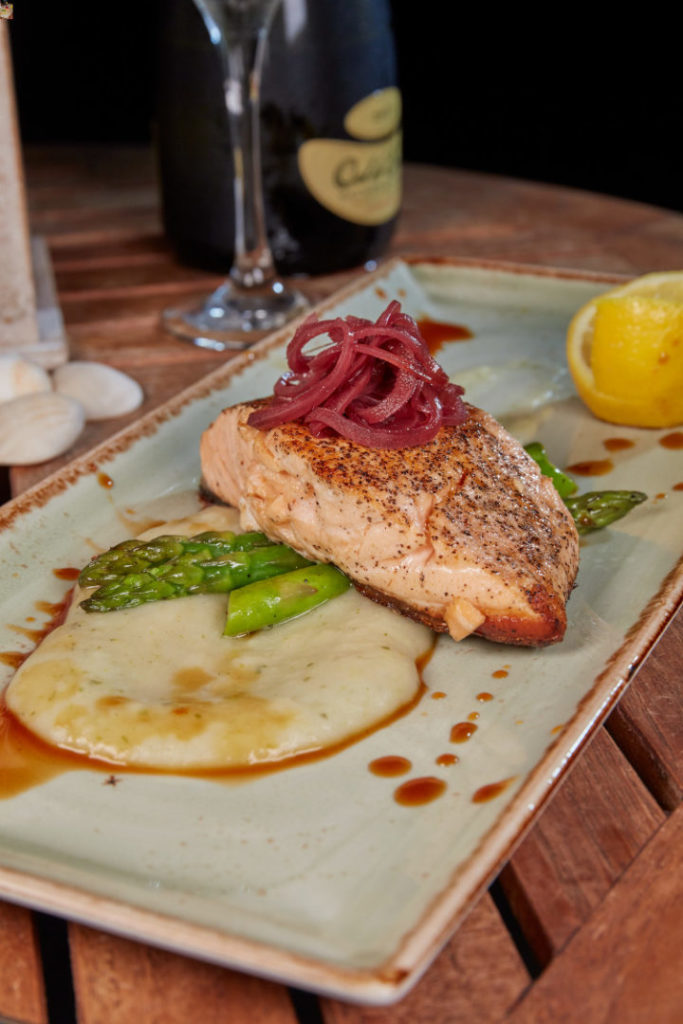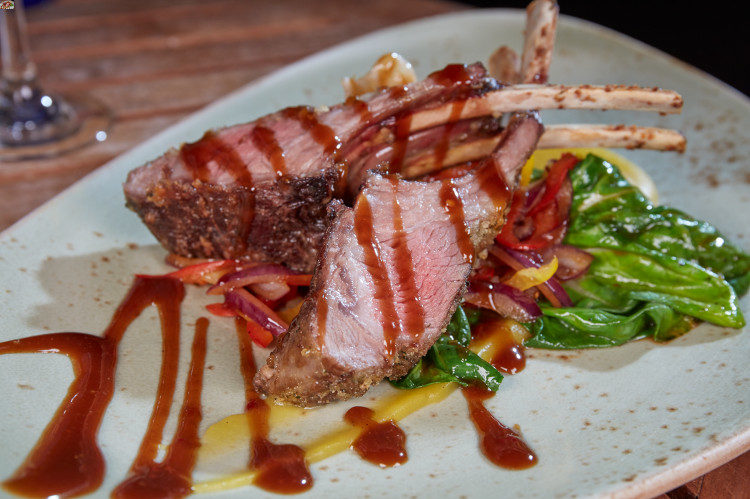 The price is $80 plus gratuity and taxes (children are half price). Groups and special events welcome! For more information and to book your Dinner Under the Stars, visit the website at http://www.renaissancearubaresortandcasino.com or contact the Renaissance at +297-583-6000.