Published on:
Doghouses by Luna Foundation & Friends
There was a lot of activity going on in the Gasparito neighborhood this past week. A bunch of houses were being constructed. Doghouses, that is! Two construction workers from Florida, Mikey Lambert and Shane Amati, came down to the island for a week to build about 20 prefabricated doghouses as part of a project overseen by Luna Foundation.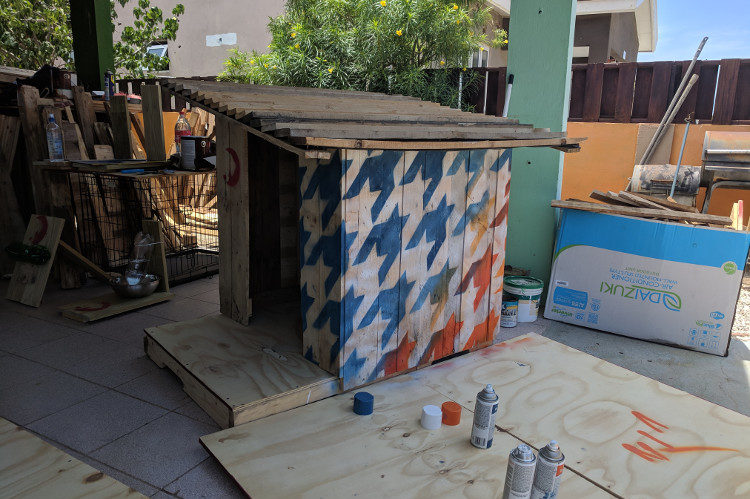 With local Zoey Conijn at the helm, Luna Foundation is a relatively new animal-welfare organization on the island that focuses on improving the lives of Aruba's stray dogs and cats, educating Aruba's youth regarding responsible pet ownership, and helping locals meet the basic needs of their pets—including proper shade. "We're often called to assist in cases where owners don't have the funds or knowledge to properly care for their pet. We go with food (sponsored by Oduber Agencies), a doghouse, a tie-out, medication, whatever the people might need. We also help with spaying and neutering," explained Zoey. She also goes with a big heart and patience in order to educate rather than wag her finger. "You don't get anywhere if you simply tell people that they're doing it all wrong."
Luna Foundation has constructed and distributed 60 doghouses on the island so far, 30 going to people who don't have the funds to pay for them, and 30 going to people who bought them. "Every purchased house pays for a donated one," Zoey shared. On top of those 60, about 100 more have been contributed through a fundraiser organized by Billy Lambert, an American animal lover who has participated in the last three MASH sterilization campaigns on Aruba. Billy's son, Mikey, is now here with Shane to build the last of the 100 houses funded by Billy's fundraiser.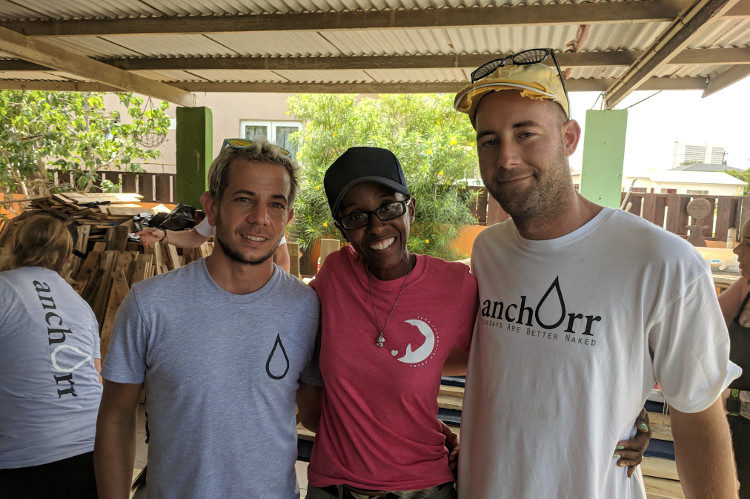 The doghouses are prefabricated Ikea-style using pallets sourced from Super Food, as well as plywood and tarp (for waterproofing). Then the various pieces—base, walls, and roof—are transported to the dog owner's home and assembled there.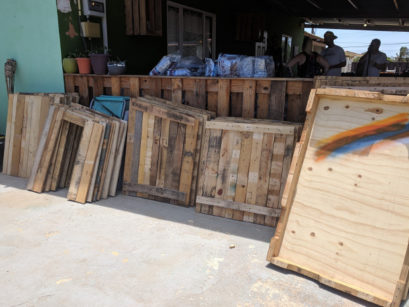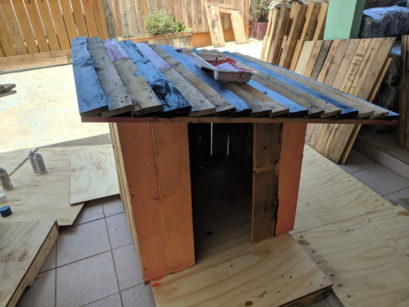 As owners of a surf clothing brand called Anchorr, Mikey and Shane also spent some of their time on the island promoting their brand, collaborating with a small group of photographers, models, and a makeup artist whom they often travel with for promotional purposes (including @missamberfields, @aubriebony, and @glambyaliciaxo). On Friday, Mikey and Shane invited the group to come and get their hands a bit dirty painting some doghouses at Zoey's house in Gasparito. It was a flurry of painting, drilling, and sharing the good vibes created by doing something for the betterment of Aruba and its animals.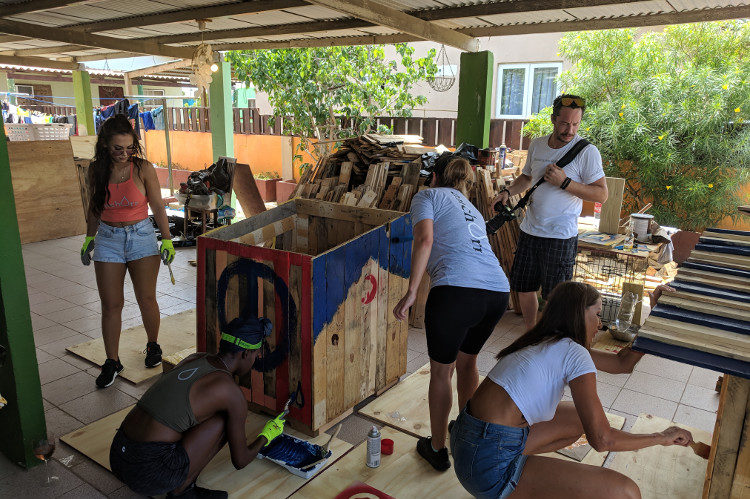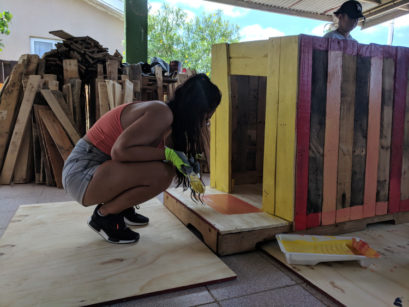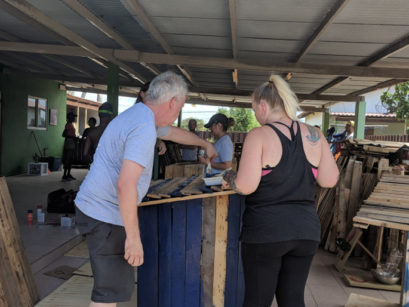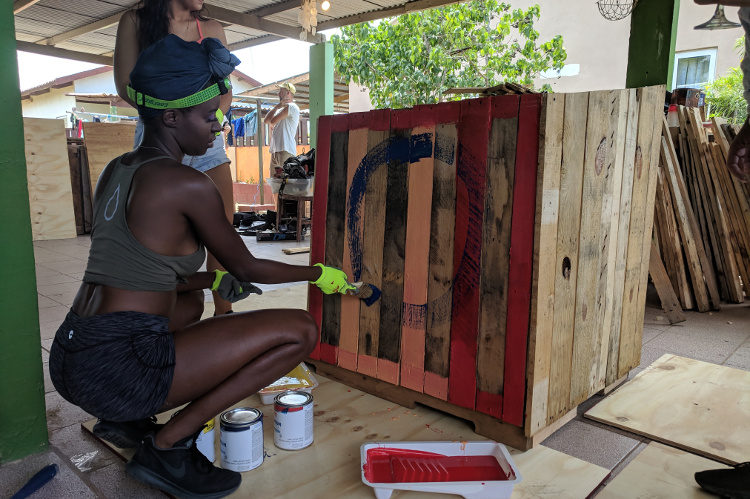 Luna Foundation has also placed several doghouses in the streets of Aruba for strays, helping to keep the strays contained within a certain area, away from homes. Luna has also placed feeders in various locations around the island for strays, refilling them on a daily basis. It's Zoey's goal to have feeders placed in all locations across the island where strays congregate.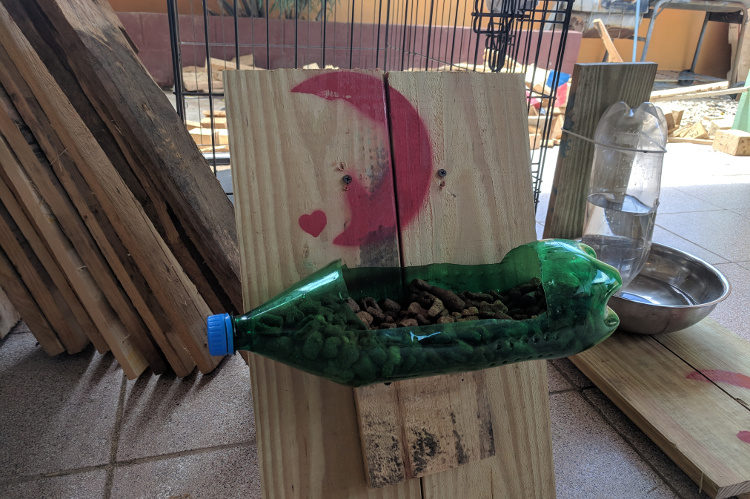 Luna's work in educating children is especially laudable, as the youth are Aruba's future pet owners. When Zoey goes into local schools, she takes some doghouses with her. "I want the kids to see them, touch them. I want them to feel excited when they see them in the streets, providing shelter for strays, or in someone's yard. I know I certainly get excited!"
Support Luna Foundation by visiting their website at www.luna-aruba.com.