Published on:
Ducks for Dogs Race at Marriott's Aruba Surf Club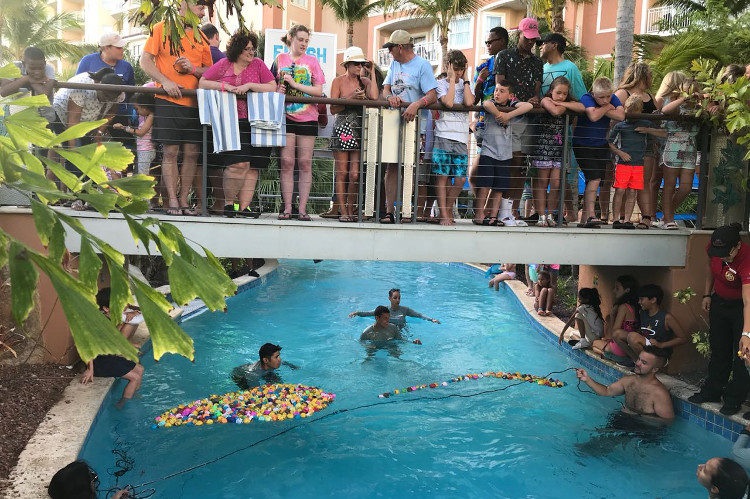 Text by Tina Causey-Bislick
Images by Tina Causey-Bislick and Marriott
In 2016, Bucuti & Tara Beach Resort launched a community spay/neuter initiative, Stimami Sterilisami (Love Me, Sterilize Me).  The resort is owned by animal and environmental advocate Ewald Biemans, who launched the program in an effort to reduce our island's population of homeless dogs and cats, with an emphasis on creating awareness for responsible pet ownership. The program subsidizes sterilization of non-purebred pets in an effort to encourage local pet owners to spay/neuter by making the procedures more affordable. Stimami Sterilisami also assists Aruba's non-profit animal rescue groups, making it entirely free to spay/neuter their rescues.
This past March, the Aruba Marriott properties joined the Stimami Sterilisami efforts, organizing a variety of events, including a dog walk in April, followed by a flea market on June 3, hosted by Do It Super Center in Shaba.  For the flea market, Aruba Marriott associates donated toys, clothing, housewares, and books; furniture and linens were donated by the Aruba Marriott properties; The Ritz-Carlton, Aruba donated T-shirts; and much of the food and beverages sold at the market were donated by Caribbean Overseas and Tropical Bottling.
The latest fundraising event, Ducks for Dogs, was held at the Lazy River of Marriott's Aruba Surf Club. Guests had the opportunity to purchase rubber ducks for a nominal fee of five dollars each, hoping that their duck would cruise the Lazy River and cross the finish line first.  A total of 452 ducks were sold.  Participants' ducks floated in two separate races, with the first five finishers of each race winning gift certificates to Marriott's restaurants, including Ruth's Chris, Atardi, La Vista, Champions, and Captain's Galley.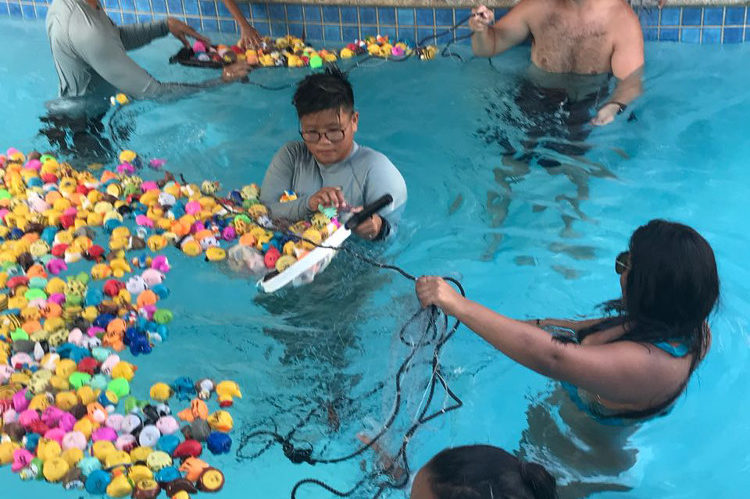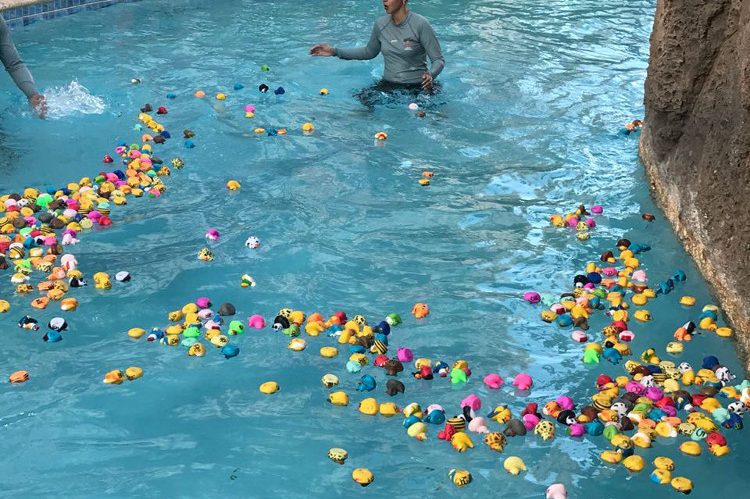 The Stimami Sterilisami program has sterilized and microchipped more than 8,000 pets and strays since 2016.  Other island partners that have injected funds into the program include the Aruba Tourism Authority and the Tourism Product Enhancement Fund (TPEF).
For more information on the program, visit the website at www.stimamisterilisami.com and the Facebook page @stimamisterilisami.