Published on:
Get Your Yoga On at Island Yoga!
By Tina Causey-Bislick / Images by Steve Keith & Jacky Lopez
Rachel Brathen, aka Yoga Girl, ushered in 2017 with the opening of Island Yoga, one of the Caribbean's largest yoga centers.  The 18,000-square-foot center of wellness and yoga features two dedicated yoga practice spaces, showers, dressing rooms and restrooms, a clothing and accessories boutique, Nourish Café, and a peaceful outdoor garden for relaxation.
At the heart of Island Yoga are the yoga and wellness-centered classes, seminars, and retreats.  It's easy to do #YogaEveryDamnDay at Island Yoga, where more than two dozen weekly opportunities to stretch and strengthen both body and mind await.  Classic Vinyasa Flow, Yin Yoga, Core Flow, Power Hour, Ritual Flow, Terrawave Yoga (a unique flow class on bamboo balance boards), and Satsang meditation practices are offered in the morning, afternoon, and evening throughout the week, hosted by local and international yoga instructors.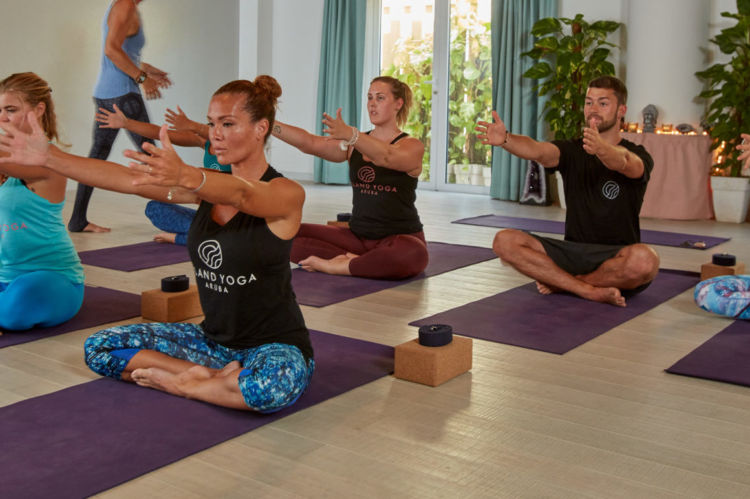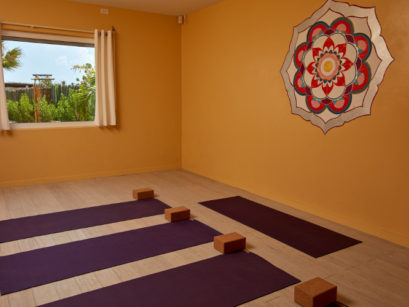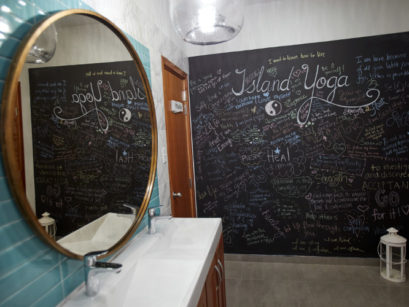 Rachel's signature SUP Yoga (Standup Paddleboard Yoga), practiced on handcrafted boards created just for Island Yoga, is held on the serene waters just off Fisherman's Huts, next to The Ritz-Carlton, Aruba (find out more about Standup Paddleboard Yoga). If you are on Aruba during a full moon, a most unique island experience is Island Yoga's Full Moon Flow, held under the light of the moon on the powder-soft sands of Arashi Beach, just underneath the hillside perch of our historic California Lighthouse.
Fuel your body at Island Yoga's Nourish Café.  I swear, if I could eat here every day, I could easily become a vegan—or at the very least a vegetarian.  Nutrient-rich, savory dishes are bursting with taste, flavored with the delicate finesse of fresh herbs and spices. Popular options include avocado toast, made with fresh artisan bread and topped with grilled mushrooms; the "All-Day Breakfast Burrito," heartily stuffed with brown rice, mushrooms, avocado, tofu scramble, and chipotle sauce; Nourish's taco salad, featuring cilantro brown rice, avocado, corn, black beans, tortilla chips, and fresh salsa over romaine; and the pesto and goat cheese panini. Quench your thirst and amp up your energy tank with fresh juices, smoothies, and organic teas and coffees.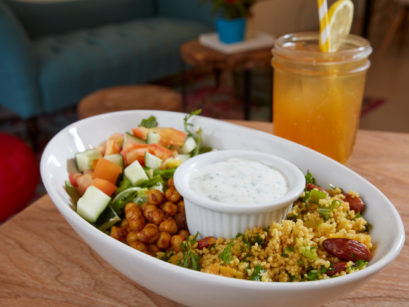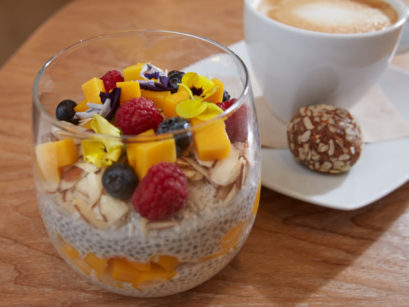 Island Yoga's boutique features yoga gear and unique island apparel and accessories, including Tangerine Aruba's handcrafted bags and totes (crafted right in the boutique) and We The Beach People accessories.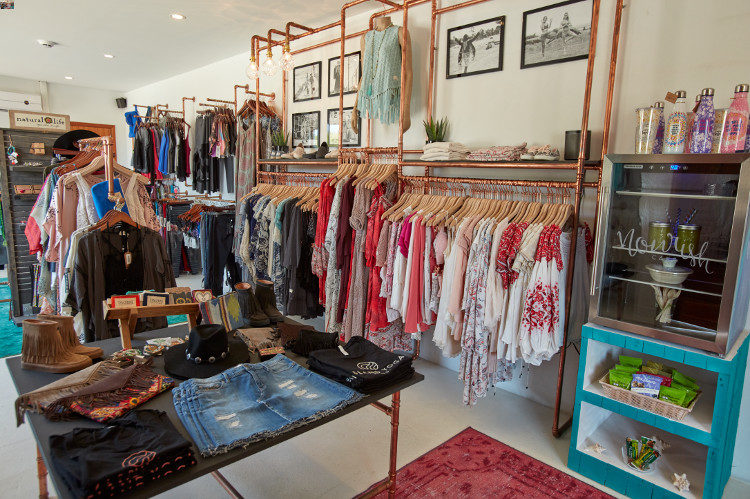 Whether stopping in for a class or a nosh at Nourish Café, visitors to the island can infuse a bit of island wellness into their vacations while enjoying Island Yoga Aruba's serene and inspirational setting.  And for our local community, Island Yoga has special packages to help you make yoga and wellness a regular part of your health and fitness regime.