Published on:
Give Me the Night on the Kukoo Kunuku
Text & Images by Tina Causey-Bislick
I'm waking up with a bizarre array of images flickering in and out of my consciousness like an old, scratchy film reel. It's surreal—I see images of myself getting a tattoo. I quickly jump up and run to the bathroom mirror—phew, no tattoos. The next film clip running in my head shows me that at some point last evening, I was dancing on top of a bar with girls in pink rhinestone cowboy hats…next, a group of us are gathered around a piano singing "New York, New York"…then, I'm adorned in a fancy headpiece, sandwiched between a guy named Fred from Boston and Claudine from Baltimore in what looks like a Carnival party train…and wait, is that Michael Jackson on the dance floor? I feel like Alice returning from a night in Wonderland, but instead of the Mad Hatter presiding over my adventures, it's this crazy, maraca-shaking lady called Mama.
And then it all comes rushing back to me. No, I am not Alice and I didn't fall down the rabbit hole. I spent a night on the Kukoo Kunuku Party Bus!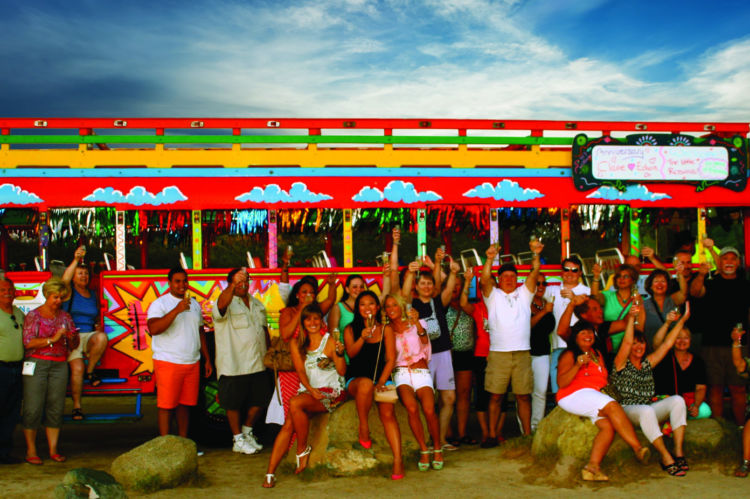 In Aruba, we often go on a "paranda"—our version of barhopping. We gather friends together and caravan around the island, hitting up local bars that are a little off the beaten, touristy path. For vacationers that don't have locals to paranda with, the Kukoo Kunuku is the way to go! No pondering over road maps, no worrying over who has to be the designated driver—the crew on the Kukoo Kunucu has the entire six-hour evening planned out for you, picking you up right at your hotel and dropping you back off at midnight (now, how you make it up to your room after you are dropped off is up to you!).
Although the agenda doesn't vary much, every night on the Kukoo Kunuku is as unique as its passengers for the evening. On the evening I joined in, our menagerie included a couple celebrating their anniversary, a group of rowdy Aruba regulars that have been coming to the Island for three generations and call themselves "The Little Rascals," a trio of lovely single ladies, a few honeymooners, and even some locals—it was a great mix, with shots and maracas as the glue that bonded us all.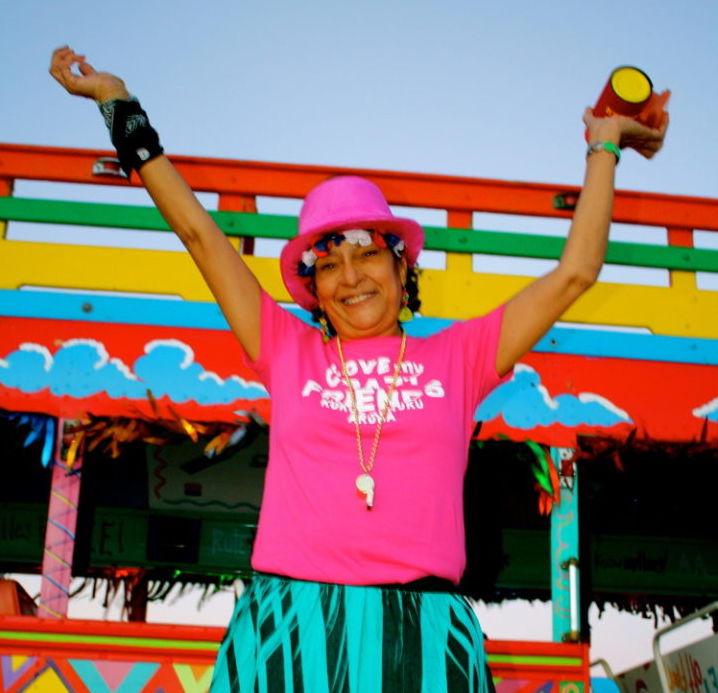 First Stop: Arashi Beach, Aruba

The evening started off innocently enough at one of the popular local beaches on the Island, located just below the California Lighthouse. Champagne on ice was waiting for us upon our arrival, and on cue we caught the sun setting into the sea. We all gathered for a group picture, and my only regret is not capturing this same group at the end of the night for an "after" picture…then again, we are all probably better off not seeing that "after" shot of ourselves!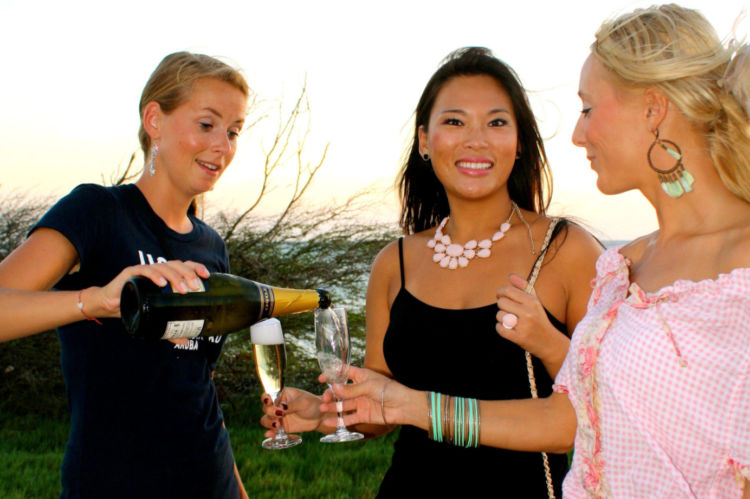 Second Stop: Fermin's Bar, Aruba

This is what I love about this tour—our visitors to the Island get a chance to see parts of the "real" Aruba and experience bars and nightlife outside the hotel area. Fermin's, located in Noord (about ten minutes from the hotel areas), is a popular watering hole where Friday-night happy hour draws in anyone from politicians and bankers to fishermen and windsurfers. Weekends attract the barbecue crowd that comes for the Aruban-style ribs and cold beers after a day on the beach.
The night we stopped in, a lineup of sexy ladies greeted us with complimentary "Fermin's Fantasy" shots, shifting the evening into high gear.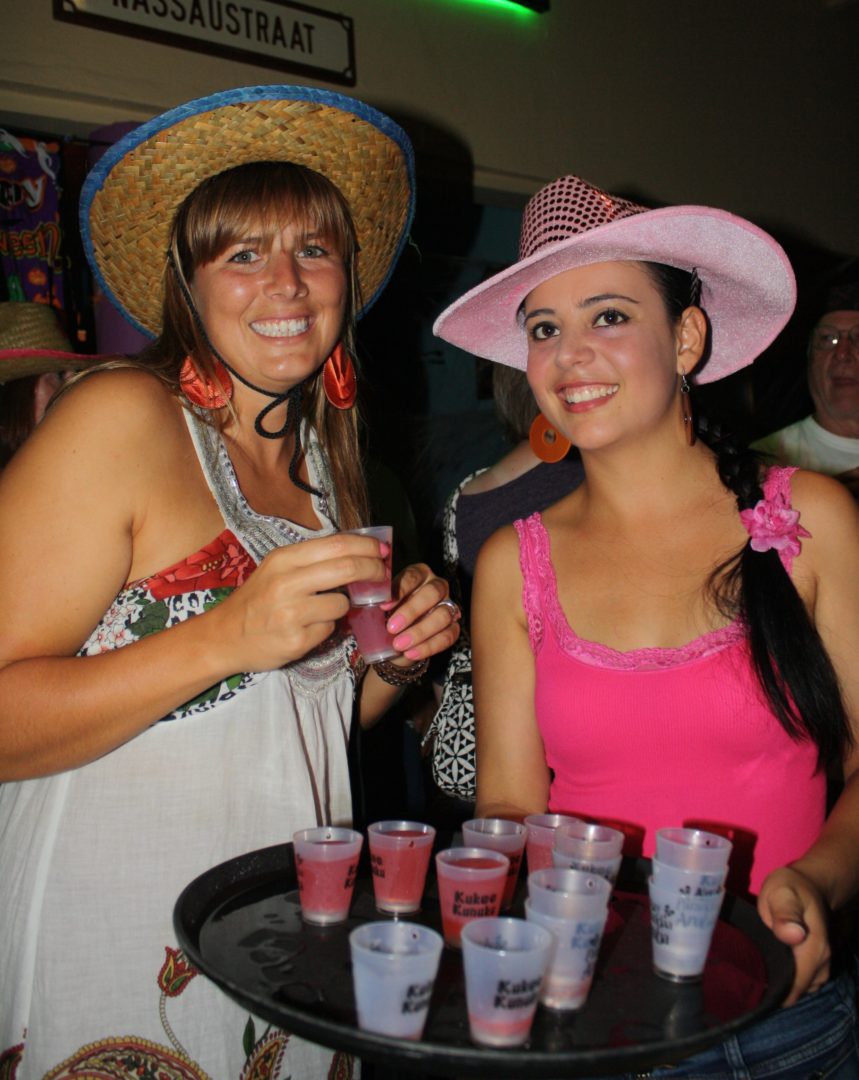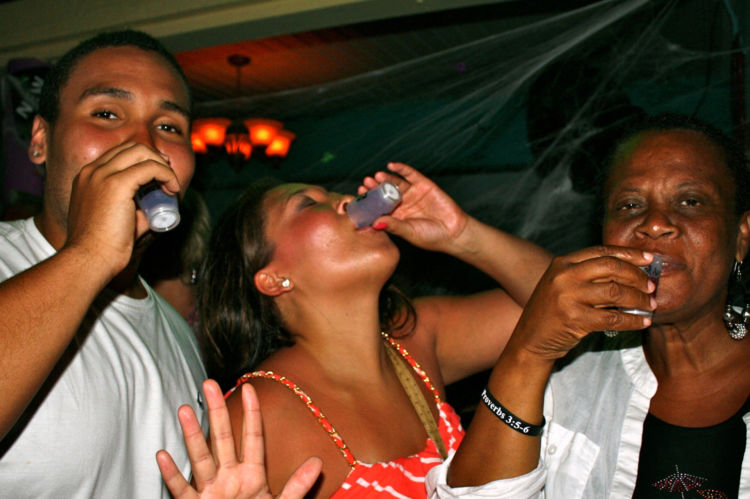 Third Stop: Residencia Sylvia for dinner
I have lived on the island for over 15 years, but never knew about this place. It's the private home of Mr. Atan Lee, the former head of protocol for Aruba, and dinner is served in the back garden of the home amongst lush tropical landscaping and a pool. The timing was perfect—we were all getting hungry and in need of tempering the alcohol with some food in our tummies. Dinner was simple but tasty (chicken breast in a local creole sauce with rice and veggies).
And remember that tattoo I was so worried about? This is where it happened—a temporary one, that is. Two artists were on hand to body paint just about anything one could want, and several in our group happily offered up their skin as canvasses.
Refueled and recharged, off we went to continue our paranda.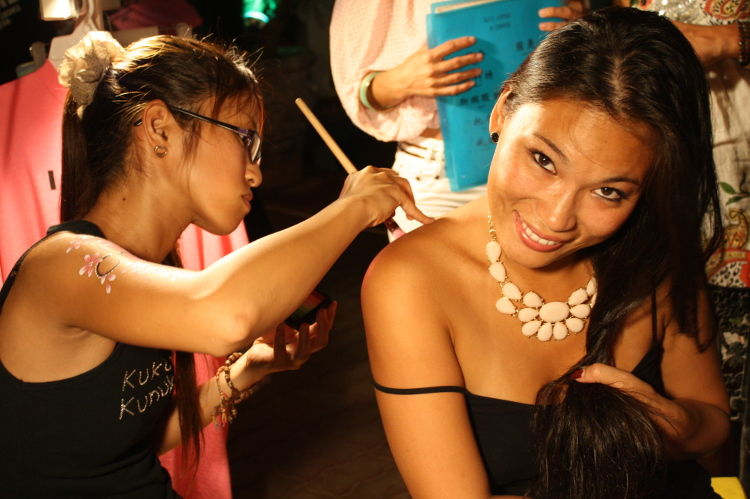 Fourth Stop: Soprano's Piano Bar Aruba

This was the only stop that was in the hotel district, but there was certainly no shortage of locals joining in on the fun ignited by a multi-talented entertainer who likes to tickle the funny bone as well as the ivories. Requests were pouring in, and the gang had a great time singing along.
The bar offers inside and alfresco lounge seating, and bartender Thesse makes great martinis. Several in our group were already making plans to walk over from their hotel the following evening.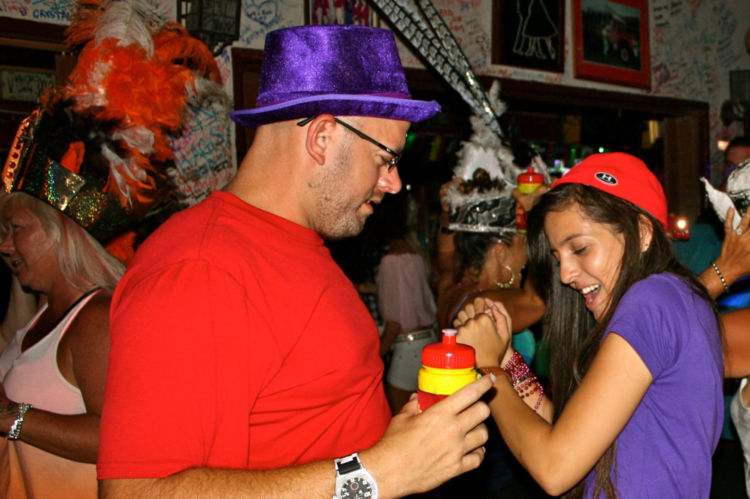 Fifth Stop: La Ronda
Located on a small side street in Oranjestad, this bar is a favorite of local fans of Major League Baseball and soccer. Upon first inspection, it's a no-frills, dark and cavernous place, with locals lined up at the bar, glued to the television watching their favorite players. (That evening, they were cheering on their hometown boy, Xander Bogaerts, playing for the Boston Red Sox in the World Series.) But Arubans are multi-taskers, especially when it comes to having fun, and (cue the dance music) upon our arrival, many jumped up to show us all how to do some of the popular Carnival dances—they even had Carnival headpieces for us to wear!
At one point, I feared I had had one too many shots when the song "Beat It" was accompanied by a Michael Jackson lookalike performer!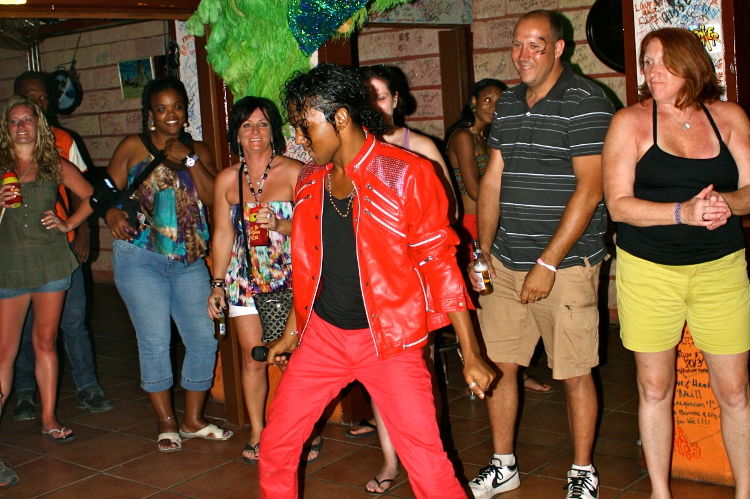 Last Stop: U Wanna Beer, Aruba

In the heart of downtown, we finished our paranda at U Wanna Beer. Did we want a beer? Heck, why not!? If you were not dancing already, you were by now—on the dance floor, on the bar, in the bathroom. We were at that point where anything goes, including a group of guys from our bus—from 20-somethings to 60-somethings—doing the YMCA with Mama on top of the bar while their wives, girlfriends, and buddies captured plenty of digital material (great for potential bribery and blackmail if ever needed one day!).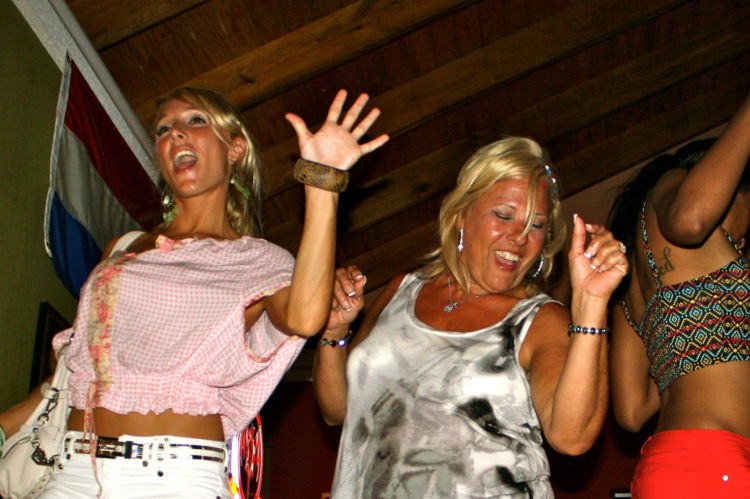 At the stroke of midnight, it was time to head home. Although we all shook our maracas a little less loudly, everyone was still pumped from our six-hour adventure. One by one, we said goodbye to our paranda pals as they crawled off the bus and back to their hotel rooms.
Kukoo Kunuku offers three different night tours: the Dinner & Barhopping Tour (featured above), the Pub Krawl, and the Wine on Down the Road Tour. Please note that the restaurant and bars visited on the Dinner & Barhopping Tour vary.  Book directly at +(297) 586-2010, on Kukoo Kunuku's website, or visit your hotel activities desk to book an unforgettable, totally unique night on Aruba!