Published on:
Go Vegan in Aruba at Elements
Written by Debbie Kunder
After recently missing a friend's birthday dinner, I invited her out for a belated birthday lunch—my treat, her choice. I was pretty psyched when she chose Bucuti & Tara Beach Resort's restaurant, Elements, which is offering a new all-vegan lunch menu in addition to its regular menu. I am not a vegan, nor am I even vegetarian as I eat seafood, but I do believe that ethically veganism is the way to go. Unfortunately, my level of discipline does not match my sentiments on the matter—gosh, why does cheese have to be so goooood?—but I do get pretty excited about the prospect of eating a vegan meal.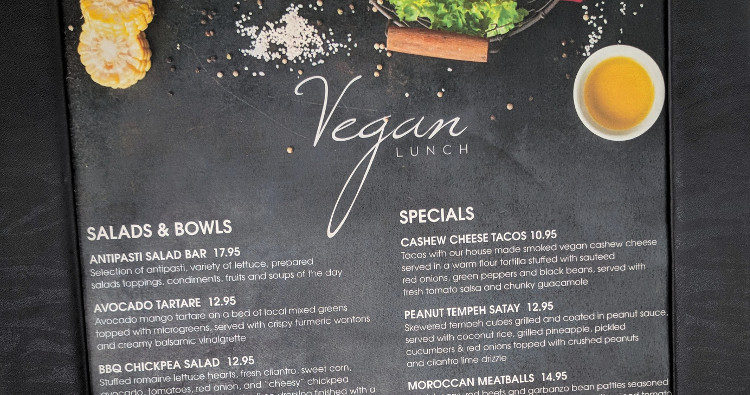 As explained by Tisa La Sorte, Bucuti's director of sales, marketing, and administration, Elements introduced vegan menus back in 2013, but it was recently decided that they needed to be upgraded and offer more variety. So Bucuti hired vegan consultant Meredith Marin to work together with Elements' sous chef and Bucuti's in-house nutritionist (also both vegans) to create some new vegan dishes, thereby adding a bit of razzmatazz to the vegan lunch menu. "We have always wanted to make sure that our vegan offerings aren't just salads, and that they are balanced meals and promise exciting flavors," explains Tisa. "And this is what we wanted to achieve with the launch of the new vegan menu."
The verdict? Who needs cheese when you can have a wonderfully umami-licious Vietnamese bahn mi sandwich—pan-seared tamari tofu, pickled local cucumbers, pickled onions, basil, and peanut sauce all stuffed into a fresh baguette? Jen was a big fan of the Moroccan meatballs—patties made of black beans, red beets, and garbanzo beans, seasoned with Moroccan spices and served over quinoa with a spicy tomato sauce, asparagus, and toasted almond slices. Oh, I almost forgot about our shared appetizers: the pumpkin soup and the sea salt fries (yes, they have vegan mayo to go with those fries).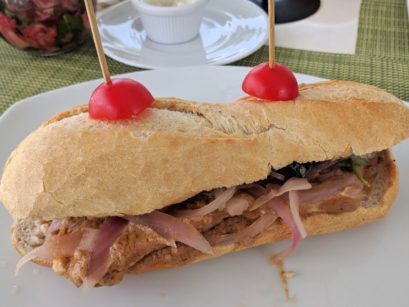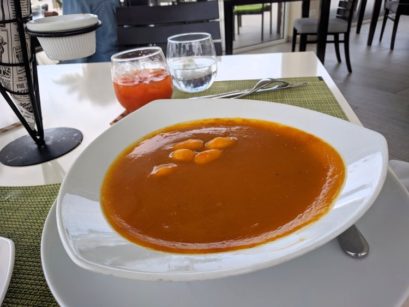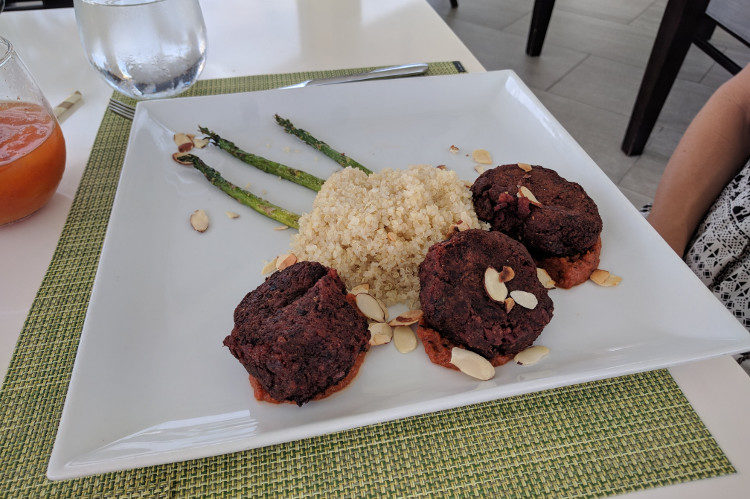 Elements also does a great job with their healthy smoothies and mock cocktails, packed with all sorts of antioxidant goodness. I went for the refreshing and not-so-sweet strawberry nojito, which was jam-packed with lots of fresh mint, while Jen opted for the carrot and aloe booster, made with various fruits and a touch of turmeric.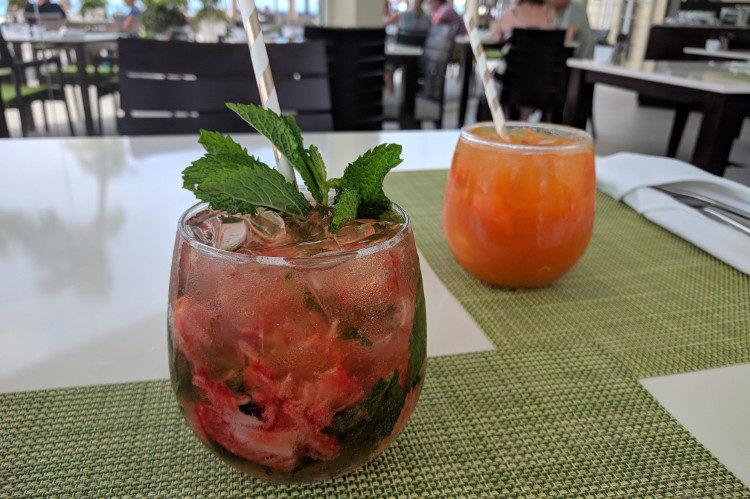 And to finish off the meal, we shared the oh-so-moist vegan carrot cake with coffee (alternative milks available, of course) while enjoying the lovely view of the beach and sea from inside Elements' glass-walled dining room. Apparently Elements is now working on upgrading their vegan dinner menu as well…can't wait!
Note: Indoor and outdoor seating available. All items on the vegan menu can be made gluten free.