Published on:
Gone Fishin': Creole Snapper Solanio
The Gone Fishin' Series
Aruba's chefs share recipes for fresh bounties from our local waters
Aruba's local fishermen, often out at sea before most of us are out of our beds, supply many of Aruba's restaurants with daily fresh catches. The waters off Aruba's coast are teeming with a variety of seafood. Some of the catches to look for while dining on the island include mahi mahi, snapper, grouper, wahoo, yellowfin tuna, Caribbean lobster, and shrimp.
We tasked seven of Aruba's top chefs with creating original dishes utilizing local seafood. The recipes, shared here one by one in our Gone Fishin' series, were crafted so that novice chefs can prepare these dishes at home. Although you may not have the geographical good fortune to procure fresh seafood, fresh frozen is certainly an option.
Recipe #1: Creole Snapper Solanio
Created by Executive Chef Stephen Toevs, formerly of The Ritz-Carlton, Aruba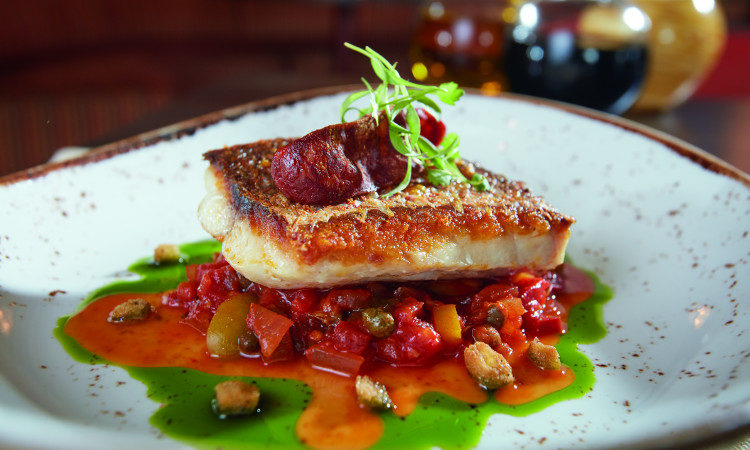 Ingredients
8 oz snapper fillet, skin on (serves 1; for 2 servings, use two 6-ounce portions of snapper)
4 oz cured Spanish chorizo
1 cup peeled San Marzano tomato, diced
1 green bell pepper, diced
3 tbsp capers
3 tbsp white vinegar
¼ cup green olives (no pits)
2 garlic cloves
¼ cup white wine
2 bunches of basil leaves
½ cup vegetable oil
salt, pepper, and olive oil to season
Preparation
Creole sauce: Sauté garlic until soft, add white wine, and cook down.  Add tomato, green pepper, capers, and olives.  Cook until it's a thick stew.  Season with vinegar, salt, and pepper.
Fish: Season the fish with salt, pepper, and olive oil.  In a cast iron pan, sear fish under med-high heat, skin side down, until the skin is crispy and releases from the pan without sticking. Flip once and finish on flesh side.  Set fish aside to rest.
Basil oil: Blanch basil and dry out leaves with a towel.  With a high-powered blender or food processor, blend basil and vegetable oil until smooth and bright green.  Set mixture aside in refrigerator and strain through a coffee filter for 6 hours.
Plating the dish
Add creole sauce to the bottom of the plate, place fish on top, garnish with gently pan-seared chorizo, and use the basil oil as a secondary sauce.