Published on:
Gone Fishin': Creole Wahoo Tiradito
The Gone Fishin' Series
Aruba's chefs share recipes for fresh bounties from our local waters
Aruba's local fishermen, often out at sea before most of us are out of our beds, supply many of Aruba's restaurants with daily fresh catches. The waters off Aruba's coast are teeming with a variety of seafood. Some of the catches to look for while dining on the island include mahi mahi, snapper, grouper, wahoo, yellowfin tuna, Caribbean lobster, and shrimp.
We tasked seven of Aruba's top chefs with creating original dishes utilizing local seafood. The recipes, shared here one by one in our Gone Fishin' series, were crafted so that novice chefs can prepare these dishes at home. Although you may not have the geographical good fortune to procure fresh seafood, fresh frozen is certainly an option.
Recipe #3: Creole Wahoo Tiradito with Lemon Crème & Mango Leche Tigre

Created by Executive Chef Urvin Croes of White Modern Cuisine and The Kitchen Table by White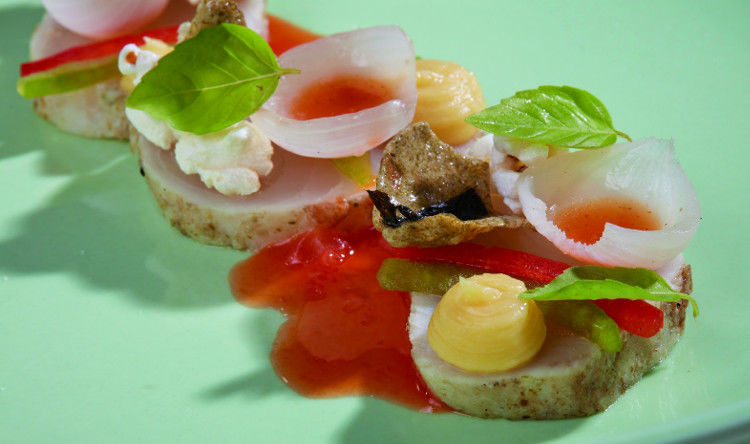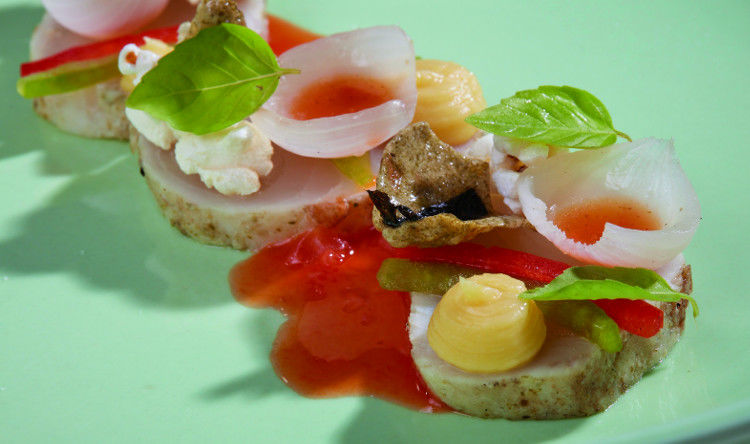 (Serves 4 to 6)
Ingredients
16 oz wahoo fillet
4 cloves of garlic, minced
½ yellow onion, diced
1 bunch cilantro, chopped
2 limes, juiced
1 cup olive oil
salt and pepper to taste
garnish (popcorn and young basil leaves)
For the lemon crème:
6 oz lemon peels, only yellow
1 oz water
5 oz lemon juice
1 ½ oz powdered sugar
1 ½ oz butter
For the red bell pepper vinaigrette:
1 red bell pepper
3 lemons, juiced
½ red onion, finely chopped
For the roasted onions:
6 white pearl onions, fresh
1 tbsp olive oil
3 basil leaves
1 clove garlic, finely chopped
For the mango leche tigre:
1 ripe mango, diced
3 limes, juiced
¼ yellow onion, diced
½ bunch cilantro, chopped
1 tbsp pica di papaya  (local hot sauce, available in supermarkets)
Preparation
Wahoo: Add the garlic, onion, cilantro, lime juice, olive oil, salt, and pepper to a blender and blend smooth into a marinade.  Marinate the wahoo in the marinade, fully covered, in a Ziplock bag.  To cook, sear the wahoo by flash grilling 10 seconds on each side.  Cool and cut into thin sashimi slices.
Lemon crème:  Blanch lemon peels 3 times, in 3 different pots with boiling water, to remove bitterness.  Then stew them with the water, lemon juice, powdered sugar, and butter on low heat for 15 minutes.  Add to a blender and blend to a fine crème.
Red bell pepper vinaigrette: Clean and deseed the red bell pepper, cut into cubes, add the cubes to a blender with the lemon juice, and blend.  Strain through a fine sieve.  Add the finely chopped red onions and season to taste with salt.
Roasted onions: Clean and peel pearl onions and cut them in half.  Marinate pearl onions with the olive oil, basil, garlic, and salt to taste.  Bake in oven at 160°C until soft and tender (20-25 minutes).  Cool down in refrigerator; then take all parts out.
Mango leche tigre: Add all ingredients to a blender and blend smoothly. Season with salt to taste.
Plating the dish
Place the wahoo slices on the plate and season with salt. On each slice, place a dot of the lemon crème, a roasted onion, and a piece of popcorn. Fill the roasted onions with the mango leche tigre, add some of the red bell pepper vinaigrette around or in between the wahoo, and garnish with the young basil leaves.