Published on:
Gone Fishin': Grouper & Roasted Pumpkin Purée
The Gone Fishin' Series
Local chefs share recipes for fresh seafood from Aruba's waters
Aruba's local fishermen, often out at sea before most of us are out of our beds, supply many of Aruba's restaurants with daily fresh catches. The waters off Aruba's coast are teeming with a variety of seafood. Some of the catches to look for while dining on the island include mahi mahi, snapper, grouper, wahoo, yellowfin tuna, Caribbean lobster, and shrimp.
We tasked seven of Aruba's top chefs with creating original dishes utilizing local seafood. The recipes, shared here one by one in our Gone Fishin' series, were crafted so that novice chefs can prepare these dishes at home. Although you may not have the geographical good fortune to procure fresh seafood, fresh frozen is certainly an option.
Recipe #4: Grouper & Roasted Pumpkin Purée
Created by Executive Chef Romeo Penacino of the Marriott Resort & Stellaris Casino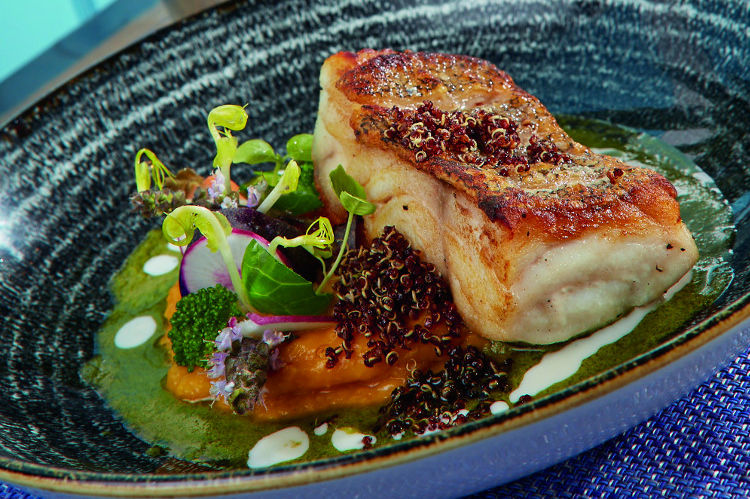 (Recipe serves 1)
Ingredients
6 oz grouper fillet
8 oz diced local pumpkin
0.5 oz brown sugar
1 oz butter
0.25 oz chopped garlic
2 oz olive oil
0.5 oz red quinoa
1 sprig of thyme
sea salt
pepper
seasonal vegetables
For green sauce:
2 oz cilantro
1 oz fresh mint
3 oz olive oil
1 oz lemon juice
1 oz capers
1 anchovy fillet in oil
For coconut sauce:
3 oz coconut cream
1 oz white wine
Preparation
Fish:  Season the fillet with salt and pepper.  Add some olive oil to a hot sauté pan and then cook the fillet for 4 minutes on each side, skin side first.
Pumpkin purée:  In a bowl, mix the diced pumpkin, garlic, brown sugar, the sprig of thyme, salt, pepper, and olive oil.  Place in an oven roasting pan and bake for about 15 minutes, until pumpkin is tender.  Remove from the oven, add the butter, and make a purée.
Vegetables: Blanch the seasonal vegetables for 1 minute.  Then place them in a hot sauce pan with butter to add flavor.  Set aside.
Green sauce:  In a blender, blend all ingredients together until they form a smooth, creamy mixture.  Add salt and pepper to taste.
Coconut sauce:  Mix the coconut cream and the white wine.  Add salt and pepper to taste.
Fried red quinoa:  Add red quinoa to boiling water.  Cook until the quinoa is soft.  Strain the quinoa and fry in hot oil (356°F-428°F).  Set aside.
Plating the dish
Put some pumpkin purée in the middle of the plate.  Add the seasonal vegetables to the left side of the plate.  On top of both sides, place the grouper.  Add the green sauce around them and continue with the coconut sauce.  Sprinkle the fried red quinoa.