Published on:
Gone Fishin': Tropical Caribbean Lobster Tabbouleh Salad
The Gone Fishin' Series
Aruba's chefs share recipes for fresh bounties from our local waters
Aruba's local fishermen, often out at sea before most of us are out of our beds, supply many of Aruba's restaurants with daily fresh catches. The waters off Aruba's coast are teeming with a variety of seafood. Some of the catches to look for while dining on the island include mahi mahi, snapper, grouper, wahoo, yellowfin tuna, Caribbean lobster, and shrimp.
We tasked seven of Aruba's top chefs with creating original dishes utilizing local seafood. The recipes, shared here one by one in our Gone Fishin' series, were crafted so that novice chefs can prepare these dishes at home. Although you may not have the geographical good fortune to procure fresh seafood, fresh frozen is certainly an option.
Recipe #2: Tropical Caribbean Lobster Tabbouleh Salad with Gazpacho Dressing
Created by Executive Chef Gerard Coste of Amsterdam Manor Beach Resort (formerly from Hilton Aruba Caribbean Resort)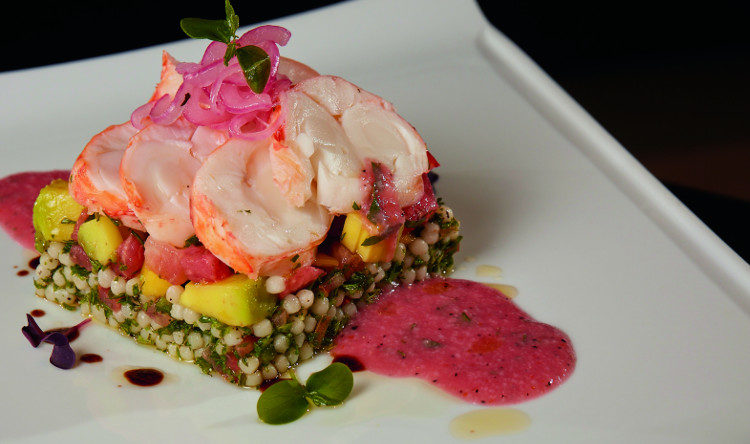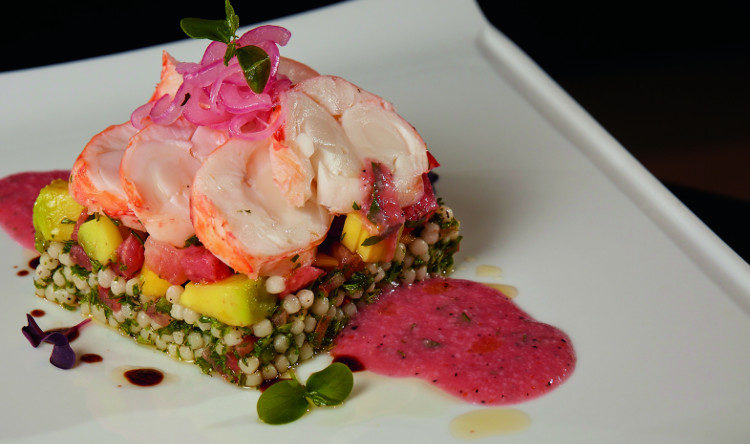 (Serves 4)
Ingredients
2 Caribbean lobster tails (8 oz)
stock
1 tbsp extra virgin olive oil
salt and pepper
For the tabbouleh:
1 cup Israeli (or regular) couscous
1¼ cups water
1 tomato, diced
½ cucumber, diced
½ jalapeño, chopped
juice of ½ lemon
2 tbsp extra virgin olive oil
3 tbsp chopped parsley
1 tbsp chopped fresh mint
For the fruit salad:
1 mango, diced
1 avocado, diced
1 slice of watermelon, diced
1 tbsp chopped cilantro
½ tsp sugar
½ tbsp rice vinegar (or regular vinegar)
For the marinated onion:
½ finely sliced red onion
½ tbsp sugar
¼ cup white vinegar
½ cup water
½ tsp chopped Scotch bonnet pepper
For the dressing:
1 plum tomato, diced
1 tbsp extra virgin olive oil
1 tbsp chopped basil
1 tsp vinegar
1 tbsp cooked couscous (saved from preparation of tabbouleh)
Preparation
Tabbouleh:  Add couscous to boiling water, cover pot, and simmer for 8 minutes.  Allow the couscous to cool.  Combine the tomato, cucumber, and jalapeño with the couscous. Mix in the parsley, mint, lemon juice, and extra virgin olive oil.  Season with salt and pepper to taste.    *Save 1 tbsp of cooked couscous for the dressing.
Fruit salad:  Combine all fruit salad ingredients.  Salt and pepper as needed.  Keep refrigerated until plate out.
Lobster:  Poach lobster tails in stock for 3 to 4 minutes. Cool them in ice.  Remove the shells, keeping the tail shape.  Cut each tail into at least 12 medallions.  Add olive oil, salt, and pepper.  Keep refrigerated until plate out.
Marinated onion:  Combine all ingredients for marinated onions and let marinate for half an hour.
Tomato gazpacho dressing:  Blend all  dressing ingredients and strain.  Salt and pepper as needed.
Plating the dish
Place a square or round mold on the plate.  Add a layer of tabbouleh (3 cm) and press firmly.  Add a layer of fruit salad and press again.  Top with 6 lobster medallions.  Gently remove the mold and garnish with marinated onions.  Add the tomato gazpacho dressing.  (Can also garnish with microgreens.)