Published on:
Gotta Love Local : Amada's Kombucha & Friends
Most of us would agree there is something very special about acquiring locally made products—they most likely tell an interesting story, they're often handmade in small batches, and great care and even love goes into their production.
Those of us on Aruba really have a reason to love local products these days!  During shelter-in-place rules, we have come to rely on our local retailers and producers of many of our much-loved, homegrown products, especially those that are delivering to our doorsteps.
In the current Spring-Summer 2020 edition of Island Temptations, writer Debbie Kunder explores the growing list of locally made products, many of which are available for delivery to your home.  Discover the healthy, organic products offered by Amada's Kombucha & Friends.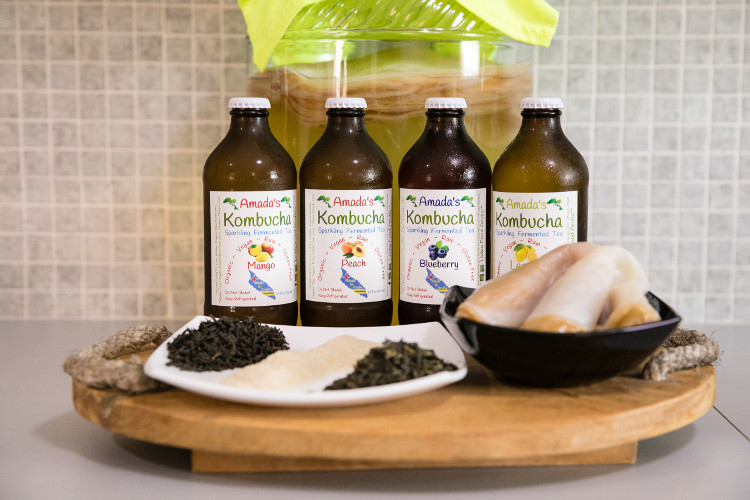 Thom and Amada Goushaw had planned to settle into an easy-breezy life of retirement when they moved to Aruba in 2014, but plans changed when they found it challenging to find specific healthy foods on the island and decided to make them themselves. Others fell in love with their homemade products, and the orders started pouring in. Forget lounging on the beach with a book when your fans are clamoring for more kombucha!
And so Amada's Kombucha & Friends was born, specializing in making raw organic kombucha, almond milk, and red cabbage sauerkraut. Their kombucha, or sparkling fermented tea, is also vegan and gluten-free, and comes in a variety of flavors, including classic, peach, cashew fruit, ginger, apple, blueberry, lemon, mango, pineapple, and komboffee. The brand reuses and recycles whenever possible, even giving refunds for kombucha bottles, and plastic is kept to a minimum.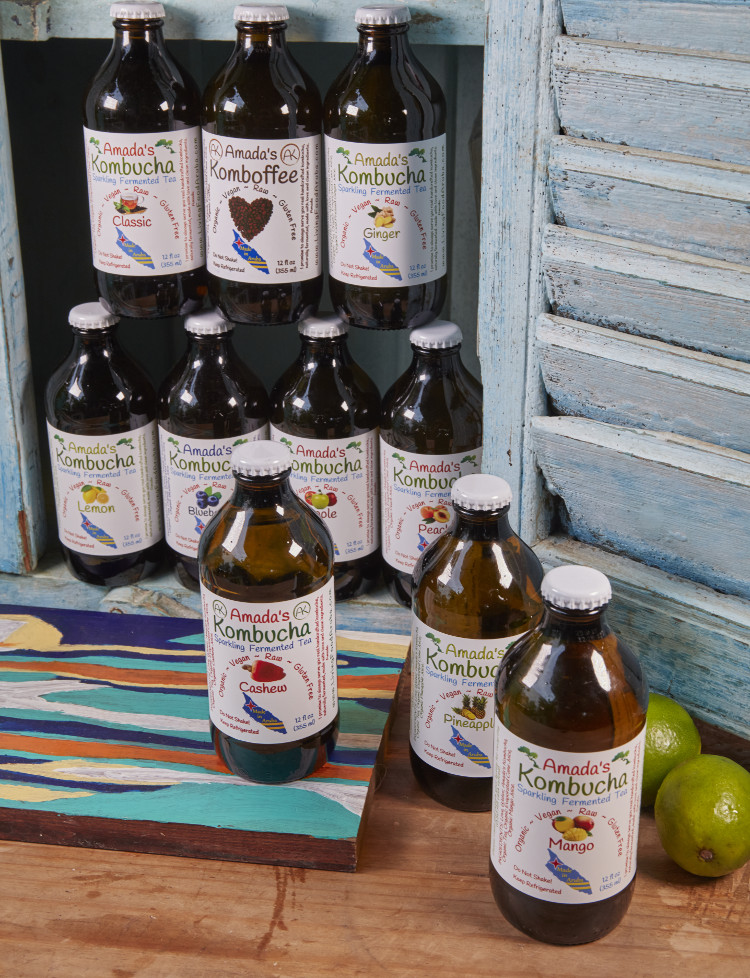 Amada's Kombucha is available at Island Yoga, Eduardo's Beach Shack, Garden Fresh, One Happy Bowl, Rituals at The Ritz-Carlton, Gelato & Co. at Marriott, Baz-RRR, Aruba Experience Cafe, and Manchebo Beach Resort & Spa, and all the brand's products are now available at the newly opened Amada's Kombucha & Friends boutique at Margarita Plaza in downtown Oranjestad (Emmastraat 3). In the future, the boutique will also offer healthy desserts, organic sprouts, healthy lunches, comfortable seating, and health-related movies/documentaries projected on the mezzanine wall.
During Aruba's shelter-in-place, Amada's is delivering on Tuesdays and Thursdays; WhatsApp @+297 560 3650 to order. For more information, visit www.livingfoodaruba.com.
*Images from Island Temptations and the Aruba Tourism Authority