Published on:
Gotta Love Local: Eco Living Aruba
Most of us would agree there is something very special about acquiring locally made products—they most likely tell an interesting story, they're often handmade in small batches, and great care and even love goes into their production.
Those of us on Aruba really have a reason to love local products these days!  During shelter-in-place rules, we have come to rely on our local retailers and producers of many of our much-loved, homegrown products, especially those that are delivering to our doorsteps.
In the current Spring-Summer 2020 edition of Island Temptations, writer Debbie Kunder explores the growing list of locally made products, many of which are available for delivery to your home.  Today's blog features Eco Living Aruba.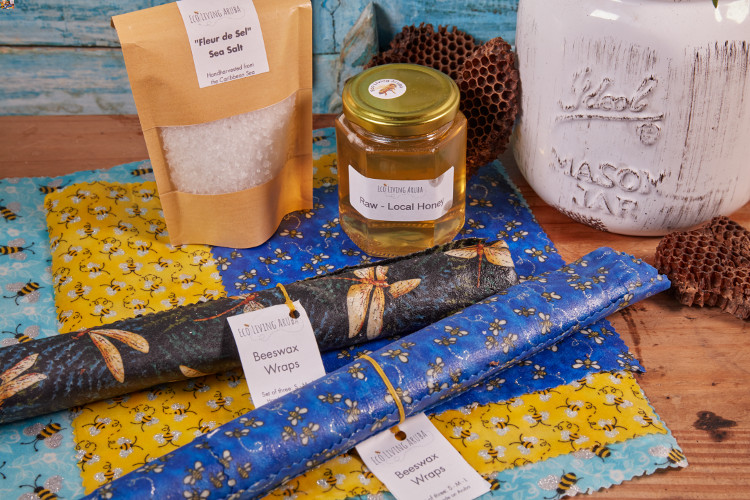 Based on their shared passion for sustainability, permaculture farming, small-scale husbandry, and beekeeping, Daniel and Rose Barros founded Eco Living Aruba. As Daniel explains, their bees now form the nucleus of their business—they have about 15 hives of their own and many others across the island (other people host the hives and receive 10% of the honey in return).  Daniel is constantly looking to improve his bee boxes, and his latest model is ingeniously outfitted with a fan powered by solar panels to keep the bees cool.
Eco Living Aruba currently offers a variety of products, many of which are an offshoot of their bee project, including honey, honey-flavored liqueur, and beeswax wraps. Bees love the loofah plant, which the couple now grows in order to harvest and sell loofah sponges. They also offer soap bars in three varieties—aloe, coconut charcoal (for oily skin), and honey—as well as dish soap infused with coconut oil or lemongrass oil. Homemade "fleur de sel" sea salt, extracted from evaporated sea water, is also on the menu and added to their Honey Sea Salt Caramels. Through the purchase of these products, clients help support Aruba's native bee population as well as Eco Living's mission to build a greener Aruba.
Visit their website, www.ecolivingaruba.com, to find out more about purchasing their products. Some products are also available at One Happy Bowl and The Specialists. Rose and Daniel are always up to something new—stay tuned to their latest projects on Facebook: @ecolivingaua.