Published on:
Guided Nature Walk, With a Twist!
Text & Images by Meredith Marin
Visiting Aruba is your time to relax, restore, and explore the island. This year we've seen a trend towards Aruba becoming a wellness mecca in the Caribbean. With an increase in vegan dining options, a focus on natural, locally made sunscreens, and a booming alternative healing community, Aruba is a destination that tourists are flocking to not just for the peaceful blue seas, but for a chance to find peace within.
Annelotte Prins, a personal development and health coach with a physical therapy background, recently launched a popular new activity on the island. Wandeltherapie, in Dutch, or in English, Walking Therapy, is a cross between an Aruban nature tour, a meditation experience, a therapy session, and a workout. It's a new, mindful way of seeing the island with a local guide while seeing yourself in a new way as well. Anne started her practice, Turtle Flow Aruba Training and Coaching, with a holistic approach, creating exercises customized to each client's interests and needs, offering them as tools to open up, look within, and feel at ease. Anne uses metaphors in nature—from breathing exercises and longer-held yoga poses to observing ants, making a mandala with little rocks, drawing sand, or singing mantras—to bring out a sense of self-acceptance and understanding.
I had the opportunity to experience Wandeltherapie with Anne on the walking trails of Alto Vista on the north side of the island. Before we started out on the path, she explained, "It's like walking with a friend, but that friend has no idea about your life. There are no judgments, only curiosity, a different perspective. You're free to be who you are with literally new paths to walk."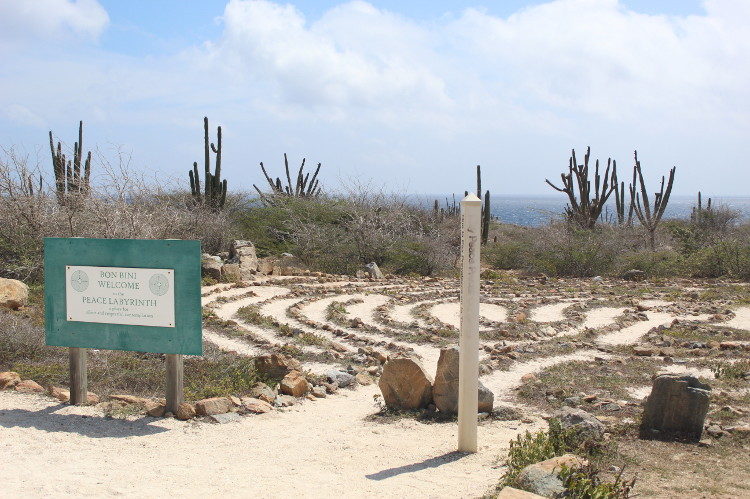 "But why meet up here at Alto Vista?" I asked. She replied, "Out in nature, your mind is open, not confined by the corners of a room in a building. When you are in movement, your thoughts are getting out of their patterns. Your view is changing around you, and your thoughts can be more flexible. Spending time in nature makes you realize you are part of something so much greater, and your problems are reduced with each breath of fresh air."
We started with a seated meditation in the rock garden by the Peace Labyrinth of Alto Vista. I felt the wind swirling around us and the warm sunbeams hugging me. Anne then gave me the space to walk the labyrinth. What a unique experience! She explained that a labyrinth is different than a maze, where you need to find your way out. In the labyrinth, all I needed to do was mindfully follow the trail, and it would lead me right to where I was supposed to be.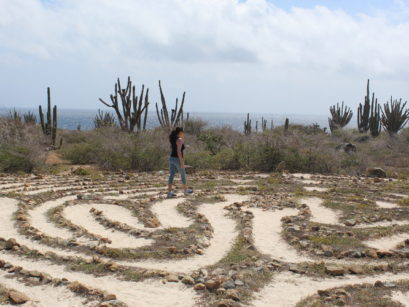 We then walked together for about two hours through the Alto Vista trails. At each crossing, it was up to me to decide which way to go. Amidst the vast cacti desert and the ocean breeze, I began to connect with my breath and my body. We walked toward the sea and sat on a rock to watch the waves crash. Anne asked me if there was anything in my life that I was working on. I shared my focus on letting go of past pain, negative thoughts, and anxiety. She asked me to choose a rock, and I picked up a smooth gray stone. She said, "This is your 'letting go' rock. Take it home with you. Use it in meditation. When you feel that you don't need it anymore, come back to this spot and return it to where it came from."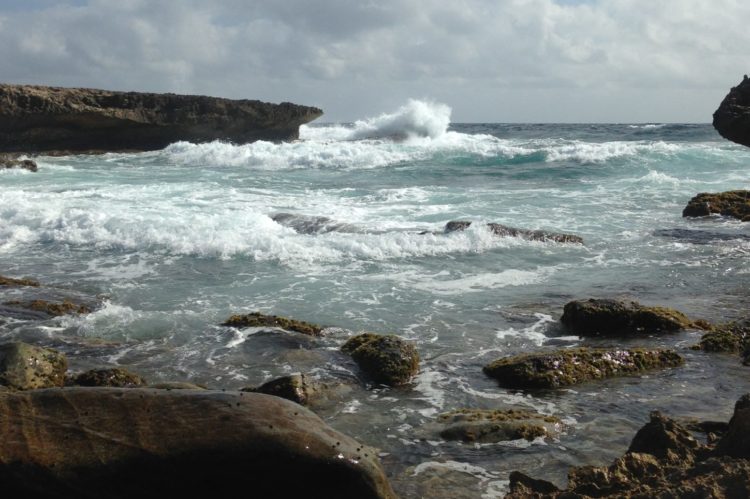 Being in nature is a powerful way to disconnect from work, relationships, and stress, and to just be, to find stillness. "Sometimes words just cannot explain what's within," Anne suggested. At some moments, we were silent. During others, we shared thoughts, ideas, and feelings. When I got into my car to drive home that morning, I thought, Wow, when can I do that again? Sometimes we are so deprived of nature, we don't even realize what we are missing.
If you spend your days sitting in an office cubicle, this is for you. If you're searching for your life's purpose, this is for you. If you have trouble making decisions and need to clear your head, this is for you. If you're searching for belonging, this is for you. If stress relief is what you're seeking, this is for you. Remember to wear sneakers and sunscreen, to bring a bottle of water, and to keep an open mind. A journal and a camera are also great additions to help capture your experience. The fitness level of the walking session is customized to your needs; Anne will help you find your perfect flow.
To contact Annelotte Prins at Turtle Flow Aruba or to book a Walking Therapy session, email her at [email protected]. Part of Turtle Flow's proceeds go towards supporting the following foundations: TortugAruba, Goshen Sustainable Farm, Aruba Reef Care Foundation, and Aruba Birdlife Conservation.