Published on:
Ha'Bon Soaps: Made in Aruba
Text by Tina Causey-Bislick / Images by Steve Keith
Aruban native Naline Heilbron turned what was originally a vacation in Colombia into a life-changing adventure. A visit to an Indian preserve in the South American country introduced Naline to the resourcefulness of the people there. "My encounter with the natives was an eye-opening one—they only rely on the land around them," explains Naline. The visit prompted Naline to return to Colombia to learn more about holistic forms of therapy. Once Naline researched mass-produced brand cosmetics and the added chemical and artificial ingredients that companies use in these products as well as the animal testing many of those companies use, she was determined to treat her body and the environment better. "The only way to make sure that what I am putting on my skin is all-natural was to make my own soap," she says.
Naline studied a cold process for making soap, utilizing ingredients found in her garden at home. Initially, she shared her craft with friends and family, but as demand for her moisturizing and freshly scented soaps grew, Naline embarked on a new venture, Ha'Bon, in July of 2015. The brand's name is a fun play on words in Papiamento: while "habon" means "soap," the brand name also highlights the word "bon," which means "good."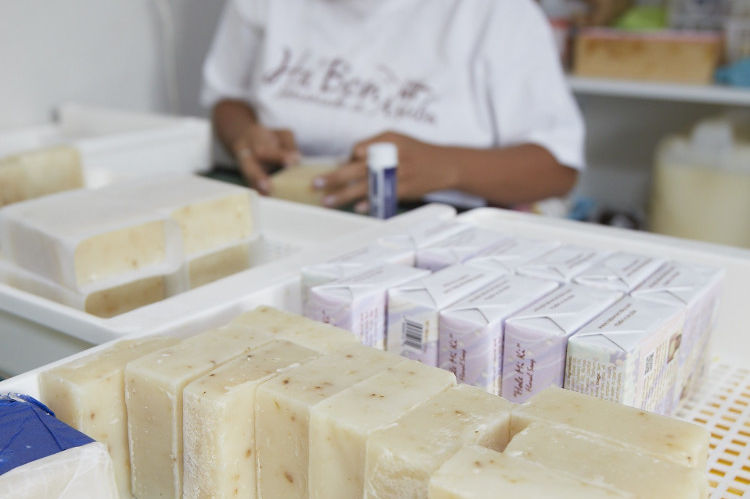 Within a few months, Bucuti & Tara Beach Resorts, the island's Green Globe Certified property, contracted Naline to produce Ha'Bon soaps for their guest rooms, followed by Divi Resorts. The increase in demand prompted Naline to extend the positive scope of Ha'Bon by enlisting the services of two local foundations for the disabled, Trampoline and Funari, to help with the wrapping of the soaps. Naline shares that her sister is a person with special needs, and growing up close to such a creative individual gave her the idea that she could collaborate with the foundations on her project.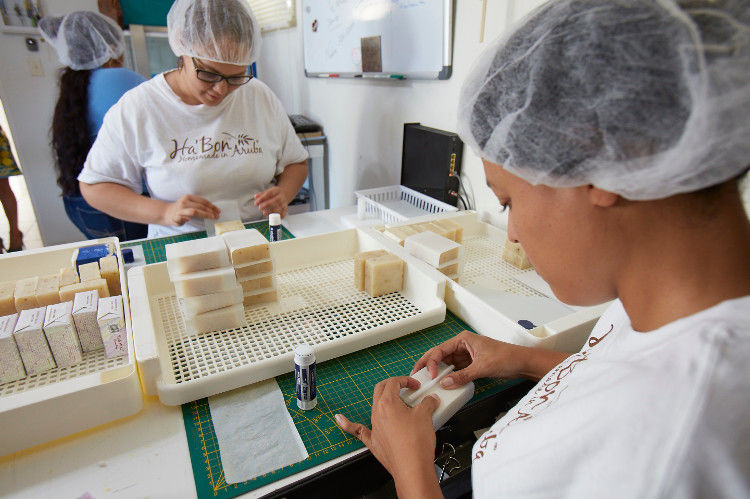 Naline is adamant about leaving as little of a footprint on the environment as possible. Bucuti and Divi resorts save the leftover scraps of soap from their guest rooms. The scraps are then hygienically reprocessed and recycled into new soaps that are donated to various community organizations and foundations.
Ha'Bon's product line is continuously growing. In addition to soaps, candles and candle holders are offered, the holders made from the wood of the native Kwihi tree here on the island. In 2017, the product line grew to include body lotions and shower gels. In December 2017, Ha'Bon opened at Paseo Herencia, where the complete line is on display. The space is clean and minimalistic with an oversized carved stone sink where customers can experience the products.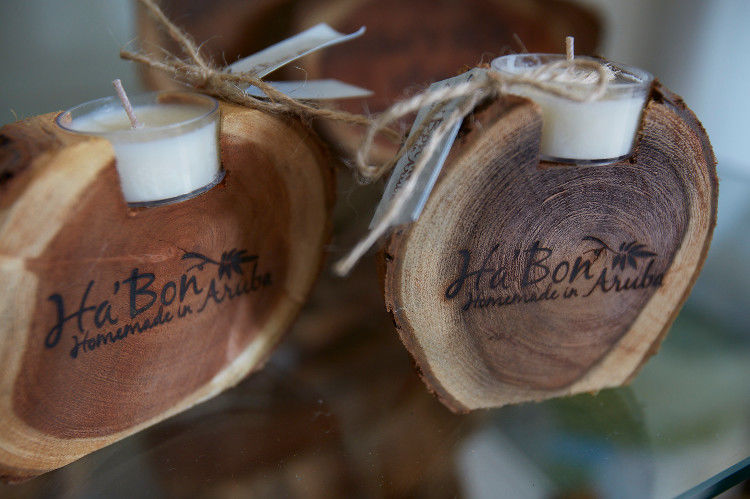 Naline concludes, "We're passionate special people. We create extraordinary products, and you can purchase them at 16 different outlets, including the flagship store at Paseo Herencia."
Visit Ha'Bon's website for store locations across the island.