Published on:
Have Fork, Will Explore: Craft Beer in Aruba
The Have Fork, Will Explore series is a collection of articles that profile interesting eats on the island. Grab a fork and join us!
Craft Beer Journeys Down to Aruba

Text by Tina Causey-Bislick / Photography by Steve Keith
In the United States, the craft beer revolution has been surging for the past few years, taking a big bite out of the mass-produced beer industry's national sales. The Brewers Association reports substantial growth every year for the past several years, with 2016 numbers accounting for 12.3% of the market share.
Restaurants and hotels in Aruba began getting requests for craft beer. Notes one local restaurant owner, "I can spot a craft beer lover immediately—they scan the tap handles looking for variety, wanting to know what cool and hip beers we have for them to try. Today's American beer drinker is looking for diversity—they have a sense of adventure when it comes to trying different beers." Gone is the devout loyalty to just one major beer brand. The quality, full-flavored beer movement brings with it an open-minded beer lover who wants to sample a variety of brews, many complemented with unusual ingredients like fruits, herbs, and spices.
With the North American market accounting for the largest share of tourism here on the island, several distributors have begun to fill this growing craft beer niche. Taylor Escobedo, craft beer specialist and sales manager for Bourbon Express, a locally owned distribution company that imports a wide array of craft beer, shares, "Variety is key. Restaurants and bars are recognizing that a diverse and plentiful beer menu is just as important as a diverse wine list." Rotation of selection is also key, as well as seasonal offerings. "Over the summer, craft beers with hints of fruits like strawberries and peaches are sought after, while in the autumn, beers with pumpkin come into seasonal popularity."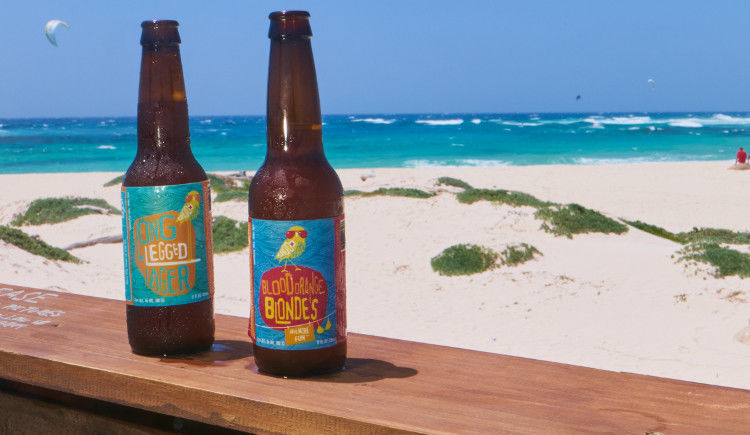 Like wine, craft beer is also being paired with food. With so many flavor profiles in craft beer (you can find sweet, toasted, nutty, fruity, spicy, earthy, smoky, buttery, and on and on), foodies can opt to pair food and beer based on both contrasting and complementary components. Visitors to Aruba who want to get their fill of seafood fresh from Aruba's waters might want to choose a craft beer with notes of fruit or spice to bring out the salinity and natural sweetness of the dish. An Aruban stoba (stew) made with beef or goat will pair well with a beer with malty and sweet or dark and roasted notes that complement the rich stew flavors. Having a cocktail hour with some Dutch Gouda cheese and fruit? Skip the wine and try a pale ale or Belgian-style tripel that cuts through the fat and cleanses the palate.
Currently, many major hotels on the island, including Hyatt Regency, The Ritz-Carlton, and Aruba Marriott, as well as dozens of local restaurants and bars, include craft beer selections on their menus. Local supermarkets Ling & Sons and Super Food also carry a variety of craft beers on their shelves.
Taylor and some of the island's food and beverage teams collaborated to pair brews from New Orleans brewer Abita, whose line of craft brews offers a variety of flavor profiles, with signature dishes from the F&B teams' respective restaurants on the island.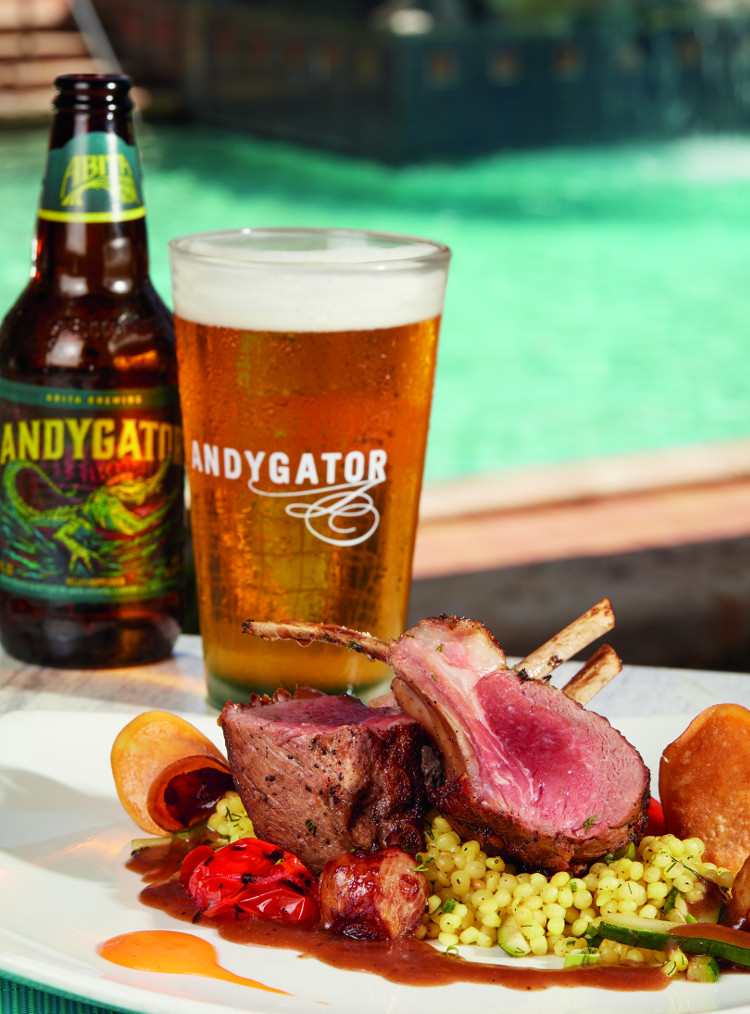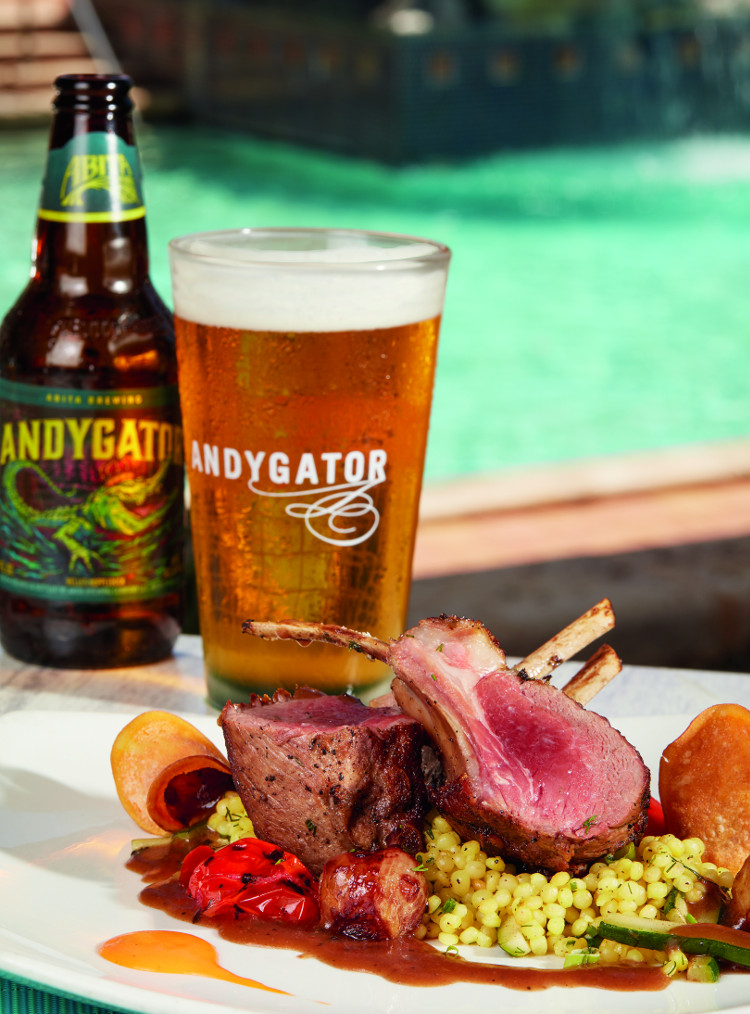 Located at the clubhouse of Tierra del Sol Resort & Golf, The Restaurant offers classically inspired cuisine with a decidedly contemporary edge. The magnificent wraparound terrace, with views of the rugged north coast and the historic California Lighthouse, is the ideal spot to sip a cold beer. The rack of lamb, prepared with Israeli couscous, squash spaghetti, roasted shallots, and lamb truffle jus, pairs well with the slightly sweet flavor and subtle fruit aroma of Andygator. Clocking in at eight percent alcohol by volume, this is definitely a beer for sipping slowly as you savor the lamb.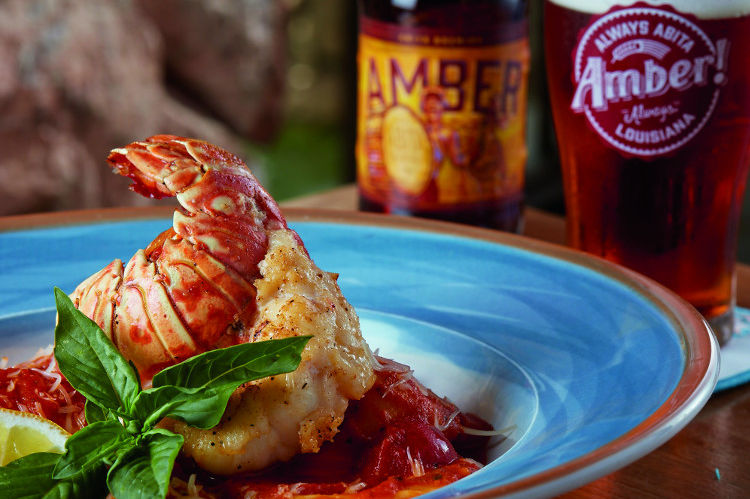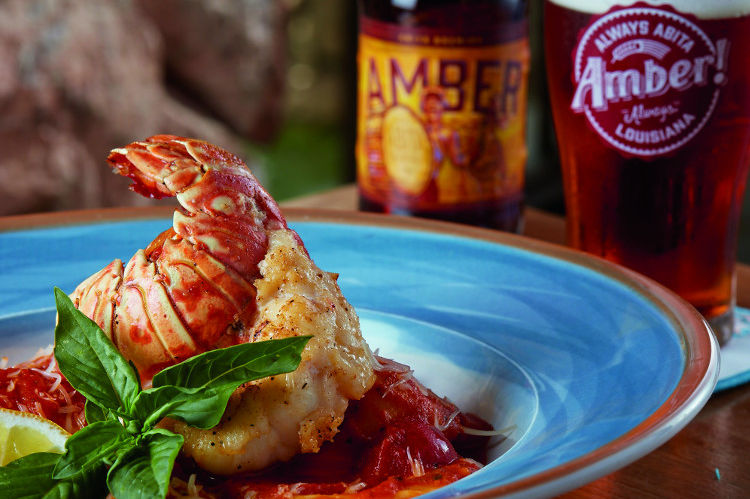 The Hyatt Regency Aruba Resort Spa & Casino hosts one of the premier Italian restaurants on the island. The quaint and cozy bistro features a stylish show kitchen that is a hub of creative energy producing classic Italian favorites and brick-oven pizza, as well as specialty dishes with fresh ingredients sourced locally. The flavors of the homemade pomodoro sauce in the restaurant's lobster ravioli dish are complemented with the Munich-style Abita Amber lager. The smooth, malty, and slightly caramel flavor hits just the right notes to synergize with the tomato-based sauce.
Bros and Beers & Abita Wrought Iron IPA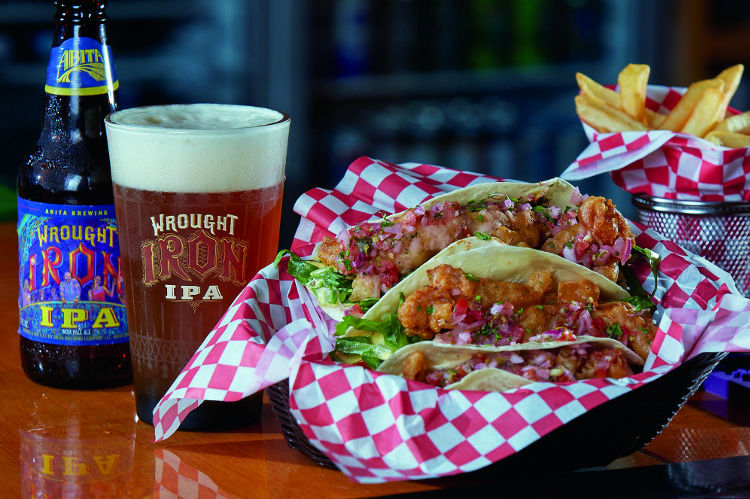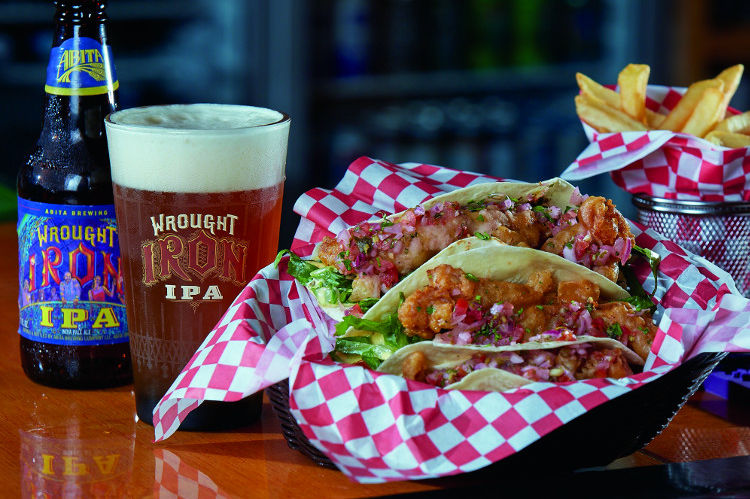 This locally owned bar specializes in craft beer, carrying more than 20 selections at any given time. The menu can be considered sports bar cuisine, but goes beyond wings and sliders with items like the bar's popular fried-fish tacos. Abita's Wrought Iron IPA, a bright and intense India pale ale, is ideal for cutting through the richness of the battered and fried fish and can keep pace with the strong bite of the cilantro-infused pico de gallo.