Published on:
Have Fork, Will Explore: Going on a Restaurant Paranda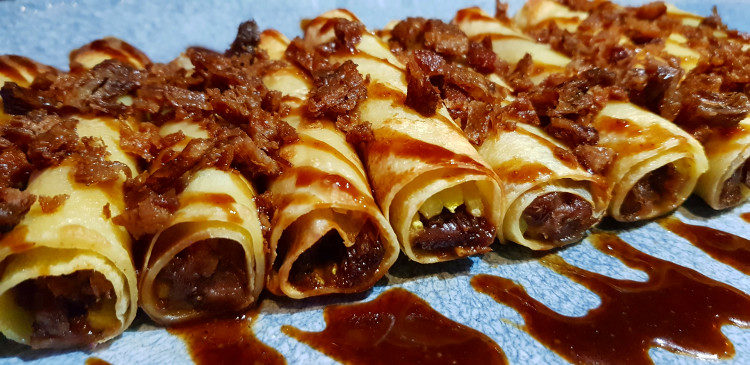 So many restaurants and so little time! I am often quizzed by visitors to the island on how they should pare down the island's comprehensive list of amazing dining options to create their own wish list.  Why settle on just one restaurant when you can create your own smorgasbord of tastes from several restaurants in one evening? Yes, you can have your cake and eat it too!
In Aruba, we refer to bar hopping as going on a paranda. A group of foodies joined me on a delicious version of a paranda, doing a bit of restaurant hopping on a Saturday night.  The on-trend taste style of dining has encouraged restaurants to beef up their appetizer selections, add tapas-style menus, or offer tasting plates and tasting menus, allowing diners to graze and sample a variety of dishes.  Our group took it to the next level, letting our forks explore tastes from five different restaurants in one evening. It truly was a "have fork, will explore" adventure!
The Plan
I am a strategic diner. I passed this method of culinary calculation on to my kids and husband, and even some of my friends. It goes something like this: we choose a restaurant we all like; we go through the menu and agree before ordering who is getting what, making sure that no one orders the same dish; and when the food arrives, we all share a portion with each other (hence, no plate envy!).  So why not try a similar concept with a group of friends, ordering a few appetizers at a few restaurants to make an entire evening out of it. My collaborators for this evening, Leroy and Yvette, worked with me to curate a culinary adventure, choosing restaurants that were within walking distance of each other.
We contacted five restaurants ahead of time, making a reservation for our group of ten, allowing enough time to sample a few dishes and enjoy a glass of wine or cocktail at each place before walking to the next stop.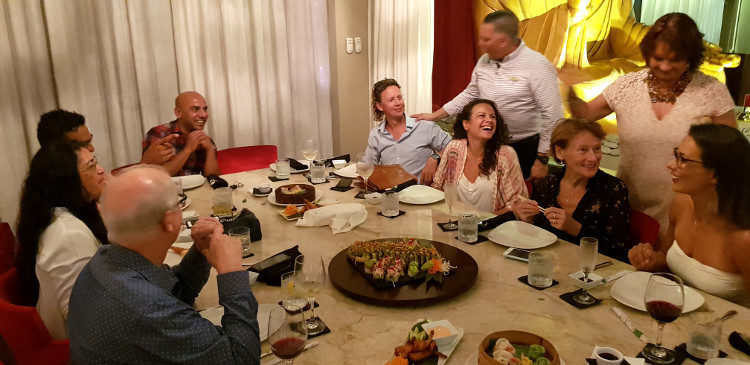 Azia, Gianni's & Daniel's
We decided that our first night of restaurant hopping would be in bustling Palm Beach, where lots of great restaurants reside.  Our first stop was a three-for-one treat, capitalizing on the range of cuisine offered by the Gianni's Group of restaurants located next to each other—Azia Restaurant & Bar, Gianni's Ristorante Italiano, and Daniel's Steak & Chop.  The staff was super accommodating, letting us camp out at Azia while we enjoyed dishes from all three restaurants.
First up was Gianni's, one of Aruba's busiest restaurants.  We started with a fresh burrata that was crazy creamy, complementing ripe tomatoes drizzled with house pesto, mixed greens, marinated olives, roasted red peppers, and a prosciutto with a divine buttery texture. While we all horded over the platter, spaghetti al formaggio was prepared fresh from a tableside Parmesan wheel.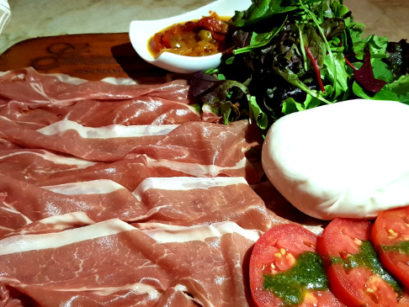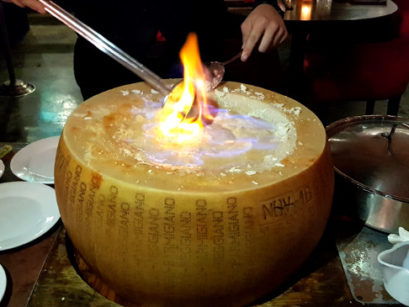 Azia, whose richly dramatic and chic decor provided the backdrop for our grazing, features contemporary Asian specialties and sushi.  We enjoyed a steamy bamboo box of assorted dumplings from the dim sum menu, shrimp spring rolls, and a gorgeous platter of some of Azia's most popular sushi rolls, including the signature Spicy Tuna Bonbon (it's seriously da bomb!).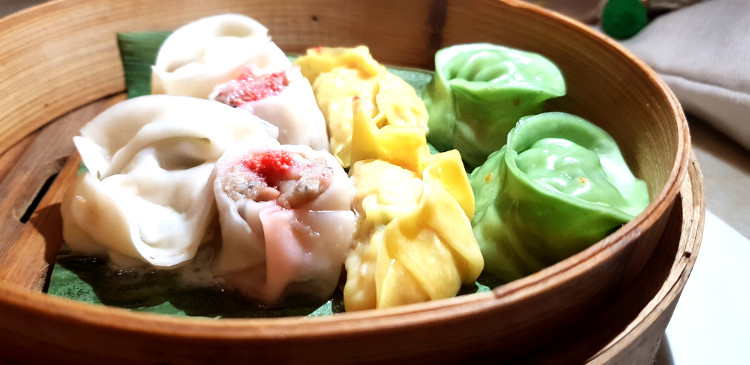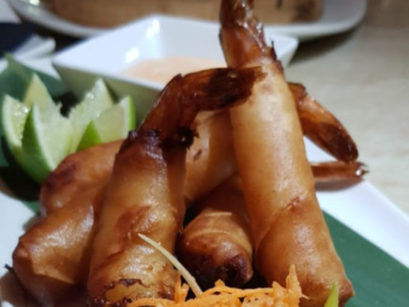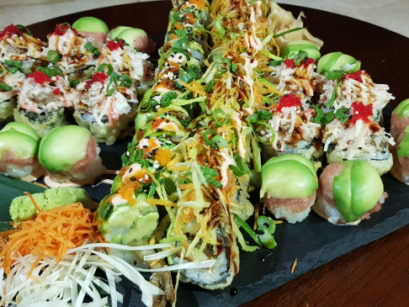 Daniel's, a classic American-style chophouse, serves Certified Angus Beef, and we enjoyed the fork-tender filet mignon, as well as jumbo scallops wrapped in bacon.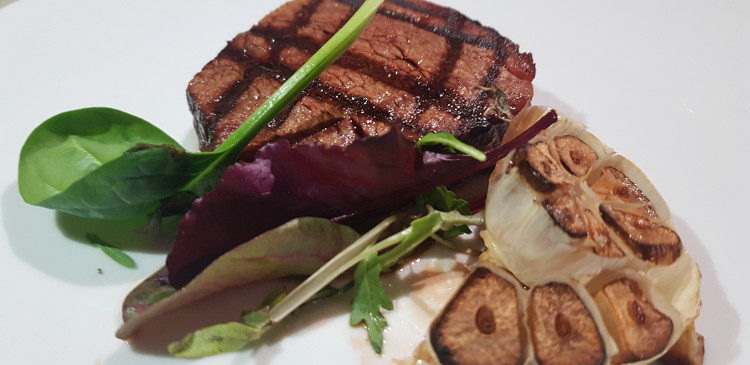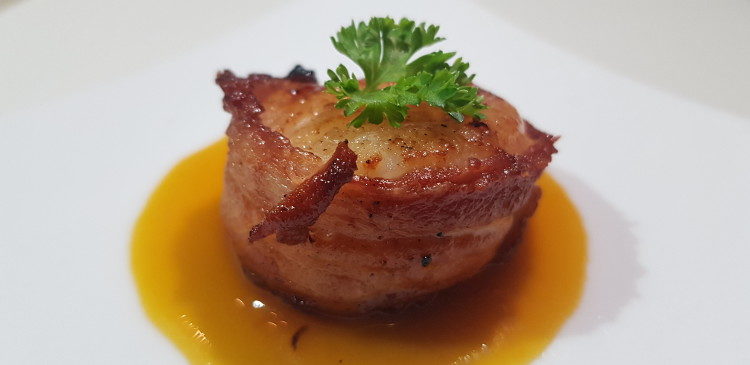 Although it was not the end of our dining escapade, we could not resist a few bites of dessert, including house-made traditional tiramisu, triple-chocolate mousse cake, and the showstopper—the Chocolate Sphere from Azia (you must watch the video below to appreciate this one!).
Bohemian
Just a five-minute walk brought us over to Bohemian Restaurant and Bar, the new kid on the block.  This place rocks such a cool vibe in a lush, alfresco garden setting.  Owner Daveed Nataf has had visions of this culinary venue for quite some time, and in late 2018, his perseverance paid off.  The menu offers a unique twist of French- and Mediterranean-inspired dishes.
Gathering at the bar, we sipped Prosecco while Daveed himself surprised us with his old-school deejay skills on dueling turntables.  We started with shots of the house carrot and lobster bisque, which was creamy but not that heavy creamy that leaves room for nothing else—it was frothy, rich in flavor, and just right.  Next up was the classic French escargots served "a la Bourguignonne" with a garlic and parsley butter that's so dang good I could drink it.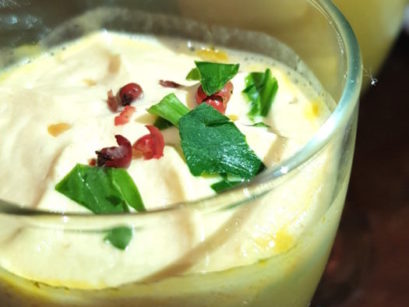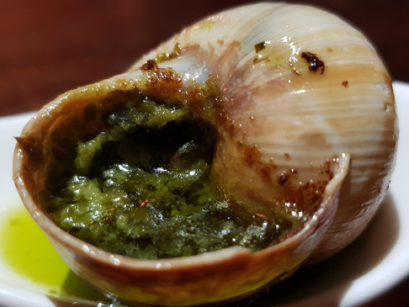 We continued with Bohemian's house-cured salmon gravlax, served with honey, dill, and spices; tuna tartare with avocado and cilantro in a gazpacho-style sauce; and a taste of the fresh ceviche.  Dessert (yes, don't judge us, we had more dessert) was a sinful layering of chocolate and raspberry mousses with a tangy raspberry coulis.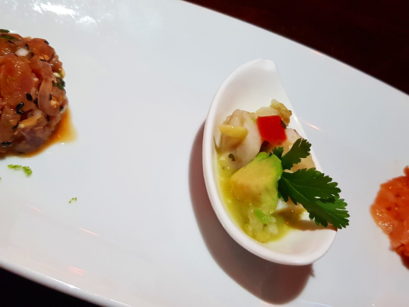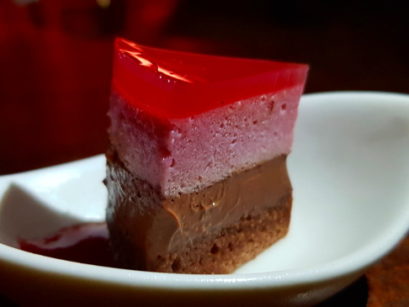 Lobby
Continuing down the Palm Beach strip, we walked across the street to The Village, where we finished our evening at Lobby Restaurant & Bar.  Also a relative newcomer to our dining scene, Lobby is stylishly funky and fun yet serious about good eats.  Chef Rob Nolle is the master of the open kitchen that produces premium steaks, chops, seafood, and what I go for—a "taste" menu with upwards of 20 small plates/appetizers to mingle over.  We arrived at 10:30 pm, just as the traditional dinner crowd was thinning out and the after-hours crowd was wandering in. Lobby is one of the only restaurants to offer late-night gourmet cuisine; a dozen or so of the appetizers are on the Late-Night Menu, available from 11 pm to 1 am on weeknights, and until 3 am on weekends.
My hands-down favorite dish on Lobby's menu is the five-spice, glazed pork belly—it's cooked for 36 hours and rings so many bells with its savory-meets-sweet-meets-spicy combo.  The Lobby Salad—another hugely popular signature dish—is loaded with plump shrimp, creamy goat cheese, roasted red pepper, roasted pecans, and a chili mayonnaise.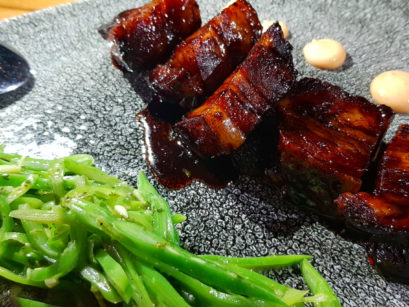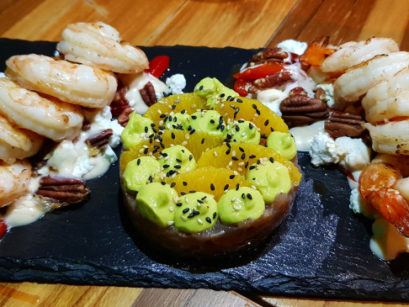 We continued (I know, I know, we ate A LOT) with mushrooms stuffed with Gouda and spinach and topped with a truffle sauce; a confit of duck served Peking-style with hoisin and mini pancakes; and last but not least, the tuna tartare with fresh orange slices, avocado puree, seaweed, and teriyaki.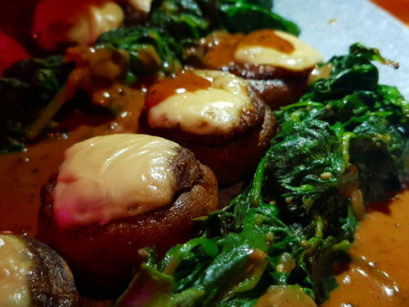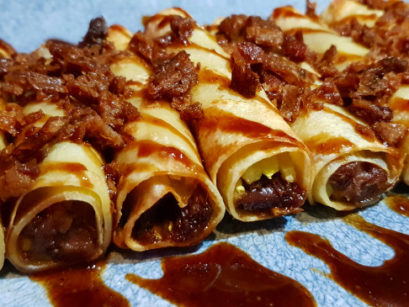 Needless to say, no one went home hungry. It was a night of pure culinary debauchery, and we loved every single morsel!  We are already planning our next paranda. We all agreed that perhaps three restaurants would be best, allowing for an hour to an hour and a half per venue.  I'm eyeing Wilhelminastraat in downtown Oranjestad as the stomping grounds for our next culinary paranda, as some of my fav island restaurants are located on this historic street. Stay tuned!