Published on:
Have Fork, Will Explore: Papillon…Not Your Usual Island Suspect!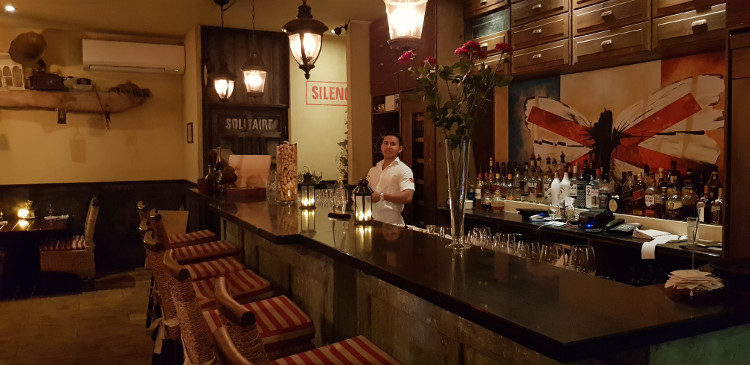 The Have Fork, Will Explore series is a collection of articles that profile interesting eats on the island. Grab a fork and join us!
How is it possible that this restaurant slipped through the grasp of my fork all these years?!  I visited Papillon Restaurant for the first time recently, and like Henri "Papillon" Charrière, do I have a story to tell.  Okay, maybe it's not the epic story of an escape from the penal colony of Devil's Island, but it's a tasty tale of classic French cuisine that takes an influential journey into Caribbean waters.
Papillon Restaurant is located at The Village, directly across from the Hilton Aruba Caribbean Resort.  The terrace is warmly lit with torches and lanterns, setting the tone for a casually elegant dining experience.  But do yourself a favor—enjoy a glass of wine or cocktail at the bar inside.  So much attention to detail going on here.  The nostalgic, rustic French-Caribbean vibe is chicly flavored with fascinating memorabilia, antiques, and artwork.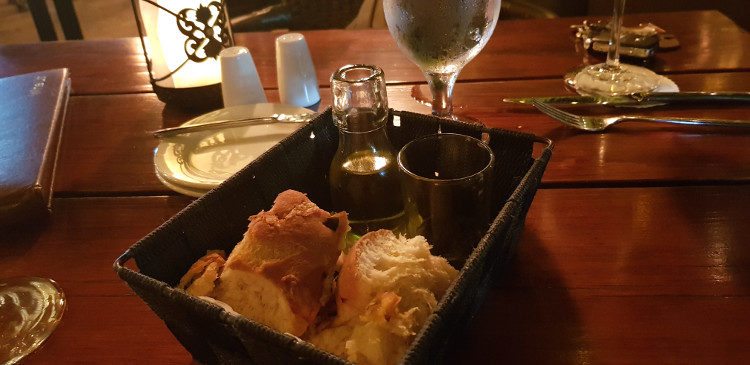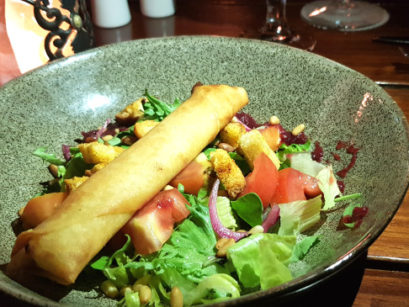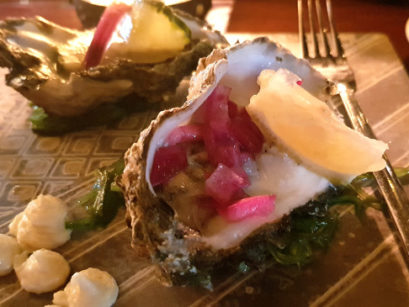 On to the menu, which is indeed populated with classic French dishes.  Starters include lobster bisque spiked with French brandy; frog legs dressed in herbs and spices; traditional escargots in creamy garlic-herb sauce; pan-fried sweetbreads with caramelized apples, asparagus, and truffle sauce; and the requisite foie gras. Caribbean influences make their way into starters like the ceviche, prepared with fresh grouper and shrimp and local Madame Jeanette peppers, and the lump crab cakes, which are accompanied by a tamarind remoulade.  I'm a big fan of goat cheese, so I opted for the chevre salad with walnuts and honey. The savory creaminess of the goat cheese contrasted nicely with the crunch of the filo dough it was wrapped and fried in, as well as the sweetness of the honey and walnuts. Rona, the second half of my dining duet, had no problem slurping some oysters that were offered with the specials of the day.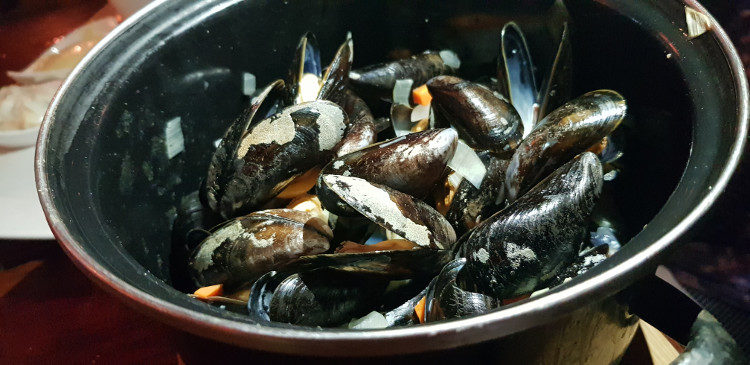 Rona continued on her shellfish foray, opting for a bucket of fresh mussels cooked in white wine (Papillon has monthly specials that highlight seasonal freshness and flavor).  I loved my poulet Dijon—a perfect French Caribbean marriage, with a wing-on breast tossed in island spices and pan-fried with the skin, dressed with a delightfully different Dijon and mango beurre blanc.  My all-time favorite French dish is beef bourguignon; on a visit to France with Rona, I ordered it in just about every café in Paris that had it on the menu, so she was surprised when I didn't order it here.  I'm a strategic eater—I had an excuse to go back and try it.  I did—it's prepared with Angus tenderloin, and it ranks right up there with the best in Paris.  Several other Angus steaks appear on the menu, as well as quite a few seafood dishes, including Caribbean lobster tail in white wine, Dover sole in classic beurre noisette, and Caribbean sea bass in a sea salt crust with cilantro pesto and mango-tomato compote.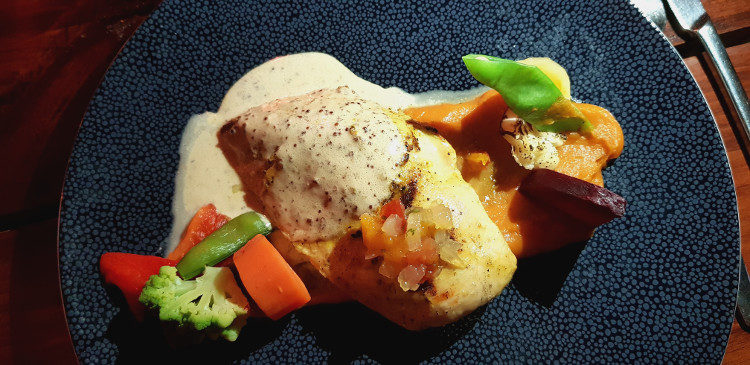 Dessert…we just could not fit another bite in.  Next time, I'm coming just for dessert and a brandy at the bar. I have my eye on the tarte Tatin a la Papillon…caramelized pineapple on a pastry crust with bourbon ice cream and dark caramel sauce—it's criminal!