Published on:
Infini Perfects the Vegan Foodie Experience
"How are you enjoying the experience?"
This is the question that the maître d' asks me throughout the evening. Not "How is the food?" but "How is the experience?" It's a fitting question, because while the 12 food courses take center stage, it's the entire experience at Infini that is so special and unforgettable: the coziness of the dining room, with the food prepared right in front of the guests; watching the chef and his masterful crew work in synchrony as they craft edible art; witnessing the most intense attention to detail; the stimulation of all the senses with each course; and the perfect beverage pairings.
Chef Urvin Croes, the pride of Aruba's culinary scene, is at the helm of Infini, which offers a one-seating-per-evening upscale culinary journey to the delight of foodies. So when I was invited by a friend to partake in this journey together with her, I expected to be utterly wowed by the unbridled artistry that Urvin is known for. What I didn't expect was this: As my friend ate her way through the Asian Caribbean Impression journey, I opted for the vegan version of the same menu. Often, the vegan options offered by restaurants are an after-thought, as in, We better come up with something to appease the plant-based eaters. Not so at Infini. It was abundantly clear that each and every course of the vegan version is painstakingly crafted to hold its own right next to its non-vegan counterpart. In fact, Infini is the only restaurant on the island offering a multi-course vegan culinary experience. It's also the only one offering a mocktail pairing for those who do not drink alcohol, and as a non-drinker myself, I went for this option. And so without further ado, my vegan Asian Caribbean Impression journey, paired with mocktails…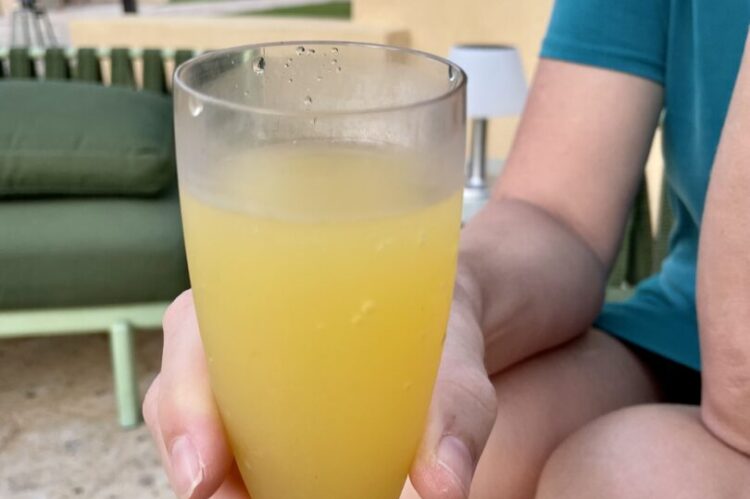 On arrival, I was welcomed with a mocktail to sip on the patio.
Mocktail #1: O Hail The Queen
Once seated inside, three amuse bouches kicked off the evening. First was the "Tartelette," featuring a tartar made of activated coconut charcoal, a ceviche made of celery roots and blackberries, blackberry gel, a cream of corn, and crispy sprigs of sweet potato.
The "Tomato" followed, with a base consisting of a leaf-shaped potato crisp dusted with cilantro powder, topped with a blanched and torched tomato, red Thai curry cream, green apple compote, toasted coconut, and burnt onion.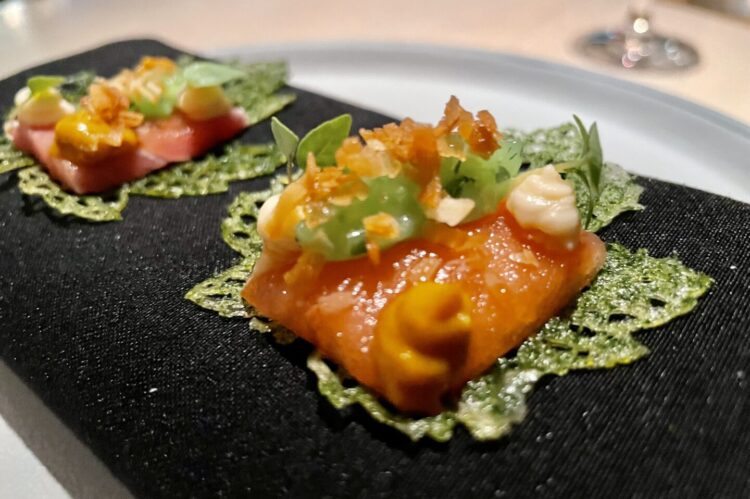 The "Pan Bati" amuse bouche was an Asian take on an Aruban classic. The Aruban-style pancake was topped with pumpkin, olive oil caviar (which burst so delightfully on the tongue), and edible gold. A true beauty of a bite!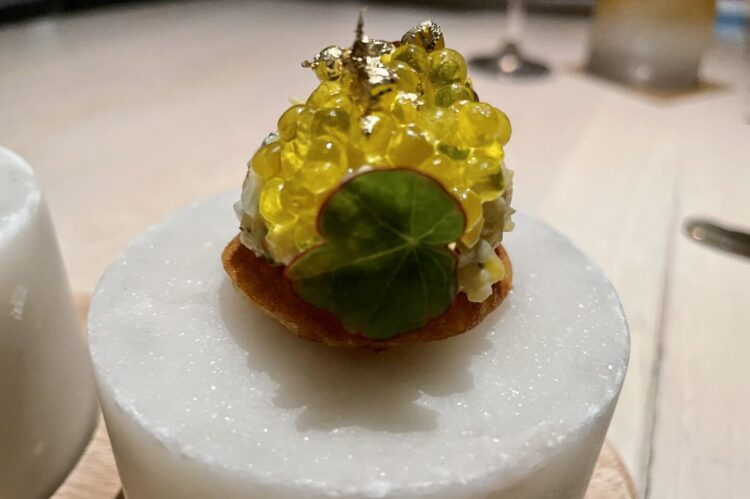 Next up was a hearty slice of freshly baked sourdough bread from local baker Zaida Everon of T2Pan. Urvin's use of Zaida's bread reflects his passion for sourcing local ingredients and foods. The bread was infused with Japanese flavors especially for tonight's menu.
Mocktail #2: Margarita's Sister
White "margarita" featuring green tea, topped with salty foam
Next up, beets prepared two ways: a rose made out of roasted beats, topped with crispy potatoes; and warm-smoked crudo made out of marinated beets, accented with rucu, onion, and mint.
Mocktail #3: Saline
Made with green tea, fresh muddled ginger, lemon juice, tonic, and dried nori for an umami touch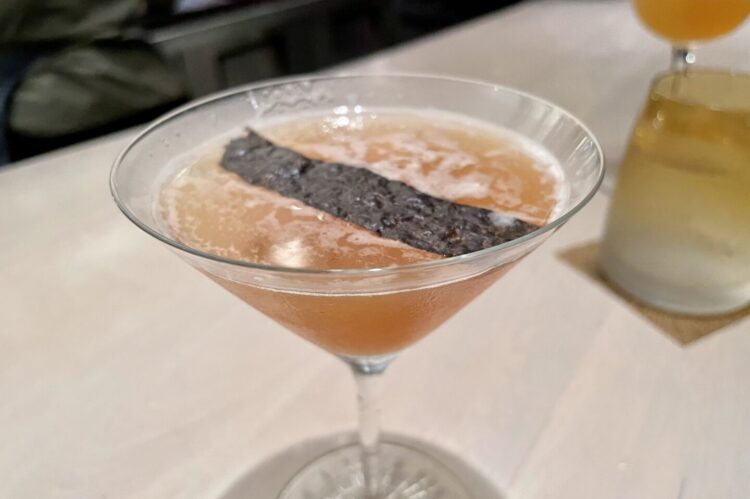 The "Shabu Shabu" course features shabu shabu, which is a Japanese way of cooking with a boiling pot of broth in the middle of the table where vegetables and proteins are cooked. For this vegan version, Urvin opted for locally made tofu, lightly poached in vegan shabu shabu, and then laid on a cream made of rice milk next to oyster mushrooms sourced from local grower Farmacure Fungi and cooked in vegan butter. Potato, red cabbage, and kimchi balance the course.
The next course, "Nitsuke," utilizes the Japanese technique of simmering food in a strongly-flavored soy sauce. For the vegan version, mushrooms were simmered, and then sushi rice, ginger, daikon seasoned with cilantro powder, green onions, and overcooked rice chips completed the dish.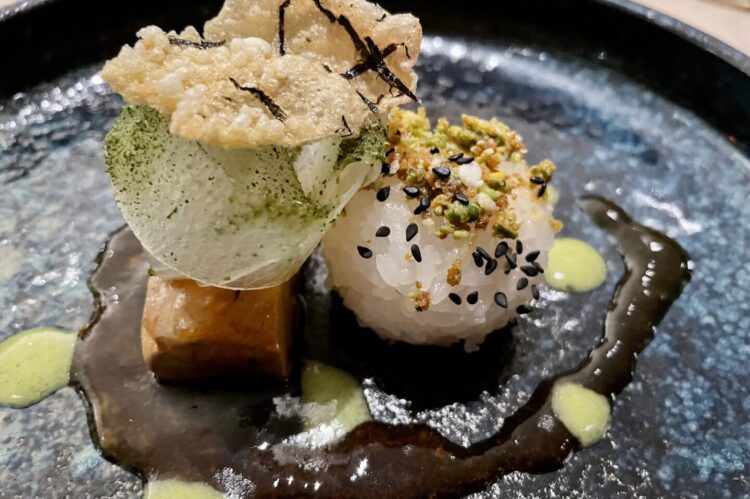 Mocktail #4: Falling Angel
This mocktail interestingly featured teriyaki sauce!
Next was seared red cabbage with vegan butter, topped with Infini crunch (fried garlic, fried onions, pistachio, crispy corn, and Pop-Rocks); a steamed bao bun with red cabbage, orange sauce, onions, cucumber, and chili threads; and lumpia (fried spring roll) filled with celriac and green mango and topped with hoisin dressing and crushed peanuts.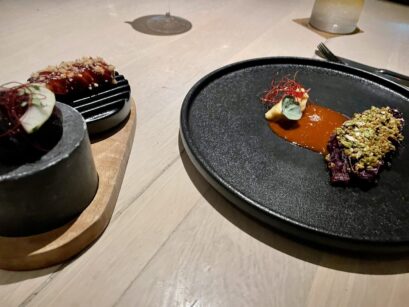 The last savory course was one of my favorites: "Grilled Leeks." The perfectly grilled leeks sat aside a vegetable demiglace, bimi (baby broccoli) dipped in crispy potatoes, and a layered cake made with a parsnip and wasabi sponge cake, a tomato jelly with curry, and pickled yellow mustard caviar.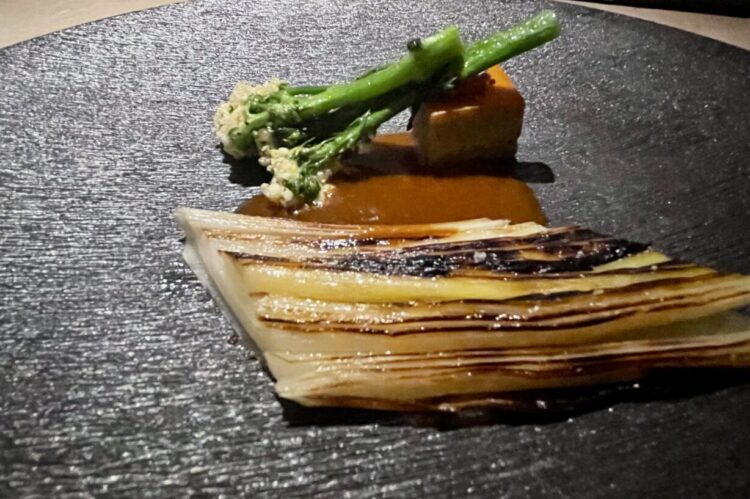 And finally, three dessert courses! (Now here's a chef after my own heart!) For this final part of the experience, we were invited to move to the patio to enjoy our sweet endings under the stars.
First up was an in credibly refreshing yuzzu sorbet with a crunchy crumble on top.
Next, a really delicious chocolate brioche layered with almond ganache, then dipped in cacao and toasted hazelnuts. Mandarin sorbet, blueberry gel, and moringa flowers completed the mini-course.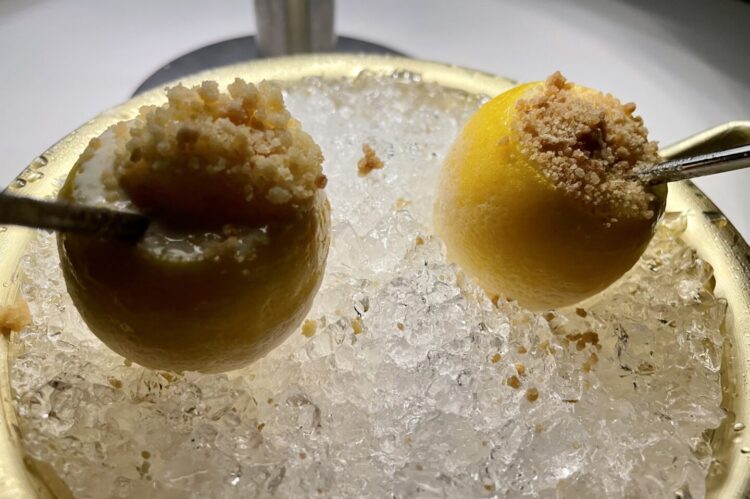 Mocktail # 6: Lizhi Shuye
The very last dish of the evening was Dutch- and Japanese-inspired, featuring a vegan dacquoise, a vegan bavarois dipped in a Dutch licorice jelly, coconut and lemongrass ice cream, grapefruit coulis, and shaved ice made of lychee and sake.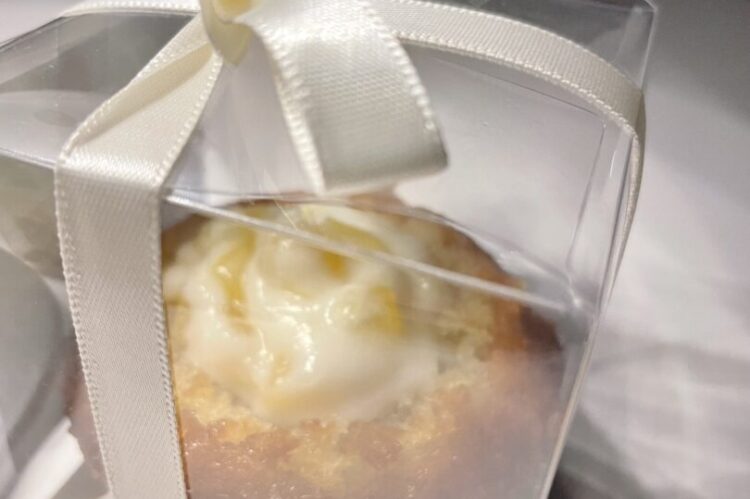 To make reservations for this exclusive culinary adventure in Aruba, visit Infini's website here.