Published on:
Infini's Current Multi-Course Experience Highlights Asian & Caribbean Flavors
By Tina-Causey Bislick
One part artistry, one part architecture, and lots of intriguing flavors meld together for yet another standout foodie experience from Aruba's very own Urvin Croes, celebrated chef and owner of Infini.  Urvin presents a nightly multi-course chef's table experience with optional wine and cocktail pairings (there's a vegan version, as well as a mocktail version of the cocktail pairing detailed by our vegan foodie queen, Debbie Kunder.)
Every few months, Urvin creates a themed impression menu by carefully sourcing ingredients, putting a twist on various ethnic cuisines, and balancing flavors to create a synergy of courses, each seeking that ultimate umami reward for your palate.  Unique and artistic presentation is a must for all of Urvin's courses, diligently sketched out to make sure the components are architecturally plated and a visual feast as well as a culinary delight.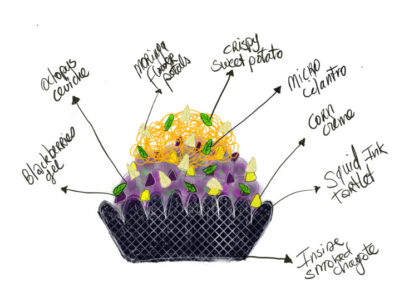 Infini's current seasonal menu is an Asian Impression menu, which starts with three amuse bouches–bite-sized flavor bombs that set the tone and warm up the taste buds for the evening.  Pictured above is "The Kraken," with grilled octopus marinated in blackberries leche tigre, topped with a blackberry gel, corn crème, crispy sweet potato, micro cilantro, and a baked tartlet of brick dough infused with squid ink.
Pictured below are the second and third amuses.  "Toro," made with nikiri-glazed Japanese toro (from the belly of bluefin tuna), is served atop a leaf-shaped potato crisp dusted with cilantro powder, with gel of red Thai curry, spicy coconut-lime crème, toasted coconut, and a green apple compote.  The "Pan Bati" amuse combines pan bati (traditional Aruban side dish that's like a savory pancake–often served on the island with stews and seafood), pumpkin salad, Japanese ikura (salmon roe), and is finished with a touch of edible gold.
Wine pairing: Billecart-Salmon Brut Rosé  (Champagne, France)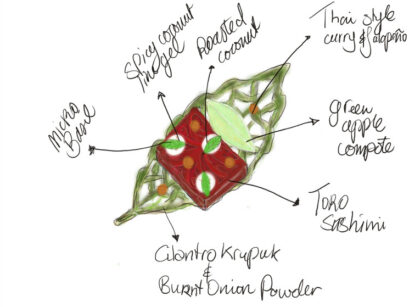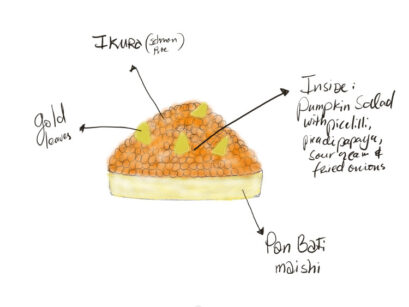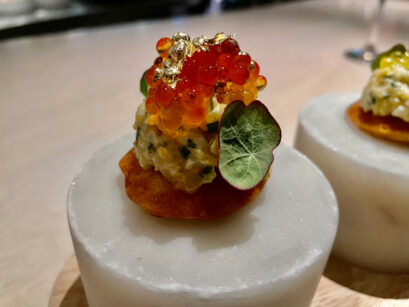 After the amuse courses, guests are treated to fresh-baked sourdough bread from local bread artisan Zaida Everon of T2Pan, who formulates a different sourdough bread based on Urvin's seasonal menu.  Our bread was rustic and nuanced lightly with Asian flavors.   The outside is crusted with black and white sesame seeds, while the  inside is infused with dehydrated lime peels, Japonica black rice, sansho pepper, nori and osmanthus flower.  The butter is infused with tamarind, sumac, and roasted garlic.
Wahoo prepared two ways–cold and warm smoked–was next up.
The cold smoked dish is Infini's style of gravlax that is cured for 12 hours with Caribbean spices and herbs, then thinly sliced and rolled into the shape of a rose and finished with Lardo di Colonnata (a type of salume). The dish is topped with chicharron.
The warm smoked dish is a crudo of wahoo marinated with olive oil, lemon zest, and fleur du sell. It is served with a margarita cocktail vinaigrette, mint foam, lemon crème, rucu/achiote/annatto oil, green onions, potato crisp, and micro cilantro.
Wine pairing: Orchard Lane Sauvignon Blanc (New Zealand)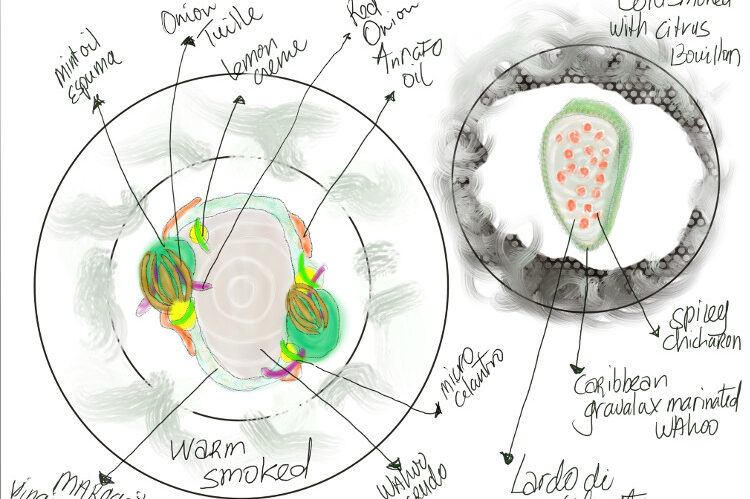 Infini's take on shabu-shabu, a traditional Japanese hotpot dish, was served next.  Thinly sliced Norwegian salmon is delicately dropped in a hot broth made from roasted chicken wings and dashi.  Accompanying this is lion's mane and pink oyster varieties of mushrooms from local grower Farmacure Fungi that are glazed in butter, along with a duxelle of mushrooms, mushroom crème, fried wood ear mushrooms, fried coral mushrooms, and pickled bunashimeji mushrooms.  A dollop of Aruban potato salad and pickled onion join the flavor medley sitting atop a potato crisp, dusted in red cabbage powder, with an acidic balance brought to the dish  with a red cabbage vinaigrette.  The dish is finished off with locally-grown micro cilantro and a kimchee beurre blanc.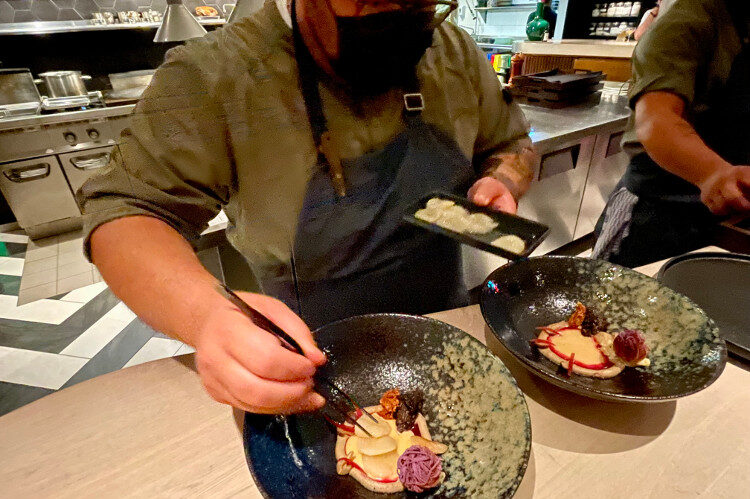 Infini's take on the traditional Japanese dish, gindara nitsuke, utilizes the French cooking method of au papillote.  Atlantic cod is placed in a paper bag with ginger, cilantro, butter, and a sauce, then baked in the oven. The dish is served with premium sushi rice topped with furikake, and the classic nitsuke sauce. Touches of  ginger vinaigrette, daikon seasoned with cilantro powder, and  chips made out of rice, nori and wakame complete the composition of the dish.
Wine pairing: Murai Family Daiginjo Saké  (Aomori, Japan)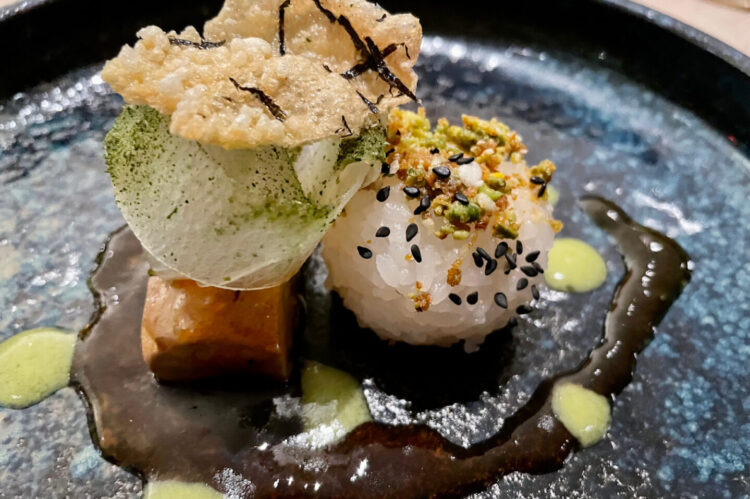 Vietnamese flavors were introduced in the next course that features duck prepared three ways. A steamed bao stuffed with confit duck leg that is pulled then braised with orange sauce is served with cucumber, local frisee, and chili threads.
Joining the bao is a Vietnamese spring roll filled with green mango, green papaya, bean sprouts, Vietnamese herbs (basil, mint, and cilantro) and charsui duck, topped with  peanut dressing, hoisin dressing, and crushed peanuts.
Completing the trio is pan-fried and roasted dry-aged duck breast in the form of a T-bone, glazed with charsui and then dipped with Infini Crunch (fried garlic, fried onions, pistachio, crispy corn, and pop-rocks). It is served with a duck sauce infused with ginger and garlic, pistachio and celery roots crème, pickled onions, chili threads, and nasturtium leaves.
Wine pairing: Palisades Red Blend (California, USA)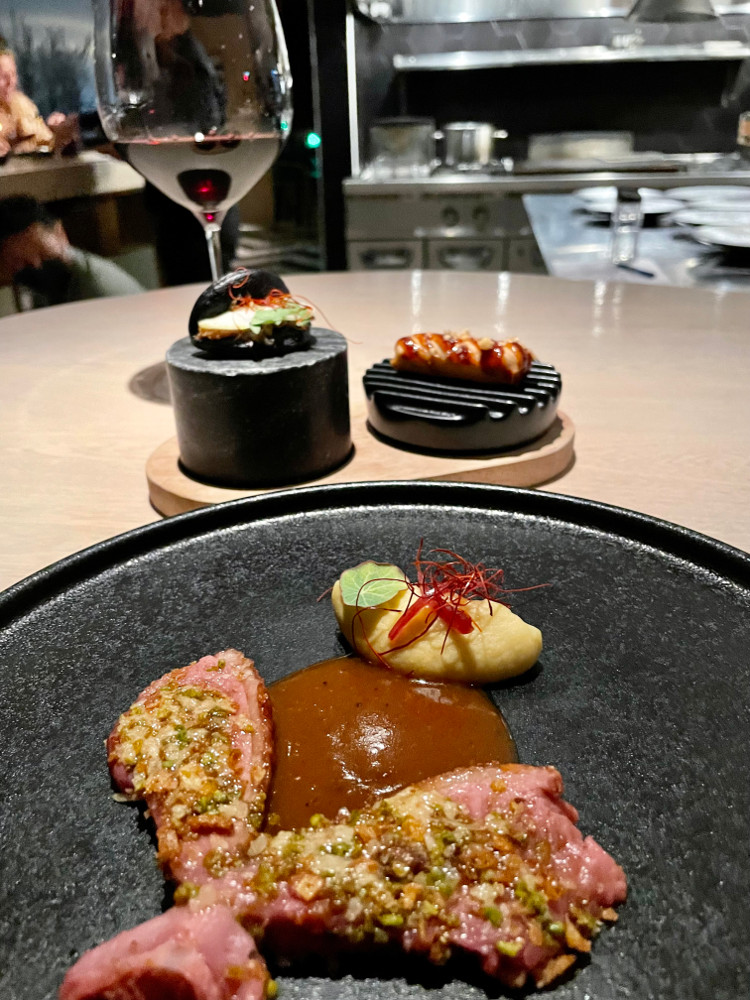 The final savory course features Australian Wagyu grilled on a Japanese robata/yakitori grill. The premium beef  is accompanied by cured egg yolks, a layered cake made with a parsnip and wasabi sponge cake, burnt leeks chawanmushi, a tomato jelly with Indonesian sambal sauce, and pickled yellow mustard seeds. It's christened with an oxtail sauce, green onion oil, bimi (baby broccoli) dipped in a curry Hollandaise, and crispy potatoes.
Wine pairing: The Pessimist by Daou Red Blend (California, USA)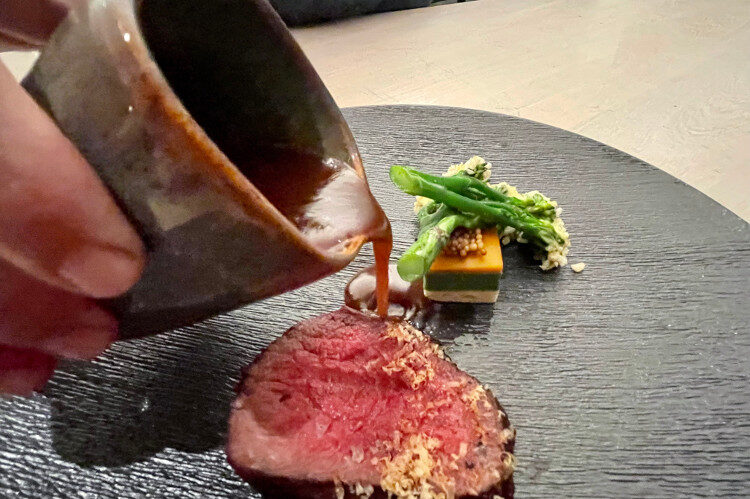 The sweet ending of the experience has three waves of decadence, starting with Infini's signature "Lemon Pie."  It's an amuse bouche-style dessert made from hollowing out a lemon and using the pulp to make a lemon pie ice cream that is then piped back into the hollowed lemon, and topped with lemon curd, a crumble, and micro basil.
Wine Pairing for all 3 desserts: Domaine de Grange Neuve Sémillon (Guyenne, France)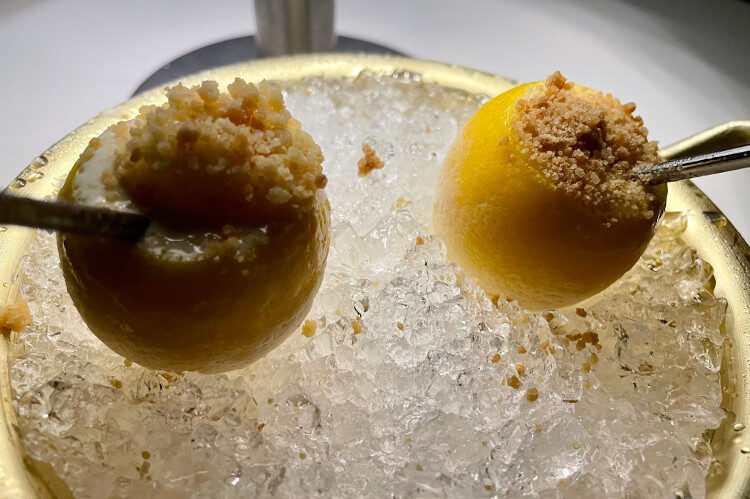 The next dessert is more like a gourmet ice cream sandwich layered with chocolate brioche and a ganache made with Rossini blue cheese that is dipped in cacao and toasted hazelnuts. On top is a sponge cake of mandarin, mandarin tapioca pearls, fresh mandarins, a fresh blueberry gel, local moringa flowers, and micro Thai basil. It's garnished with a chocolate soil and mandarina sorbet.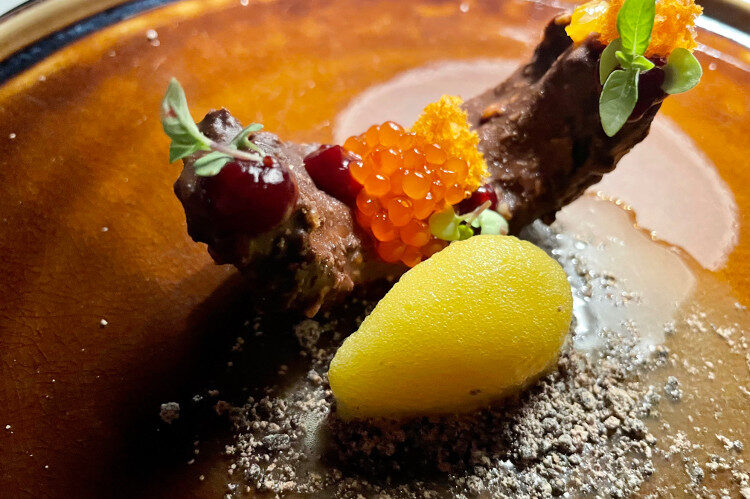 The evening finished with a blend of Asian and Dutch flavors. A bavarois of grapefruit dipped in Dutch licorice jelly was topped on a cake of grapefruit and tarragon. Licorice meringue, black sambuca gel, grapefruit coulis, fresh lychees, shaved fennel, micro fennel, brown butter powder, a pandan rice and fennel ice cream, and a granite of shaved ice made from lychee and sake rounded out the complex dessert.
To make reservations for this exclusive culinary adventure in Aruba, visit Infini's website here.