Published on:
International Women's Day Menu at the Sunset Grille, March 8th to 12th
Palm Beach – A special menu in honor of International Women's Day will be offered at the Sunset Grille, Hilton Aruba Caribbean Resort & Casino March 8th to 12th.  The menu was created by French-born Executive Sous Chef Katia Soujol.
Chef Soujol joined the culinary brigade of the resort a number of years ago with a commitment to bring her vast knowledge, including grandma's traditional bouillabaisse and ratatouille recipes, to the kitchen and pass them on to the next generation of Culinarians in Aruba.
The chef, who hails from Provence, France, started cooking with her grandma in the countryside, then later followed her passion and her heart and graduated from the Culinary Institute in Nice, France.  From then on, she garnered impressive accolades everywhere she went. Her nomad career took her to all corners of the world, including cooking in Hawaii, Vietnam, Cambodia, China, and India, and appearing in a variety of magazines, radio, and TV shows, promoting her special recipes and making guest cooking appearances , prepping for her role in Aruba as Executive Sous-Chef at Hilton Aruba Caribbean Resort & Casino. And while she admits that at first she had no clue where the island was located on the map, when the offer came, she was happy after two decades of traveling to settle down on the One Happy Island.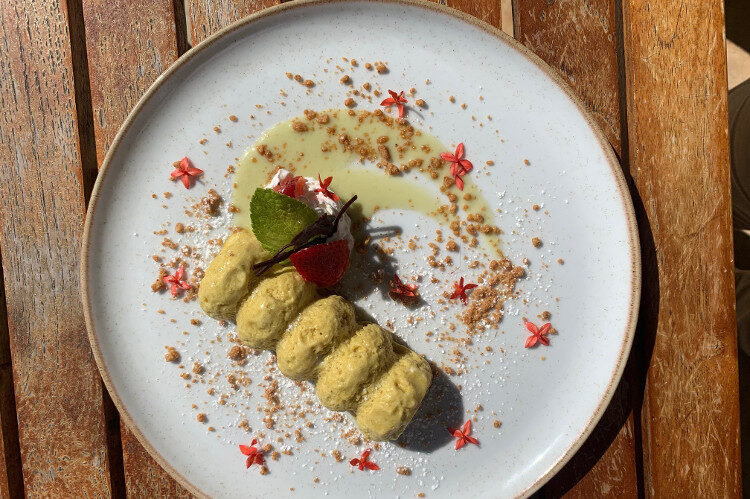 The menu created in honor of the day takes off with Shrimp and Smoked Salmon Mousse with a hint of Madame Jeanette Chili, served with Radish Daikon Pickle and Roquette Salad, then continues with Aruban Baccalau Topped with Slow Cooked Sea Bass wrapped in Prosciutto with Crispy Funchi or Grilled Veal Chop with Local Grown Mushroom Risotto with Fresh Pomegranate Au Jus Sauce. The dessert, guaranteed to please local appetites, is Aruban Cashew Fruit Mousse with Pistachio Ponche Crema and Candied Cashew Nuts.
Chef Katia reports that traditional Aruban recipes and ingredients are at the heart of the special menu, and as food is constantly evolving,  she created a new fusion peppered by her French flair, multicultural influences, and a womanly touch. "It's the new Aruban gastronomy," she adds.
The Sunset Grille delivers quality food and gracious service with seating indoors and outside on the open-air wrap-around terrace. Open seven days a week, from 5:30pm to 10:30pm.