Published on:
Itinerary: Exploring Aruba's Beach in Three Days
Written by Tina Causey-Bislick and Debbie Kunder
Some images provided by Aruba Tourism Authority
Although your lounge chair may be perfectly positioned on the beach in front of your hotel, spending time exploring neighboring beaches—each with its own special charm, attractions, and beauty—will be memorable! Here, we've designed three days of exploring our island beaches—visit a few or visit them all! We take you to some of the most popular beaches of the hotel areas, as well as the hidden coves of the north coast and the sandy playgrounds at the southern reaches of the island. Be sure to bring along a towel, sunscreen, and snorkel gear, which can be rented for the day at most hotels and activity operators.
Day One: Beaches of the Hotel Areas
Eagle Beach, Palm Beach, Fisherman's Huts, Boca Catalina
We start our beach exploration in the hotel areas, home to our famed beaches that regularly top the "best beaches" lists of various travel publications and websites.
Early Morning
Kick off your shoes and get ready for a walk on one of the world's most acclaimed beaches—Eagle Beach (and smaller neighboring beaches Punta Brabo and Druif). One of the most iconic photo ops can be had at the start of Eagle Beach, in front of Amsterdam Manor, where two Fofoti trees stand sentry by the sea. This beach is a favorite of joggers and beachcombers who relish the powder-soft sand and wide-open stretches offered up next to the calm, crystal-clear waters gently lapping the shore.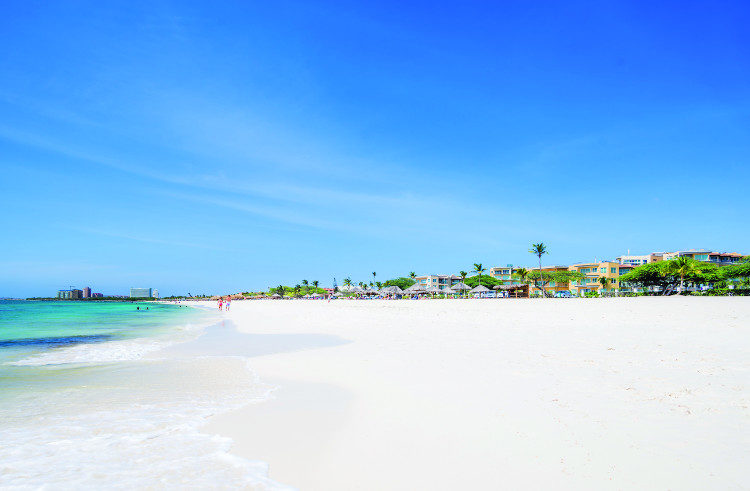 Sea turtles are also fond of this beach. All sea turtles are endangered worldwide, and Aruba's shores have become a favorite nesting place for the Leatherback, Hawksbill, Green, and Loggerhead species, with Eagle Beach being one of the most popular areas. Nesting season typically runs from April through November, and if your timing is right, you can witness these gorgeous creatures digging their nests or the hatchlings making their way from the nests and waddling to the sea.
Late Morning
Eagle Beach's closest neighbor to the north is Palm Beach. If you are looking for action, this is the beach for you! Home to most of Aruba's high-rise hotels, Palm Beach has a lively energy and offers a variety of watersports. Operators of banana boat rides, tubing, and parasailing can be found all up and down this strip of coastline. Not a watersports person? No worries—this beach is also great for strolling on the sand or on the boardwalk path that runs along the beach by the hotels, where beach boutiques and gift/souvenir shops can be perused.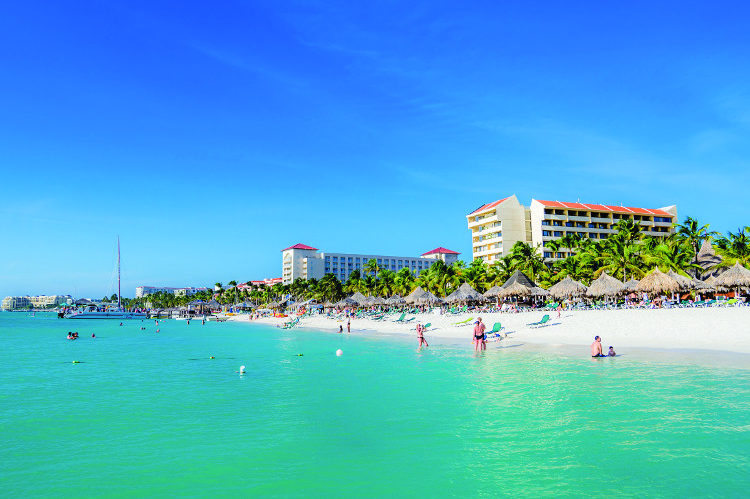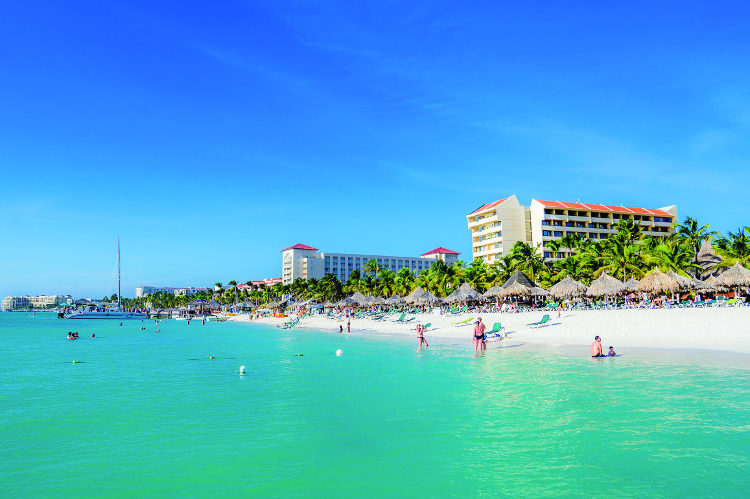 Early Afternoon
At the far reaches of Palm Beach, just past the Holiday Inn and adjacent to the Marriott's Aruba Surf Club, you will find an iconic Palm Beach landmark—the Hadicurari Pier. Here you will see local fishermen cleaning their catches of the day under the watchful eyes of some very friendly pelicans that patiently stand by waiting for their midday snack of fish scraps tossed to them by the fishermen.
Lunch Suggestion
Enjoy the chill vibe of Moomba Beach Bar & Grill, the quintessential beach bar featuring fresh catches, burgers, wraps, and sandwiches. Or enjoy the expansive second-floor view from Nos Clubhuis, a relaxing local hangout offering casual fare. Both restaurants are nestled between the Holiday Inn Resort and Marriott's Surf Club Aruba.
Midafternoon
Just past the Marriott Resort & Stellaris Casino, Palm Beach ends and Fisherman's Huts begins. Fisherman's Huts, also known as Hadicurari Beach, is aptly named for the handful of timeworn huts perched at the edge of the water.
This beach is one of the best flat-water windsurfing locations in the world, with several watersports operators setting up shop year-round to accommodate active vacationers and locals. International kiters and windsurfers congregate here every summer to battle it out at the Aruba Hi-Winds competition. Beginners can learn to windsurf at Fishermen's Huts in one two-hour session, or if you want a more relaxing water experience, try SUP (standup paddleboarding)—it's easy to learn and the calm, flat waters of this area are perfect for this activity.
Late Afternoon
Continue past Fisherman's Huts for about two kilometers to where the limestone ledge that characterizes the coastline of this area (known as Malmok) yields to the white, sandy stretch of Boca Catalina. This palapa-dotted beach grants access to a popular snorkeling spot with excellent underwater visibility and a close-to-shore reef filled with angelfish, needlefish, goatfish, starfish, and other curiosities. After a refreshing dip, sit back, relax, and behold one of Aruba's striking sunsets.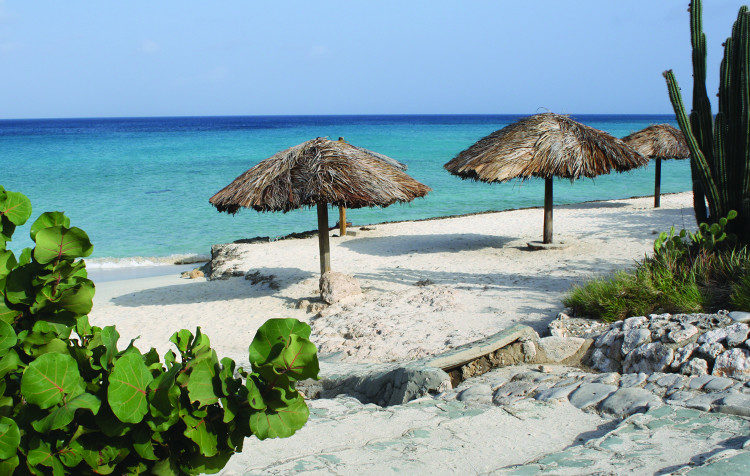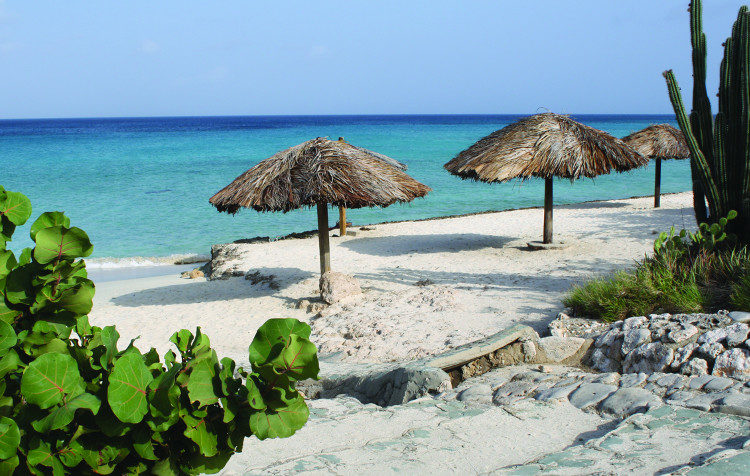 Day Two: Local & Hidden Beaches
Dos Playa/Boca Prins/Natural Pool, Wariruri and Urirama, Lighthouse Beach, Arashi
The beaches of the hotel area are well known and certainly worthy of all the attention they receive in travel circles, publications, and online. However, Aruba's coastline is dotted with dozens of lesser known, smaller beaches and coves frequented by locals (as well as tourists in the know and on the go). Pack your towels, sunscreen, and sense of adventure for this day of basking in the sun on some of Aruba's breathtaking hidden/local beaches.
Morning
Several of Aruba's hidden gems are located on the island's north coast within Arikok National Park. The park comprises some 18% of the island's landmass and boasts fascinating geological features, including two notable beaches, Dos Playa and Boca Prins.
Once at Arikok National Park, stop off at the Visitors' Center to pay the park fee and collect a map. Remotely located along the rugged coast of the park is Dos Playa ("Two Beaches"). The sea has carved twin coves out of a limestone cliff and filled them with white sand to create this favorite spot for surfing, sunbathing, and picnicking. Dos Playa also plays an important role as a popular nesting spot for sea turtles (nests are barricaded off to protect them). While you will see local surfers here, swimming is dangerous since the waves are rough and there is a strong undertow.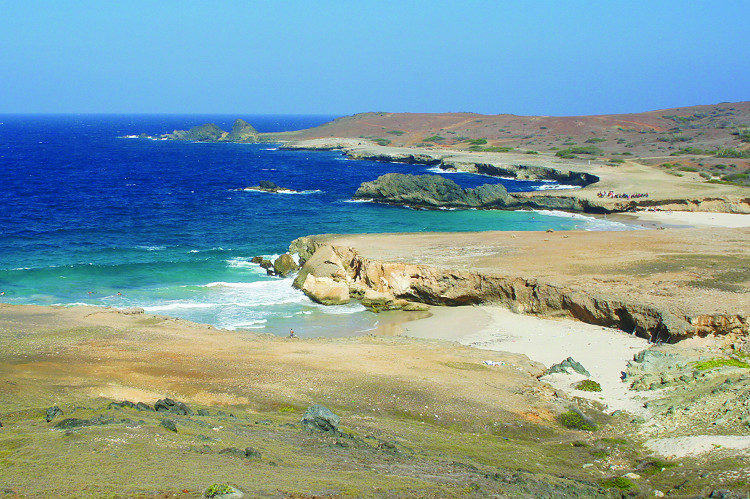 Southeast of Dos Playa, you'll find the next stop, Boca Prins. This beach harbors stunning sand dunes that are constantly being reshaped by the powerful winds here. Swimming is strictly prohibited, but that doesn't lessen the experience of visiting this gem of a beach.
Lunch Break
In the middle of all this gorgeous wilderness is an oasis of refreshments. Boca Prins Restaurant & Bar boasts amazing views paired with local cuisine like grouper Creole and chicken sate, as well as burgers and sandwiches. Be sure to cool off with an ice-cold Balashi (our local beer) or the bar's famous punch.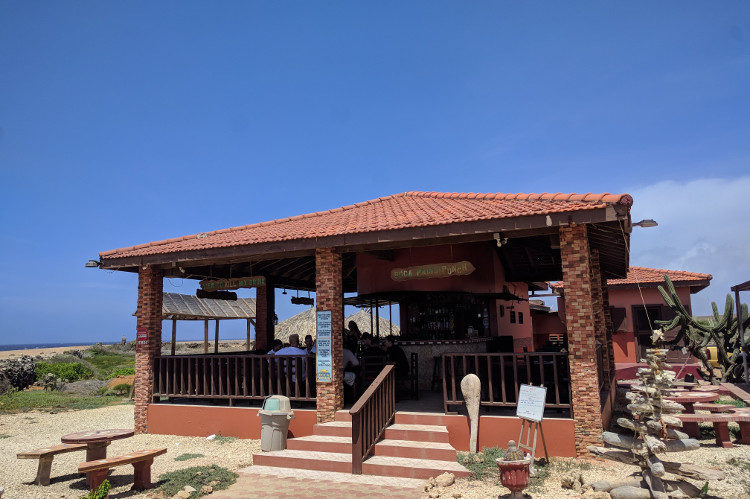 Early Afternoon
If you ventured out today in a 4WD vehicle, a visit to the Natural Pool is a must. After enjoying these scenic beaches within the park, it's hard not to be tempted to jump in the sea for a refreshing dip, and the Natural Pool is one place in the park where swimming is permitted. Known locally as Conchi and also Cura di Tortuga, which translates to "Turtle Pen" (sea turtles used to be found swimming here), the Natural Pool is a pool of seawater protected from the rough seas by a barrier of large, ancient lava rocks. Locals and tourists love to swim and snorkel within this unique Aruban seascape.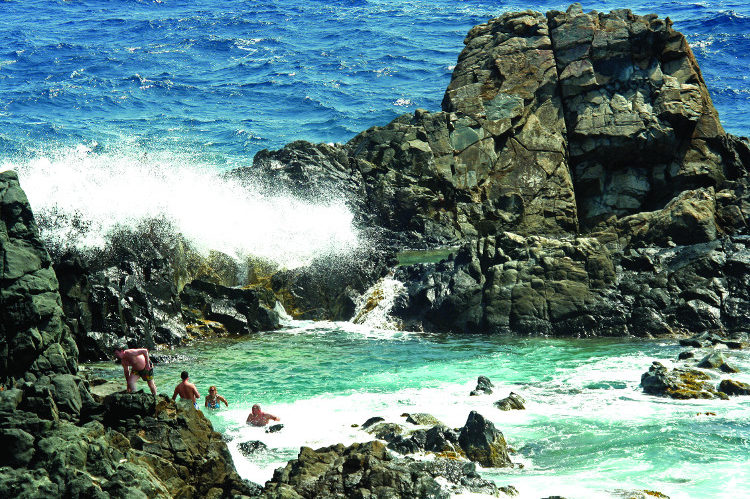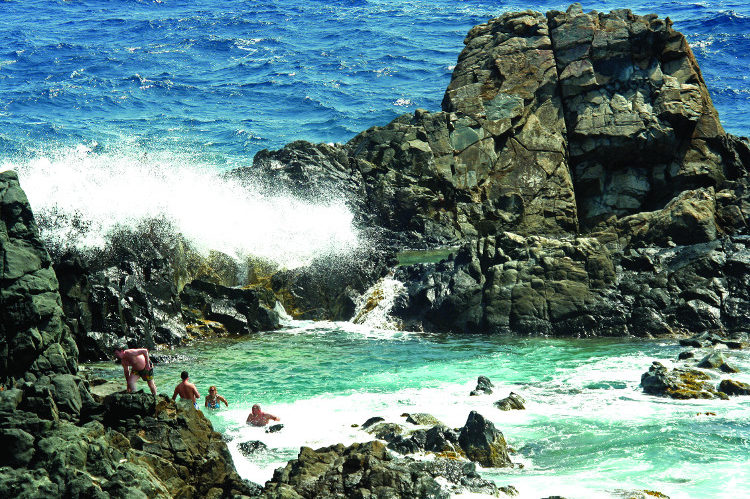 Midafternoon
Although there are many other sites to see within Arikok National Park, today it's all about the beach! Onward we go, heading northwest back in the direction of the hotel areas. Utilize a map of Aruba and watch for signs that will take you to Alto Vista Chapel. Once at the chapel, take the dirt road/trail heading towards the sea. Heading along the trail to the right (going southeast along the windward coast), you'll eventually reach the sandy cove of Wariruri. The same forces of nature that created Wariruri also sculpted a natural bridge here. Wariruri is a popular place for local surfers to catch some waves. Local fishermen can also be sighted fishing from the low cliffs flanking both sides of the beach.
Heading back the way you just came, take some time to explore the various "bocas" (small coves) etched into the coastline, some with very small beaches to enjoy and photograph. Another popular surf and bodyboarding area can be found at Urirama, which is also the location of organized competitions in both sports.
As you continue northwest along the dirt road skirting the coastline and head towards the majestic California Lighthouse, you'll reach the aptly named Lighthouse Beach. This beach, located in the vicinity of the California Dunes, is prized for the quiet seclusion it offers. While characteristically rough waves crash to shore further down the coastline, gentler waves roll to shore at Lighthouse Beach, creating a nice, safe place to wade in and cool off. A collection of massive boulders at the far end of the beach, plus a general scattering of limestone rocks and small tide pools, adds intrigue to the setting. Seashell and driftwood collectors will surely not go home empty-handed after spending some time combing this beach.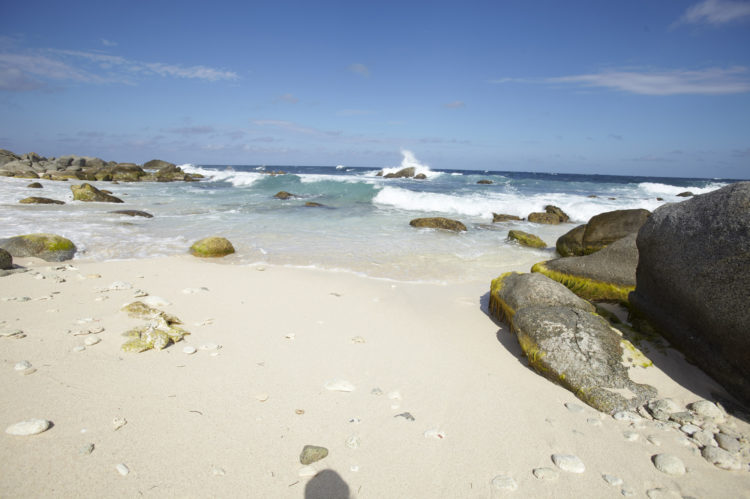 Late Afternoon
As you continue around the northern tip of the island, you'll find the road that takes you to our last beach stop of the day, Arashi. Popular among locals, Arashi is touted for its crystal-clear water, sugary white sand, well-kept public palapas, and picturesque view of the California Lighthouse. The sea is typically calm at Arashi, but the occasional change in weather brings in a decent swell, prompting local surfers to flock to the break just north of the main beach. At this particular spot, about 150 meters offshore, a coral reef guarantees great snorkeling, while a smaller reef sits just off of the rocky outcropping that separates Arashi from the next beach to the south, Boca Catalina. Refreshments can be purchased from a relatively new beach bar at Arashi.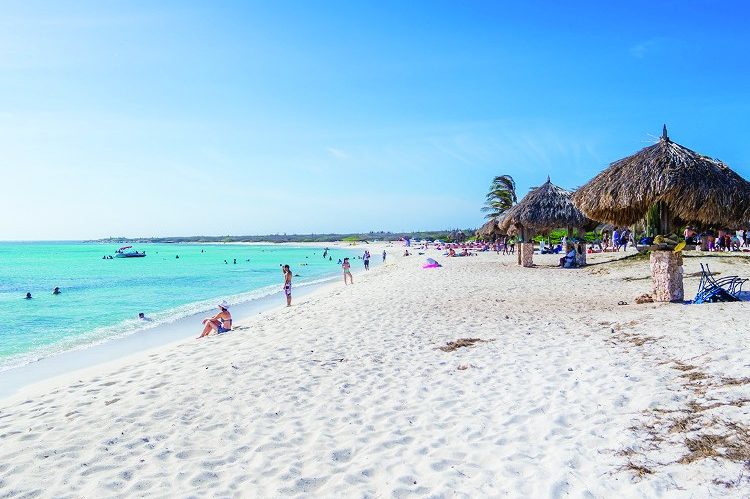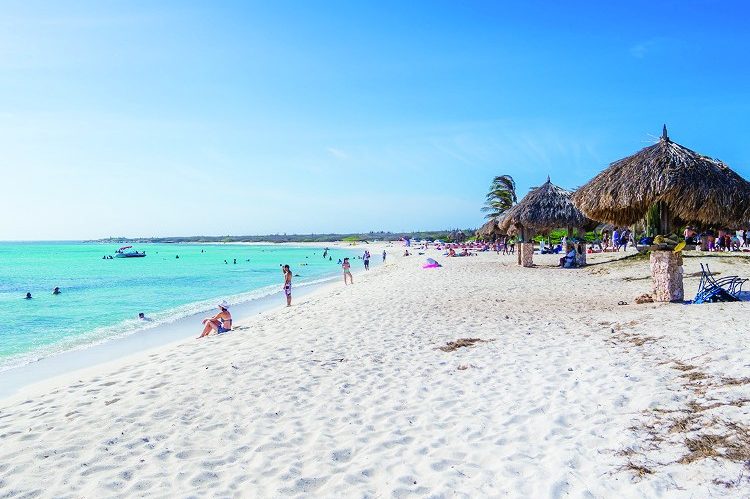 Day Three: Beaches of the Southwest Coast & Southern Tip
Mangel Halto, Roger's Beach, Baby Beach, Boca Grandi, Surfside
A visit to the island's southwest coast and southern tip grants you access to some of Aruba's most picturesque beaches. Frequented by locals but easy for visitors to reach as well, the beaches on our agenda today are unique and varied, and make a colorful addition to your memories of Aruba.
Early Morning
Head down the main boulevard away from the hotel areas and through downtown; if you get an early start, you can catch the sun rising over the southern end of the island. The first stop is Mangel Halto. This gem is tucked along the southwestern coast of the island in the area of Pos Chikito. It's located just inside the Spanish Lagoon, which is now part of the protected environs of Arikok National Park. Mangel Halto is named for the dense network of mangrove trees that make their home here, providing plenty of shade. A narrow clearing in the mangroves leads into an irresistibly inviting expanse of shallow, aquamarine water, made remarkably placid by the protective barrier reef further out. This coral reef, easily reached by a short swim from shore, makes for excellent snorkeling.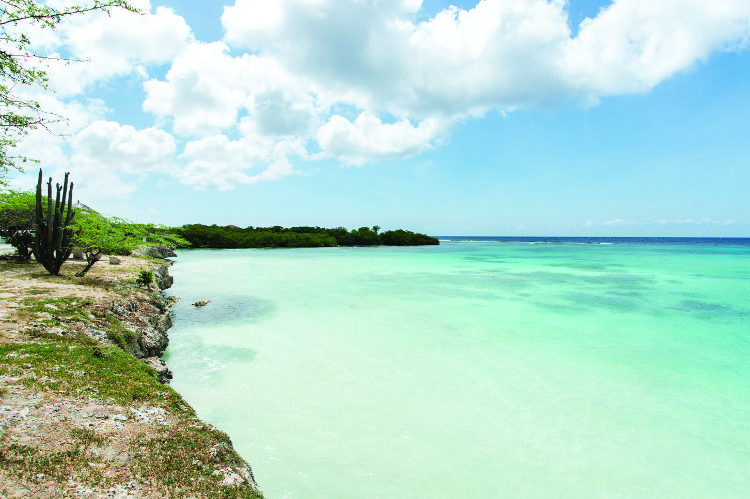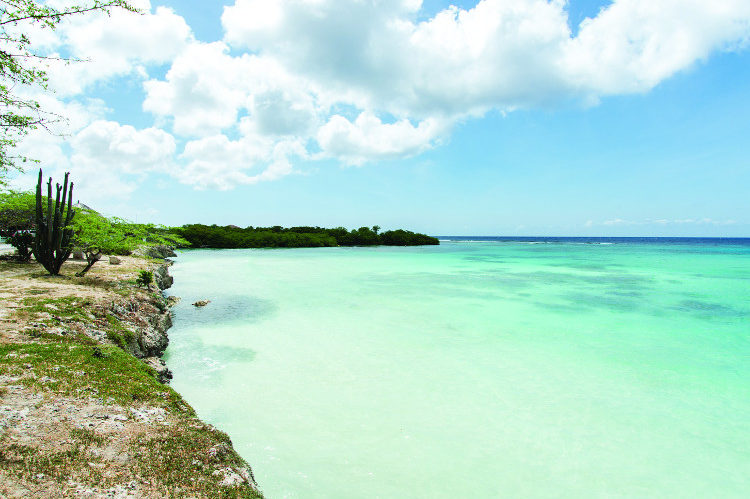 Late Morning
Continuing southeast, our route takes us all the way to the southern tip of the island. We'll soon find ourselves winding through the downtown streets of San Nicolas, Aruba's second largest city. Until recent years, the "Sunrise City" was a boomtown, owing its success to the oil refinery (now closed) that it harbors. With the recruitment of refinery workers from the British Caribbean, San Nicolas developed its distinct Creole flavor and became the birthplace of Aruban Carnaval.
Once through San Nicolas, follow the street signs to Seroe Colorado, the site of the former Lago colony where American refinery workers and their families once lived. A few residents still live in the bungalows overlooking Roger's Beach and Baby Beach, our next beach destinations. Outfitted with a few shady picnic huts, Roger's Beach sweeps around a reef-protected bay that proves ideal for swimming. A handful of colorfully painted traditional fishing boats are docked within the sheltered bay at the far end of the beach, adding a touch of charm to the peaceful setting.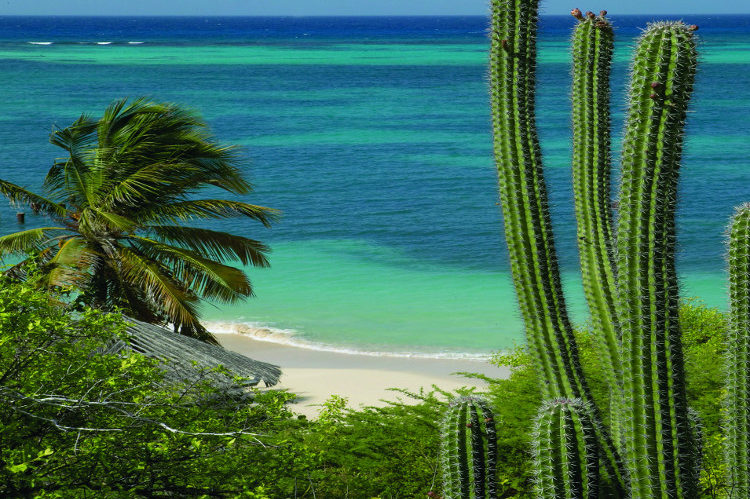 Nearby Baby Beach wraps around a shallow and remarkably calm lagoon, making it a prime destination for families with small children. Decades ago, Lago refinery workers created the lagoon by constructing a protective concrete barrier in the water, giving their families a safe beach to enjoy within the Lago colony. The lagoon is ideal for swimming and novice snorkelers, and while it is possible to venture outside the protected lagoon to explore the reef beyond, it is not encouraged due to strong currents and waves.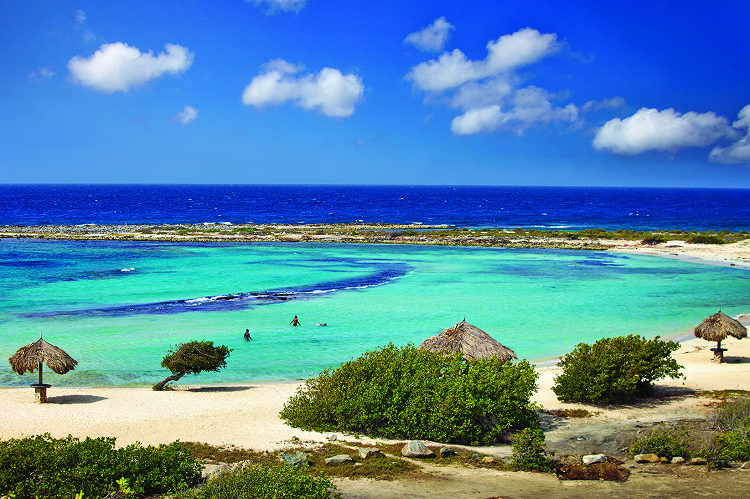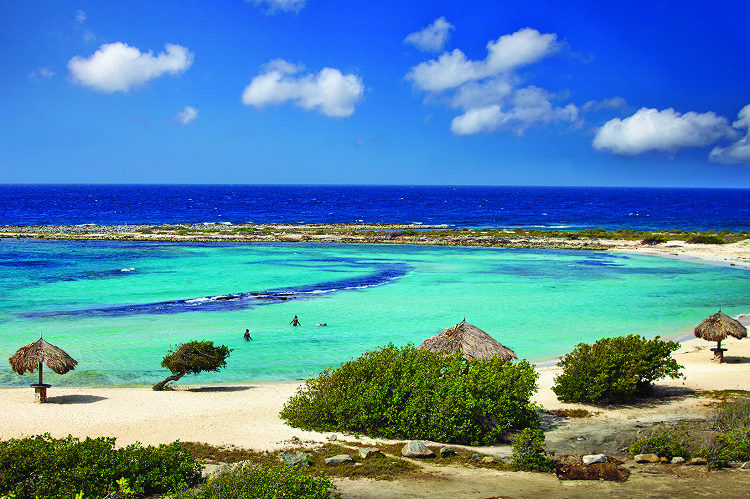 Lunch Break
Rum Reef Bar & Grill is a popular haunt for scuba divers returning from their morning and afternoon dives, so there is no shortage of fish tales being told around the outdoor bar by divers over drinks. For lunch, the fresh grouper Creole sandwich is a must, but their burgers also hit the spot.
Midafternoon
Head back the way you came, but before going back to San Nicolas, pop over to Boca Grandi to spend the afternoon. Boca Grandi has permanently entered into the lexicon of both local and international kitesurfers. The beach, characterized by undulating sand dunes kept in place by low-lying sea grapes, wraps around a bay where steady winds and a small, rolling surf beckon advanced kitesurfers to ply their hobby. The water at Boca Grandi is rough enough, though, to require strong swimming skills.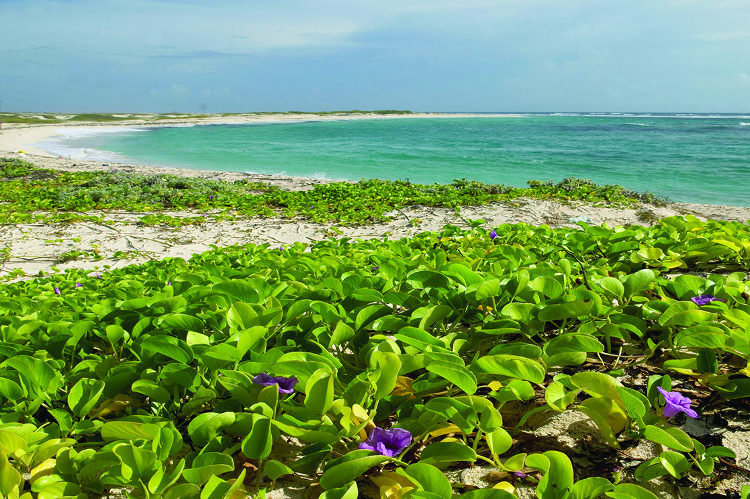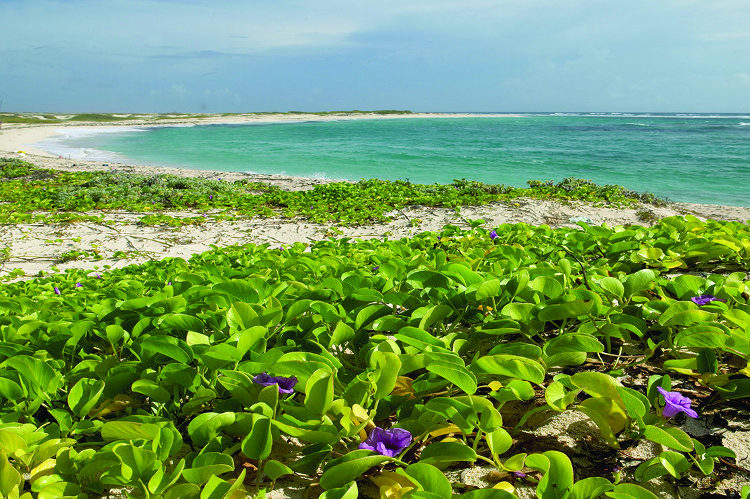 Late Afternoon/Sunset
It's time to head back towards the hotel areas. When you reach Oranjestad, keep alert for the roundabout at Talk of the Town, where you'll take a left to get to Surfside Beach. We suggest taking a leisurely walk along the beach in the direction of downtown Oranjestad. This is a great spot to capture an Aruban sunset and reflect on the beauty of our Caribbean paradise.