Published on:
Krystal & Richard: Elegance on the Shores of Palm Beach
Story by Tina Causey-Bislick
A vacation on Aruba for Tennessee couple Krystal and Richard Holder was enough to seal the deal. "Aruba is a gorgeous island! Rich and I were on vacation in Aruba, and Rich decided that was the place he wanted to make me his wife," explained Krystal.
Although deciding on a beach wedding, the couple still wanted an elegant, first-class ceremony and reception, tapping the wedding team at the Hyatt Regency Aruba, led by Roseangela Nuboer, to make their destination wedding dreams come true. "The Hyatt Regency's wedding coordinator, Roseangela Nuboer, coordinated much of the details for the wedding, and we were inordinately pleased," the bride shared.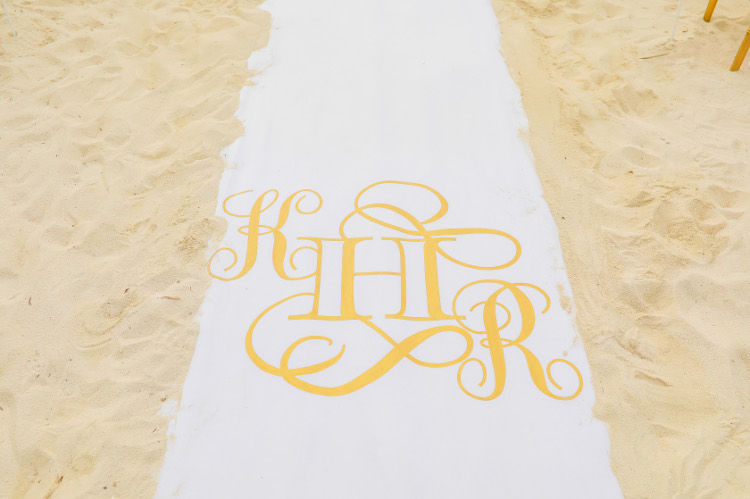 The Décor
Blush pink, white, and gold were utilized to create a soft and dreamy palette that complemented the sugar-white sands and turquoise waters of Palm Beach. A hanging chandelier and a curtain of crystals decorating the arch were decidedly modern and sophisticated touches. Gorgeous globes of white flowers and white lanterns lined the aisle between gold Chiavari chairs. "The floral arrangements were out-of-this-world beautiful!" exclaimed the bride.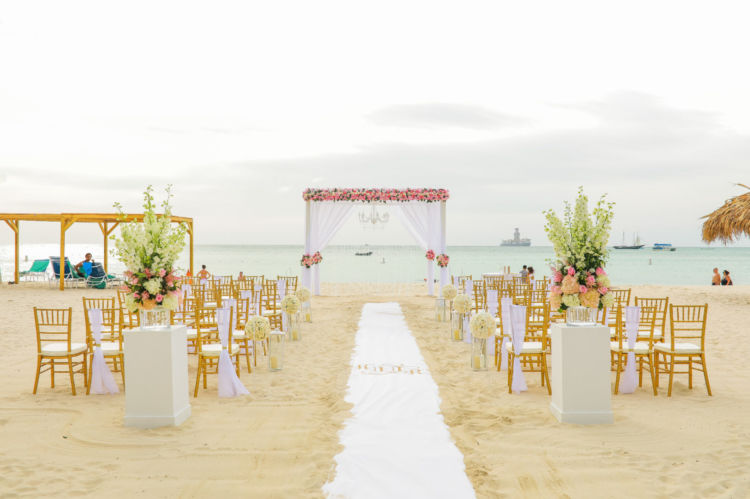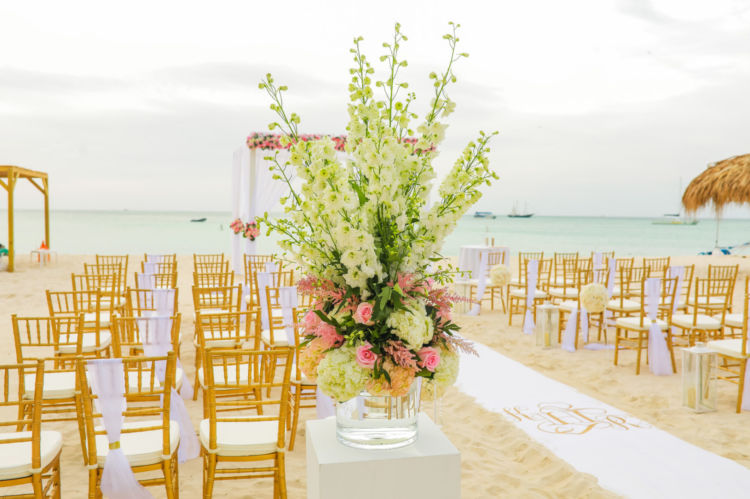 The Attire
"I chose to wear an elegant strapless lace-and-silk mermaid gown by Lazaro. The groom wore a light gray tuxedo with a long, gray tie to distinguish himself from the groomsmen, who wore bow ties. The color combination was perfect."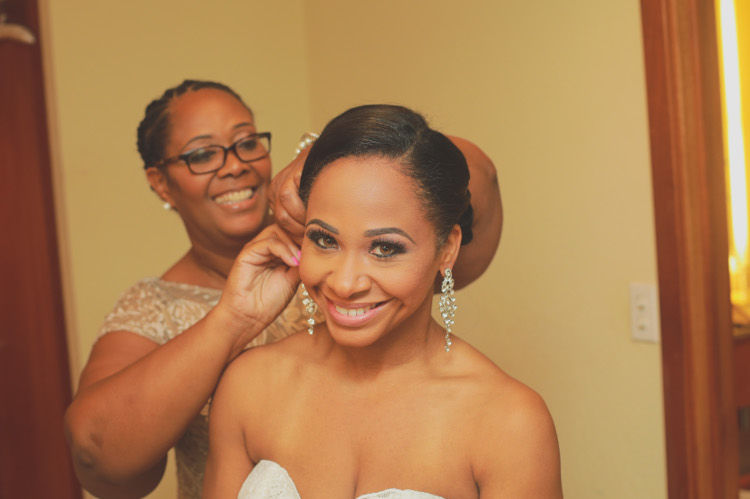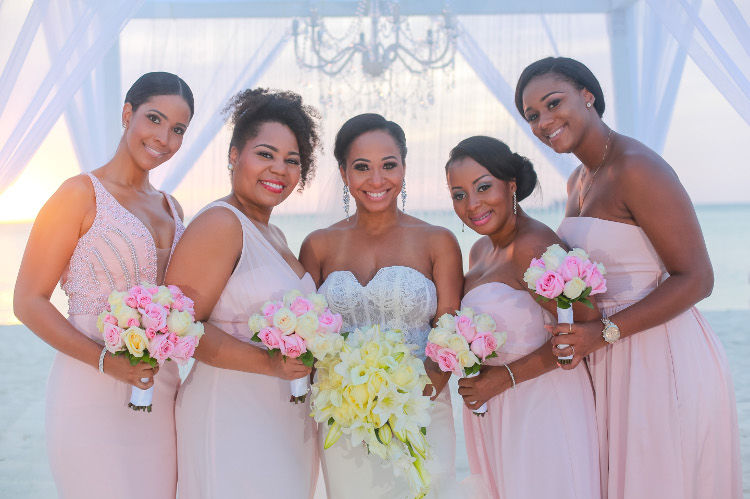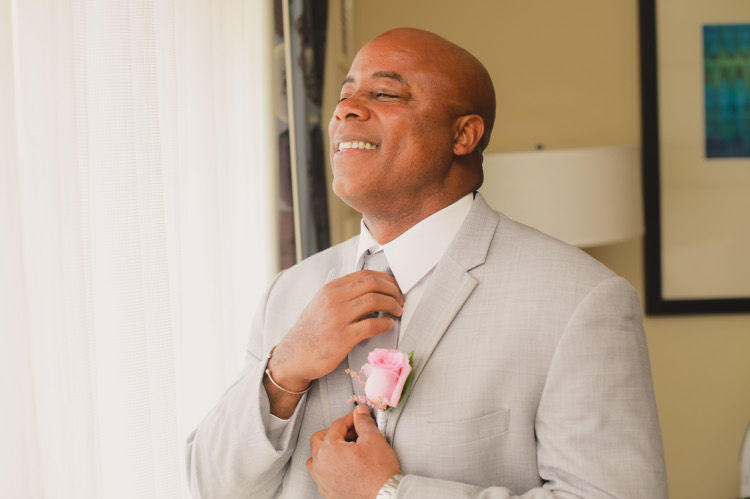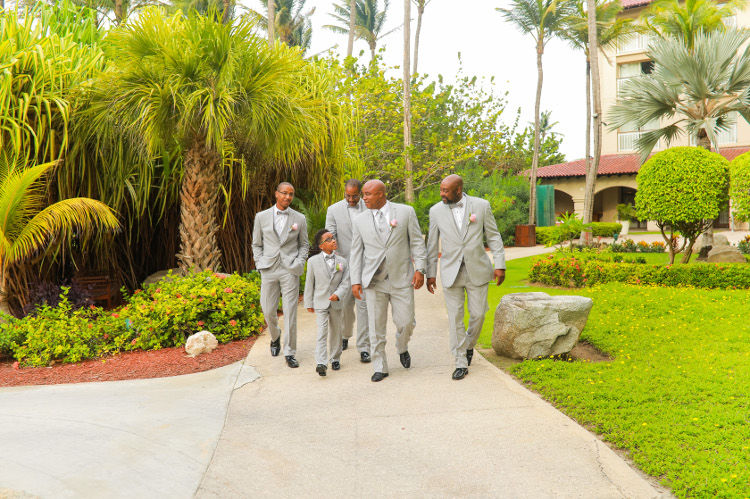 The Reception
Guests were ushered from the beach to Hyatt's Beach Deck event venue, where a premium bar and passed hors d'oeuvres—including Moroccan lamb cigars, mini truffled mac 'n' cheese cups, coconut shrimp, and tandoori chicken—were enjoyed.
For the dinner, the Hyatt's culinary team created a buffet with island-inspired flavors. Caribbean fish ceviche, roasted pork shoulder, seafood chowder, fresh local mahi mahi presented in banana leaves, and a decadent dessert buffet were just a few of the culinary delights. Said Krystal, "The food was delectable and power-packed with flavor—Chef Vincent outdid himself! We had the most elegant buffet I had ever seen, and the service was unmatched."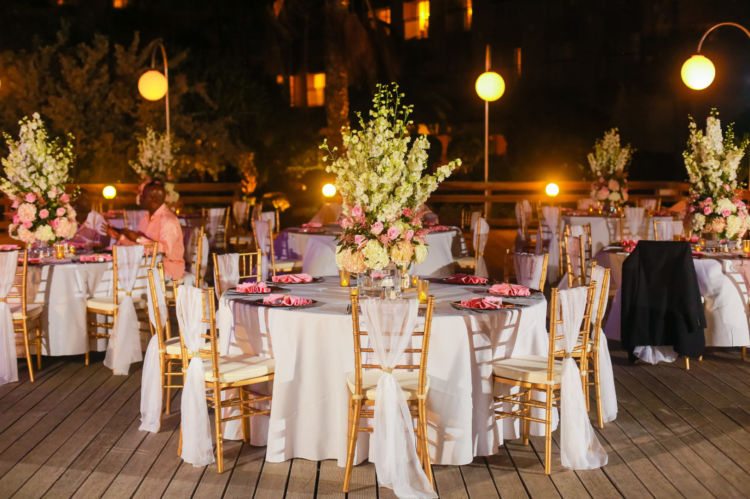 The Details
Ceremony location: Beachfront at the Hyatt Regency Aruba Resort, Spa & Casino
Reception location: Hyatt's Beach Deck
Flowers: Koolman's Flower Shop & Décor
Officiant: Geoffrey Banfield
Wedding cake: Hyatt's culinary team
Photography & Videography: Designs by JK
Steelpan music: Mai Arend
Deejay: DJ Monk with Elite Productions
Lighting: Elite Productions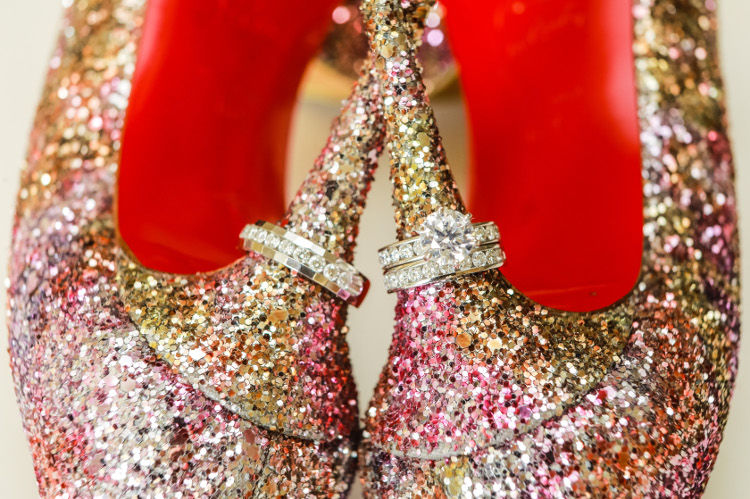 Notes from the Bride
Overall, the Hyatt Regency was extremely accommodating. If I had to do it all over again, I would select the same location with the same vendors, with the very same menu. It was all outstanding and first class! Our guests are still raving about the event. I had a special assistant, Fanny, assigned to help me for the day, and she was an added touch of class. She removed so much stress from the day, and I was so grateful for this added service. 
Aruba is one of the most gorgeous islands I have ever visited. It has it all! De Palm Island for the kids (and adults who wish to be kids for a day) was great. I love that I can visit Aruba and have a relaxing, serene vacation, or I can enjoy a fun-filled itinerary of activities if I choose to. I am excited to plan our next family vacation to Aruba. There is no place like it!