Published on:
Learn to Play Like an Islander in a Day!
For many, vacations are all about new and exciting experiences.  For others, a well-rounded vacation includes soaking up the local lifestyle and joining in on some of the beloved activities on the island.  Included here are a few favorite sports and activities on the island that anyone can learn to do in less than a day.
Windsurfing
Thanks to highly favorable wind and water conditions and year-round pleasant weather, Aruba is a windsurfing mecca.  Every year, thousands of active vacationers come to Aruba just to windsurf, primarily at the Fisherman's Huts.
You don't have to be a pro, nor even have years of experience windsurfing—just about anyone can learn to windsurf in one two-hour session.  Several watersports operators offer windsurfing lessons for beginners.  A 30-minute introduction to the equipment and hands-on instructions on land are followed by a lesson in the calm, shallow waters of the Fisherman's Huts area, where your instructor will stay by your side and have you up and sailing in no time!
Vela (located beachside at Aruba Marriott Resort and adjacent to Ritz-Carlton) and Aruba Active Vacations (located at Fisherman's Huts) offer windsurfing lessons and rentals.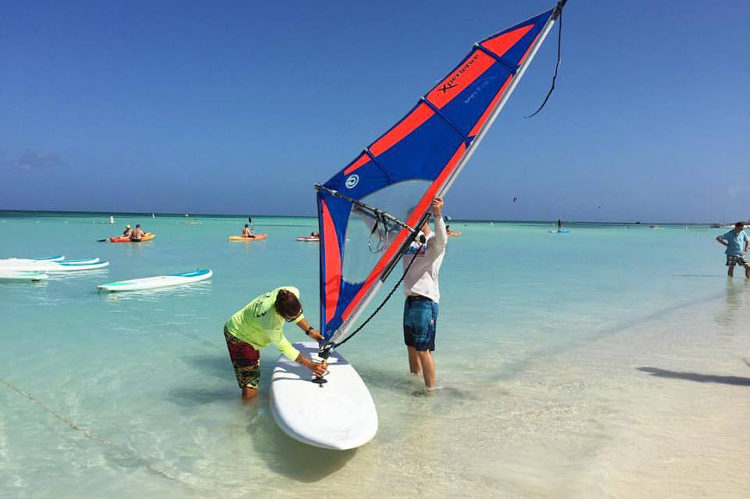 SUP (Standup Paddle Boarding)
SUP essentially entails standing up on an oversize surfboard and pulling (or in SUP lingo, "sweeping") yourself forward with a long single-ended paddle.  Although SUP has its roots in the waves, the fact that you are propelling yourself makes the sport suitable for any water setting.  In fact, SUP is now most widely enjoyed on flat water, including lakes, rivers, and calm seas.  Aruba's expanse of flat water along Palm Beach, as well as locations like Spaans Lagoen and Mangel Halto, make Aruba an ideal destination to give SUP a try.
People of all ages and athletic abilities can enjoy SUP.  It's certainly something the whole family can enjoy.  With SUP, you need as little as five minutes of instruction before you are paddling out on the water.  There are activity companies specializing in SUP guided tours, and a few resorts have SUP boards and paddles available to their guests.
SUP lessons and rentals available at Vela.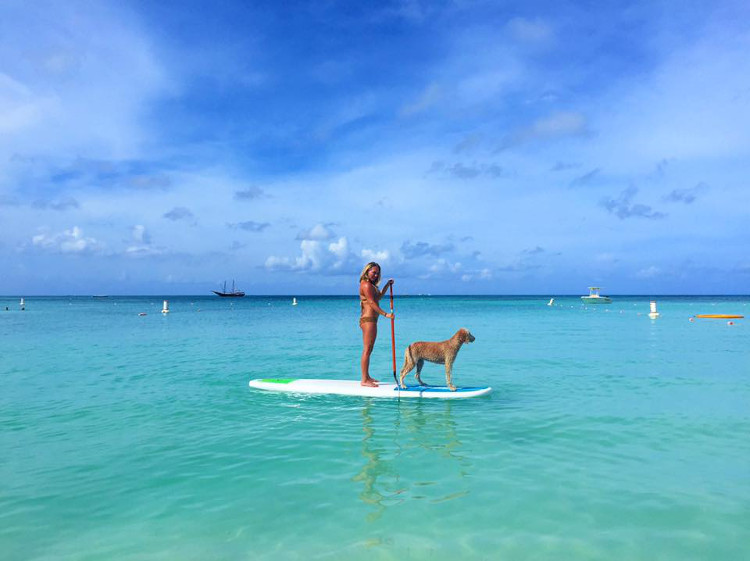 Scuba Diving
The island's coastline offers vacationers those world-renowned views that Aruba is famous for.  Just below the surface of the azure Caribbean Sea, however, is an entirely different kind of beauty—one that is best experienced while scuba diving.  Explore the island's many vibrant tropical reefs brimming with colorful sea life or even explore a shipwreck (Aruba has some of the best wreck diving in the Caribbean).
No experience, no PADI certification, no equipment?  No problem!  Many of Aruba's dive shops and dive operations offer what is called a Resort Dive certification through PADI.  The half-day course provides beginners with the foundation to safely make their first dive.  Class begins in the morning on land and in a swimming pool.  By the afternoon, newly certified Resort Divers will be 30 feet below the surface of the sea, exploring coral reefs and the scattered remains of one of the island's shipwrecks, the SS Pedernales.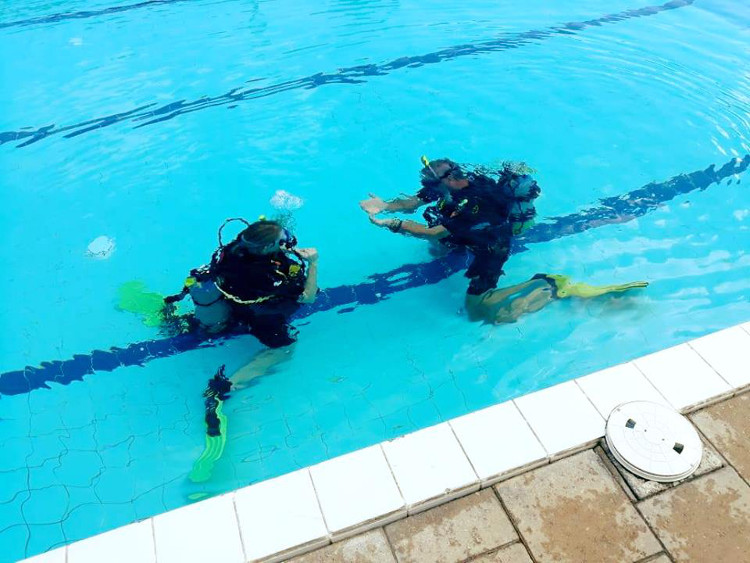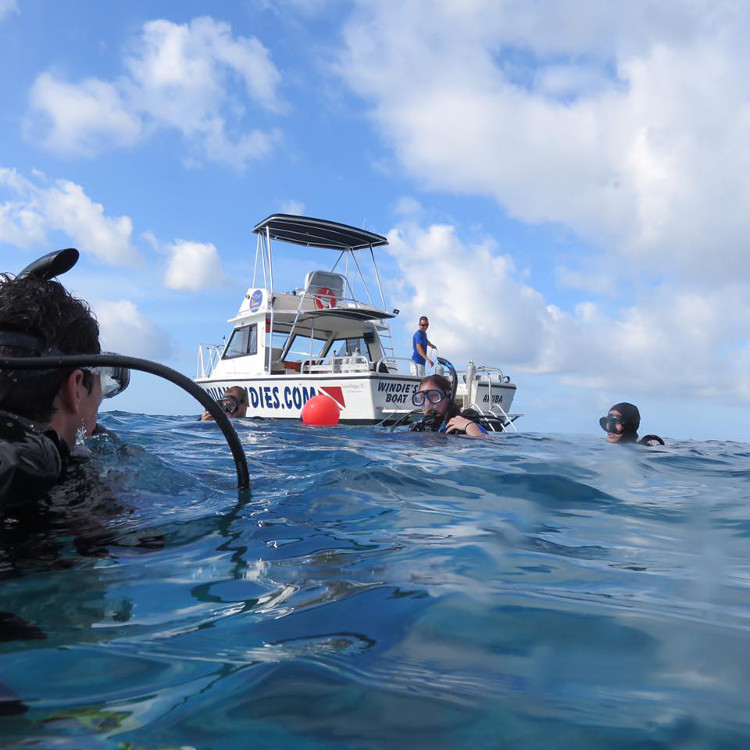 Beach Tennis
Introduced to Aruba in 2002, beach tennis has inarguably become one of the most popular sports on the island.  Players of all ages and levels of athletic ability are encouraged to play.  The easy camaraderie of beach tennis—plus the pumping music, cold beers, and sunny beach setting—guarantees the great success of this sport on Aruba.
The island's largest beach tennis facility, with 16 courts, is located at the Tropicana, and another complex is located on Palm Beach at Moomba Beach Bar.  Rackets and balls can be rented at both places, and one-hour introductory lessons are available from the island's internationally ranked pros.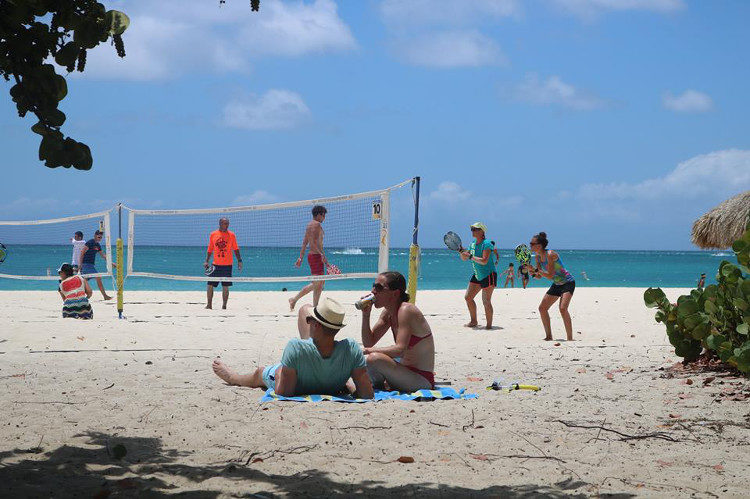 Salsa & Merengue
They are the dances of the Caribbean and Latin America.  Sexy and sultry, local dancers are mesmerizing to watch at some of the local nightlife spots.  But don't just sit on the sidelines—fun, introductory group classes are offered at various beach bars and resorts.  As the saying goes, "No one knows you here," so who cares if you have never hit the dance floor before!?  Locals love to share their culture with guests to the island and will be happy to make space on the crowded dance floor for you!