Published on:
Let the Celebrations Begin!
Text by Tina Causey-Bislick  /  Images by Steve Keith
Most will agree, the best part of a wedding is the reception.  The formality and jitters of the "I dos" are over, the couple can let out a big exhale, and we all get to eat! The reception is a time when the couple can express themselves through the elements they chose for their reception—from food and flowers to the décor and entertainment—which reflect their individual and combined tastes. After all, it's their first time as a married couple to break bread with family and friends!
Here on Aruba, the destination-wedding scene is growing every year, and those who contribute to this genre of tourism—from wedding planners and decorators to florists and culinary teams—work very hard to stay on top of their game and on-trend.
We tasked six resorts to each create a reception based on themes and styles in both food and beverage and décor.  The results are impressive and make me want to get married (or at least have a reception) all over again!  Oh, and these ideas are not specific to wedding receptions; any of these themes can be implemented for a variety of wedding-related events, including welcome parties, rehearsal dinners, bridesmaid or groomsmen events, engagement celebrations, anniversaries, and beyond.
Decorators:  Letz Aruba, Phone +297-587-9215  /  House of Mosaic, Phone +297-594-8096  /  The Perfect Team Event Planners, Phone +297-738-7417
Florists:  Shar's Flowers, Phone +297-583-2727  /  Koolman Flower Shop, Phone +297-582-3161
Cocktails at 6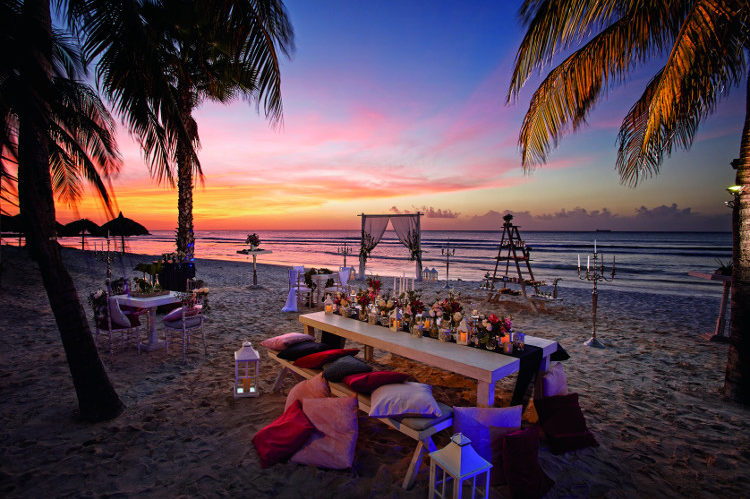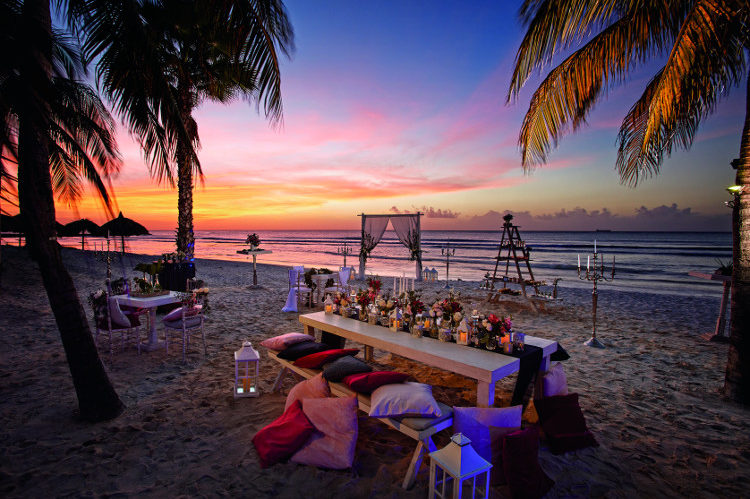 The Vendors: Aruba Weddings for You (the exclusive wedding planners for Divi Resorts), Letz Aruba, Shar's Flowers, Divi Resorts' culinary team, Pepia Est (mixologists)
Whether you call them hors d'oeuvres, appetizers, tapas, tastes, small plates, or bites, allowing guests to graze at their leisure on a variety of foods presented in small or bite-sized portions assures that there is something on the menu for everyone and keeps your reception "fluid," encouraging guests to move around and mingle. Pairing beverages with food takes it to the next level, allowing guests to sample a variety of drinks while also upping the "wow" flavor factor of the cuisine.  The Divi culinary team worked with local spirits distributor Pepia Est to present six winning food-drink combos, where flavors, colors, and presentations were all considerations.  The décor reflected a tasteful mix-and-match vintage look with a bit of nautical inspiration tied in.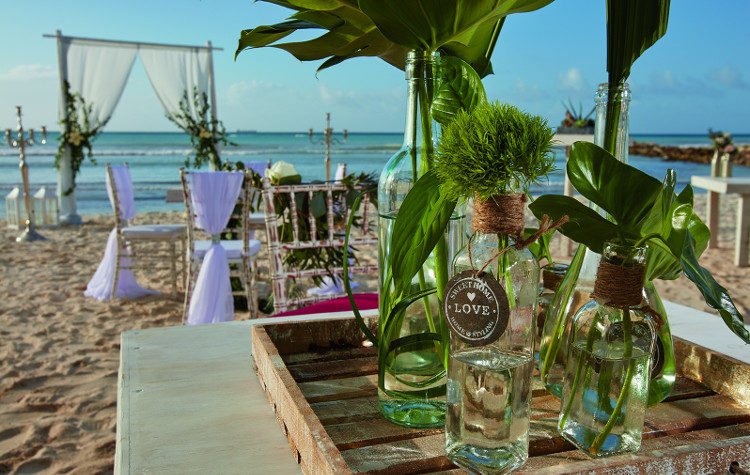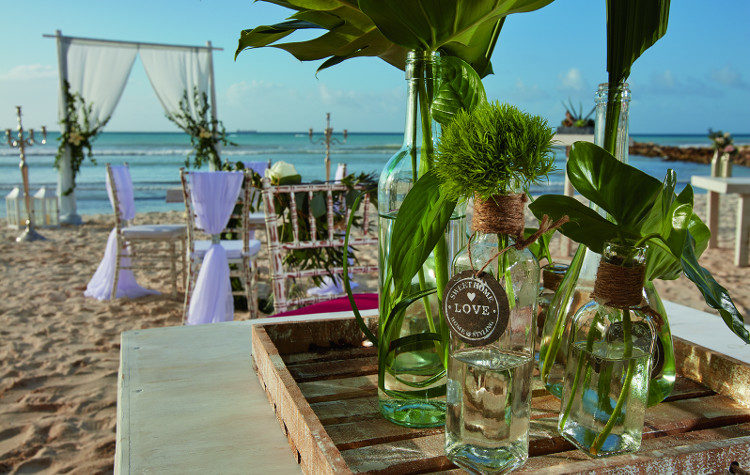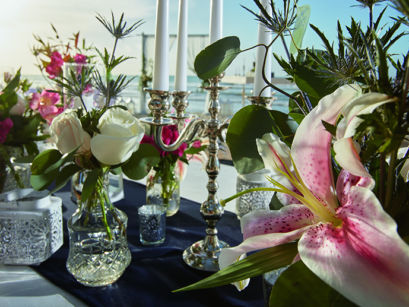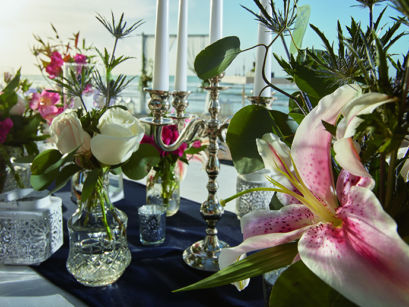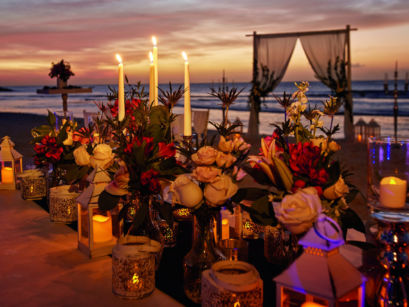 The Menu
Mini fish tacos paired with mini margaritas
Beef sliders paired with beer shots
Lamb lollipops paired with gin and tonics
Beef and shrimp brochettes paired with tequila sunrise tasters
Seafood paella paired with white sangria
Watermelon and feta bites paired with mini mojitos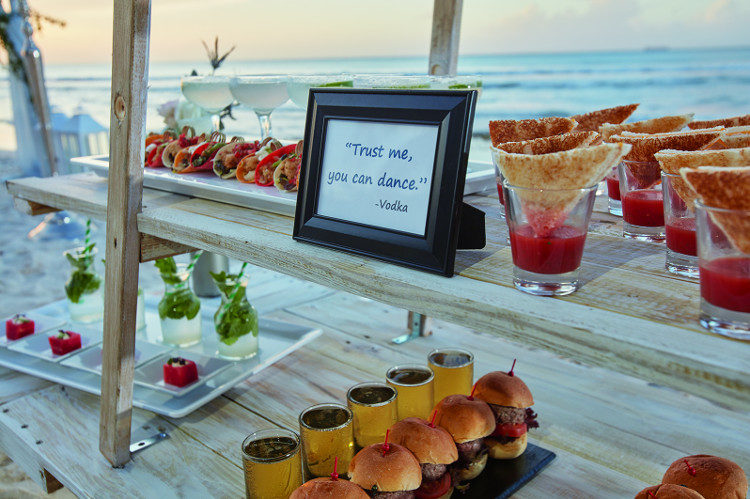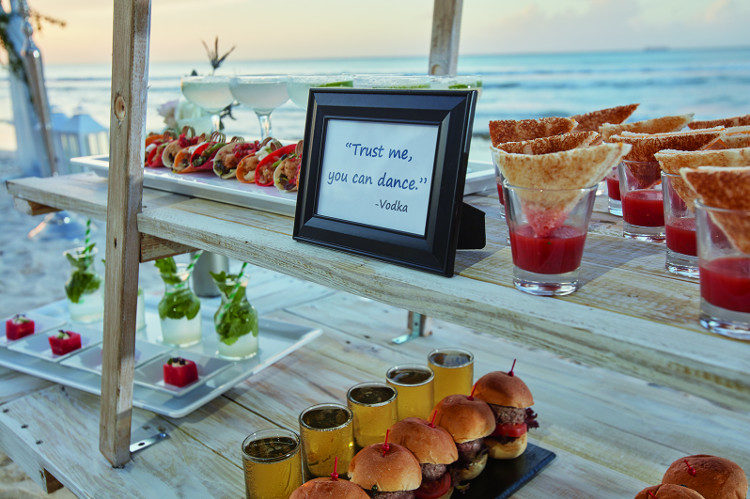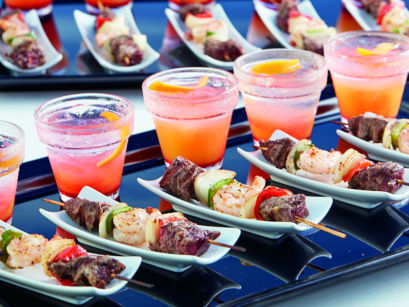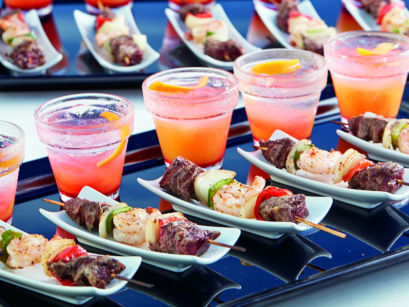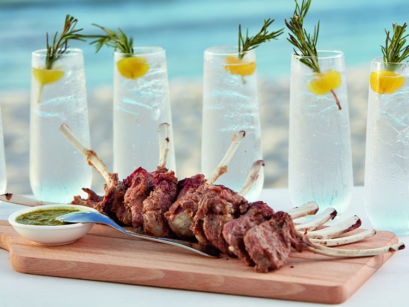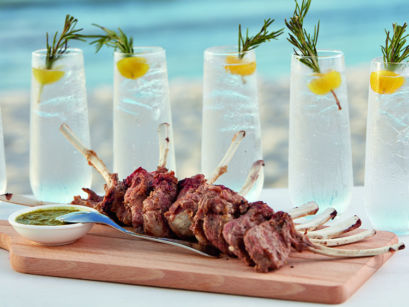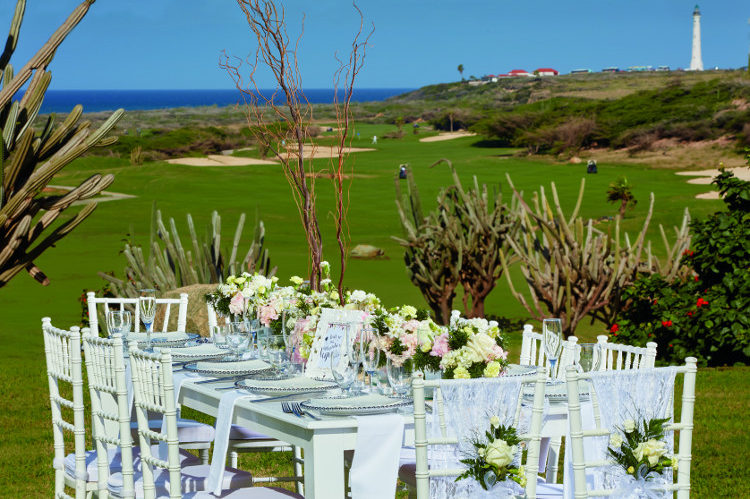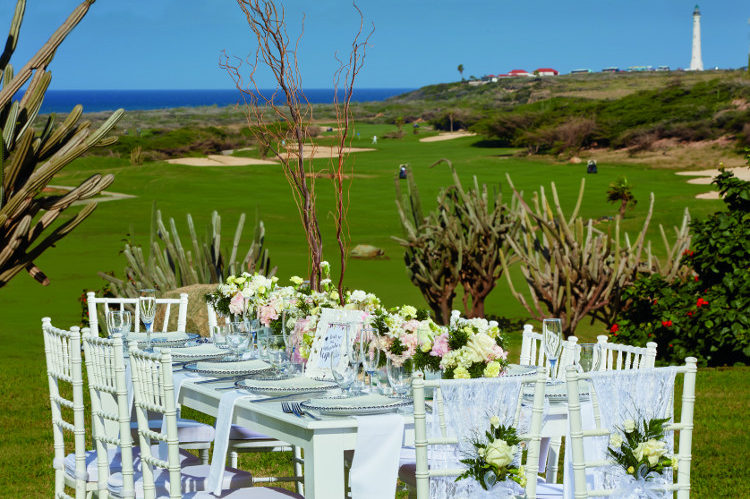 The Vendors: The Restaurant at Tierra del Sol's culinary team, Koolman's Flower Shop, The Perfect Team Event Planners
The grounds of the clubhouse at Tierra del Sol—with expansive and stunning views of the Robert Trent Jones II desert links golf course, the California Lighthouse, and the coastline—offer couples a wedding venue that epitomizes casual Caribbean sophistication.  We can think of no better setting for a wedding brunch than right here.  Much like the weekly Sunday brunch at The Restaurant at Tierra del Sol, this wedding reception, set up on the restaurant's back lawn, is served in small-plate style, allowing guests to sample a variety of tastes.  For the décor, crisp white is softened with pink, blush, and cream flowers and a touch of lace for a classic wedding look.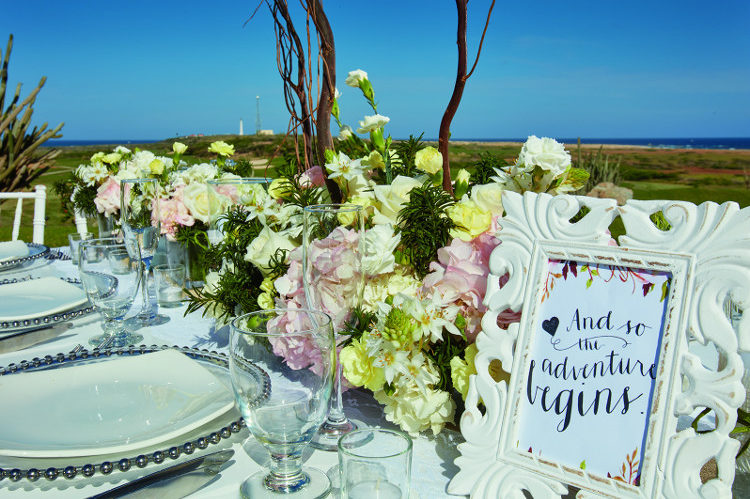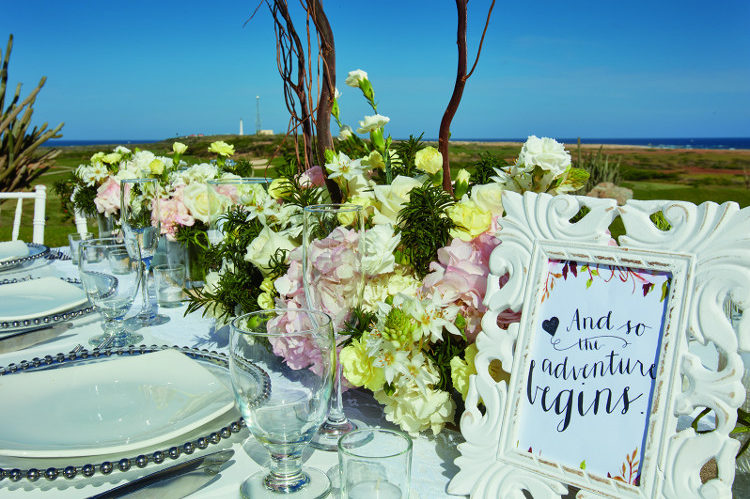 The Menu
French toast with cinnamon butter, fresh fruit, and bacon
Eggs Benedict with smoked salmon
Lobster cappuccino with saffron cream and fresh herbs
Mini croissants filled with pastry cream and drizzled with hot chocolate sauce
Escargots and shrimp in a lightly spiced garlic sauce with fresh herbs
Pan-seared sea bass with saffron quinoa, oyster mushrooms, asparagus truffle crème, and grilled pineapple & tomato antiboise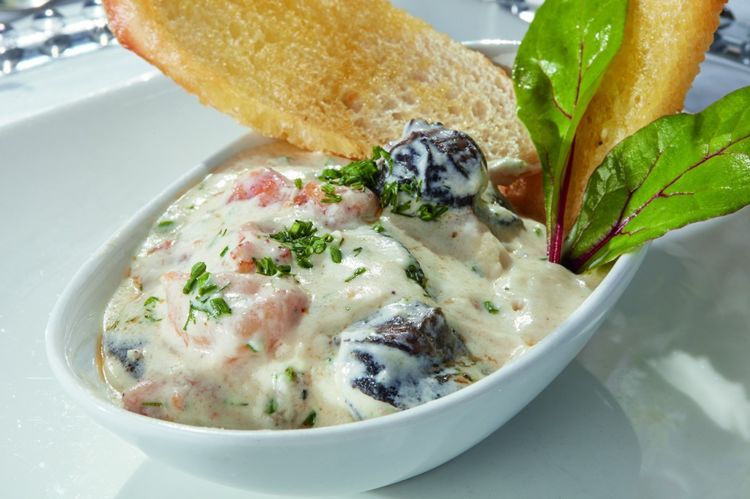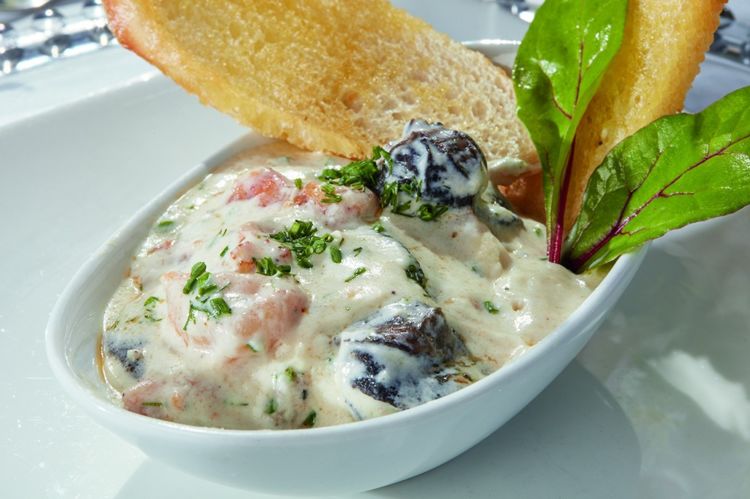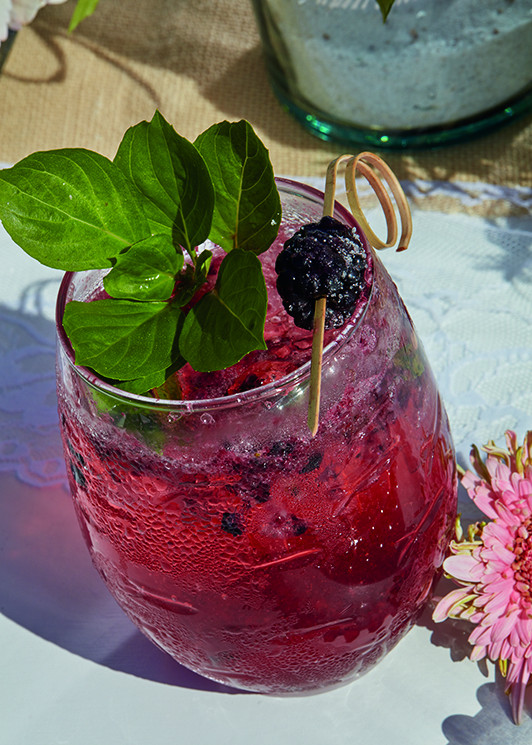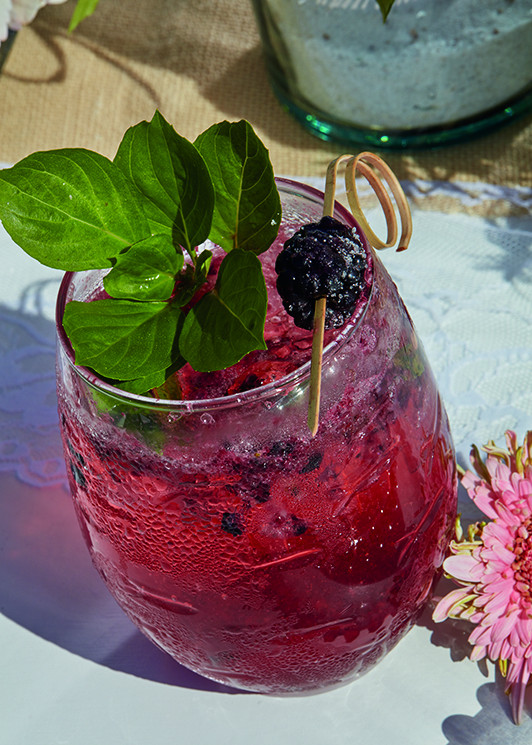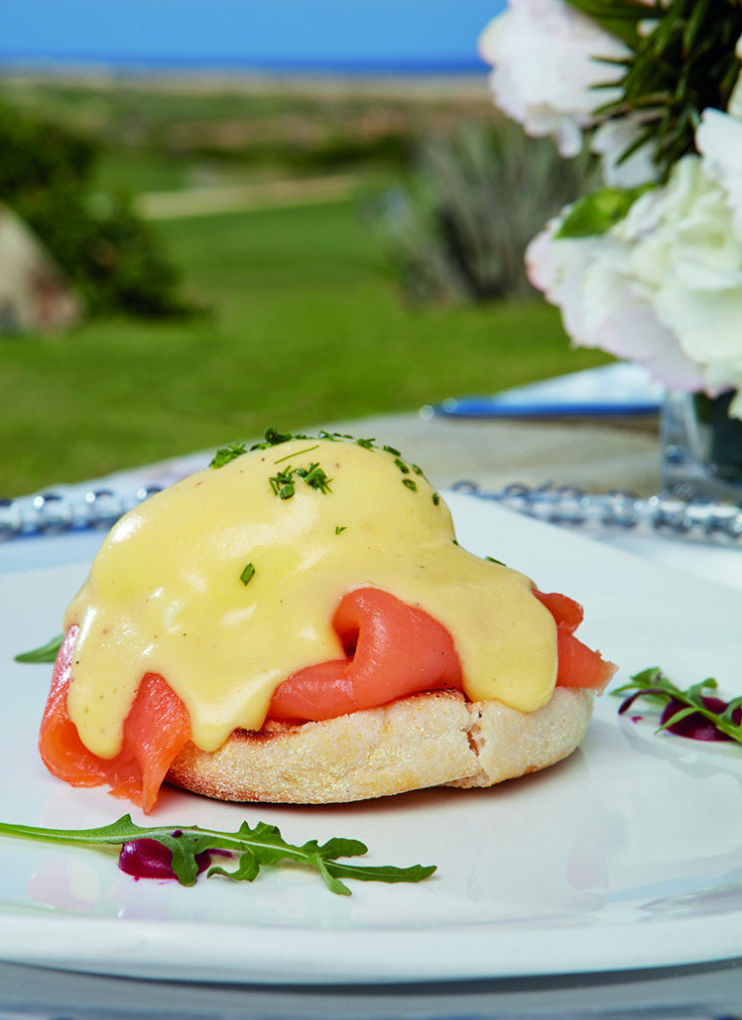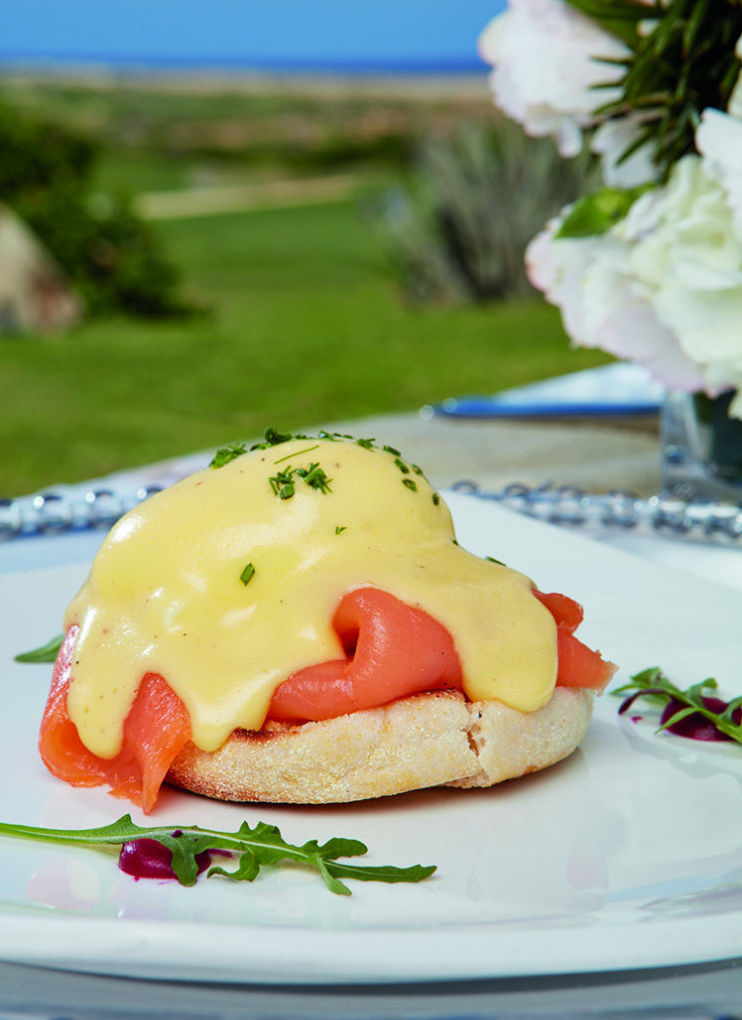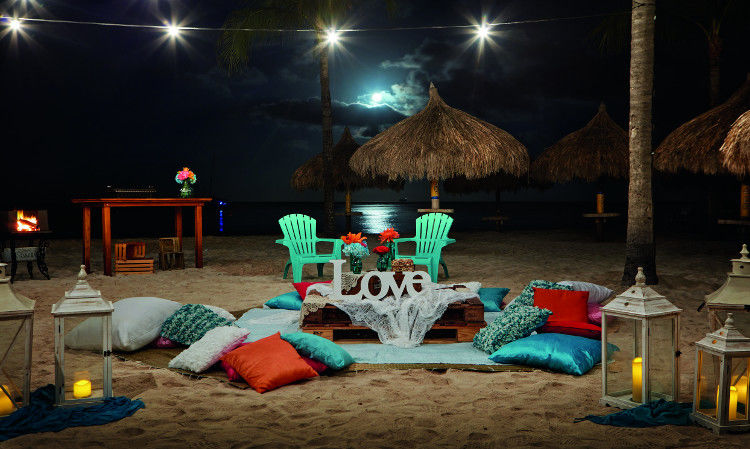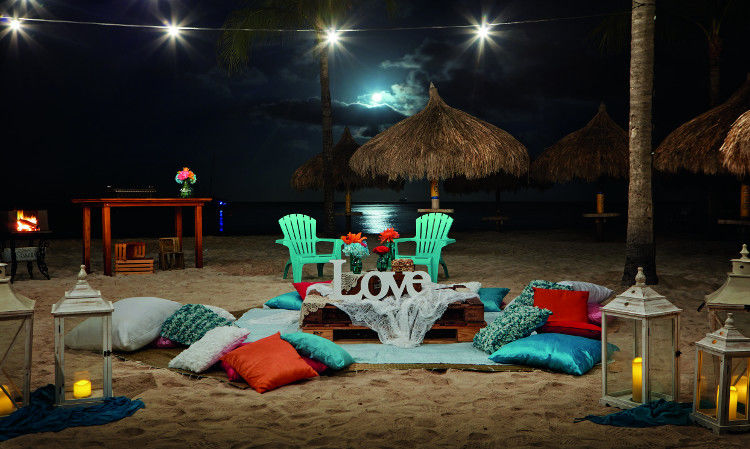 The Vendors: The Perfect Team Event Planners, Marriott's banquet and culinary teams
This reception idea from the team at the Marriott Resort & Stellaris Casino delivers the ultimate toes-in-the-sand wedding experience.  The low-key, boho vibe is enriched with layers of bold and bright colors and fabrics of varying textures.  Vases of differing sizes and shapes filled with loose flowers complement the relaxed setting. The reception's seaside setting inspired a menu of seafood served small-plate style, as well as Caribbean lobster tail grilled tableside.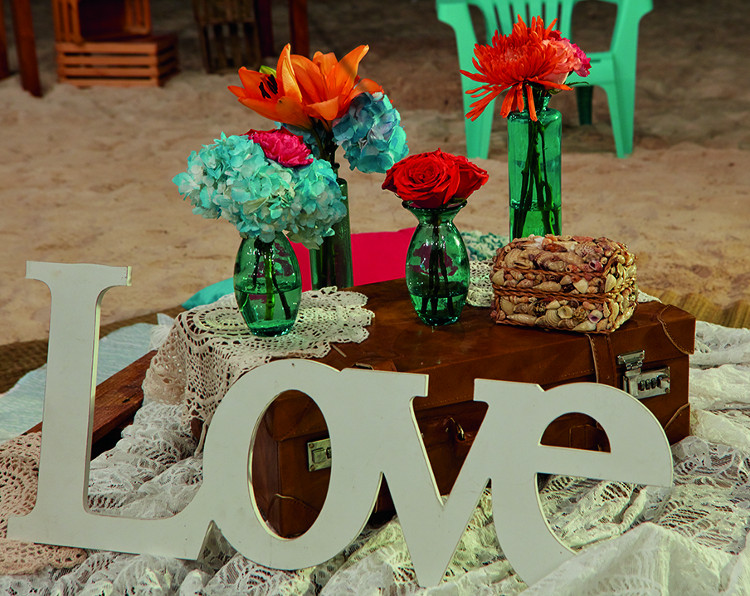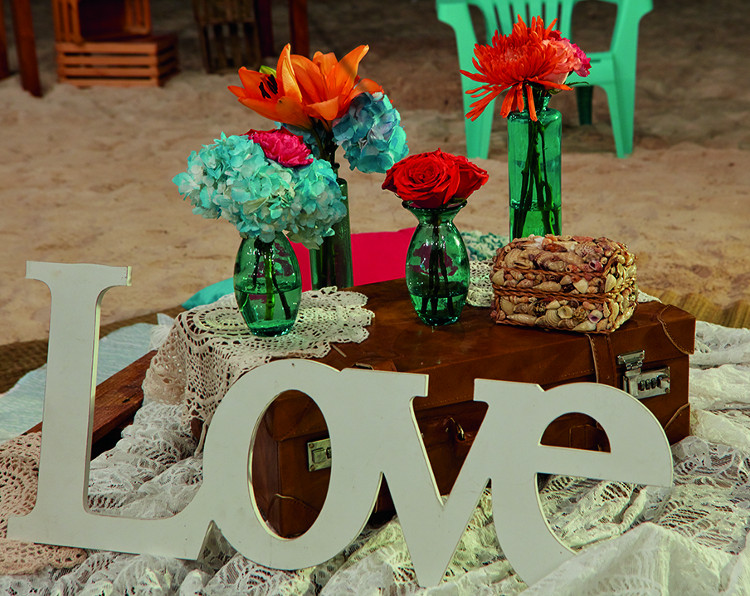 The Menu
Grilled Caribbean lobster
Yellowfin-tuna salad with fresh orange segments, microgreens, roasted tomatoes, red-pepper mayonnaise, and a fresh lime dressing
Red-snapper sashimi with cucumber, faro seeds, cilantro, and Madame Jeanette peppers, enhanced with orange foam and sesame & soy vinaigrette
Scallops with crispy quinoa, garlic puree, microgreens, red-wine sea salt, Cape gooseberries, and basil vinaigrette
Sea bass with a carrot puree and a port-wine reduction, grilled asparagus, radishes, and toasted almonds
Red snapper with cauliflower puree, edamame, roasted olluco, and a creamy piquillo-pepper sauce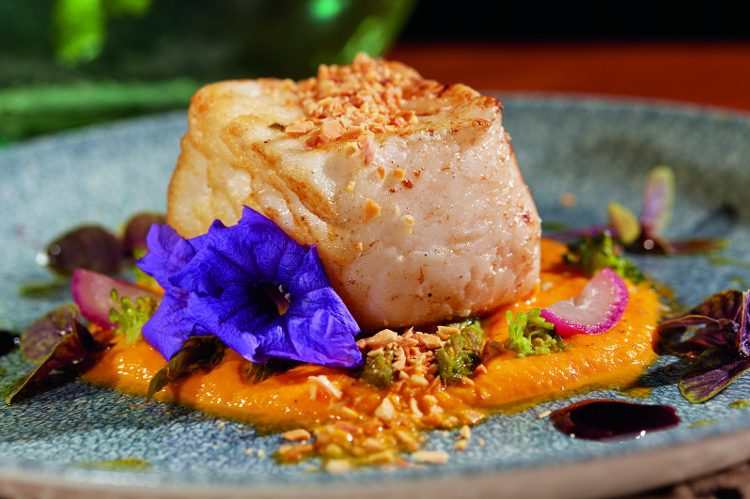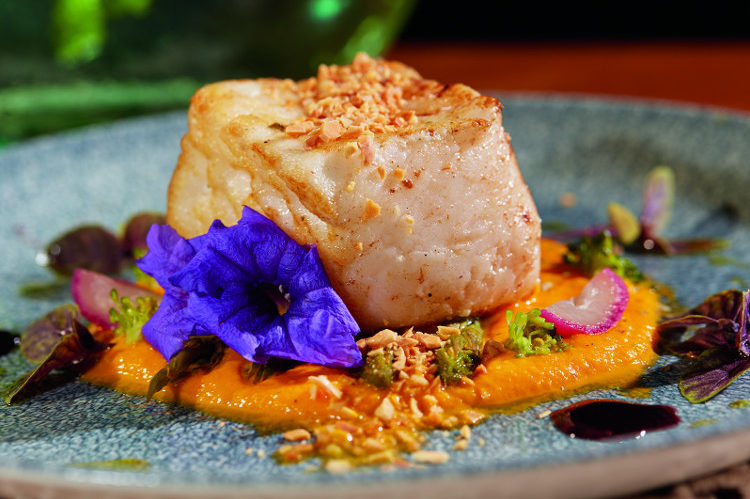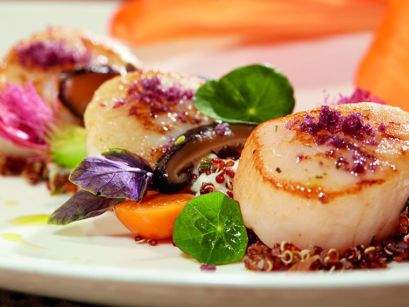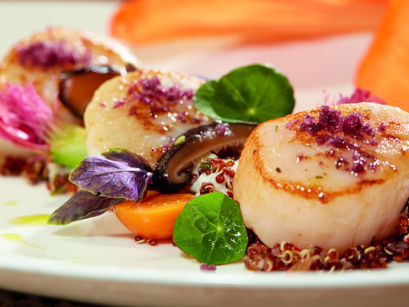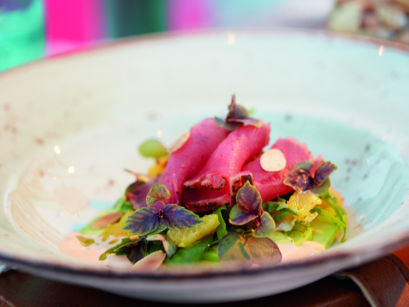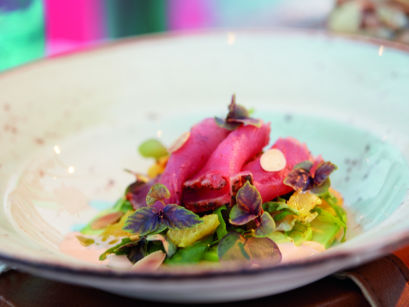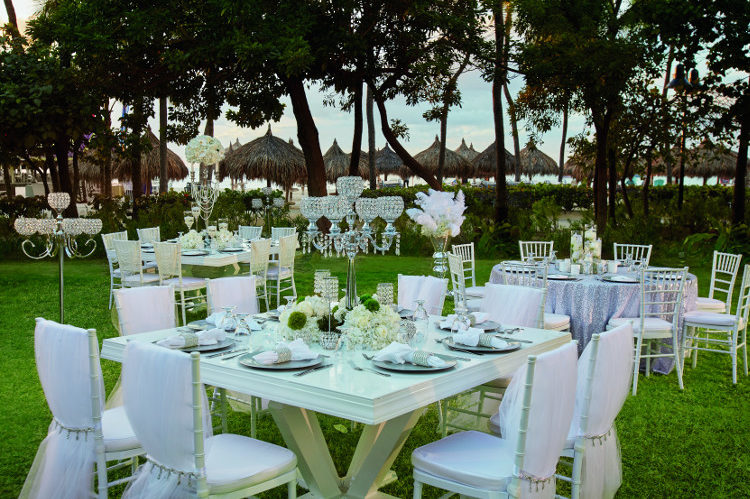 The Vendors: Sunset Grille's culinary team, Letz Aruba, Shar's Flowers
A formal, sophisticated event is not just relegated to a traditional setting like a ballroom. Aruba's creative decorators and florists can turn an outdoor locale like Hilton's beachside lawn venue into alfresco refinement with a touch of glam.
The classic white-on-white color scheme allows the silver and crystal of the centerpieces to shine and sparkle, adding understated drama to the look.  If you look closely, you'll see that every table has a few unique elements while staying true to the overall décor theme. This elegant setup is ideal for a more formal, plated dinner.  The Hilton showcases menu items from its flagship restaurant, Sunset Grille, critically acclaimed for its steak, seafood, and pasta.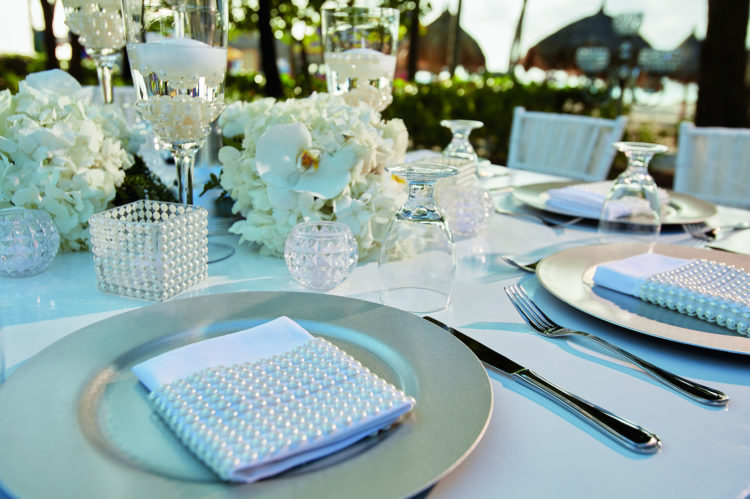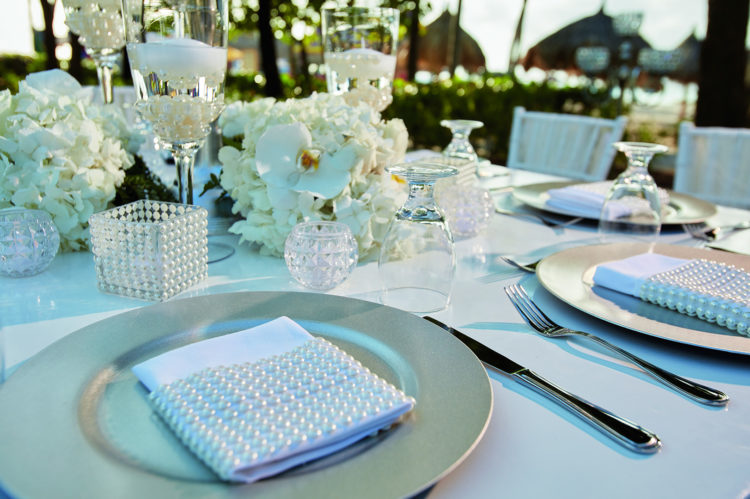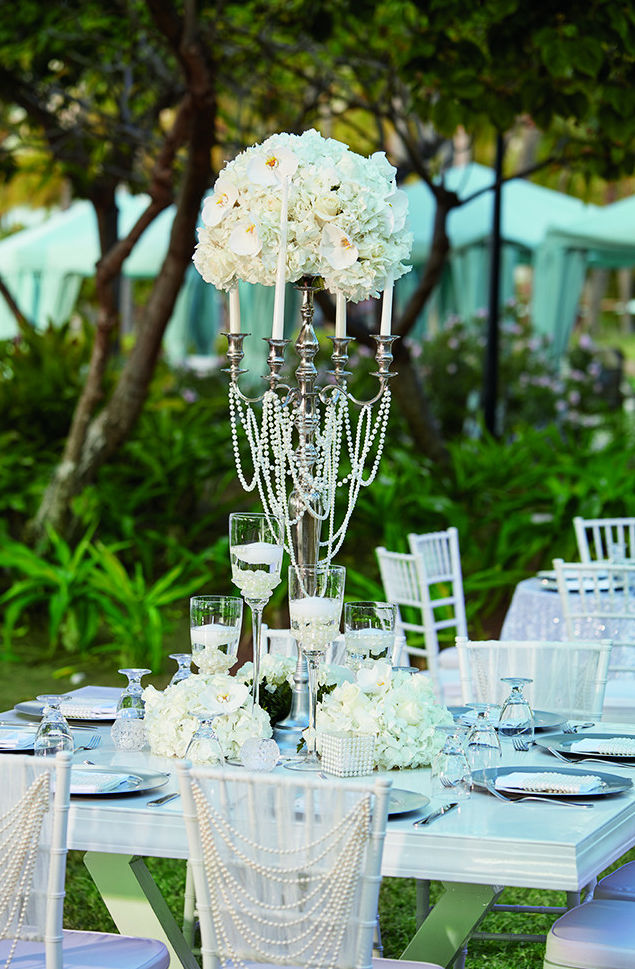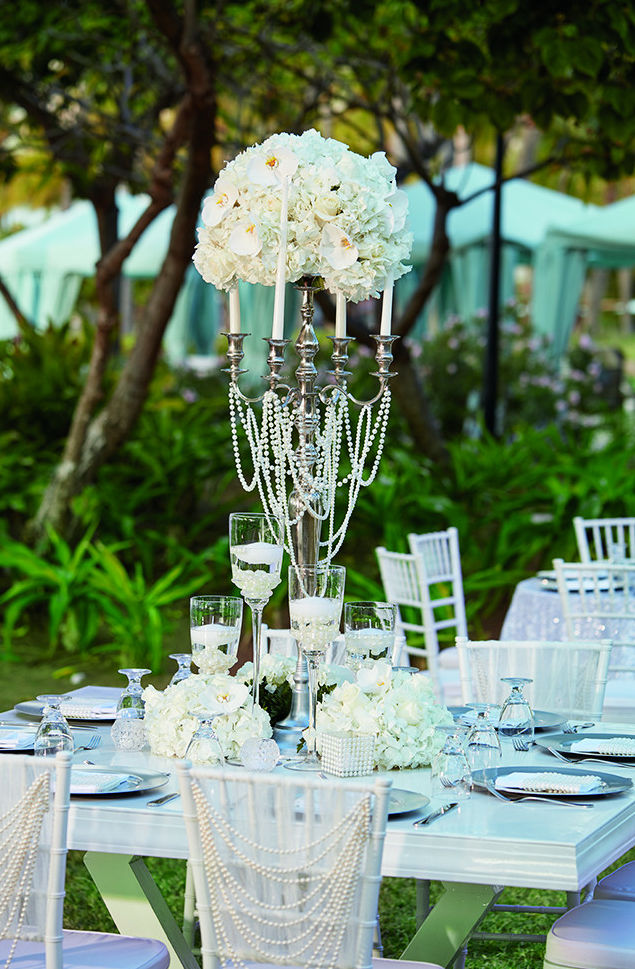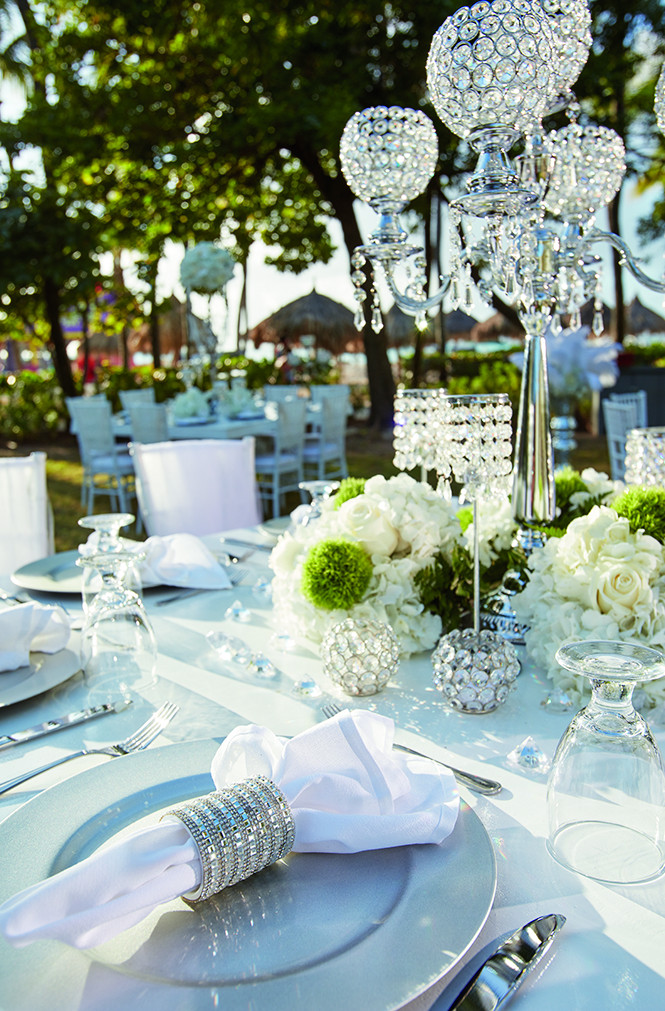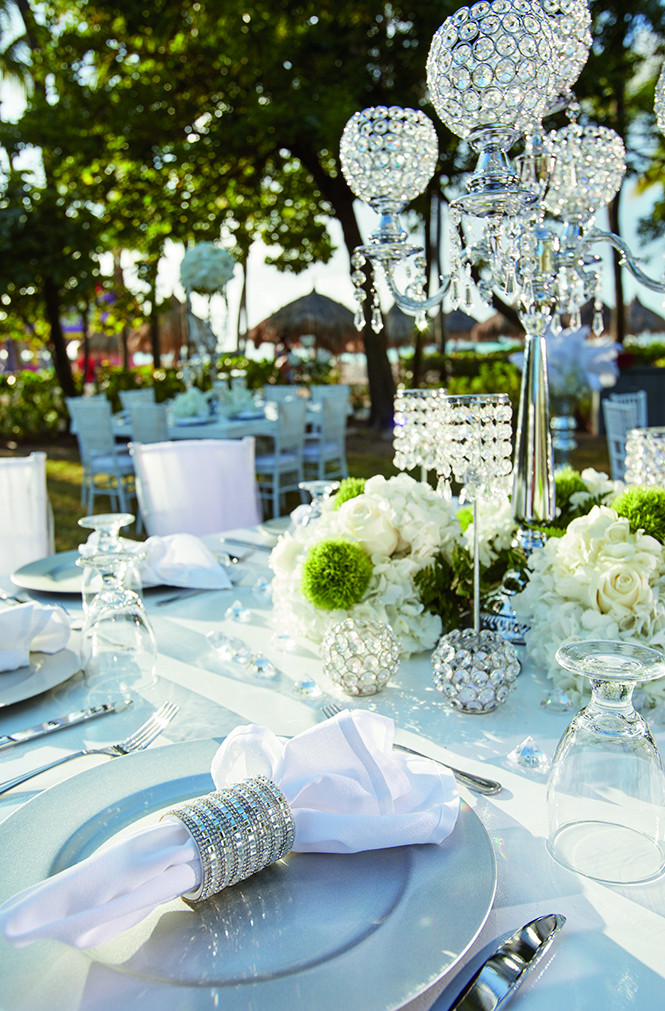 The Menu
Lobster bisque with a touch of brandy and sherry foam
Burrata Caprese salad with beefsteak tomatoes
Colossal-shrimp cocktail
100% Certified Angus Beef filet mignon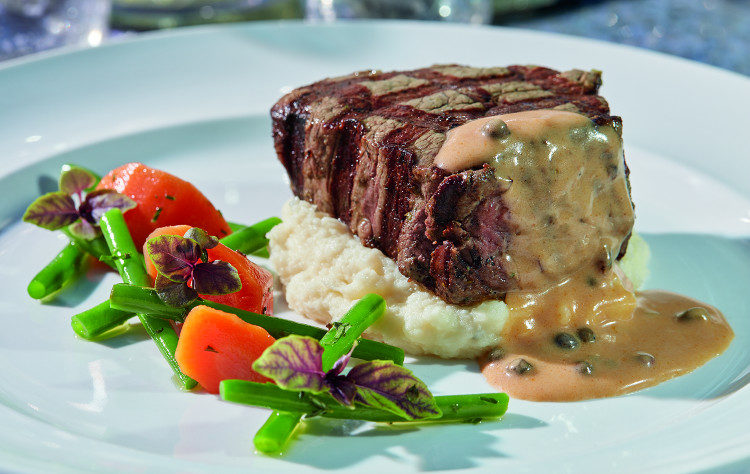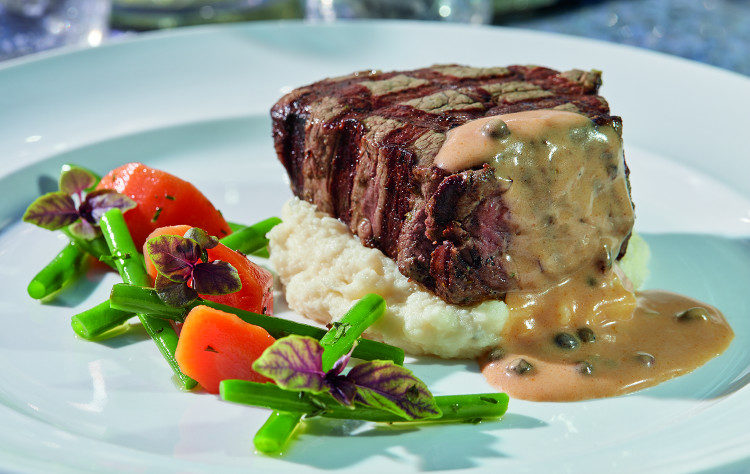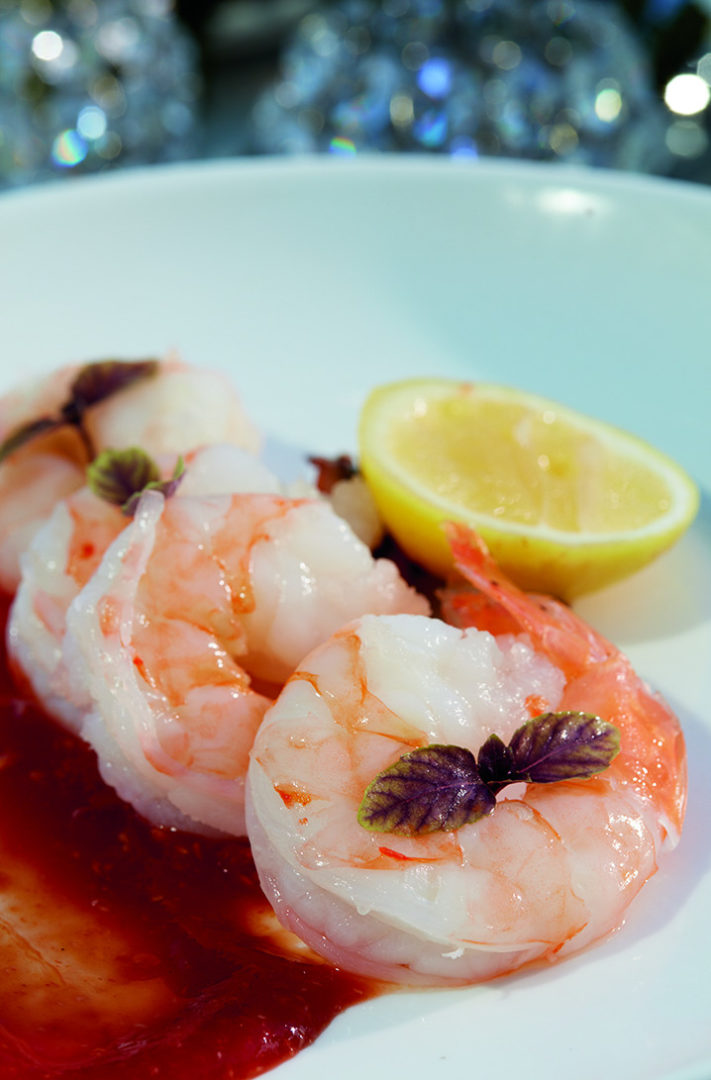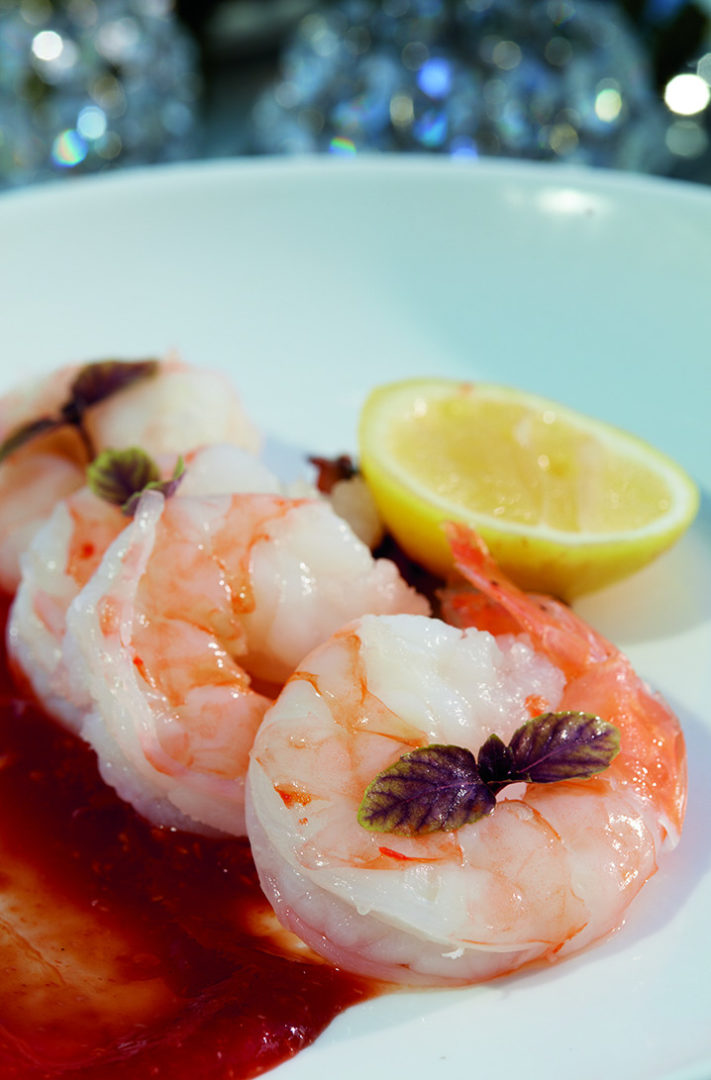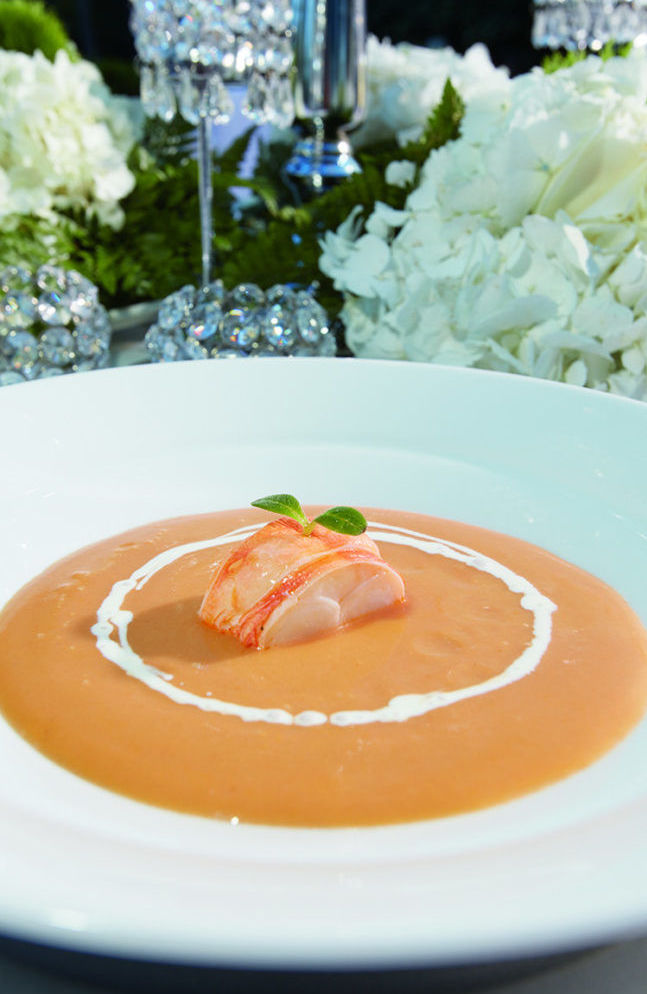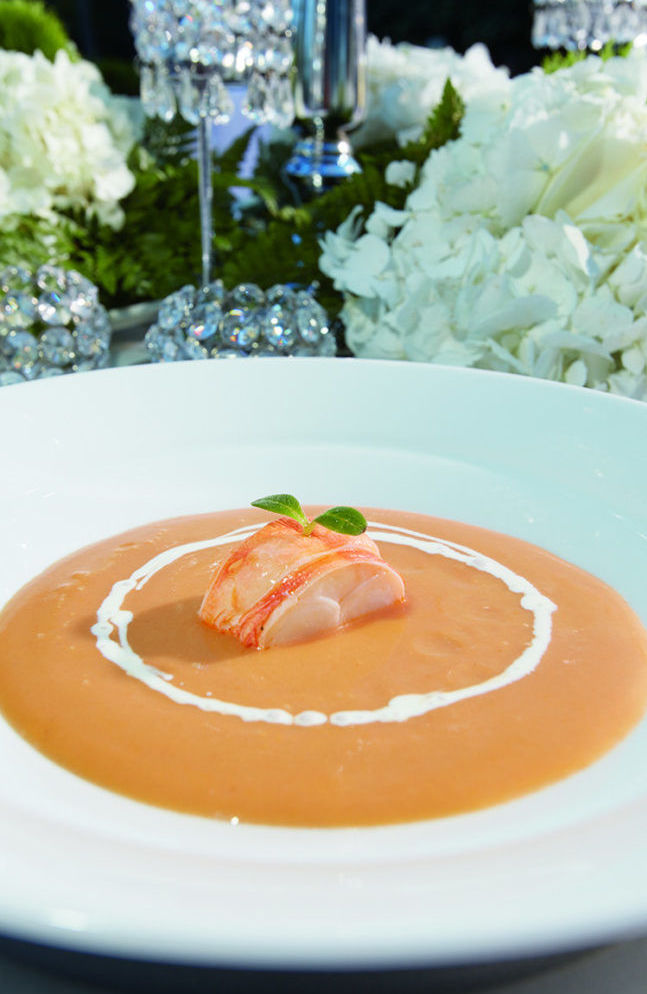 Enchantment in the Garden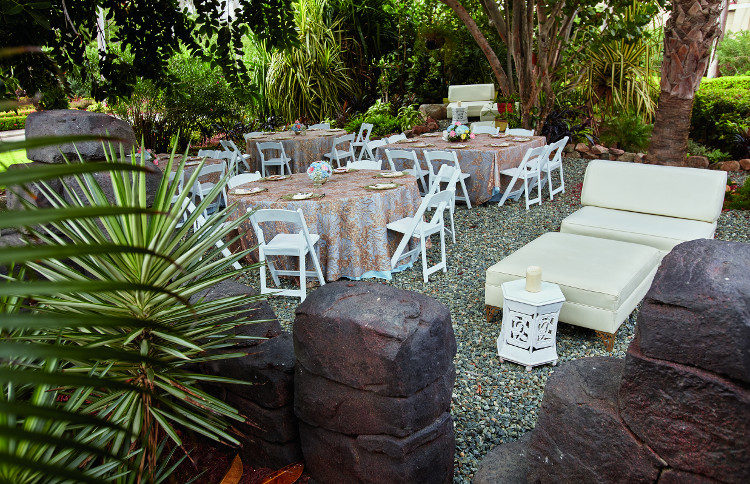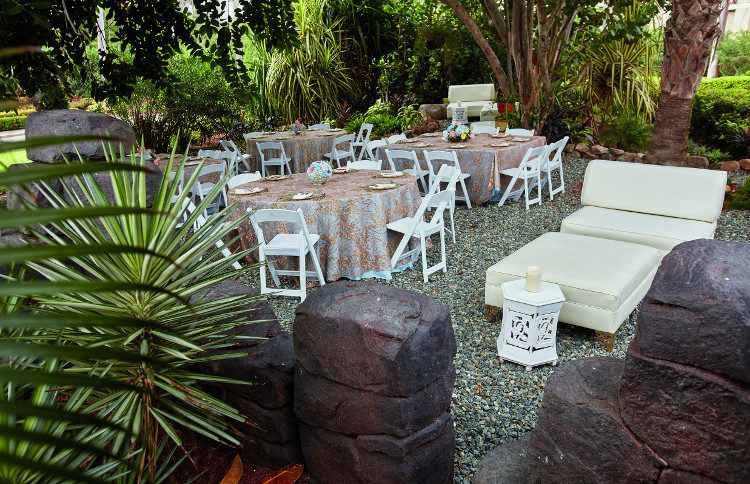 The Vendors: Hyatt's pastry team, Koolman's Flower Shop, House of Mosaic
The garden wedding will always be a classic go-to—it radiates romance and fairy tales.  The Hyatt Regency Aruba Resort & Casino recently unveiled a new event venue to add to its grand beach palapa, catering deck, and ballroom options.  The area is known as the "Gold Mill Ruins," (inspired by the island's historic Bushiribana Gold Mill Ruins) and is anchored by mammoth rubber trees that lend a mystical vibe to the setting.  The Hyatt team chose this venue to showcase a decadent way to end a wedding reception.
The wedding cake is the traditional dessert served at wedding receptions, and that will certainly always be the case.  However, many couples are opting to give their guests options, such as an array of confectionary delights, served in bite-sized portions so guests can sample their way through dessert.  And like an hors d'oeuvre and cocktail reception, the presentation entices guests to get up from their seats and mingle, keeping the reception from becoming static.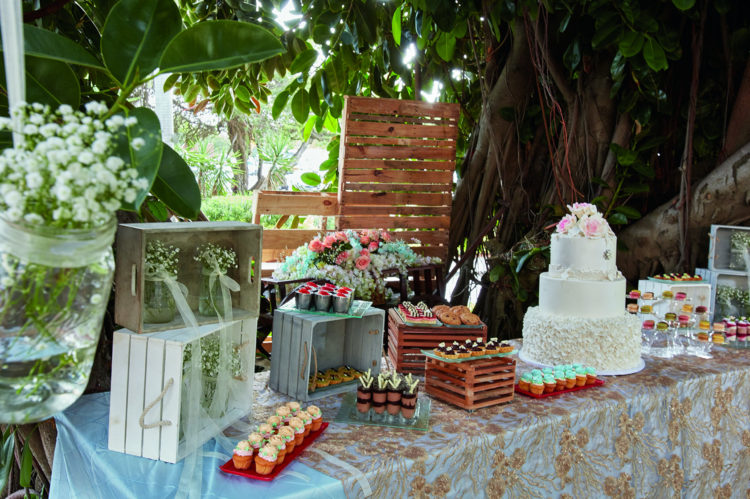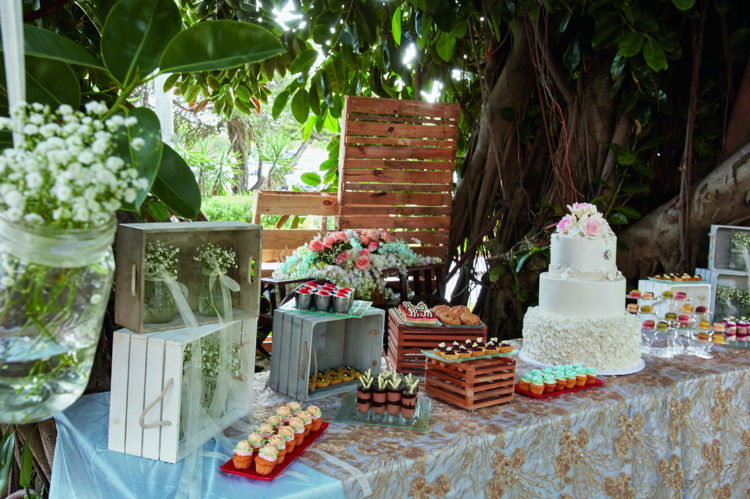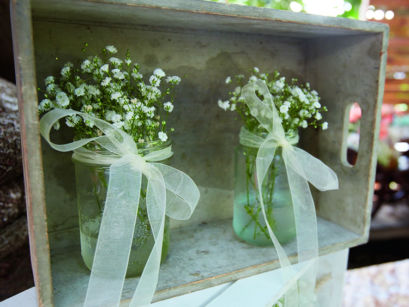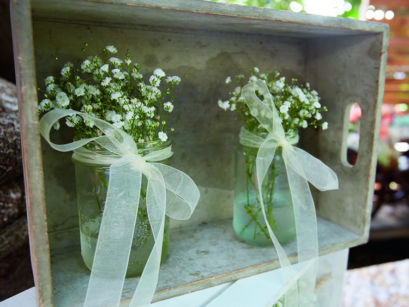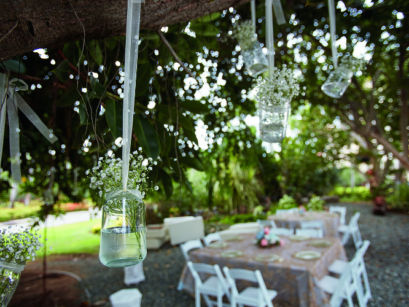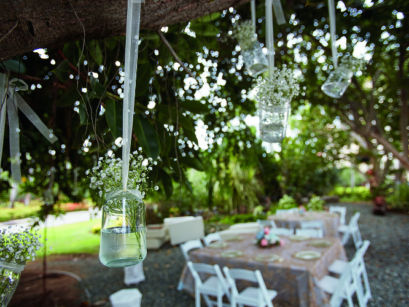 The Menu
Mini cupcakes
Mini brownies
Assorted cookies
Petite macaroons
Mousse shooters
Fruit, ganache, and lemon tartlets
Assorted truffles
Ladyfingers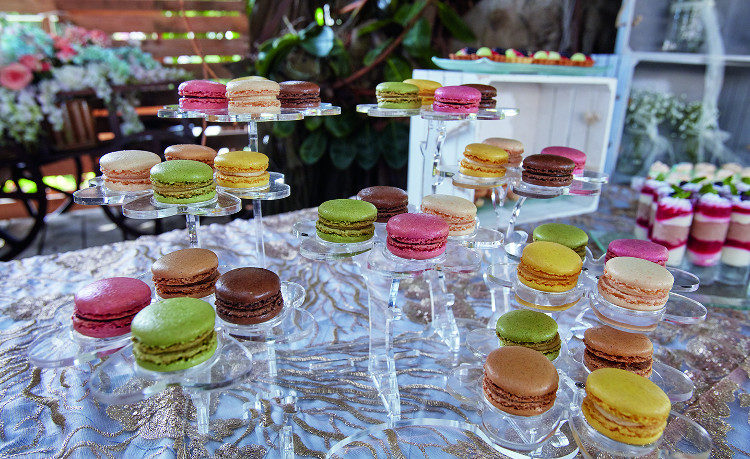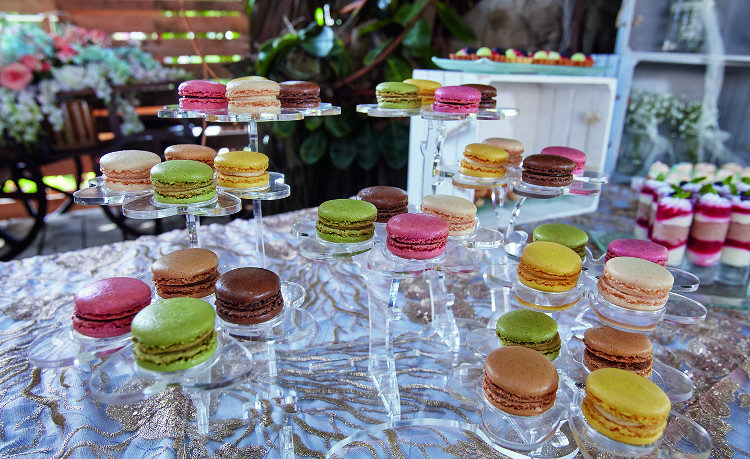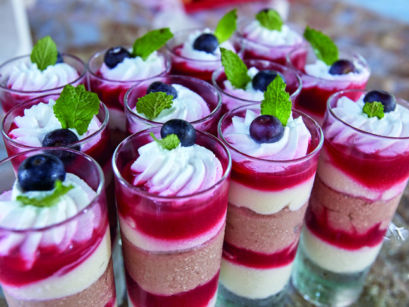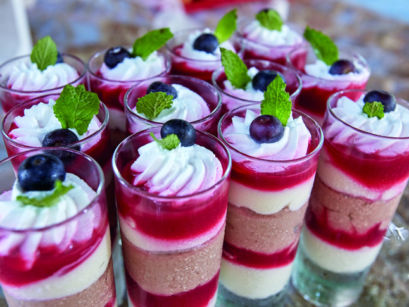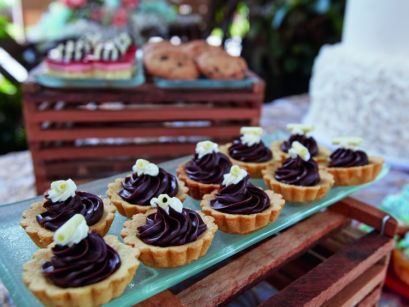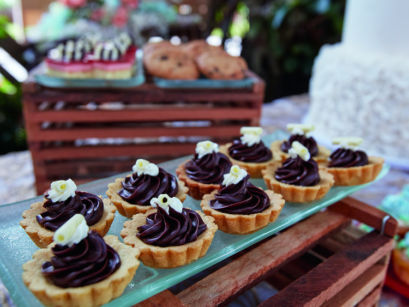 Mediterranean Tapas Market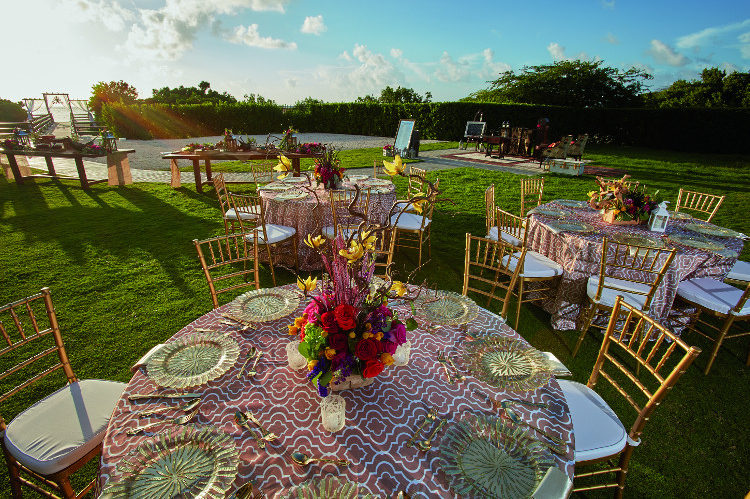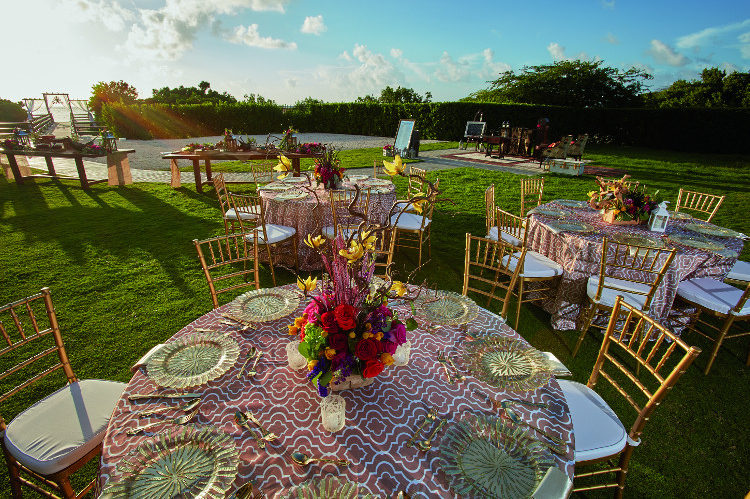 The Vendors: The Ritz-Carlton's culinary team, Shar's Flowers, House of Mosaic
Guests at this reception can graze on Mediterranean fare presented in a market-style buffet setting. In addition to a gourmet salad bar and an artisan-bread display, action stations featuring chef-carved meats and freshly prepared paella make for a lively reception experience.
A natural, rustic décor was chosen for the outdoor reception on the resort's lawn, located adjacent to the beachside wedding bridge. The tapas buffet is arranged on thick, wooden farmer's tables, with simple burlap overlays.  Wooden bowls and platters and cast-iron cookware are used to display food. Floral accents provide a rich, deep pop of color to the décor.  The seating area features round tables with gold tablecloths and gold Chiavari chairs, with a slightly different flower composition on each.  The cocktail/bar area adds a bit of quirkiness and fun to the event, with old clocks, wardrobe trunks, and even an authentic antique Singer sewing machine woven into the setting.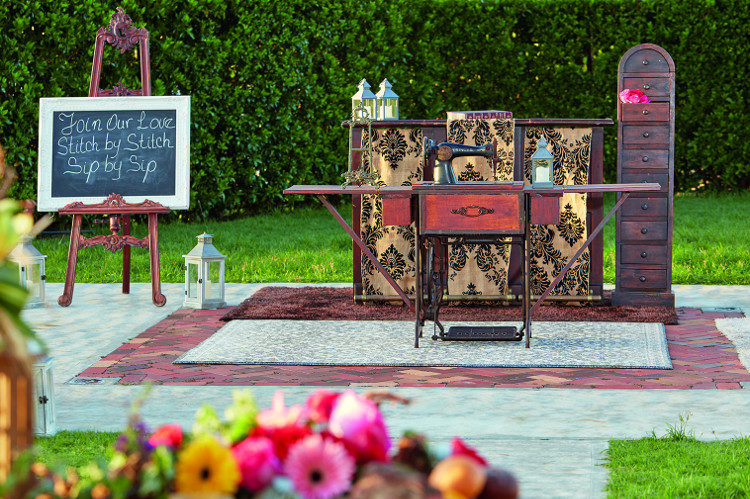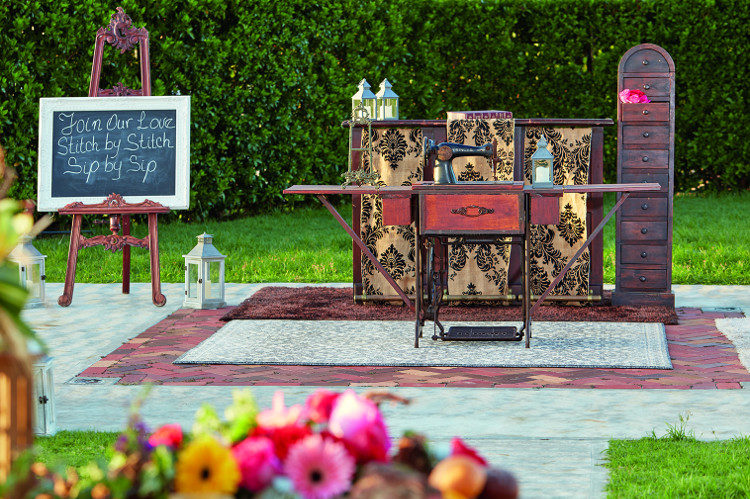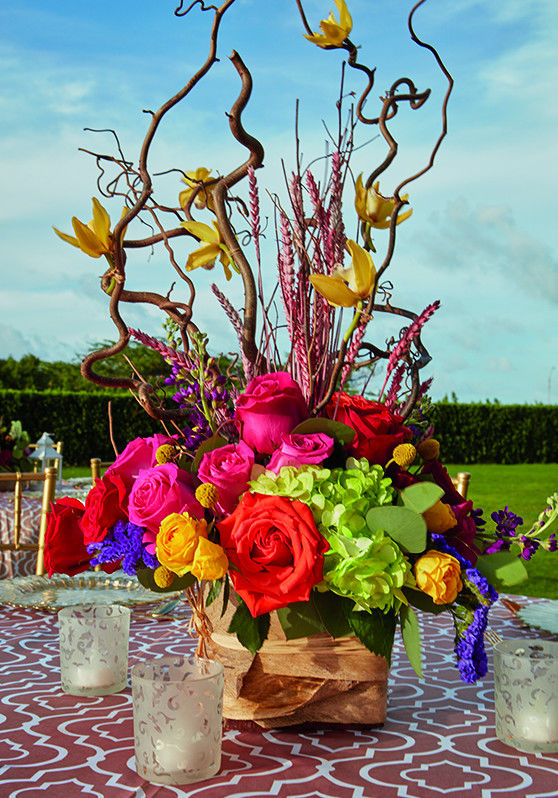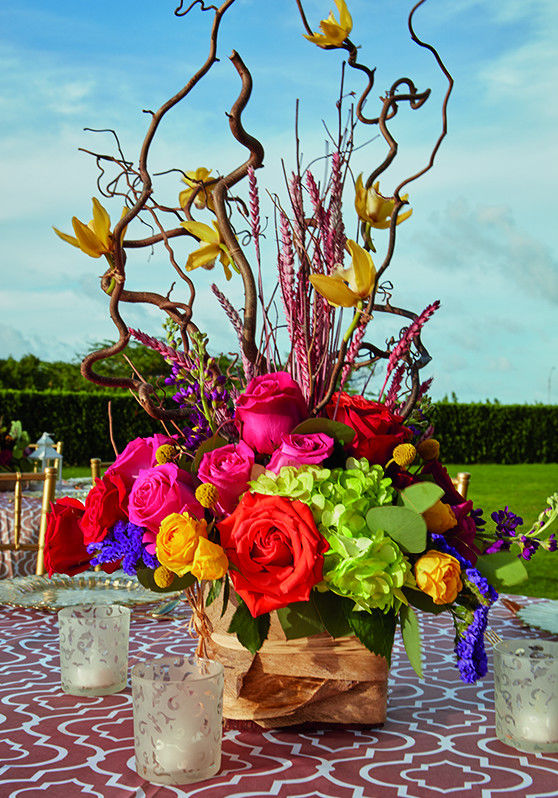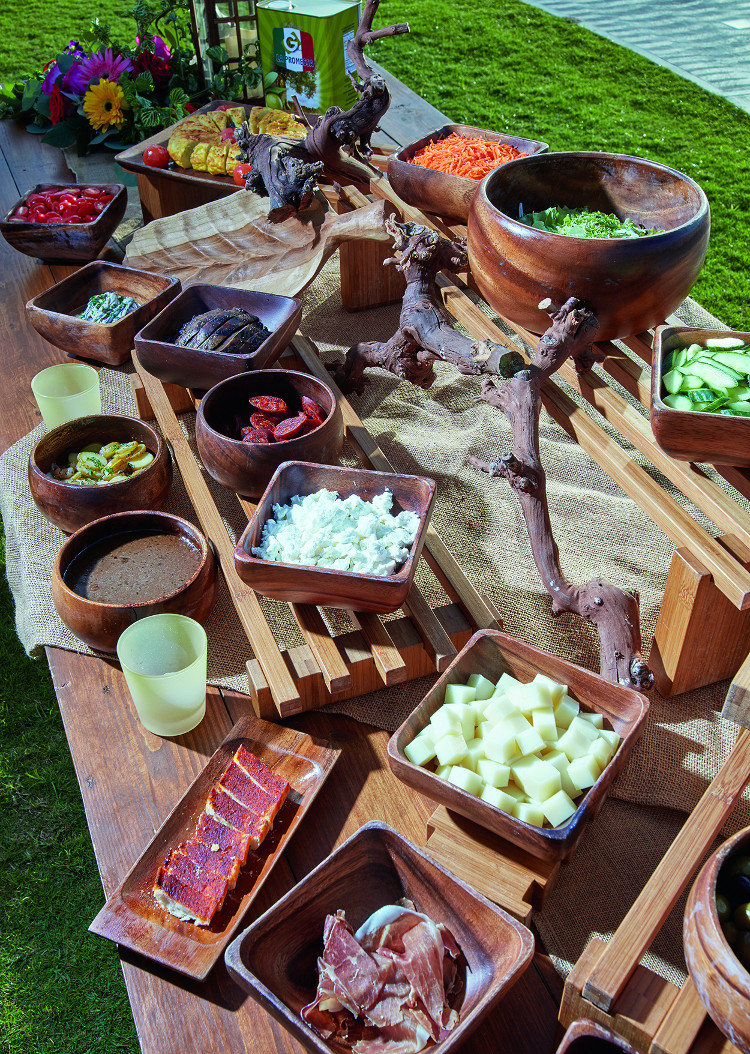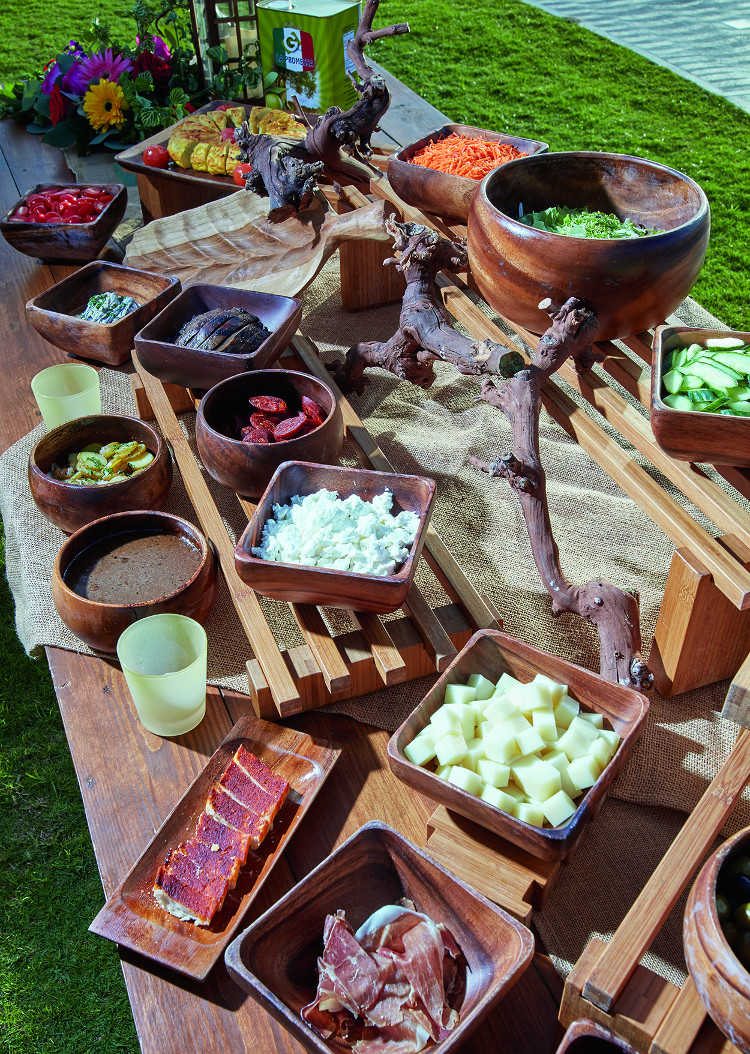 The Menu
Gourmet salad bar (marinated olives, grilled mushrooms, pulpo a la gallega, pan con tomate, chorizo Iberico, jamon serrano, Manchego cheese, goat cheese, market salad, tortilla de patata, anchovies en vinagre, piquillo pepper & pulled pork, croquetas de bacalao, assorted breads)
Local tomato & watermelon gazpacho
Vegetable paella
Papas bravas with smoked paprika
Escalavida Catalana
Clams cacerola
Mahi mahi de la Lima
Carved beef tenderloin
Organic roasted chicken with rosemary and thyme