Published on:
Let Them Eat Cake!
At the heart of every wedding reception is the cake. From antiquity to modern times, matrimony has been celebrated over cake. The Romans had a custom of breaking a cake made of wheat over the bride's head for prosperity and fertility, while in medieval times the British stacked biscuits, scones, and other confections in a tower, encouraging the bride and groom to kiss each other over the mound (for good luck) without toppling the pillar of sweets.
The tiered wedding cake we recognize today came into fashion when Prince Albert married Queen Victoria in 1840. The intricately decorated, 300-pound, artistic masterpiece was described as "consisting of the most exquisite compounds of all the rich things with which the most expensive cakes can be composed, mingled and mixed together into delightful harmony by the most elaborate science of the confectioner."
Today, just about anything goes in terms of flavor, design, color, and decoration. Aruba's bakers and pastry chefs are happy to accommodate each couple's personal taste and flair. Trends they see include fondant icing (the smooth, classic finish of fondant yields a simple elegance and provides a great canvas for artistic touches and embellishments, and it also holds up well for outdoor weddings); incorporating a different flavor for each layer to offer guests variety; and a dessert table anchored by a smaller wedding cake surrounded by a decadent menagerie of sweets for guests to enjoy.
Chef Geert van Mil: The Patissier
An on-trend style for 2016 is the deconstructed "naked cake." The less-is-more, rustic style brings surprising drama to a reception. Pictured here is a classic vanilla with buttercream between the layers, decorated with fresh fruit and flowers. Chef Geert, who worked as Divi Resorts Aruba's pastry chef for many years and now has his own cake and pastry business, has made this cake in a variety of flavors.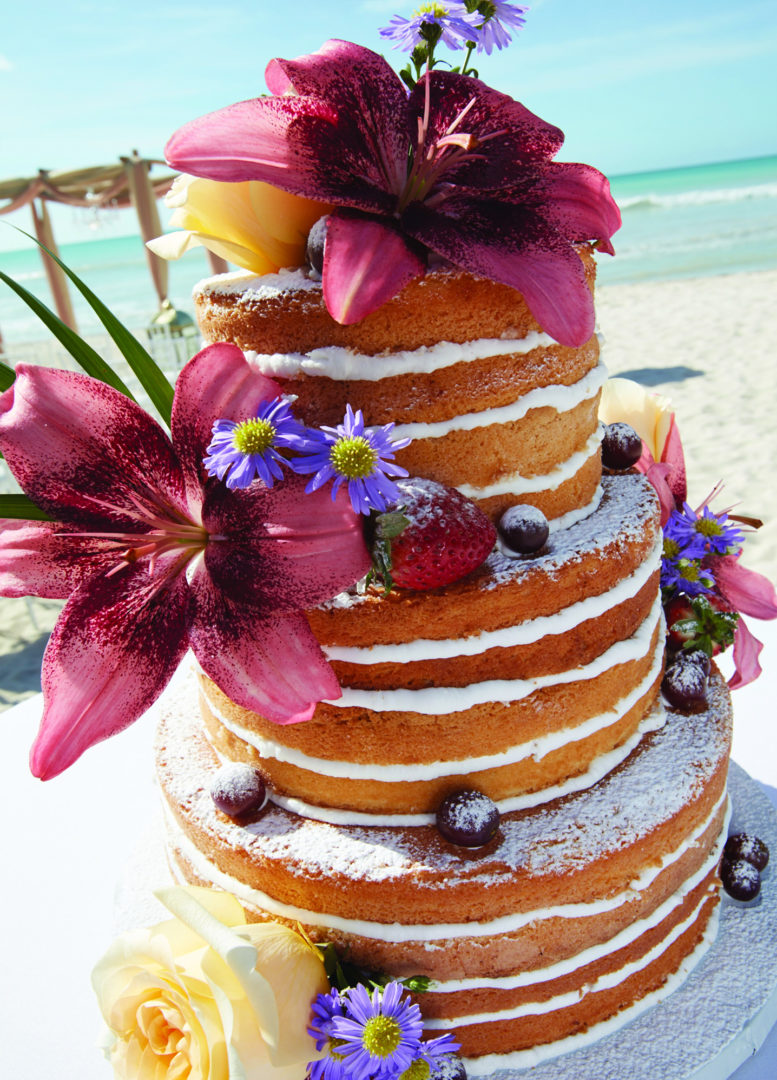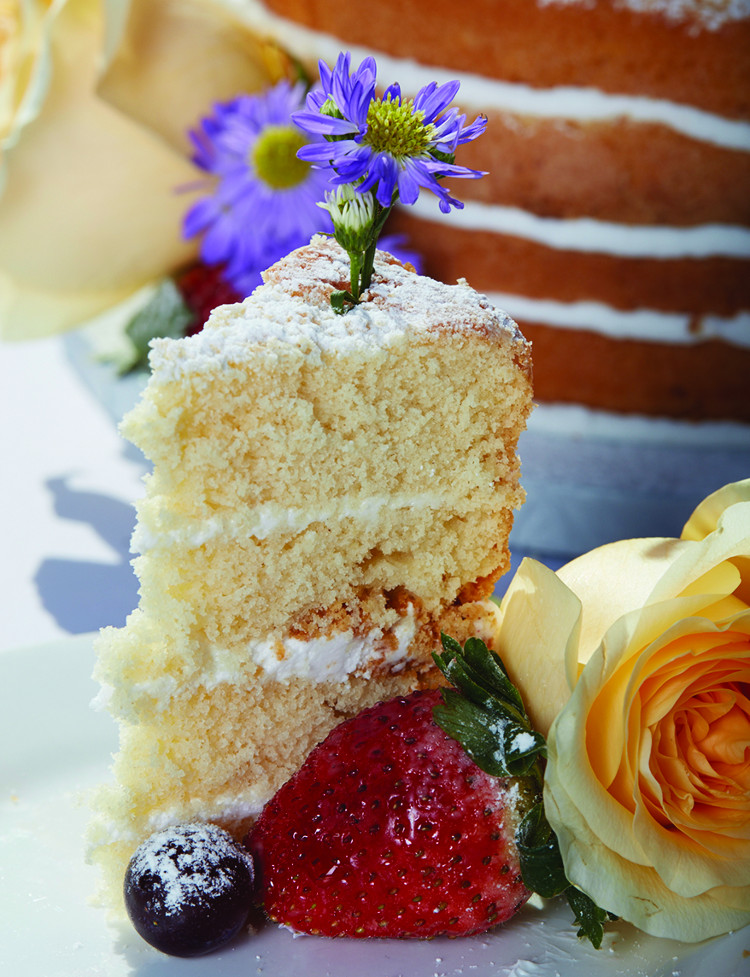 Although Chef Dora happily bakes any flavor combination requested, the three standards of The Ritz-Carlton, Aruba are a deep, rich chocolate paired with chocolate fudge, traditional red velvet with the must-have cream cheese filling, and the new favorite of brides and grooms—pistachio with a creamy milk chocolate filling presented in eight quarter-inch layers that give an impressively light and silky texture on the palate. The cake is decorated in smooth fondant with royal-icing detail and aqua sugared blooms evocative of our Caribbean Sea.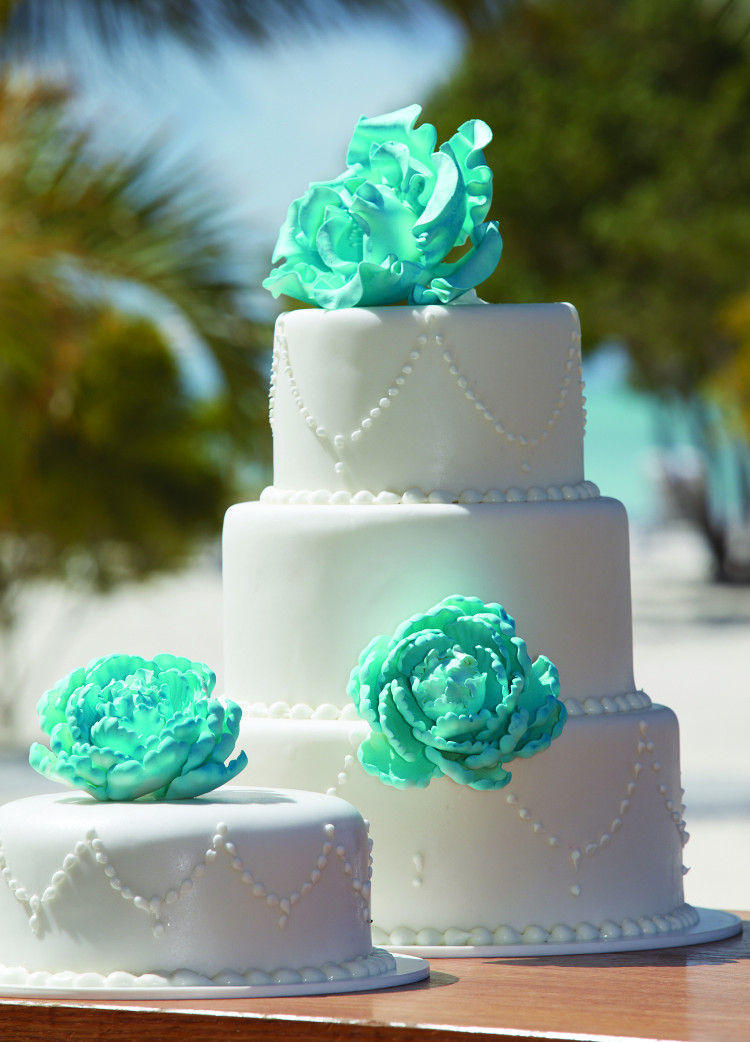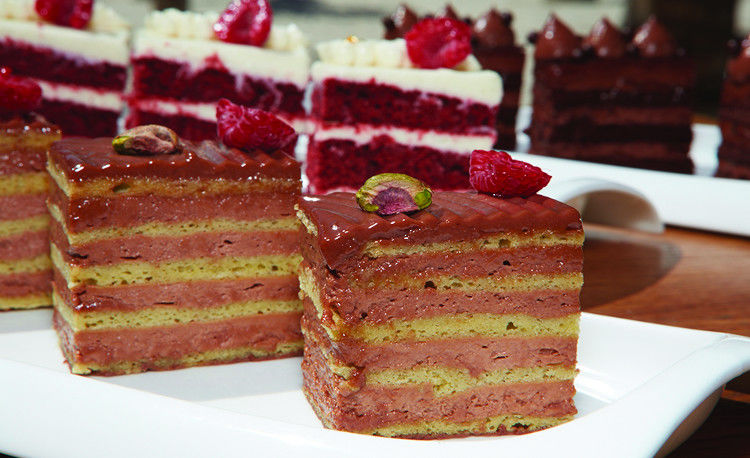 What started as a hobby is now a business for this baker whose talent is often called upon from resorts like the Marriott Resort & Stellaris Casino. The three moist layers of cake here include lemon, red velvet, and a vanilla-strawberry swirl with layers of buttercream in between. Francine used individually layered pleats of fondant as the base of her design. To the naked eye, the flowers appear to be fresh, but Francine's artistic skill and knack for intricate detail reveal edible sugared flowers made of gum paste. Francine can be contacted directly at +297-593-1247.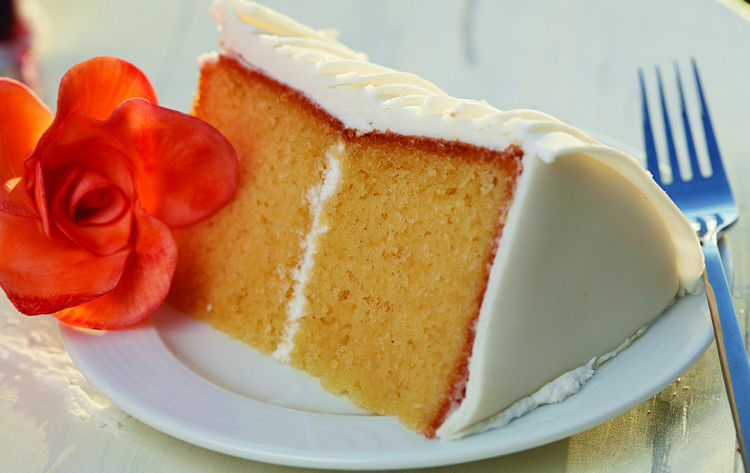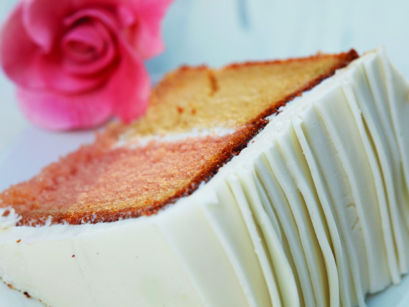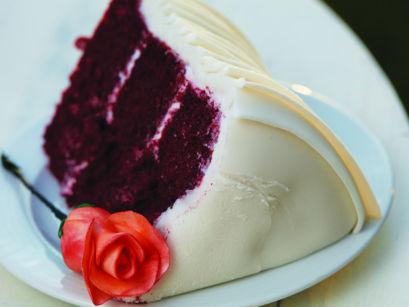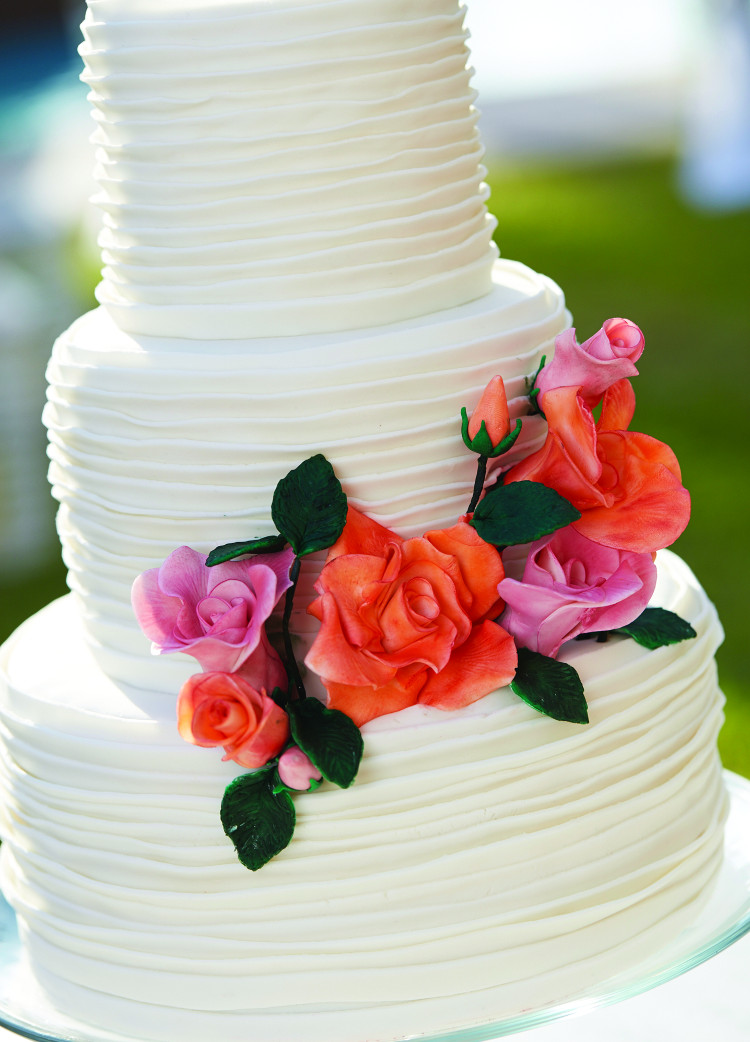 As pastry chef for the Renaissance for more than three years, Luimar oversees all that is sweet, including custom wedding cakes. Luimar's creation for us bucks the traditional round shape for a modern, square shape inspired by gift boxes. Smoothly covered in fondant and enhanced with fondant ribbons and bows is a rich, brownie-based cake with walnuts and ganache, and instead of a traditional frosting between the layers, Chef Olive ups the decadent degree with a creamy cheesecake filling laced with fresh strawberries.