Published on:
Lucy's Aruba Steps Up for the Pups
A "When in Aruba, Care for Aruba" Initiative
United Dogs Aruba Foundation is once again here on the island to carry out a mass spay and neuter operation that aims to sterilize 400 stray dogs and cats over a 6-day period. Directed by Dutchwoman Mercedes de Bruyn, the group consists primarily of volunteers from Holland, the States, and Aruba, many of whom are devoting their vacation time to helping to solve Aruba's dog and cat overpopulation problem. The group's temporary clinic is headquartered in Noord, but strays will be trapped and brought in from all across the island, specifically from stray "hotspots" already determined by Aruba's local TNR group, Crijojo Trappers.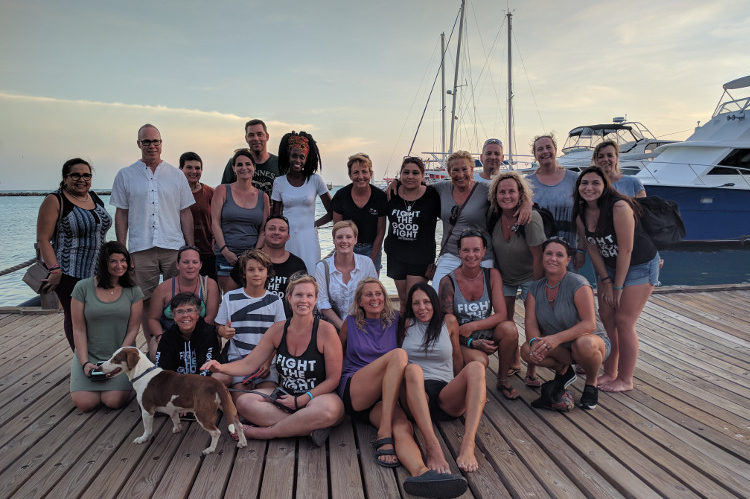 As animal lovers ourselves, the When in Aruba team was contacted by Mercedes to help coordinate a welcome dinner for the United Dogs volunteers. We immediately thought of Lucy's Retired Surfers Bar & Restaurant to sponsor the dinner, well aware that Lucy's is a dog-friendly restaurant. Cody Morgan, Lucy's corporate general manager, was more than happy to oblige. "Lucy's is all about being a part of the community as an active member and doing our part to make it a better place. We're grateful for the opportunity to support this group that will be working extremely hard this next week to improve the welfare of Aruba's strays," shared Cody.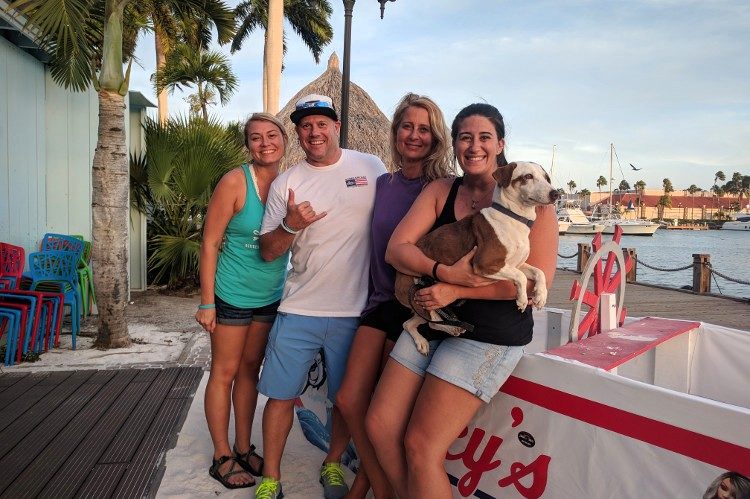 Last night, Lucy's set up a taco bar for about 30 United volunteers at its open-air waterfront restaurant, located in downtown Oranjestad just across from the Renaissance Marina Hotel. The sponsored dinner gave the United volunteers a chance to bond a bit before the storm of trapping, neutering, and releasing.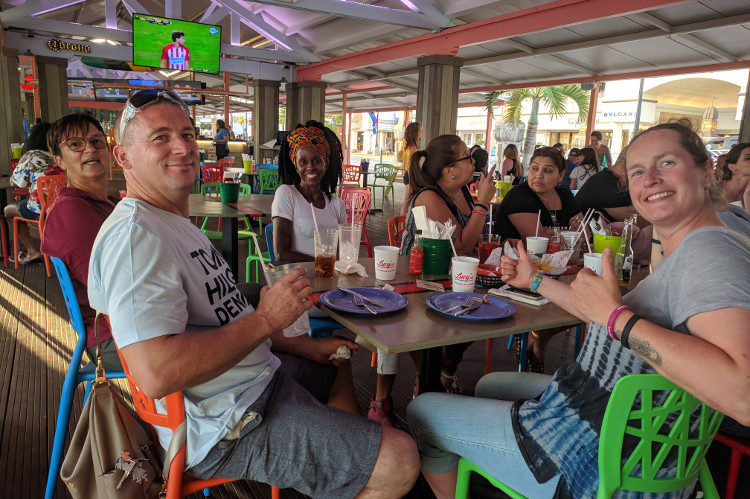 Cody sees more opportunities in the future for Lucy's to help promote animal welfare on the island. "We're psyched to host some 'Yappy Hours,' perhaps once a month, with the proceeds going to a different island rescue group each time."
United starts its work on the island today. If you'd like to donate, please visit their website. United will only be spaying and neutering strays, but dog and cat owners interested in having their pet spayed/neutered can do so through Stimami Sterilisami, the island's subsidized spay/neuter campaign that brings the cost of sterilization down to only Afl 35 for cats and Afl 75 for dogs. Please visit Stimami Sterilisami's website for more information.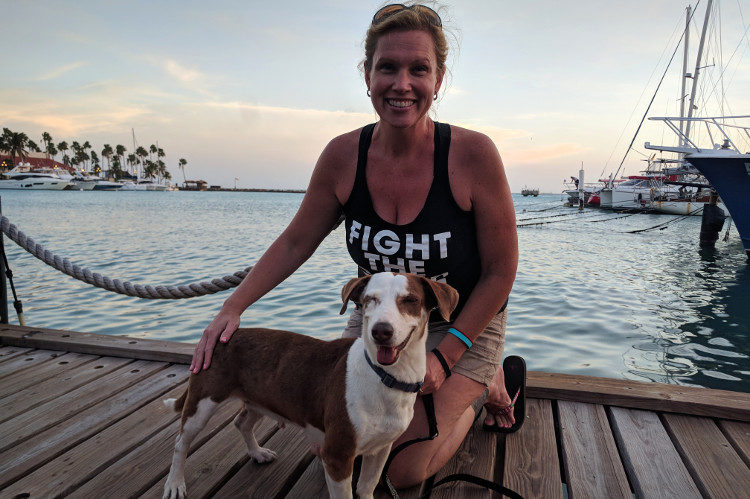 And make sure to stop in at Lucy's to enjoy coastal favorites like ceviche, fish & shrimp tacos, and other seafood specialties, as well as salads, burgers, sandwiches, churrasco steak, and Jamaican jerked chicken. Their menu can certainly accommodate vegetarians and vegans. Lucy's Aruba is open daily at 11 am.  Dinner menu served until 10 pm. Eventually, a late-night menu will also be served.  Visit Lucy's on Facebook for more information.