Published on:
Marriott's Atardi Hosts a Michelin Popup on the Beach
The Marriott Aruba Resort & Stellaris Casino was the island's hottest culinary destination over the weekend when the resort hosted several special culinary events, including what was possibly the Caribbean's tastiest Michelin Pop-Up held in the beach-chic setting of the resorts toes-in-the-sand restaurant, Atardi.
The menu was prepared by guest chef Francois Geurds and his culinary brigade from FG in Rotterdam, a fine dining restaurant in The Netherlands that was awarded one Michelin star for the period of 2010-2013, and two stars since 2014, among other top accolades.
If you were in Rotterdam between July 30 and August 17th, 2023, and wanted to dine like a prince at one of town's finest establishment, you would find FG closed on vacation. Yes, the culinary brigade moved here for two weeks, one week of work, one week of play, at one of the island's best playgrounds, the Marriott Aruba Resort & Stellaris Casino.
Francois is a revered chef who also runs a bistro, Food Labs, in addition to his famed starred restaurant. Lucky for him he has Aruban ties, which he promotes widely on his website and in person. His mom is Aruban and his cuisine is successfully hitched to his Surinam-Indonesian family roots.
He reports that in childhood memories, he sees his mom cooking passionately and he was deeply affected by her quest for flavor. He often sat in front of the oven, wondering, what was going on inside. He wanted to pick up a knife and perform magic in the kitchen from a very young age.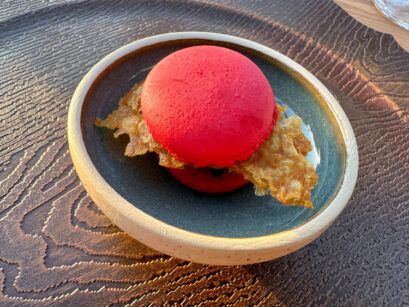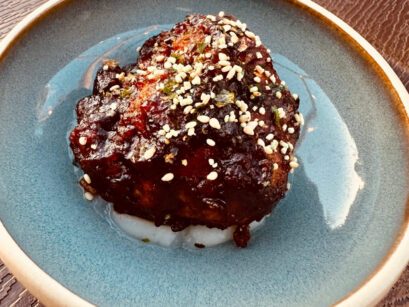 Sweet, salty, tangy, soft, crunchy & beyond—all dishes went to unexpected places
In Aruba, Francois and his team surprised guests with a six course menu, seven if you count the amuse—a beetroot French macaron with a savory filling highlighted by crispy chicken skin, followed by the "KFC"  (Korean Fried Cauliflower), a flavorful mouthful of fried cauliflower with a spicy, sweet, and sticky coating.
How about a traditional Aruban Oyster Soup, a rich holiday food loaded with heavy cream, served with the jumbo fresh oyster on the side, perched on a bed of while chocolate. You did not expect that, right? And the Ceviche Bacalao with fresh cod fish and crunchy pink peppercorns, featuring at least one dozen other aromas and flavors, that also resonated in most other dishes: cardamom, cumin, coriander, cloves, cinnamon, chilies, Chinese 5 spice, and curry…and those are only the ones starting with C!
Keeping our palate's buzzing in anticipation of more delightful surprises , our next course was an artful take on our local fried funchi paired with fresh bluefin tuna accented with a jammy dollop.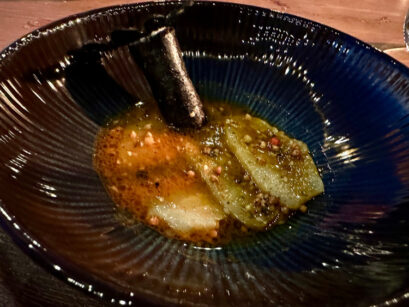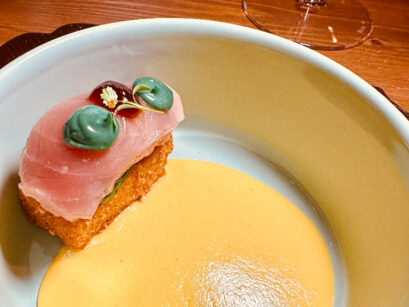 The main course, Francois' signature dish, was his take on the popular carni stoba, Aruba's homey beef stew. We did say mom hails from San Nicolas, and though Francois now lives and works in Rotterdam, his version of the local stew is made with a popular Dutch beef cut, sukade, laced with lemongrass and cooked just perfect, slow and low.
Best of all: dessert—a reconstructed Bolo Preto, the island's drunk wedding cake, which sprung out of the chef's imagination as an oblong treat with a crème pâtissiere crown, topped by an oversized bolo preto wafer with edible black sugar lace and ice cream.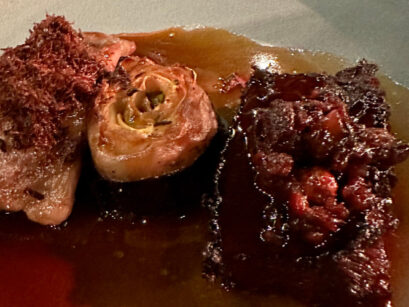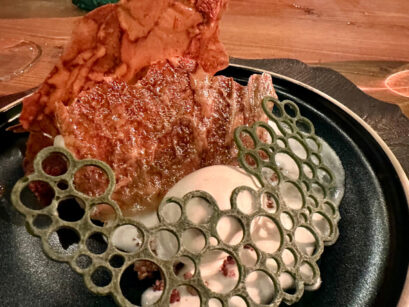 At the end of the meal we all got a sealed letter delivered in which the chef says:
Aruba has my profound respect, as my mother was born on the island and has shared many of her roots and recipes that I still use today.: Plans to visit Holland soon? Join me at my restaurant.
Pepia Est did the spectacular wine pairing, serving bottomless flutes of tiny-bubbled Tattinger Brut Reserve Champagne, France, to start, then followed by Chateau Paul Mas, Parcelle Belluguette Blanc Languedoc, France; Casa Rojo La Marimorena Albario, Rias Baixas, Spain; Goldeneye Anderson Valley, Pinot Noir, Mandocino county, California, USA; M. Chapoutier Les Becasses, Syrah Cote Rotie, Rhone Valley France; and Dolce by Far Niente, California USA, all presented in the appropriate stem-ware by ASD, proving again that the right glass improves the wine experience. Dishes and cutlery were beautiful too.
The small kitchen of Atardi must have accommodated more than two dozen cooks and helpers, all students of the local culinary school that had a good time, they proudly report, watching the great ones work, orchestrating the group effort. It is of utmost importance to show the kids that culinary talents are appreciated and valued on our island, so dependent on tourism.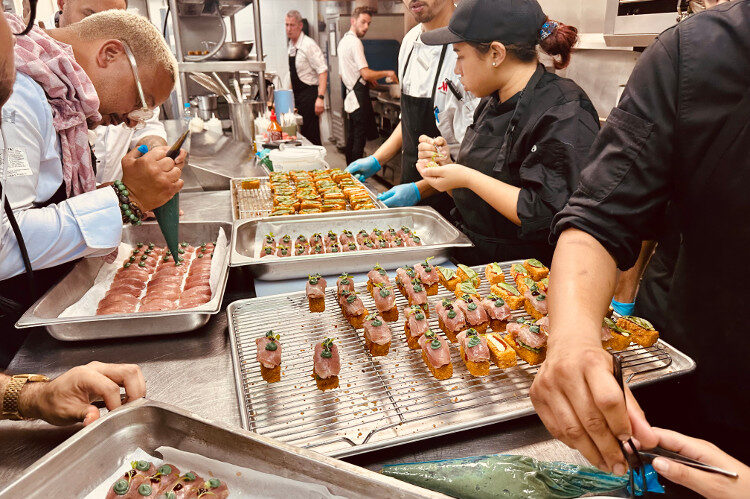 It is also important to set the bar up a notch every once in a while in our effort to join the foodie capitals of the world. The restaurant sector here  brought in US $130 million in 2022, and that's just with VISA, where a total of 434,262 cards were used, at an average of $300 per card.
Thank you, Marriott Management, the Sales and Marketing and F&B teams, for an outstanding experience!