Published on:
Mastering Modern Caribbean Cuisine at Infini
Text by Rona Coster/Images & Video Clips by Tina Causey-Bislick
Imagine: Chef Urvin Croes times two! The way the chef-owner of Infini Aruba explains it, he regularly checks out other Caribbean chefs, eager to see what his peers in the industry are doing as they revive classic Caribbean recipes and develop modern Caribbean takes on the old favorites. Over time, he noticed Chef Jason Howard, and looking at his food images and recipe ideas online, found them eerily similar to his own–almost like he had a pioneering twin executive chef on the other side of the Caribbean Sea in Barbados. They started talking and exchanging views and decided to team up for a "Four Hands Dinner" in Aruba, an opportunity for a collaboration here on the island at Infini.
That was almost two years plus a pandemic ago, but finally last week, Chef Urvin Croes and Chef Jason Howard got to work together, delighting an exclusive number of diners over a period of three nights. Chef Jason is a 2-star Michelin experienced chef, best known for creative menu development and plating inspired by modern Caribbean cuisine. Like Chef Urvin, he is trained in classic and modern French techniques and pioneers the rest on his own, with a unique approach to food fueled by science and art. We can only envy his life, as he cooked his way around the world, hailing from Barbados then making a splash in Italy, South Africa, Germany, Spain, USA, Jamaica, London, and recently here where he left a great number of fans behind.
Together with Infini's talented kitchen and dining room brigade, they formed a Culinary Caribbean Collective, and served an eight course dinner with an impressive wine pairing presented by Kailo Vrolijk from Arion Wine Company. The wine specialist has been with Arion Wine Company for five years and is heading next month to the USA to attend WSET3, an intense wine course that dives into many additional elements of wines from around the world yielding an advanced, international certification.
*All wines from the dinner can be purchased at Arion's retail store, the beautifully merchandised H & H Wines & Spirits. Shop online or in the store.
THE MENU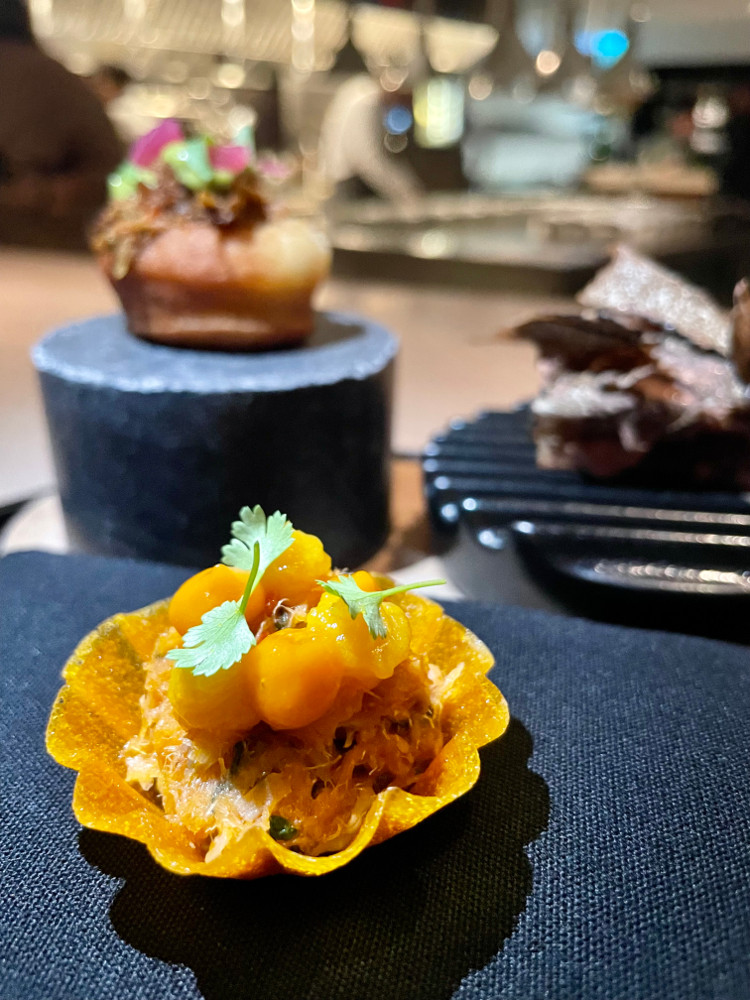 Amuses by Chef Urvin Croes
Johnny Cake
Beef / Pickled Onions / Avocado
Banana Bread
Chicken Liver / Onions / Truffle
Annatto Tartlet
Egg / Saltfish / Orange / Sweet Potato / Vanilla / Creole Sauce
Pairing: Familia Pasqua Romeo & Juliet Prosecco, Rosé Extra Dry, Veneto, Italy
All three delicate pre-meal bites showcased Caribbean favorites such as pickled onions, avocado, sweet potato, and the orange-red annatto seed. I am debating which one was my favorite, the fluffy Johnny Cake or the irresistibly creamy chicken liver and banana bread combination. 
Bread & Butter
T2Pan Sourdough / Curry / Garlic / Butter / Pineapple
Zaida, the local boutique, home-based micro-baker, surprised us with a most delicious sourdough paired with fantastic flavored butters.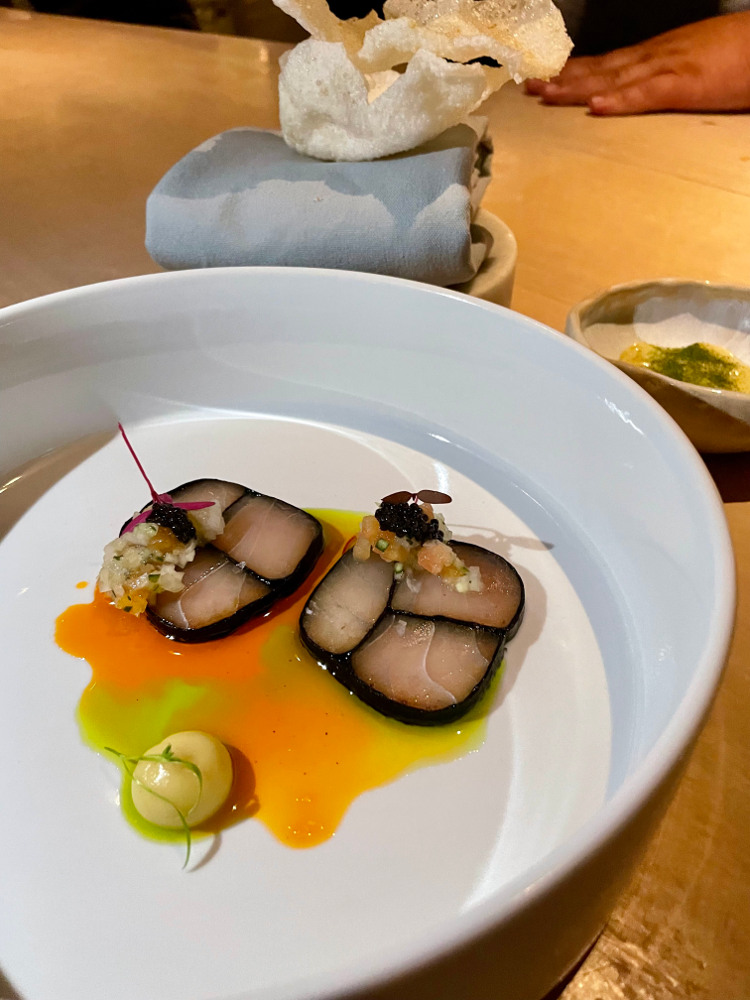 Amberjack by Chef Jason Howard
Amberjack / Rice / Scotch Bonnet / Bread Fruit
Pairing: Dr. Konstantin Frank Semi-Dry Riesling Finger Lakes, New York State, USA
An unforgettable signature presentation by the chef, amberjack sashimi is flavored with his subtle Scotch Bonnet oil and paired with an airy and lightly spiced rice cracker.
The Flower by Chef Urvin Croes
Hamachi / Toro / Mango / Oxtail / Celery Roots / Avocado / Chayote / Pica di Papaya
Pairing: Hampton Water Rosé, South of France
Served in an specially crafted ceramic dish shaped like a flower, this is a Meso American Umami bomb! Thinly sliced fish, lightly seasoned with salt and lemon zest, served with pickled chayote, avocado, spicy mango jelly and celery root crème, swimming in a clear pool of oxtail consommé, annatto oil, and crispy fried beef. A masterpiece.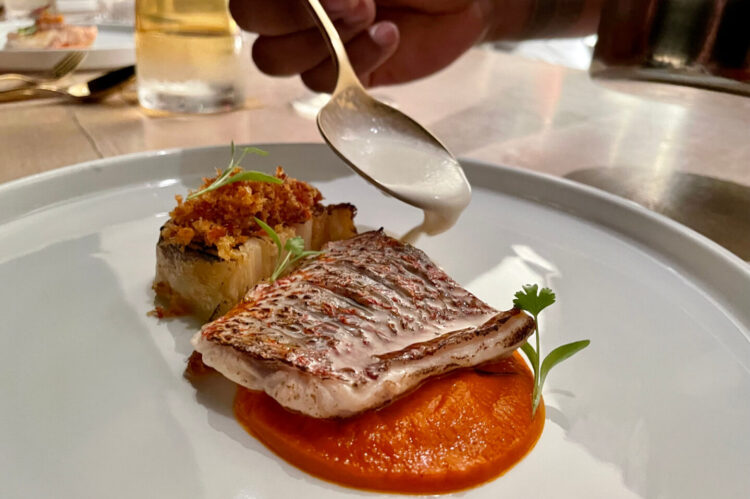 Snapper by Chef Jason Howard
Snapper / Fish Foam / Smoked Mackerel / Cabbage
Pairing: El Enemigo Chardonnay, Mendoza, Argentina
Chef Jason explains that both mackerel and cabbage are staples in Caribbean cuisine yet they are elevated to a new dimension here. The braised cabbage in fish foam is no longer common under Chef's Jason's hand, and the steamed snapper topped with crispy saltfish tastes like the a fresh briny breeze blowing off the sea.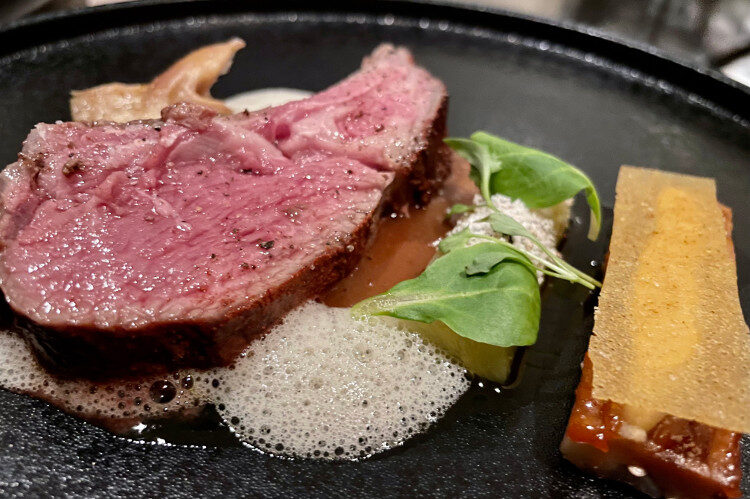 Lamb by Chef Urvin Croes
Lamb / Pineapple / Guava/ Eggplant / Lions Mane / Hummus
Pairing: La Capilla Vendimio Seleccionada, Ribera del Duero, Spain
This was an incredibly impressive preparation: lamb marinated with Meso American adobo and wrapped in plantain leaves with herbs and spices is covered in a salt crust and barbequed. When the salt crust is cracked, the lamb is served with burnt lamb fat powder, roasted cauliflower with sea salt and lemon zests, hummus, guava glazed eggplant, scallion oil, spicy crisp, pickled pineapple, a burnt pineapple velouté, and a lamb jus.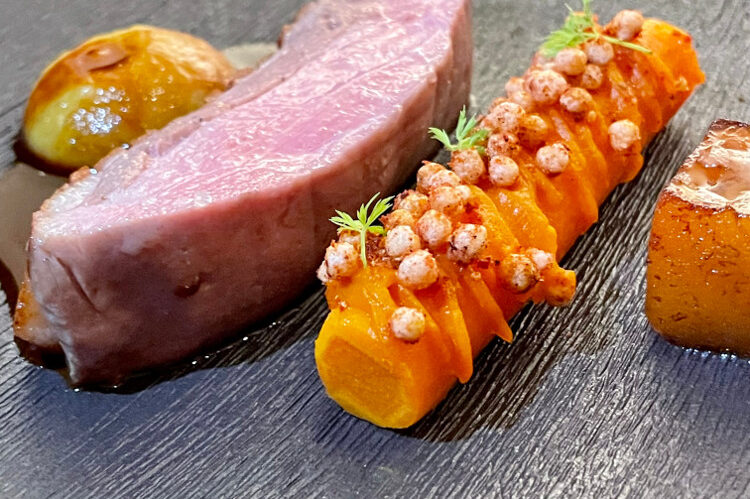 Duck by Chef Jason Howard
Duck / Plantain / Parsley / Turmeric / Vanilla / Carrots / Pork Stew
Pairing: Montes Folly Syrah, Colchagua Valley, Chile
The classic duck recipe received a major Caribbean update with sweet plantain, turmeric glazed carrots, and  pork stew. Chef Jason was full of praise for Aruba's tourist product and the level of service he encountered. He managed to find all ingredients in our markets, he says.  
Black Cake by Chef Urvin Croes
Black Cake / Passion Fruit / Chocolate / Rum / Raisin / Eggnog
Pairing: Quinta de Ventozelo LBV Port Douro, Portuga
A family recipe of Chef Urvin, an especially festive sweet crescent with passion fruit topping…it looks like a painting.
Plantain Soufflé by Chef Jason Howard
Plantain / Sweet Potato / Coffee / Rum
Pairing: Baron Philippe de Rothschild Mouton Cadet Sauternes Reserve, Bordeaux. France
I dug into my souffle, warm and fluffy and sweet, and surprisingly made of plantains! That was totally different and a wow.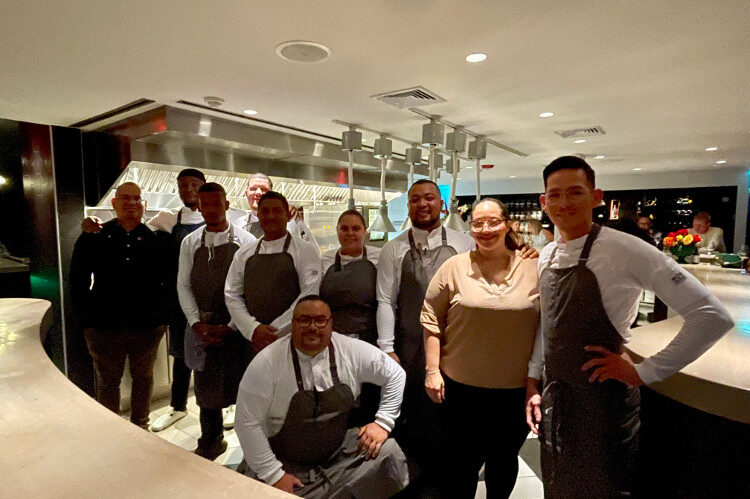 Thank-you, chefs and staff for the experience. Chef Urvin reports being inspired and motivated by his interaction with Chef Jason. Chef Jason vowed to be back, impressed with the passion and professionalism he found at Infini and on the island of Aruba.  Both chefs are committed, they say, to bringing forward modern progressive Caribbean cuisine now more than ever!
Special thanks to Ashwin Maduro, Chef de Cuisine; Jessica Theysen, Restaurant Manager; Jean Claud, Pastry Chef; Gerald Guerero, Chef De Partie; cooks Shakeem and Caroline, waiter Aldrin, dishwasher Jesus.