Published on:
Mike & Garrett: Welcome to Aruba, Welcome to the Family!
Text by Tina Causey-Bislick / Photography by Demian Gibbs
Sometimes it's life's most difficult challenges that bring us closer together. Mike Iamele and Garrett Lech were college roommates and friends at Northeastern University in Boston, but it wasn't until six years later that they began dating. "At the time, we had recently moved in together with a friend, and Mike had become dangerously ill with a debilitating illness," shared Garrett. Mike continued, "Garrett took care of me, and that's when we started falling in love…we've been together ever since."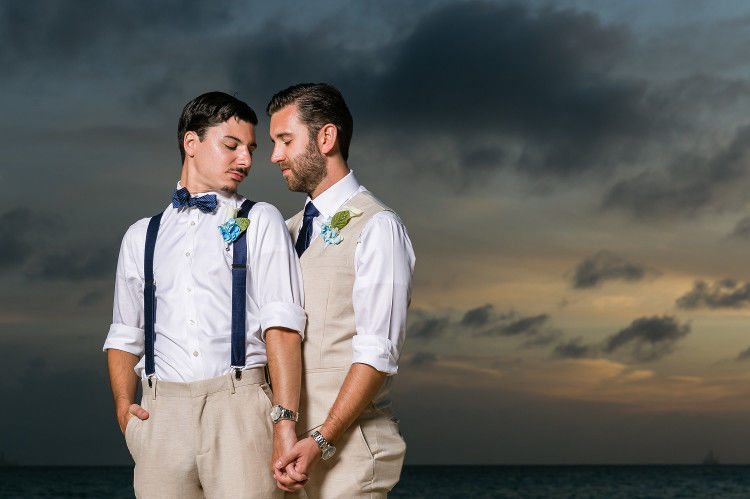 Aruba has been a sacred place for Mike Iamele's family for 40 years. Mike's grandparents visited Aruba for the first time in 1978 and bought timeshare shortly after. The island has been the scene for memorable family vacations for Mike every single year of his life. The first time Garrett came to Aruba with Mike's family—five years before the wedding—it was clear to Garrett that being invited to Aruba meant being invited into the family, and he's felt like a part of it ever since. "We chose Aruba and invited our closest friends and family into our special place and into our family as we married each other," the couple explained.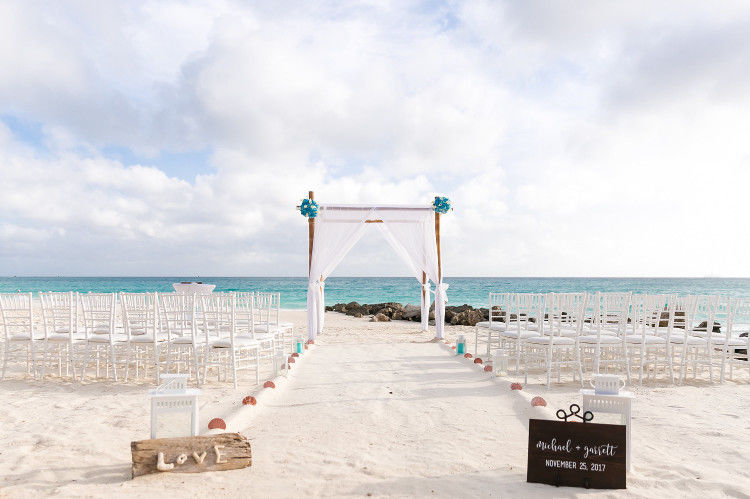 The Décor
For the big day, the couple wanted a simple yet elegant affair. "We wanted the setup to be understated to allow the magnificence of the beach to speak for itself. Our color scheme was overwhelmingly white, including white sheer cloth draping over the arch and white calla lilies, but we included pops of Caribbean blue in the blue hydrangeas to bring out the colors of the ocean and sky," said Mike and Garrett.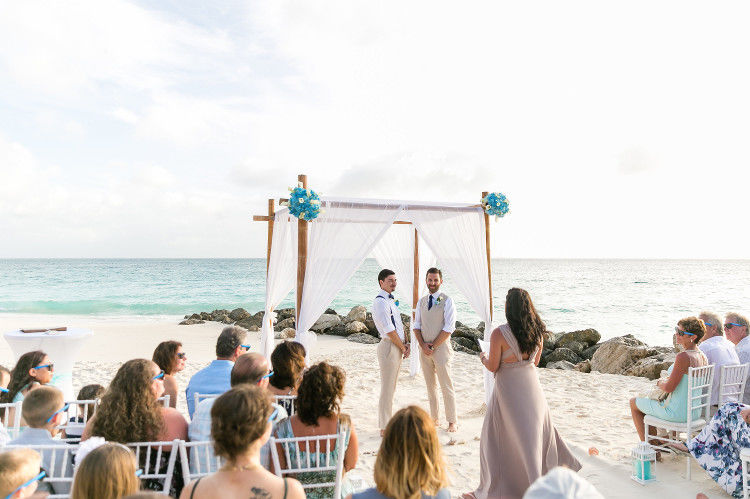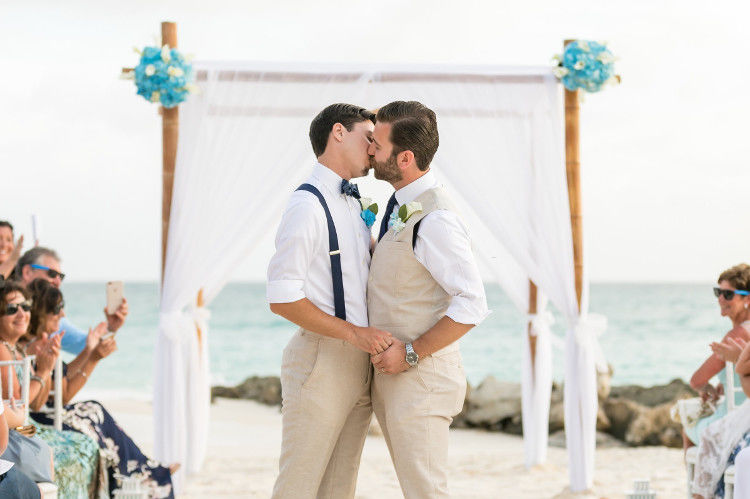 The Attire
The couple opted for a beach formal style to capture the energy of the island wedding, both wearing tailored natural linen pants, white shirts, and identical navy blue suede loafers. Mike wore navy suspenders and a bow tie, while Garrett wore a matching linen vest and a navy necktie to communicate their individual styles.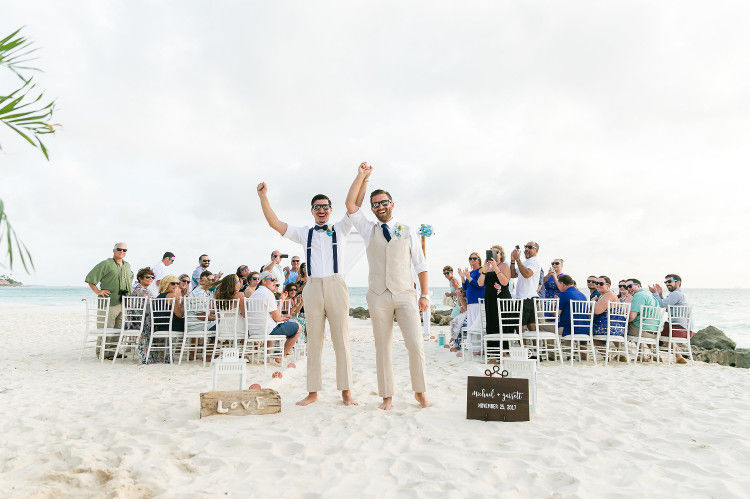 The Reception
"The reception was at the beautiful Quinta del Carmen. We chose this place for the stunning landscape and architecture, as well as the delicious food and wine. Food is an important part of our relationship, and we wanted to emphasize an elegant three-course dinner with wine pairings over a traditional reception. The team at Quinta del Carmen, including Massy and Martina, was exceptionally professional and organized. They immediately helped us create the feel of an intimate secret garden with an elegant cocktail hour on their front lawn, followed by a private seated dinner in the side garden."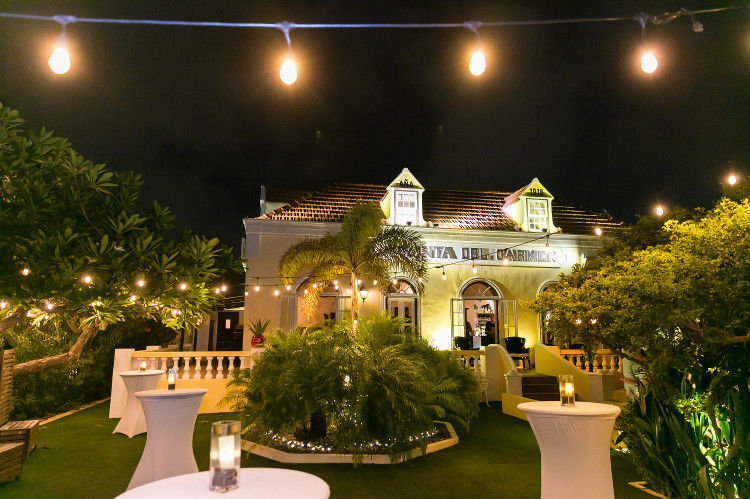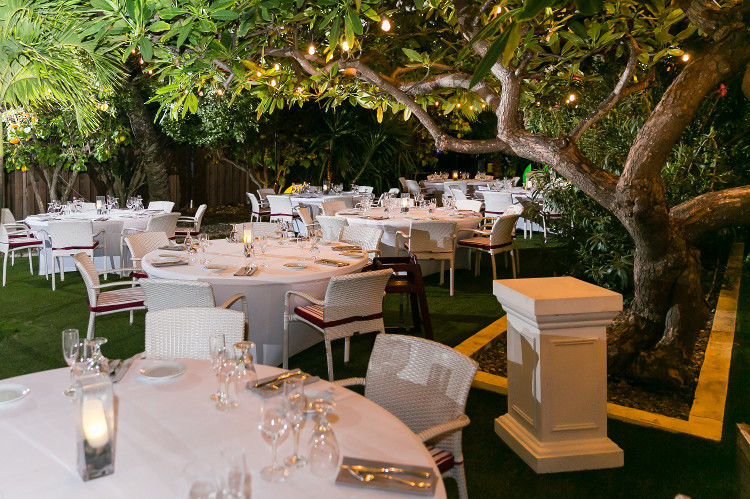 The Details
Wedding Planner: Aruba Weddings for You
Ceremony Location: Divi Rocks on Eagle Beach
Reception Location: Quinta del Carmen
Florist: Koolman Flowers
Officiate: Kristi Gracie (Mike's sister)
Photographer: Demian Gibbs
Transportation: Wix Tours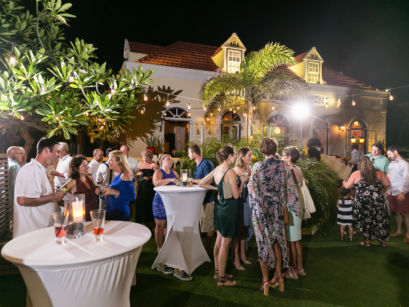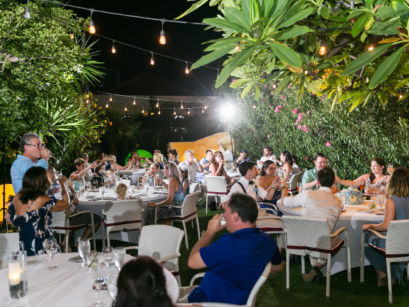 Notes from the Couple
We had three days of events for our wedding weekend, starting with a welcome happy hour at the Dutch Village Phase 2 pool, followed by a private Kukoo Kunuku party bus pub crawl. On the second day, we enjoyed a relaxing beach day with our guests, followed by a private sunset sail with Red Sail Sports and a casual eve of wedding dinner with live music at Pizza Bob's (by Costa Linda). Finally, on the day of the wedding, we enjoyed a relaxing pool day with our guests, followed by the gorgeous beach ceremony and reception at Quinta del Carmen. From there, we had an informal after-party at Fusion Wine & Piano Bar next to Alhambra Casino.
In addition to the fantastic service we mentioned above at Quinta del Carmen, we do want to highlight how much Aruba Weddings for You went above and beyond, including ensuring that our guests were staying in high-quality rooms, surprising us with hors d'oeuvres at our welcome happy hour, and seamlessly coordinating the entire ceremony.