Published on:
Mixology Magic at the 5th Annual Bartenders' Brawl
By Rona Coster
The 5th annual Bartenders' Brawl was held on October 25 in conjunction with the Aruba Tourism Authority's Eat Local Restaurant Month. The event, originally created by Island Temptations, was hosted and produced by the Renaissance Aruba Resort & Casino and held at Festival Plaza at the Renaissance Marketplace. The chic event showcased seven of Aruba's top bartenders impressing a sold-out crowd with their original craft cocktail creations.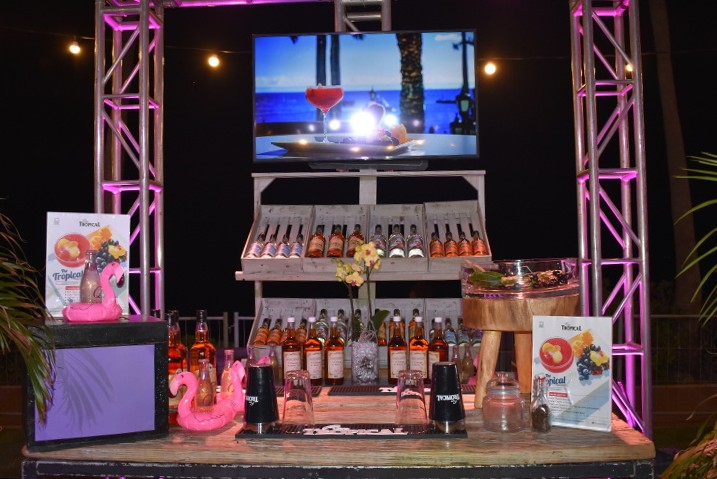 Aruba's local spirit distributors were the essential collaborators to make this event happen, supplying all the liquor and necessary ingredients to produce these exciting libations for attendees of the event to enjoy. Renaissance's culinary team fueled guests with savory noshes like roast beef sliders, mini vegetarian tacos, BBQ glazed beef ribs, and a tempting dessert trolley, while local deejay extraordinaire Jason provided an upbeat, retro audial backdrop to the festivities.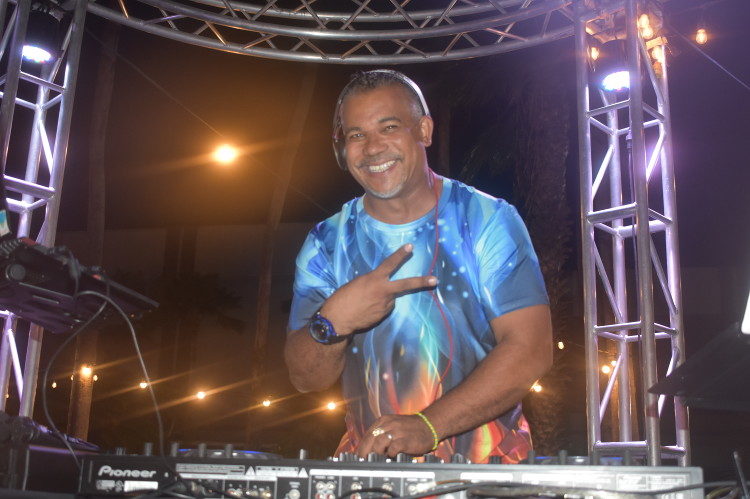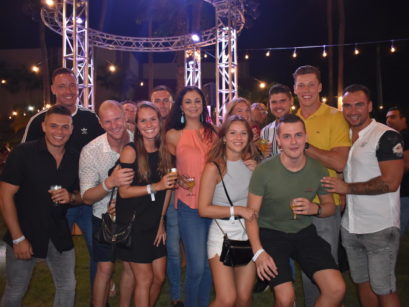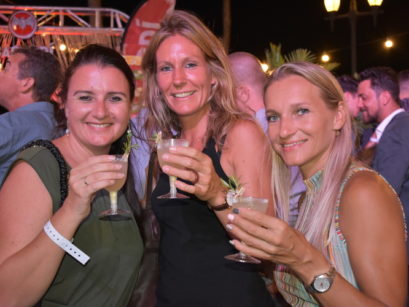 This year, the People's Choice cocktail was selected by a panel of Instagram influencers, including Nathalie Migliarini and Kimberly King from the US, with Enrique Balestrini from Aruba. A panel of professional judges selected the Judges' Choice, including Urvin Croes, chef proprietor of White Modern Cuisine; Ferry Zievinger, general manager for Divi Resorts; and Orlin Geerman, director of EPB's culinary program.
All bartenders were challenged with the inclusion of one locally grown/made ingredient in their creations.
Receiving the most points and earning the Instagram influencers' award was Elephant in the Room, an Ophir Gin-based cocktail by bartender Carlos Perez of Azia Restaurant, representing Pepia Est. Local cocktail ingredients included aloe juice and a homemade cardamom syrup.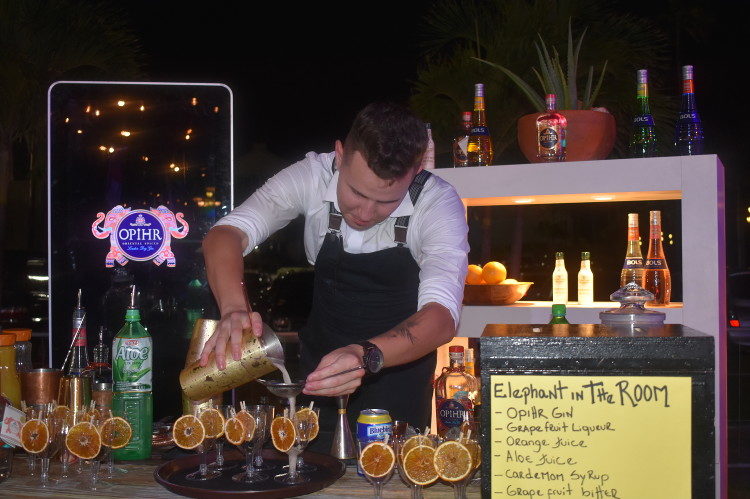 The Instagram influencers named Jamaican Spritz as the second-place winner. This Appelton Estate Rum-based, force-carbonated cocktail was by bartender Nathan Schwengle of Apotheek, representing Aruba Trading Company. Among interesting ingredients were a local remedy, stroop di calbas, and lime.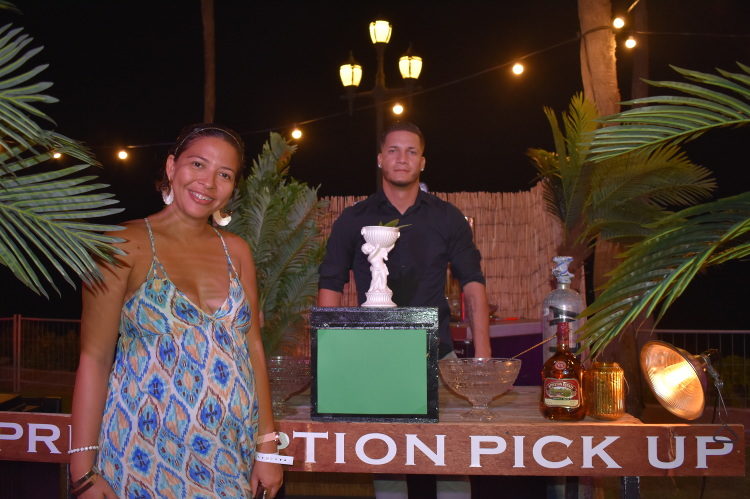 The third-place winner was Bumxotic, a Bumbu Rum-based cocktail by bartender Emilia Lopez Henriquez of The Ritz-Carlton's Casa Nonna restaurant, representing Divino NV. Local cocktail ingredients included the fiery Madame Jeanette pica di papaya, lime, basil, mango, and passion fruit puree.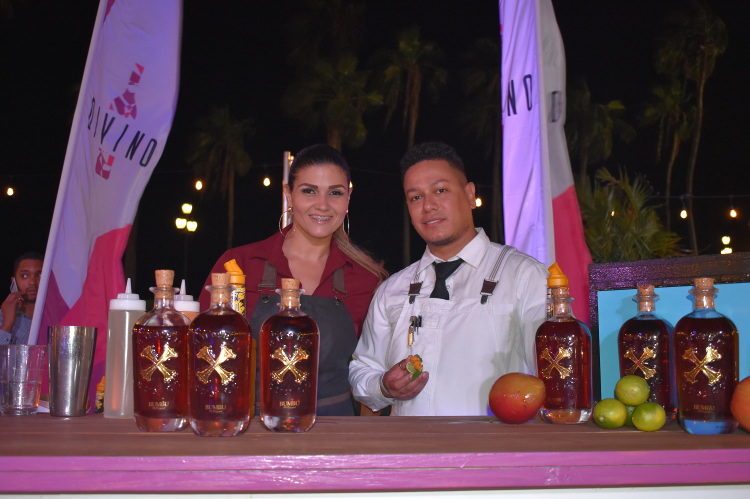 The professional judges' favorite, and first-place winner, was Jamaican Spritz by Nathan Schwengle. All judges complimented the level of difficulty overcome by balancing the bitter taste of the calbas gourd.
In second place was Tropical Guava & Berry, a spicy Ron Tropical-based cocktail by bartender Merly Cardenas of Renaissance Blue Bar, representing Aruba Trading Company. Among local ingredients was a rare Caribbean medicinal berry, made into a syrup and spiced with cloves.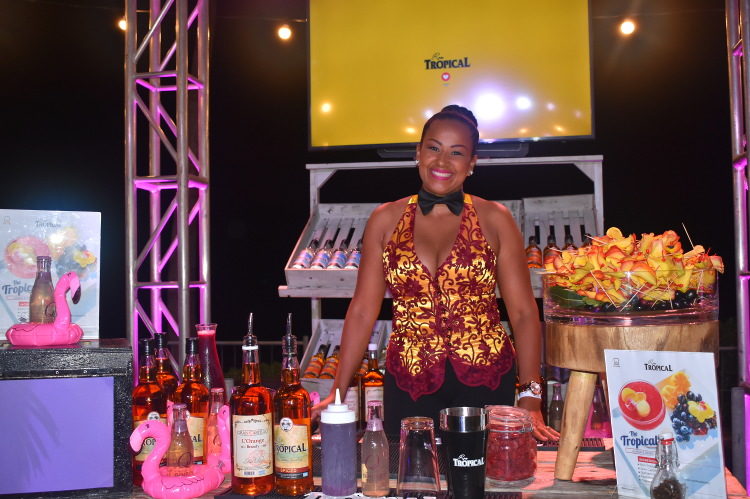 In third place was Elephant in the Room by Carlos Perez.
Other craft cocktails included:
Magnolia, a Don Valente Handcrafted Tequila-based cocktail by bartender Michael Gomez of Apotheek, representing J&G Trading. Local ingredients included dried and pressed hibiscus flowers, lime, and moringa flowers.
Ginger, a Bacardi Ginger-based cocktail by bartender Danny Kock of Moomba Beach Bar, representing Tropical Bottling. Among local ingredients were the island's popular Coco Rico soda pop, pica di papaya, lime, and rosemary.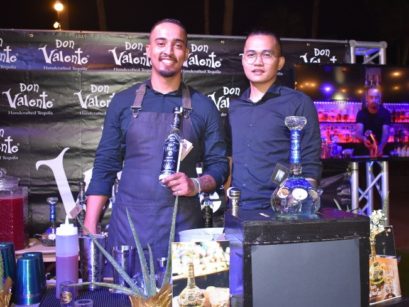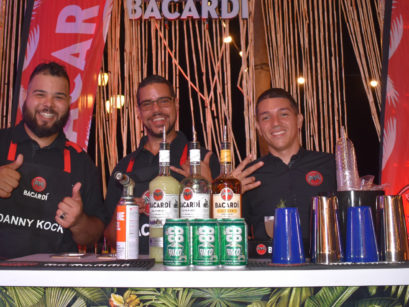 Caribbean Heat, a Diplomatico Planta Rum-based cocktail by bartender John Fredwill Vivas from Craft, representing La Cava. Local ingredients included passion fruit puree and homemade orange liquor with basil.
Patia La Mia, a Fair Quinoa Vodka-based cocktail by bartender Janice Martinus of Hoya Lush Cafe, representing Manrique Capriles. A local homemade kiwi & habanero syrup was used.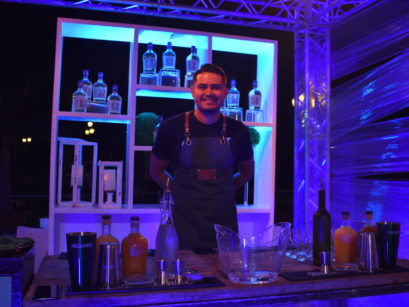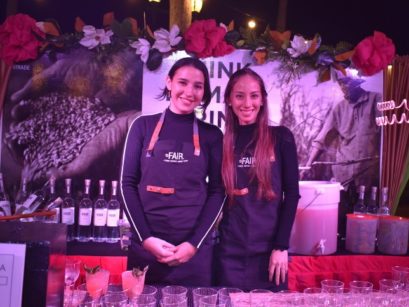 The team at Renaissance Aruba Resort & Casino, under the leadership of Food & Beverage Director Diego Lemasson, and Island Temptations were proud to provide a venue for Aruba's talented bartenders to showcase their creativeness and further elevate the island's growing craft cocktail scene. Cheers to all the bartenders and distributors that helped make this a dynamic evening!
International influencer judges:
Nathalie Migliarini of Beautiful Booze, invited by ATA & RenAruba
Kimberly King @kimberlyj_king, a culinary & travel fanatic partnered with RenAruba
Local professional judges:
Urvin Croes, chef proprietor of White Modern Cuisine; Ferry Zievinger, general manager for Divi Resorts; and Orlin Geerman, director of EPB's culinary program
Thanks to members of the USA media who covered the event for Eat Local Month:
Keith Langston – www.passportmagazine.com
Allison Tibaldi – CNN Travel (Freelancer)
Davina Sutton – www.coffeewithamerica.com
Jen Smith – DailyMail.com
Morgan Mandriota – Betches (Freelancer)
Rebecca Michelle Glasser-Baker – www.metro.us
Zeno Reps: Mila Ortiz and Casey Hamilton
Thanks to ATA rep Amayra Boekhoudt. Special thanks to local panel of guests.