Published on:
Mystical Yoga by the Seaside
Text by Debbie Kunder / Photography by Steve Keith
Perhaps Ganapati, the director of School Yoga Institute in Costa Rica, said it best: "Mystical Yoga is the union of Sadhana Yoga and indigenous shamanic practices, revealing your inner mystic."  But it was Maria Pucci—who learned the practice in Costa Rica and brought it to Aruba—who showed me what it's all about.  Having already practiced Aerial Yoga with Maria, I was looking forward to seeing what else Maria had up her yoga sleeve.
The Class
You really can't find a more beautiful spot on the island to do yoga than Tres Trapi Beach, located just a bit further south of Boca Catalina.  Two other girls and I laid out our mats on the low limestone shelf that characterizes much of the coastline here—the perfect perch from which to take in the glorious splendor of the crystal-clear water.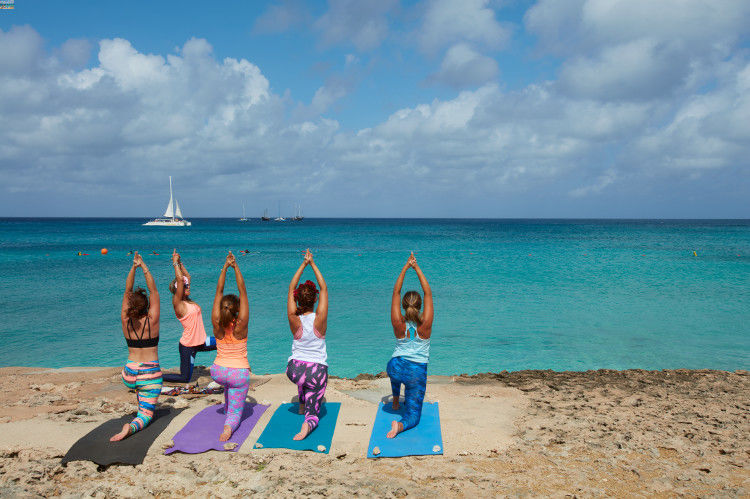 As Maria lit some palo santo, she explained a bit about Mystical Yoga.  "The base of Mystical Yoga is a spiritual practice called Sadhana Yoga, and we'll be mixing in some Vinyasa Flow."  For those new to the term (like me), Sadhana Yoga involves surrendering the ego through meditation, yoga, chanting, and prayer.  Maria continued, "We'll be connecting the mind, body, and spirit through breathing-based meditation, some chanting, and some chakra work." Maria then added the smoking palo santo to her collection of sacred objects—special stones, crystals charged with positive energy, essential oils, and a deck of angel cards—all laid out on a makeshift table in front of her.
The class started with deep, focused breathing, one nostril at a time.  There's certainly something to be said about mindfully inhaling pure ocean air.  We then began to move our bodies slowly, stretching and twisting to warm ourselves up, before moving into a more rigorous Vinyasa Flow practice. Think Sun Salutations, Bridge Pose, Happy Baby, Plow, Yoga Squat—all connected in a series, all performed in rhythm with the breath.  So while Mystical Yoga is indeed a spiritual practice, it's also a very physical one, and you're going to work up a sweat.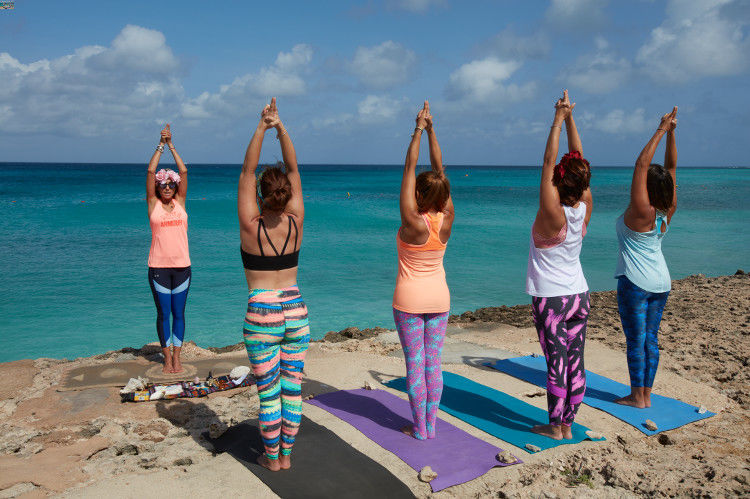 Throughout the practice, Maria shared mystical stories with us—tidbits of inspiration we could use in our daily lives.  Her words seemed to be in perfect rhythm with the ebb and flow of the water just beneath our perch.  Maria also guided us in a chakra-balancing sequence that relied on the use of chanting to produce balancing vibrations.  Whether I was achieving this balance or not, I did feel a pleasant connection of mind, body, and nature.  My arms reaching to the cloudless sky, the sun caressing my skin, and the ocean breeze tousling my hair, how could I not?
The class ended with an aromatherapeutic Savasana, with Maria dabbing a bit of essential oil on our necks.  We also each received an angel card, mine promising me that if I formed a focused intention for the day, I would be able to achieve my goal.  Good stuff to start my day with.  My only regret is that I didn't jump off the cliff, yoga pants and all, into the perfectly clear water to properly end the class.  Next time.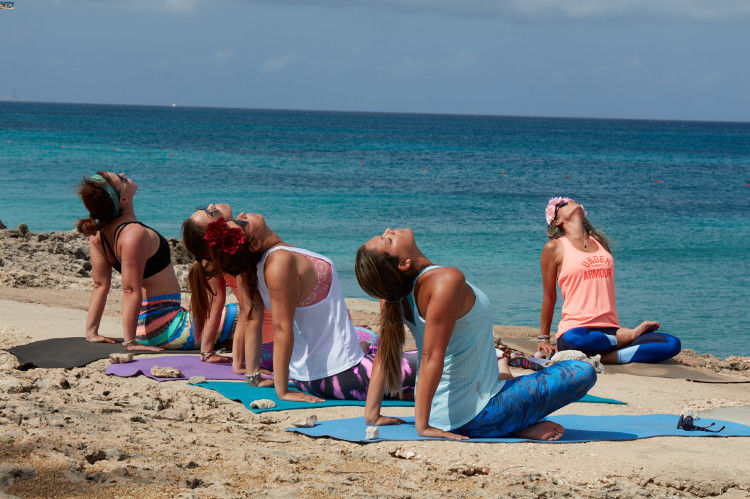 The Benefits
I asked Maria to name the three most significant benefits of Mystical Yoga.  She replied, "It strengthens the connection between mind, body, and soul; brings more awareness to your breathing; and encourages you to live in the present moment."  (You can throw all the physical benefits of a Vinyasa Yoga class in there as well.)
For class schedule, visit Cacao Yoga on Facebook.