Published on:
One Ingenious Island: Aruba Cadushi Festival
By Rona Coster
What can I tell you about the Cadushi Festival on December 21? It was awesome. I met so many extraordinary people, doing so many ingenious things. If you ever doubted that Aruba is an exceptional island, the Cadushi Festival confirmed it—we definitely live on a super creative island.
Getting there was a challenge and a half. Baranca di Yerba is located at the end of the rainbow, on the hills rising above St. Nicholas. The road meandered and rolled, then at the tip of a dirt road, the grassland presented a totally charming backdrop to inventive people doing their thing.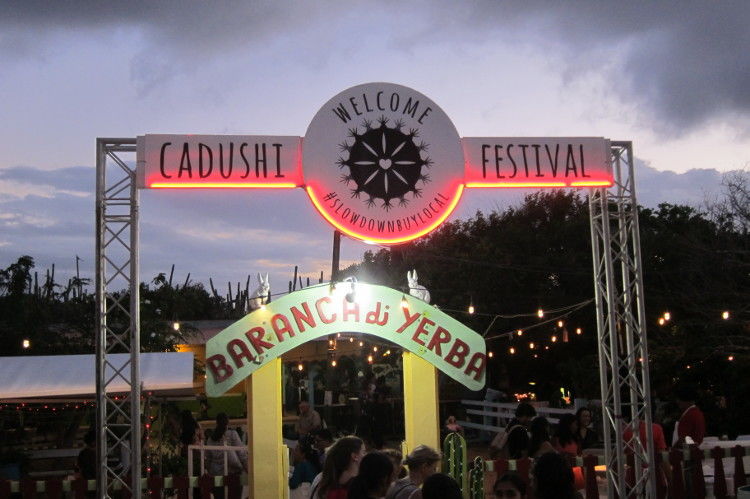 Some of the locals I met, in no particular order:
Red Cactus Pizza: Redefining pizza, Red Cactus was the hit of the night, their pies made with maishi rabo (local corn) and artisanal vegan cheese. It was worth waiting for 90 minutes. Find them in Oranjestad next to Djiespie's Place for an ayaca pizza, if you believe there is such a thing.
Cream of Wu's: Very edgy tote bags and black-and-white T-shirts with funky designs. The designer is adorable and fired up about her own stuff.
The Fermentation Station: Susanne von Saalfeld is a talented hobbyist. She did natural salt from Aruba last year, and this year she is out to improve our digestion with kimchi, sauerkraut, and sourdough bread. She sold out of everything.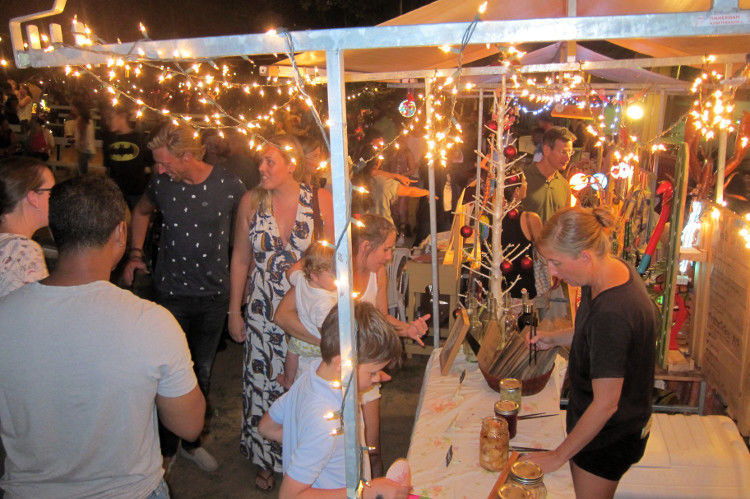 Mijenou: I met Mijenou before. She is a recycler and a one-woman solution to our disturbing landfill. Her recycled crafts are very cool.
Awasalo: This sea-glass artist from Aruba creates gorgeous bohemian combinations of sea glass, seeds, and shells.
Diana Hopman: The mixed media collage work of this well-established artist will light up any wall. If you have an old atlas at home, please donate it to her, as she recycles maps, incorporating the world into her pieces.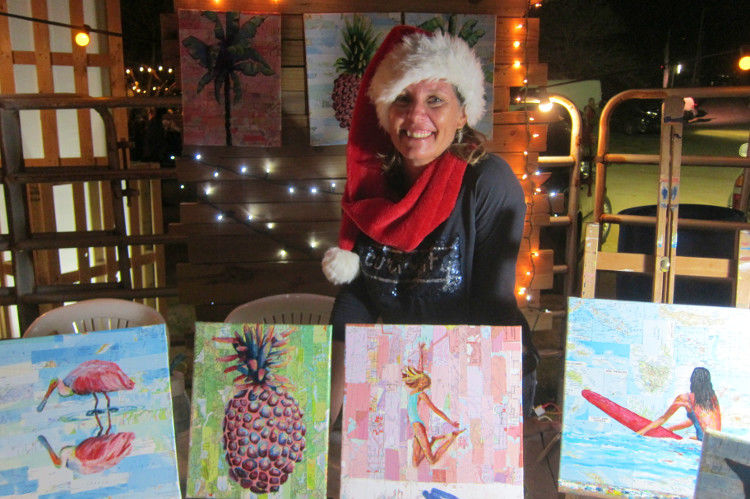 Rahaida: This is the bedazzle queen; she decorates empty wine bottles, making them into conversation pieces.
Bou Palo Beer: Our very own craft beer maker, Tony is an engineer of sorts, then he decided to become a brewer. Makes perfect sense. He poured two flavorful types of suds, made in his backyard.
Taki Aruba: Our forager Frank Kelly is a hit craft-cocktail maker. I tried La Mala Rodriguez, with oregano, and the Dirty Hairy, with dirt, I suspect. Delicious. He ran out of everything. Arubans drink, he said.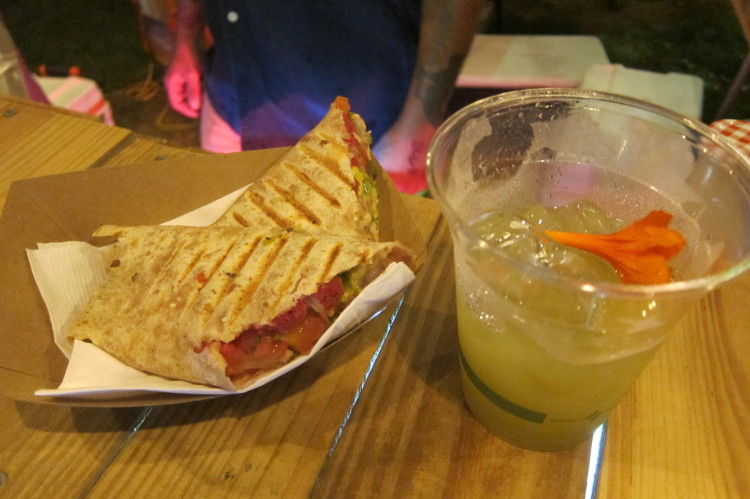 Dushi Cakes: This girl is super cute and makes superior cupcakes. Her creations are proud and meticulous.
D'abaru Snack: The Kelkboom family, the trailblazers of vegan, artisanal food on the island, proved once again why their snacks are so popular. They also offered a new vegan rice, which was a bestseller.
Funky Vegan Kitchen: She lived up to her name with appetizing appetizers. The line was long, so I did not get to taste.
Goshen Sustainable Solutions: James and Jardin totally surprised me with their okra and beans, organically grown in Alto Vista, Aruba, at a farm operated in conjunction with Adult and Teen Challenge Aruba, a center dedicated to breaking free from addiction.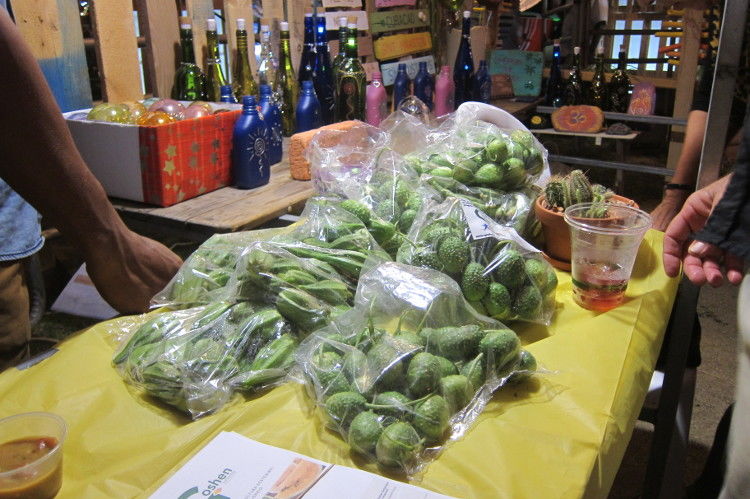 Creole Element: A consummate recycler, offering impressive jewelry and healing stones.
Anna Buryakova: She was my neighbor at the adjoining booth and kindly shared her lights with me. True to her Russian heritage, she adds drama to her local landscapes, iguanas, and pelicans.
ArubaLife: Organic makeup by Julienne Paskel. Her products are 100% handmade.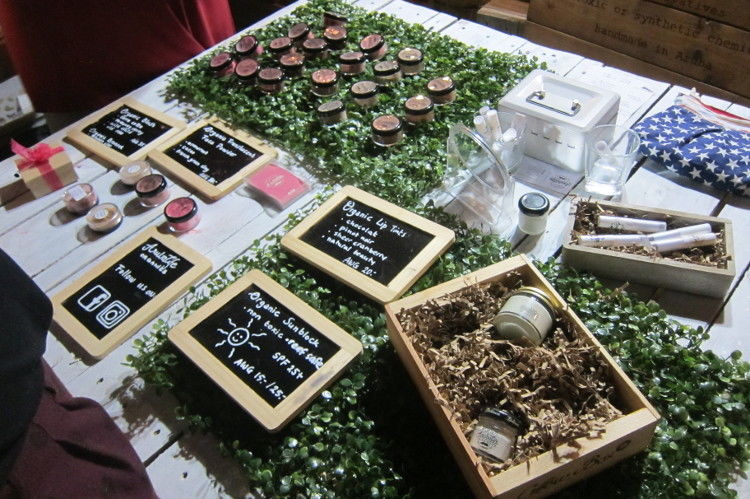 Gumbs Juice: A charming, easy talker, this guy is a trip. His OJ is delicious and so is the fresh-squeezed pineapple and apple. Find him in town, tucked in a giant orange, next to Djiespie's Place.
SoGreen Hair Products: The gook looks like guacamole, but my hair loved it.
Cunucu Mondi Fierno: A very impressive line of craft wines, liquors, and spirits, made from organically grown local fruit. These people are organized; it's all nicely packaged and professional.
Caroline de Waard: A most delightful ceramic artist; her plump birds and silly reindeer are poetic and whimsical.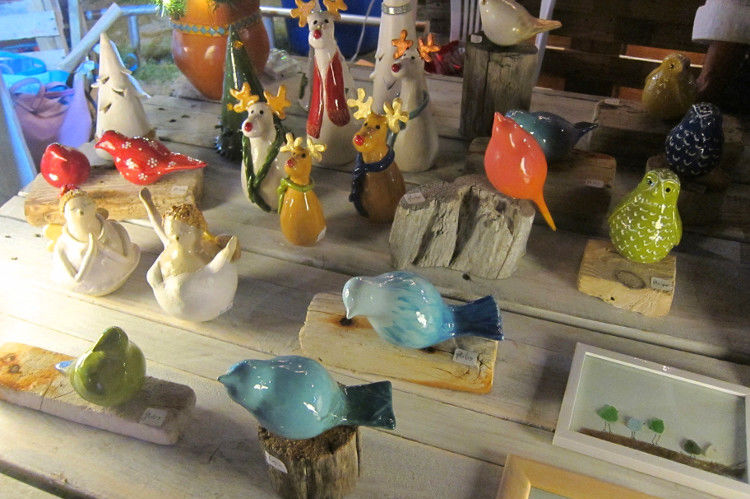 The Plant Guru: Ingela Lacle is a plant healer, environmentalist, and recycler. Find her on Facebook; she has answers to your questions.
Aruba Coffee Roasting Company: I had an amazing cold latte made by a cute barista here. They brew and serve their coffee at Coffee Break, in the Djiespie's Place area.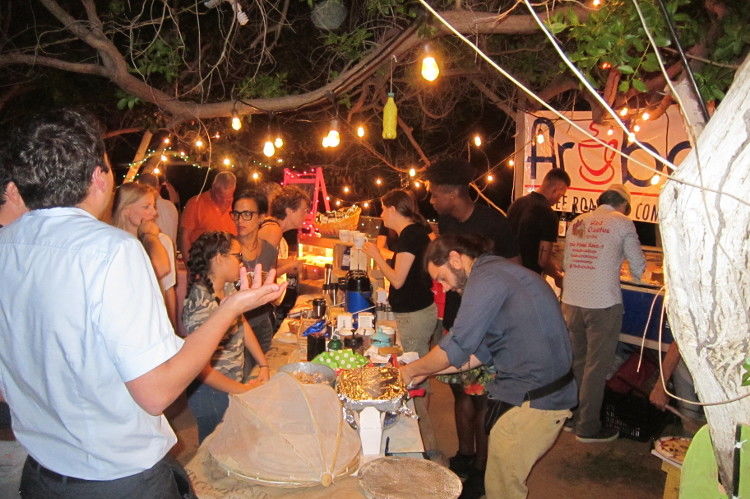 Jes Beachbags: Jeanine and Sascha were eternally creative this week; they turned accent rugs into colorful, fun beach bags.
Did I mention the kids had lots of creative activities to keep them occupied, including yoga with Maria Pucci and storytelling by Liliana Erasmus in an oriental tent?
The entertainment was stellar. Bad-girl band Los Picaflores formed in honor of the occasion. They got together in some garage with minimal practice and delivered maximal sound.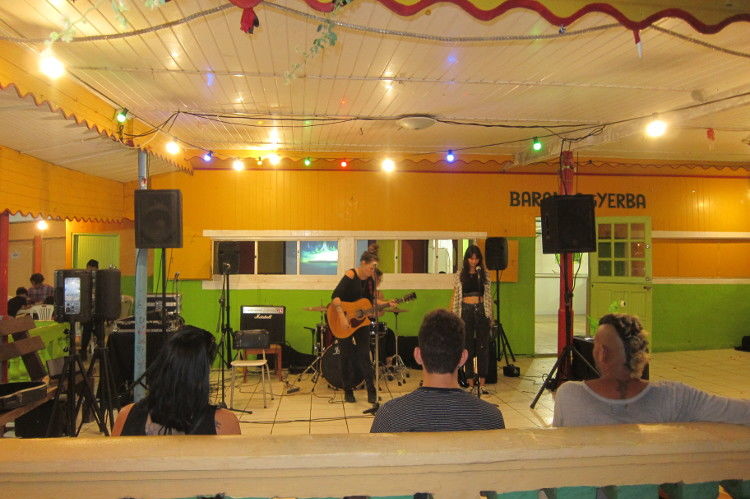 Ellen Buermans gave a Tibetan sound bowl concert, while Beach Lama and Sirena recited poetry.
The traffic was a nightmare. Parking was a pain.
It was all worth it.
The Cadushi Festival was founded in 2014 with the intention to provide a different sort of holiday activity that focuses on supporting local artists, promoting conscious living, and providing a festive venue for people to gather and share in meaningful ways. The December 2017 festival marked Cadushi's fourth Christmas edition. Stay tuned for future Cadushi Festivals on their website. And don't forget to Slow Down, Buy Local!