Published on:
Paddling the Sea Less Traveled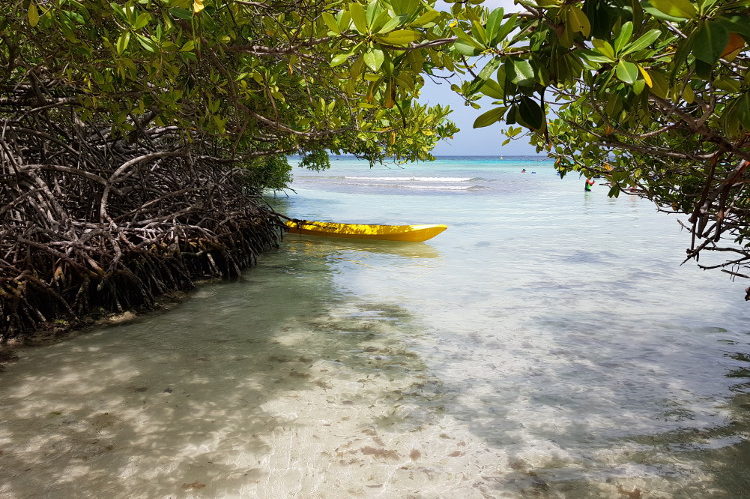 Images by Tina Causey-Bislick & Carlos from Aruba Kayak Adventure
Ahhhh, living in paradise—I'm lucky and I know it.  But unlike many of you who are here on vacation, I have to work on the island.  However, when I have some downtime to enjoy the island, I seek out spots that are a little less traveled.  Hiking on the trails by the north shore, cruising with my husband in his 1950 Pontiac Catalina to San Nicolas to soak in some old-school Caribbean vibes and a few cold beers at one of the local rum shops, or chilling with a bottle of wine at sunset with some friends at Arashi—now that's what I call island downtime.  Recently, I had the luxury of taking a Friday off from work to recharge with some time on the sea, paddling with Aruba Kayak Adventure.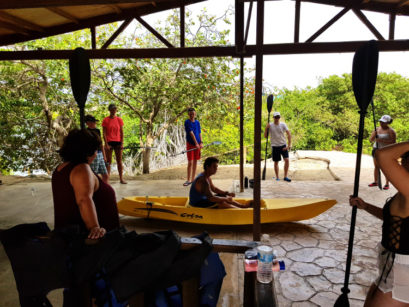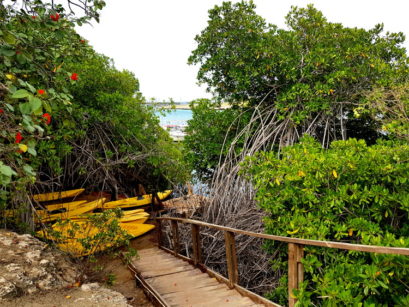 I love the area made up of Spaans Lagoon, Mangel Halto, and Savaneta.  This stretch of coastline just exudes character and feels a world away from the hotel areas and where I live in Oranjestad.  Aruba Kayak Adventure's base camp is tucked away at Spaans Lagoon in an eclectic spot next to a local fishermen's dock and hangout.
There were about a dozen of us on the daily tour—some went solo, others chose to go tandem.  My husband and I are fairly experienced kayakers, but newbies have no fear—it is a very easy activity to learn, and the calm waters of Spaans Lagoon are easy to navigate.  Our two kayak guides, Coco and Sendo, gave easy-to-follow instructions, outfitted everyone in life jackets, and led us down the path to the small opening among the mangroves where the kayaks were launched in shallow water.
Once everyone had their bearings and got the hang of paddling, the tour set off, following the peaceful coastline for about a mile until reaching Mangel Halto.  This area, named after the dense community of mangrove trees here, is a local favorite, and one of mine, too!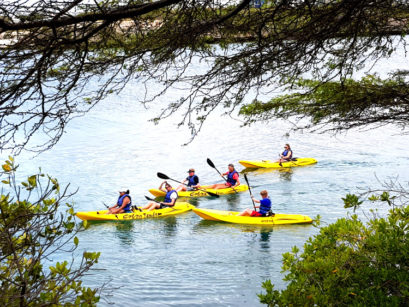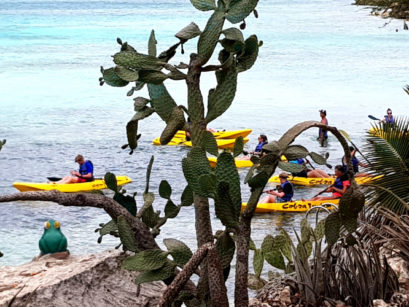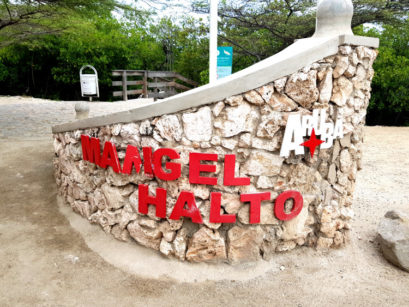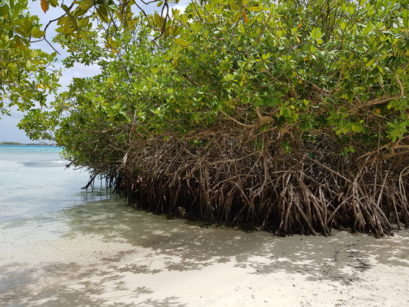 The Aruba Kayak Adventure passenger bus, piloted by the entertaining and engaging Carlos, met the tour at Mangel Halto with ice-cold bottled water and snorkeling equipment.  While some chose to spend an hour basking in the serenity of this quiet beach, Coco and Sendo escorted those who wished to snorkel to a reef system that skirts this area and is teeming with colorful coral and sea life.
I'm not sure what it is about playing in the sea—I am always famished when I am back on land. Paddling back down the coastline to base camp, I had my heart, make that tummy, set on some chicken sate and a cold Balashi beer from the Balashi Beer Garden at our national brewery, which is right down the road from Aruba Kayak Adventure.  Once back to base camp, we had the chance to rinse off before jumping into the van with Carlos and heading to Balashi, where we enjoyed a meal together—a perfect way to end the tour!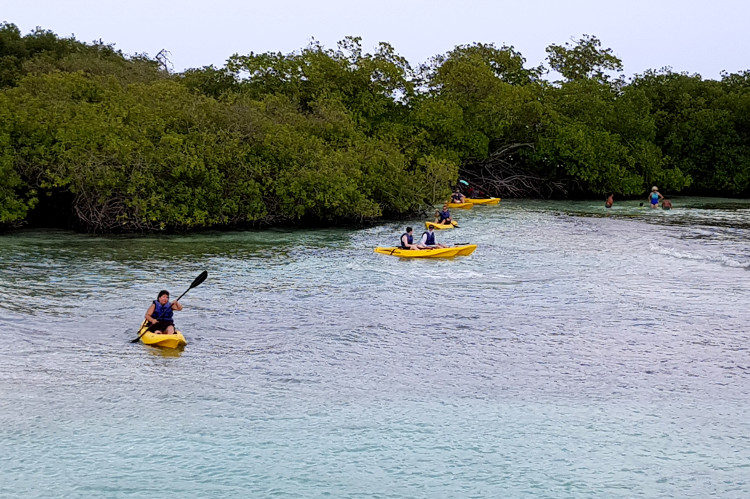 The Basics
What to bring: Sunscreen, towel, and, if you want, a change of clothes.
What's included: Pick-up/drop-off by Carlos at your hotel, all kayak gear, snorkel gear, professional guides and instruction, bottled water, lunch, and a non-alcoholic beverage (bring cash if you want to try a fresh Balashi on draft!).
What's for lunch: Choose from burgers, wraps, salads, and chicken sate.
Tour cost: $85
Book it!: Click here to go to the website.