Published on:
Paradera Park Apartments Celebrates Silver Anniversary
Privately owned and managed by partners Deborah de Weerd and Henk Steenbergen, Paradera Park Apartments is an exclusive tropical escape. As its name indicates, it is centrally located in Paradera, in the heart of the island.
The full-service apartment resort was set up 25 years ago by a pair of visionary European entrepreneurs who noted the absence of small, intimate vacation rentals. Most visitors at the time stayed in traditional hotels, but the de Weerds predicted that the vacation rental segment of the market would eventually grow and built a charming, off-the-beaten-path, 10-studio complex surrounded by nature—cacti, boulders, and divi trees—which the couple successfully ran for over a decade.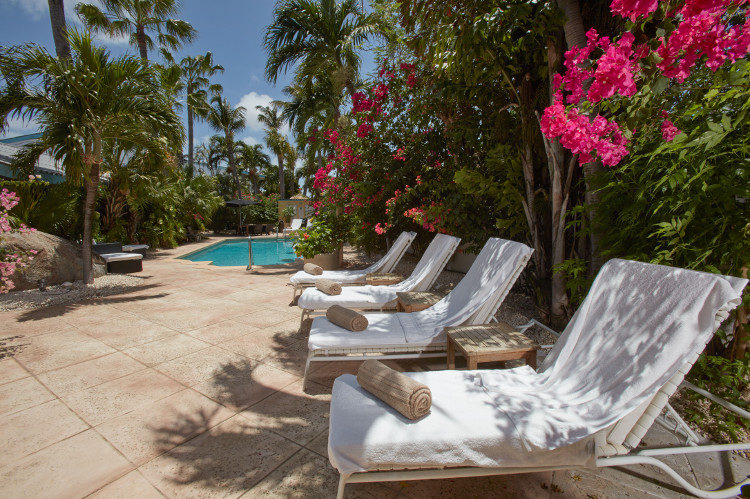 Then 13 years ago, Deborah and Henk, here on vacation from their successful careers in the Netherlands, decided to grant Deborah's parents their wish to retire, stepped into their shoes, and moved to Aruba to assume full ownership of Paradera Park Apartments. They translated the boundless love they had for the property and the island into a successful business, now in its 25th year as a full-service tropical oasis.
Over time, Paradera Park Apartments evolved into an intimate, 17-room, boutique-style resort—including deluxe studios as well as one- and two-bedroom suites—offering a front office and gift shop with a friendly tour desk, and delivering daily housekeeping services. The garden, now famous for incredible blooms, became a renowned escape for both local guests and visitors alike.
Both Deborah and Henk are very guest-focused and advocate personal service as key to high guest-satisfaction scores, which has led to multiple awards by review sites such as TripAdvisor and Zoover. The staff at Paradera Park Apartments keeps the traveler in mind, making sure he/she experiences Aruba on a very deep level so that the island leaves a magical impression on them. The culturally diverse guests hail from every corner of the world—Europe, the US, Canada, Latin America—traveling for both business and leisure.
Deborah and Henk are proud to welcome back many return visitors each year and continue to share their island knowledge to help them explore and enjoy the uniqueness of Aruba.
Paradera Park Apartments features very comfortable beds, superior linen, updated modern bathrooms with Aruba Aloe guest amenities, high-speed Wi-Fi, Illy espresso machines, and all utensils and appliances, making the option to cook readily available. The inviting pool deck, the refreshing palm-fringed freshwater pool, and the shaded swaying hammocks add to the promise of complete relaxation.