Published on:
Pull Up a Chair for Chair Yoga
Written by Debbie Kunder / Photography by Steve Keith
When Gladys Duarte started giving yoga classes at the island's hotels a few years ago, she would bring her mats for the students to roll out and use.  She quickly noticed, however, that many people couldn't comfortably sit on the mat on the floor, instead hunching their backs, their postures complete messes.  Or perhaps an injury was making it difficult to even get on the mat at all.  That's when Gladys started looking for a better alternative for these students.  That's when she found Chair Yoga.
Chair Yoga is exactly what you would expect it to be—yoga done while sitting in a chair.  The chair can also be used as a support for standing poses.  So you can imagine it's a very gentle yoga practice and therefore welcoming towards all levels of fitness.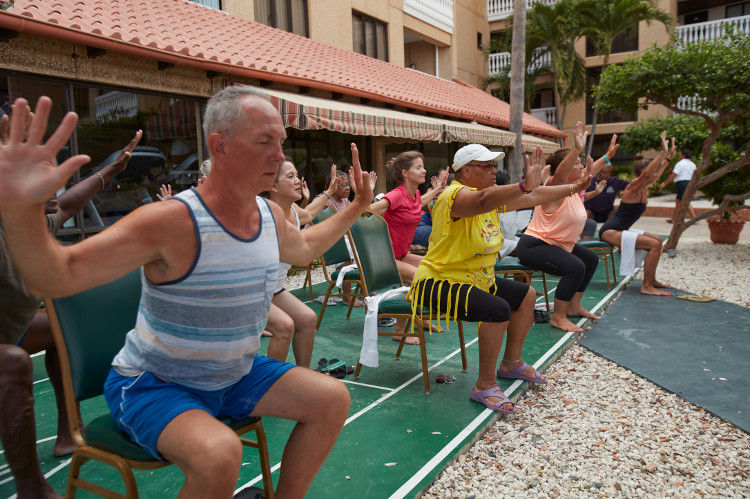 The Class
I went to Gladys' Friday morning class at Casa Del Mar on Eagle Beach to get my very first dose of Chair Yoga.  The chairs were already lined up just outside the gym by the pool, affording a glimpse of the sea.  A few people were already sitting in the chairs, patiently waiting for class to begin.  I grabbed a seat and joined them.  Little by little, others trickled in until all the seats were filled.  In fact, more seats had to be set up to accommodate everyone.  Needless to say, this class is popular!
Gladys started with a few simple movements to get us warmed up.  We then moved on to some chest-opening exercises, arm stretches, and gentle twists, all the while sitting up nice and straight at the edge of our chairs.  And that's precisely the beauty of doing yoga in a chair: the chair perfectly supports the lower half of the body, making it much easier to keep the back erect and tall, which is exactly what you need to properly carry out many yoga exercises.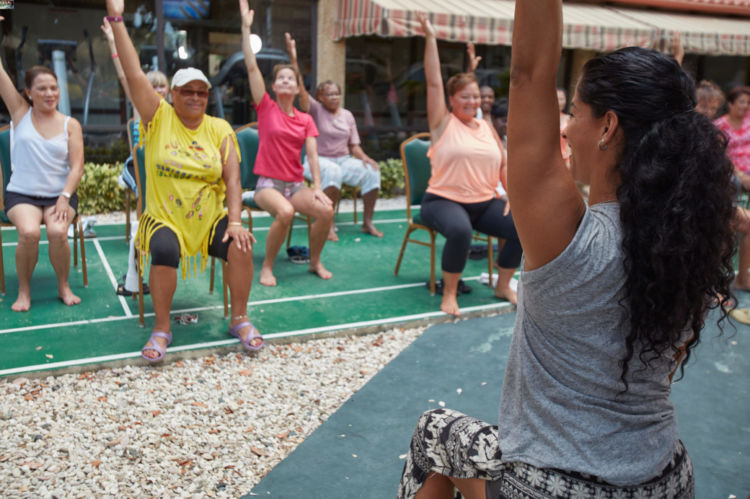 Ironically, when we got up out of our chairs for the first time, it was to do none other than Chair Pose.  I had to chuckle quietly to myself as we pretended to be sitting in our imaginary chairs.  We then ended the class with a few standing poses to work on balance, using the chair for support, just as a ballerina uses a bar to practice her pirouette.  (Gladys is a trained ballerina, after all.)  She's also Cuban, and she brings her sassy, Latin energy to the class, which everybody seems to love.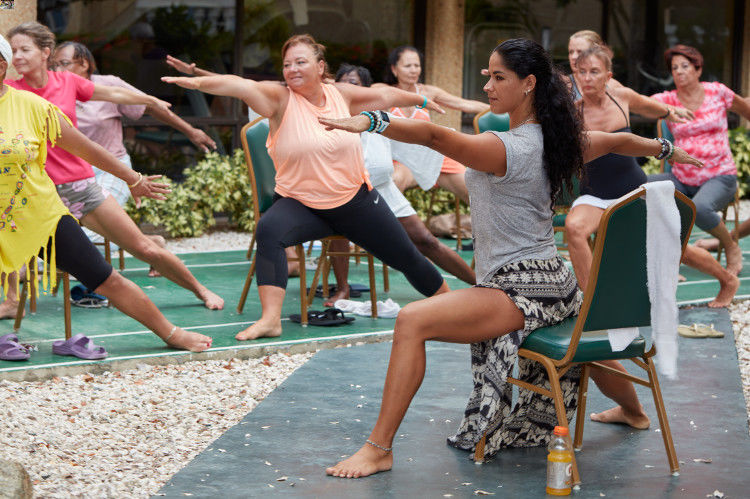 Gladys explains why the class is so popular: "My students love that they can come stretch, let go, move without risk of injury, breathe, and take the time to know their bodies."  She continues, "And I love the class because it's like therapy—I can help people.  I see people come to their first class all hunched over and tired, but after two weeks of coming, their postures are so much better, and they have so much more energy.  I love that!  Plus, it's not about who can do the longest handstand or the most complicated pose like you find in some types of yoga.  It's simply about reteaching people how to sit, and there's certainly no ego there!"
The Benefits
Chair Yoga improves posture, flexibility, balance, mental clarity, and coordination of mind and body. It also relieves stress, strengthens the core, and aids in pain management.
To join a class, contact Gladys on Facebook by visiting @FunctionalMovementbyGladys.  She teaches at Casa del Mar as well as Playa Linda Beach Resort.