Published on:
Rooi Taki Hike: Land to Sea
Text & Images by Debbie Kunder
I love the idea of early morning hikes—meeting up with a friend, coffee thermos in hand, greeting the morning light as we get our blood pumping. But then I remember what an early morning hike means—getting up early in the morning! So when my friend Ana and I were having dinner one night recently, I hemmed and hawed when she invited me to join her the next morning for a hike. Then I considered how many calories were in the dip I was about to stuff into my mouth. OK, count me in!
Our hike started in Arikok National Park. Parking at the Visitor's Center, we walked on the macadam road into the park until we reached the Miralamar (Ocean View) hiking trail, which is clearly marked with a sign. You don't have to walk very far along this trail to reach the point that gives the trail its name. In fact, you'll be getting two ocean views—one of the leeward side of the island and one of the windward side, which of course is an effective reminder of just how small Aruba really is.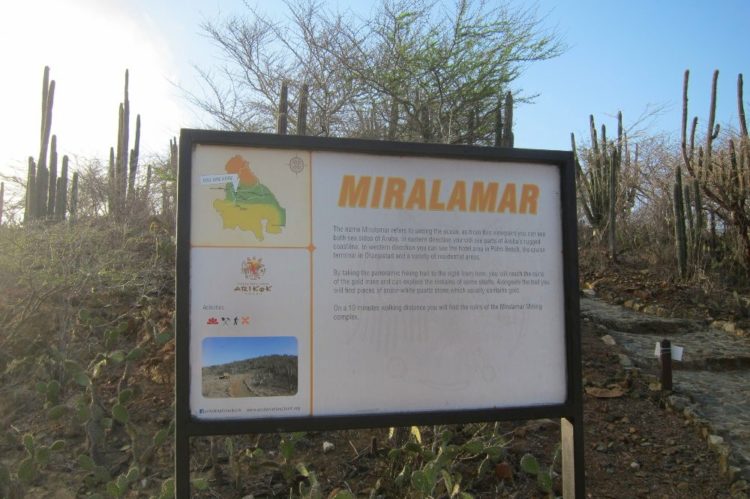 I have to be honest though—while the view is pretty cool, I was more interested in my immediate surroundings. I'm from rural Pennsylvania, where hiking in the woods is all about shady deciduous trees, babbling brooks, and the smell of damp earth, so Aruba's dry, desert terrain, strewn with cacti, kwihi (mesquites), hubada, aloes, and century plants, is otherworldly to me. About those cacti—I love how enormous they can grow and how beautiful they look against a bright blue sky.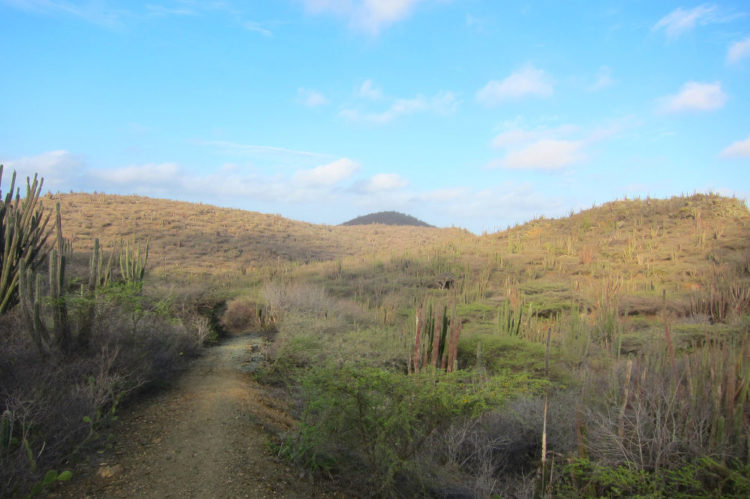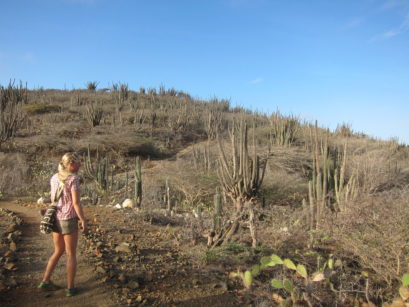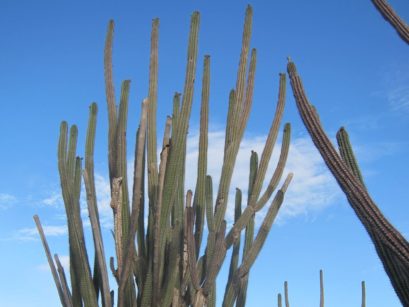 And speaking of otherworldly, check out this Game of Thrones tree we found!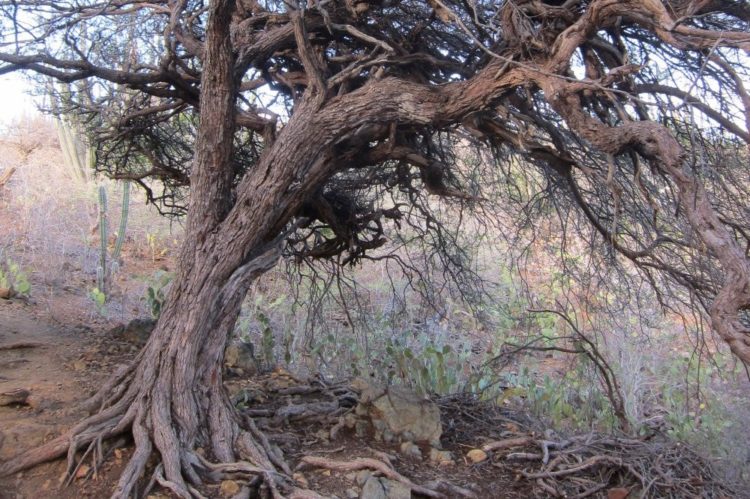 Along the trail, you will find a few collapsed mine shafts that have been barricaded off, as this area was once a mining site. Also keep an eye out for goats, troupials, the kododo blauw (an indigenous lizard species that flaunts a bright turquoise color), and other natural curiosities, like this hardy Turk's cap cactus that found a home among some shards of rock.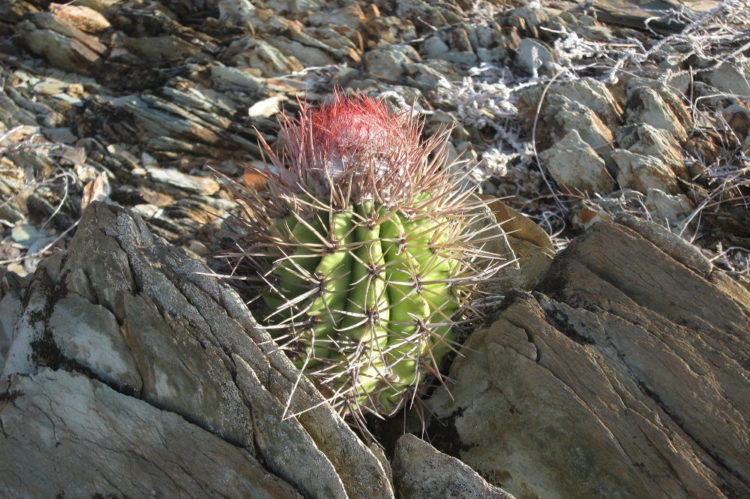 The next landmark we came across was Masiduri, where you'll find a small cunucu (farmstead) house. Masiduri served as an experiential garden in the 1950s. Now, you'll find some beds of aloe. This is a perfect place, by the way, for a little break or picnic.
Soon after Masiduri, the trail takes you along the dry riverbed of Rooi Taki (Twig River). The little creek was bone dry. We did, however, find a calabash tree, which was our consolation.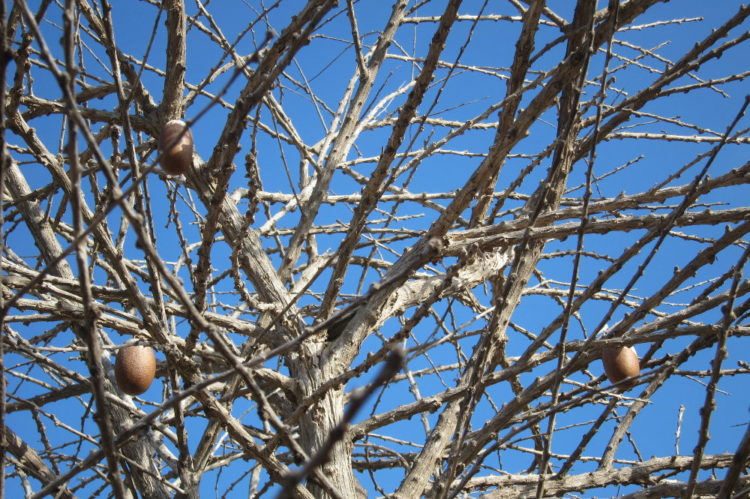 You'll know that you've left the national park when you start to see some residences. Now you're in Frenchman's Pass. When you reach the paved road, cross it into the salina (salt flat). This salina holds the flow-over waters of the Spanish Lagoon. It's a great place to see lots of different birds, many of which use Aruba as a stopover during migration. (The Spanish Lagoon and the salina are now protected as part of Arikok National Park.)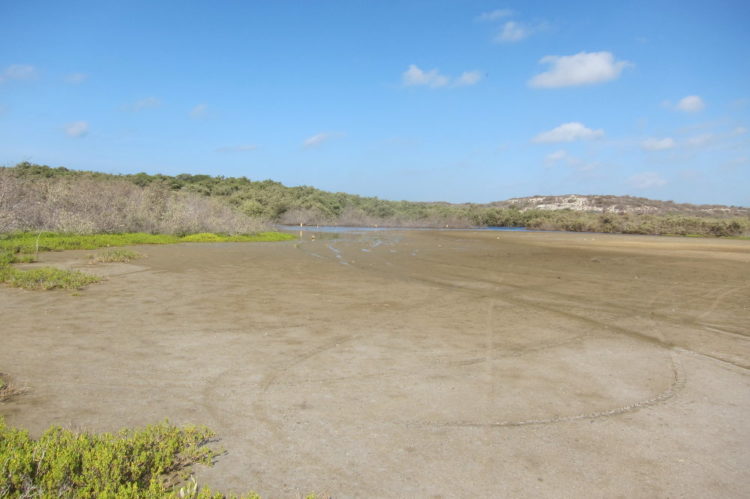 If you want, you can do a bit of exploring at the Balashi Gold Mill Ruins off to the right, but Ana and I headed instead for the Spanish Lagoon. A long inlet reaches inland as an extension of the lagoon to the salina, and we followed the trail along this inlet, lined with an intriguing network of mangroves. There are a few openings in the tangle of mangroves where you can enter and explore a bit along the water's edge.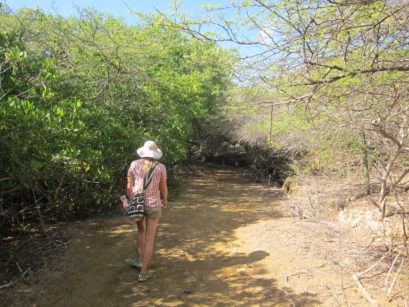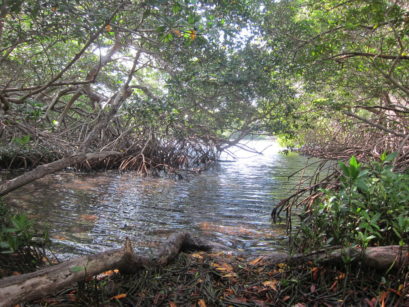 Continuing along the path, you're going to find an aloe plantation. I have written about Aruba's history of aloe cultivation, so rather than repeat myself, check out my Aruba Aloe blog post for more info.
Just a bit further along the path, Ana (who must have been a naturalist in her past life) pointed out some wild passion fruits to me. We didn't actually taste them, as they weren't ripe enough, but she swears they're delicious. The flower is gorgeous.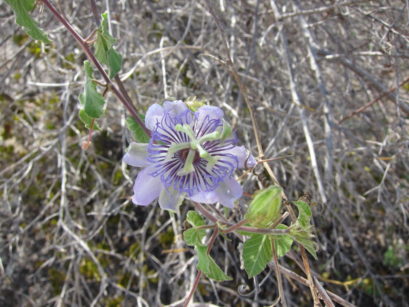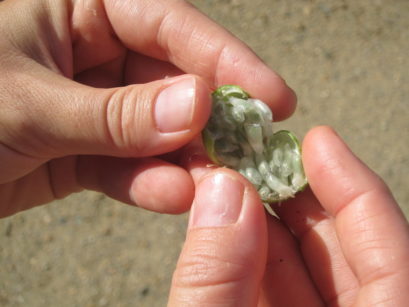 Another little fruit that I advise you to keep an eye out for is the bright pink cactus fruit that can be found growing in the Turk's cap cactus. They are hard to come by because the birds usually get to them pretty quickly, so it's kind of a treat to find one. As my luck would have it, I found one! Isn't it pretty? They're tasty, but I left this one for the birds.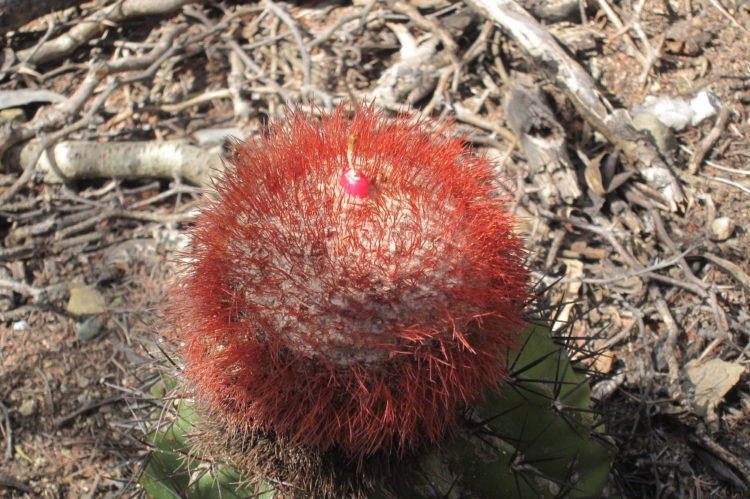 Eventually you will reach a bridge that crosses the inlet. Walk across the bridge, and then make your way to one of the prettiest seascapes on the island—the varying shades of blue of the Spanish Lagoon and the deep sea beyond. The water is going to feel wonderful after your two-hour hike. You could also pop over to Mangel Halto (Tall Mangrove) Beach, tucked just inside the Spanish Lagoon, off to your left. The mangroves there create a shady, cool spot for a picnic.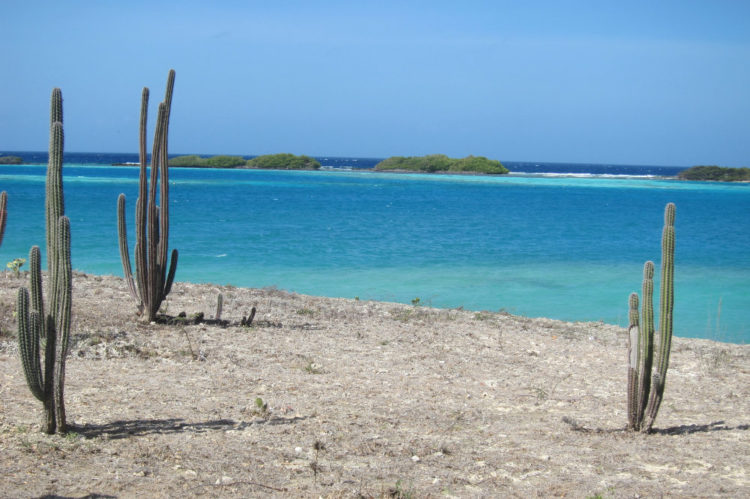 But for me? More coffee! We had strategically left Ana's car parked near Mangel Halto. We hopped in the car, grabbed a coffee at Antesala, a nearby cafe, and then headed back to Arikok to pick up my car. If you only have one car, I would suggest stopping halfway during the hike and turning back. Otherwise, your hike might get a bit too long.
Happy trails!