Published on:
Salty Women!
Text by Tina Causey-Bislick / Images by Steve Keith
Living and loving the kiting lifestyle
When I first arrived on the island some 15 years ago, I was fascinated by the colorful kites skirting the horizon as I made my then-daily power walk along Palm Beach and Fisherman's Huts.  Windsurfing I was familiar with, but kitesurfing (also known as kiteboarding and kiting) was something altogether new.  Actually, back then it was something rather new to Aruba, with just a small handful of men enjoying the sport.  Today, kitesurfing dominates the water, and women have joined the pack.
It took me 15 years to attempt the sport—not because of the fear factor associated with a high-intensity sport in the water, but because I am a technically challenged individual with very little patience, and all those strings and gadgets, and taking the time to untangle and lay out all the lines, blow up the kite…yeah, forget it!
For several years I have played beach tennis—I enjoy the sport, and more importantly, I forged friendships with some really cool chicks along the way.  Two of my beach tennis partners are also kitesurfers, along with several other beach tennis players.  Their passion for kitesurfing outweighs their passion for beach tennis, and I was always envious to hear of their tales of the kitesurfing culture that transcended the water to become a part of their lifestyle off the water as well.  If you take up kitesurfing, do you just intrinsically become cool?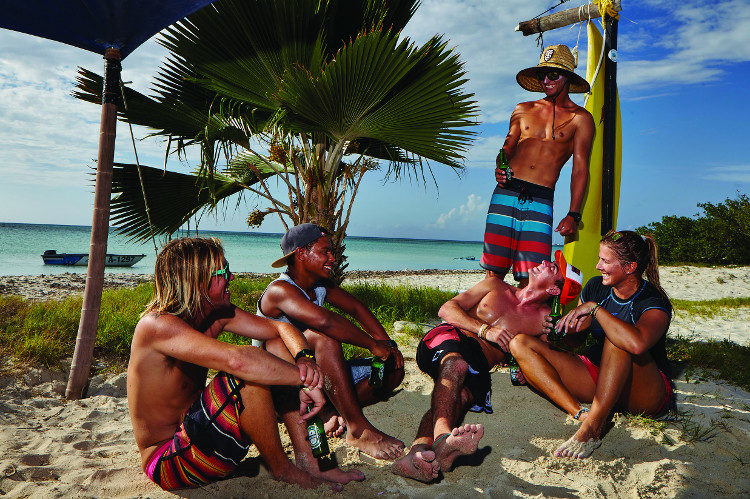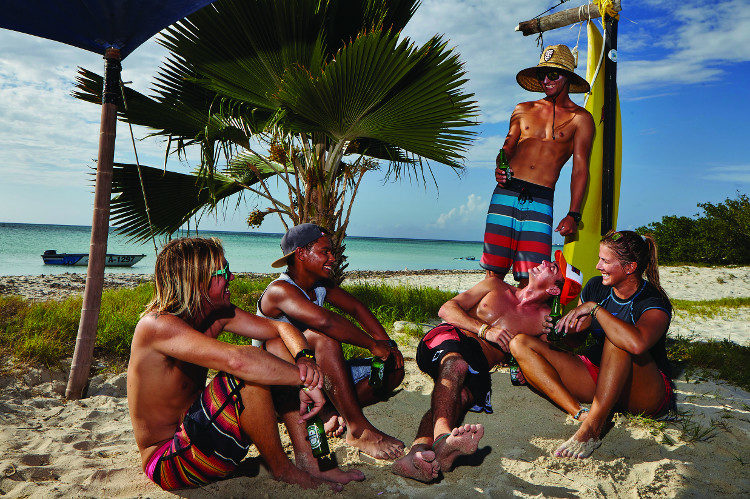 I decided to delve a little deeper into their world beyond the beach tennis courts, and even took a few lessons with Noortje Derksen, one of my beach tennis partners who also moonlights as a kitesurf instructor when she is not busy with her day job as a physical education teacher at a local high school on the island.  She is also one of the best female kitesurfers on the island, winning several amateur competitions including placing first two years running in the long distance category at the Aruba Hi-Winds, a popular international competition event for windsurfers and kitesurfers, as well as earning the top position in long distance and freestyle in other local competitions.
First things first—this is NOT an easy sport to learn.  It requires patience (did I mention I have very little?), stick-to-it-ness, and the fortitude to get back on the board after a major face-plant that has such force that it literally pulls you clean out of your bikini bottom—I know this firsthand and was assured by Noortje that it's a rite of passage (along with a good nasal cleaning). Once you program your mind and body to roll with the punches, the rewards just keep coming.  After a few lessons, I finally felt the thrill of actually putting it all together—the kite, the wind, the board, the balance—and off I went gliding atop the water.  It was a quickie—a few seconds of control were all I could manage before I plunged headfirst to enjoy the infamous face-plant/saltwater-douche combo—but oh what a feeling!  Yep, I got it, and I earned the right to enjoy a little beachside chill session afterwards.
And speaking of chill sessions, aside from the thrills on the water, one of the best benefits that come along with the sport is the sense of community and friendship within the kitesurf culture.  Age, profession, nationality—none of it matters.  When on the beach and on the water, everyone shares the same passion.  It's an unwritten code in the sport to help each other out, whether it's laying the lines, helping launch a kite, lending a pump to someone who left theirs at home, or sharing a tip or two on skills and tricks.  Cold beers on the beach—or, if you're down on the southern end of the island at Boca Grandi, a few beers and some boiled peanuts at one of the local rum shops in San Nicolas, followed by a shrimp fest at Zeerovers in Savaneta—come with the territory.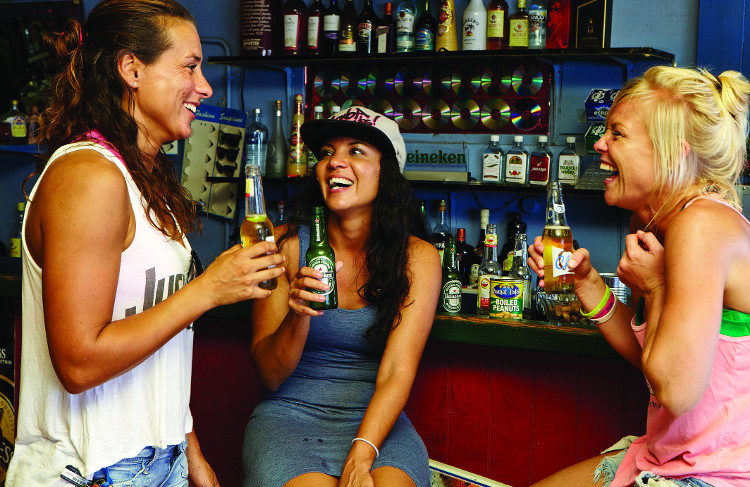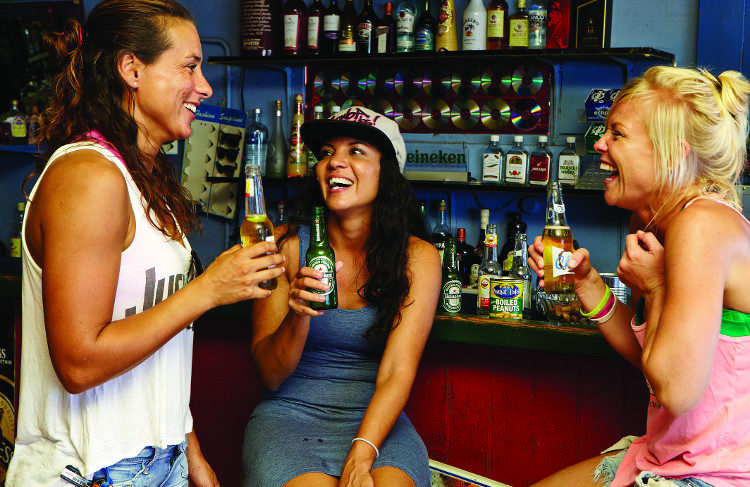 Four of my favorite divas on the water shared their thoughts on kitesurfing:
Noortje Derksen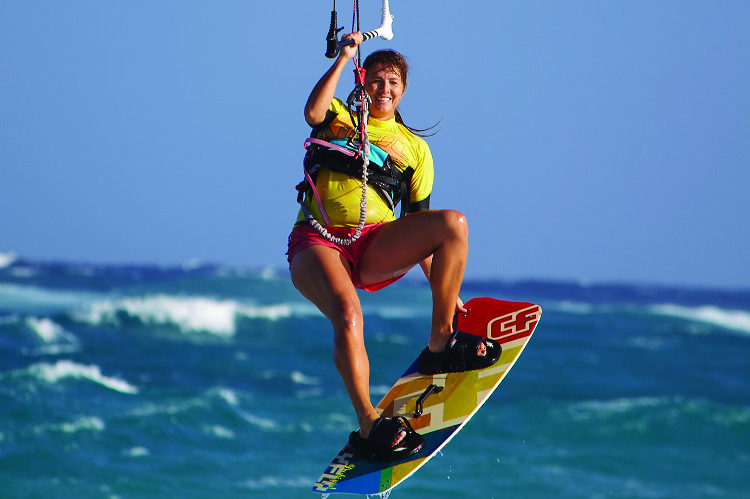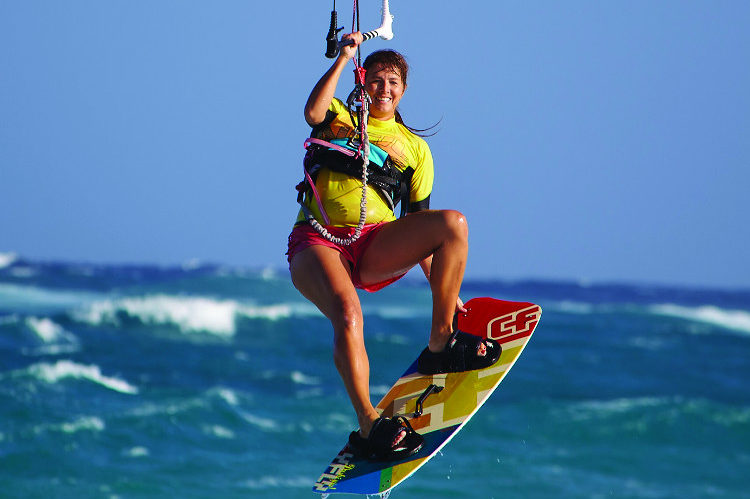 Profession: Physical education teacher
When did you begin kitesurfing?  About six years ago.  I never lived close to the water in Holland—soccer was my favorite sport—so until I moved to the island seven and a half years ago, I didn't know anything about the sport.  After about a year of taking lessons every other week, I bought my first kite and that was the moment I was hooked!
What is it about kitesurfing that makes it special to you? In addition to it being a great workout, it's the social aspect—people of all ages and backgrounds coming together to enjoy the sport and talking about our sessions on the water over cold beers.
Describe your perfect day of kitesurfing:  Waking up, filling a cooler with lunch and drinks, and enjoying my first cup of coffee with hot milk on the beach while my mind and body slowly come to life.  The water is flat, the wind is at a steady 22 knots with no gusts, and then a session of long distance!
Yvette Tromp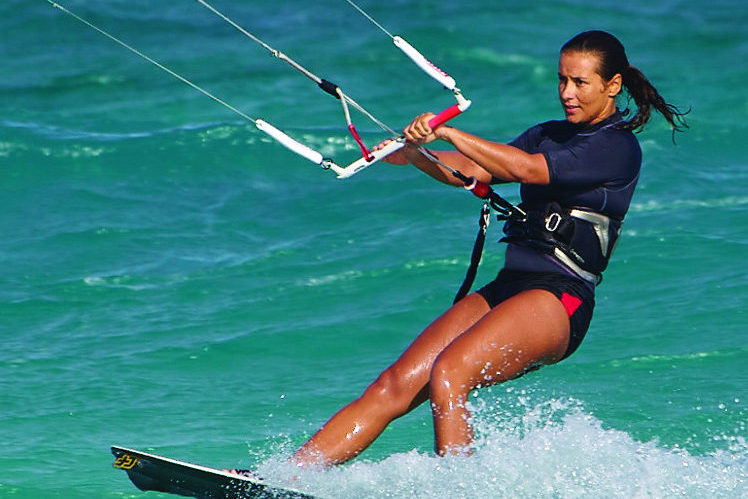 Profession: Concierge and wedding planner at Playa Linda Beach Resort
When did you begin kitesurfing?  I was introduced to watersports at VELA Windsurfing Center upon my arrival on the island 15 years ago and have been in love with the ocean and its activities ever since.  Any kind of sport involving saltwater—sign me up!  I windsurfed for six years after work and weekends; then I picked up kitesurfing and have been at it for the past seven years.
What initially attracted you to the sport?  The airtime in kiting versus windsurfing (where I did not have much airtime).  The sport gives me a feeling of freedom and my adrenaline fix when I need it—I love the feeling of the wind in my face!
Besides the thrill of the sport, what makes it special for you?  It's the whole vibe around it—the people, being on the beach, being active, and getting wet and salty!  It's a great way to stay in shape, too.  I love planning my vacations around windy places.
Describe your perfect day of kitesurfing: Start the morning with a cup of coffee, throw on an XL hoody over my bikini, and make a breakfast sandwich that I can munch on while I pick up a buddy, driving with the windows wide open with the wind in my hair, nice and easy…Boca (Grandi), here we come!  First things first: check out the wind and wave conditions.  It's still dark and a bit chilly…brrrr. "Really?" I ask myself. "Do I want to get in the water?"  But as soon as I'm on my board, the sun is rising, and it slowly gets lighter, I am so happy to be right where I am at this magical moment of the day!
Denise Krosendijk-Pechacek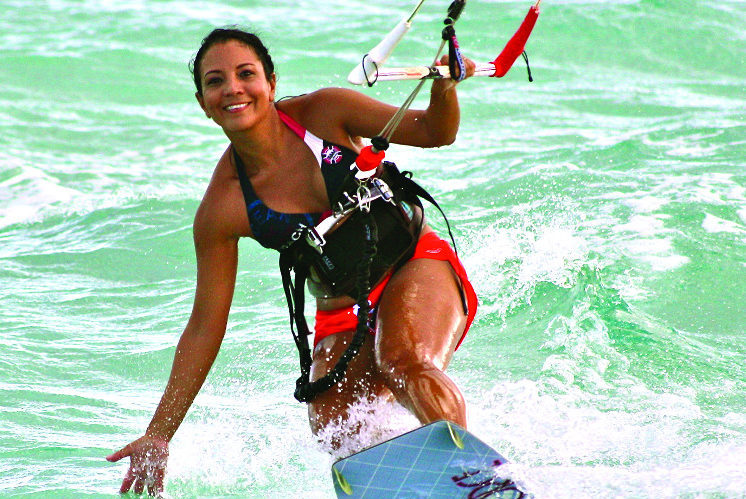 Profession: Corporate account manager at Aruba Bank
When did you begin kitesurfing? I was born and raised on Aruba, and I was always active with dancing and sports like tennis and windsurfing.  I went to study abroad, and when I completed my degree and came back to the island, I saw people kiting and began taking lessons right away.  I started with a group of girls—all supporting each other and going as a group to Boca (Grandi).  Back then we pretty much had Boca to ourselves.  I have been at it since 2006.
What attracted you to the sport? Kitesurfing is a time to get away from my hectic life and de-stress…to be able to lose myself and fly, push myself outside my comfort zone.
Besides the thrill of the sport, what makes it special for you?  It's the experience as a whole.  The sport attracts people from all over the place, and it's nice to meet new people and share moments, and even travel to other places in a group to kitesurf.  During the week I am a business executive handling financial problems, but on the weekend I am the beach girl who just wants to surf and chill with friends…it gives my life balance. And I met my husband through the kitesurf community!
Words of wisdom for those thinking of learning the sport: Kitesurfing is a sport anyone can learn.  You just need to get over the initial fear; after that, it's only about fun.  It's also a good workout for the abs and legs, and you are having so much fun while doing it!
Maartje Dolfing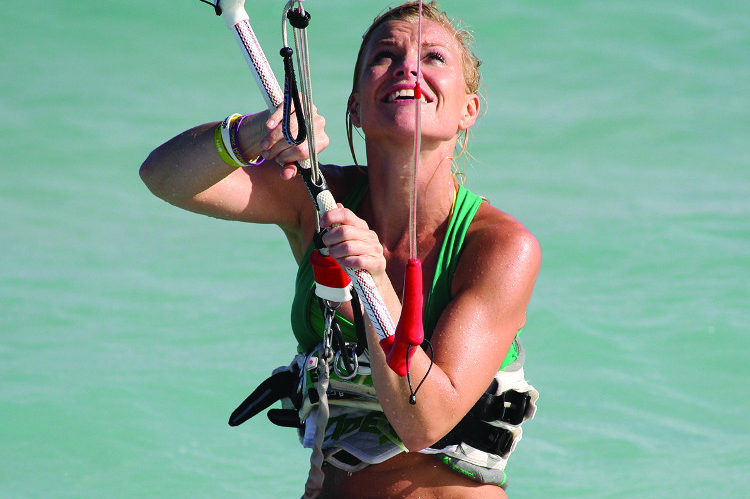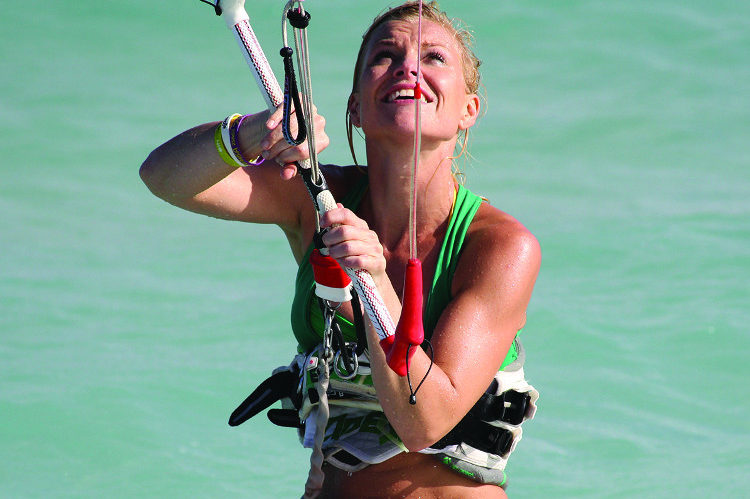 Profession:  General manager for VELA Sports Aruba
When did you begin kitesurfing?  I have lived on the island for three years now.  I came here for a wonderful and handsome man who was worth the move from Holland.  I initially started with windsurfing, but about a year and a half ago I switched to kitesurfing, and I have not been on a windsurf board since!  For me, kiting is relaxing, and I can make a session as hard and challenging as I want.
You participate in many sports; what makes kitesurfing your favorite activity?  It's an escape for me to have a day away on another part of the island.  On the water I have songs in my head, and sometimes I find myself singing out loud at the top of my lungs.  I try to find a way to enjoy the ride even if the conditions are not perfect.  When I come off the water, I feel light-headed and ultra-relaxed…it's a natural high!
What is it about the kitesurf culture that you value the most? I like that no one really talks about work.  It does not matter what your position is because there is no elite; everyone is there with the same goal no matter their age, nationality, or profession.
Words of wisdom for those thinking of learning the sport: If you want to try kiting, please take lessons first—it's not safe for you or others around you if you attempt the sport without proper instruction.   Within a few lessons you will learn how it all works…then just enjoy the ride!