Published on:
Sarah-Quita Offringa: Aruba's Windsurfing Darling
Text by Debbie Kunder
Photos by Steve Keith & John Carter/PWA
The first time I ever heard of Sarah-Quita Offringa was the day my husband excitedly shared with me that his surf shop was going to sponsor this charismatic, promising young kid from Aruba who was already impressing on the international windsurfing scene.  I remember he showed me a photo of her, and her unruly mane, her irresistible smile, and the joyous twinkle in her eyes immediately won me over.
It's many years later now, and this once up-and-coming windsurfer now holds 17 PWA World Champion titles.  Seventeen!  She was knighted in the order of Oranje-Nassau by decree of Queen Beatrix of Holland for her windsurfing feats.  She's a living legend.  Aruba's windsurfing darling.  And that's just the tip of the iceberg.
Sarah's story begins when she was encouraged by her parents to give windsurfing a try when she was nine.  Not being able to lift her sail, she quit, but was coaxed back into the sport a year later when her parents entered her into the Bonaire Regatta 2001.  It was at this event in Bonaire that Sarah fell in love with windsurfing.
There are three different disciplines in competitive windsurfing: freestyle, slalom, and wave sailing.  In the highly technical freestyle discipline, the windsurfer performs a creative acrobatic show filled with aerial stunts on flat water.  Slalom windsurfing is high-speed racing, which requires high winds.  Wave sailing is a combination of wave jumping and wave riding, with sailors using the waves to catapult into the air to perform high-flying tricks.
Sarah grew up doing freestyle—for her, windsurfing is freestyle—and for her, it's the most fun.  In the next few years after that fateful competition in Bonaire, Sarah developed her freestyle skills in the waters of Aruba and Bonaire, already earning recognition and awards as a young rider.  She entered her first PWA event in 2003, and in 2006 she was named the PWA Rookie of the Year, ranking second in the freestyle discipline.  Just two years later, in 2008, Sarah clinched her first PWA Freestyle World Champion title.  She amazingly went on to win the world champion title in freestyle 11 more times, back-to-back, the most recent one earned in 2019.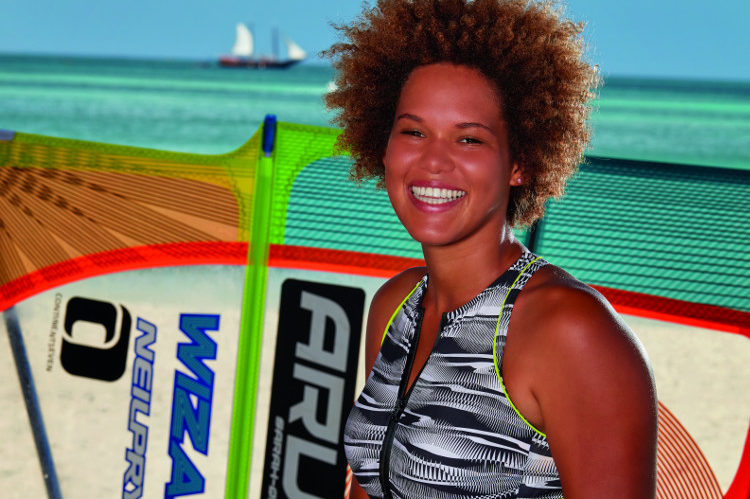 Let's just take a moment to put this into perspective.  Not only has Sarah won the most world champion titles in freestyle windsurfing in history, but she hasn't lost a single freestyle competition nor heat since 2008.  Furthermore, Sarah has consistently beat competitors much older than she.  In fact, when she was on the winner's podium for the first time, she was a mere 14-year-old standing next to women at least 12 years older.  It's safe to say that Sarah-Quita is indisputably the best female freestyle windsurfer in the world.
Of course, starting at such a young age is one of the keys to Sarah's overwhelming success.  Aruba's perfect wind and flat-water conditions for windsurfing have also played a significant role in her rise to stardom.  But let's not overlook the simple fact that Sarah is an extraordinary, first-rate athlete.  You can pretty much throw her into any sport, and she'll thrive.  Take slalom windsurfing, for example.  At one point in Sarah's career, she decided to give slalom windsurfing a go, and being the amazing athlete she is, she excelled in it.  Most competitive windsurfers specialize in only one disciple at a time given the heavy demands of training.  Not Sarah-Quita.  In 2011, in addition to earning the world champion title in freestyle, she also won the world champion title in slalom.  She was the queen of slalom again in 2015, 2016, and 2017.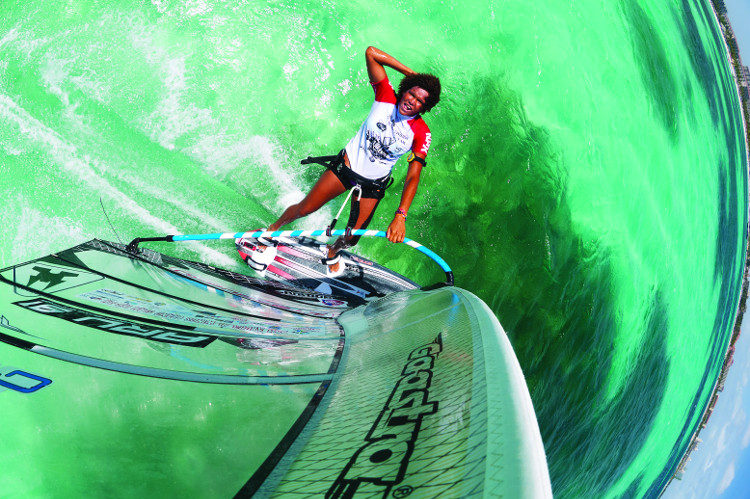 A few years ago, Sarah looked to up the ante once again by adding wave sailing to her repertoire.  If focusing on two disciplines simultaneously is uncommon among professional windsurfers, then tackling all three at once is simply unheard of on the PWA World Tour.  But if anyone can do it, Sarah can.  In fact, she ranked third in wave sailing on the 2016 tour, which is mind-boggling given that the holders of first and second place—the Moreno twins from Spain—have been specializing in wave sailing their entire careers.  Sarah also won the 2016 NoveNove Maui Aloha Classic, which is one of the most prestigious events to win in the windsurfing world.  In 2017, she held onto her third-place overall ranking in wave sailing, and in 2018, she slid into second-place. In 2019, she did the incredible when she won first place at both the 2019 Mercedes-Benz World Cup Sylt and the 2019 Mercedes-Benz Aloha Classic, leading to her first-ever PWA World Champion title in waves. She now holds world champion titles in all three windsurfing disciplines, which is unprecedented in the world of women's windsurfing.
It's now safe to say that Sarah-Quita is the best all-around female windsurfer in the world.  But she doesn't need to proclaim this to the world; she wants to be the best for herself, and herself alone.  Above all, she's keen on having fun and reaching her maximum potential, not exercising her bragging rights.  Over the years, I've gotten to know Sarah-Quita personally—she even joins my husband and me to play tennis when she's on the island.  What has always struck me is not necessarily all of Sarah's incredible accomplishments on the water, but rather how she has stayed so refreshingly grounded, so humble, so Sarah, despite her many windsurfing achievements.  It's these qualities, in my opinion, that make her so special and such an inspiration.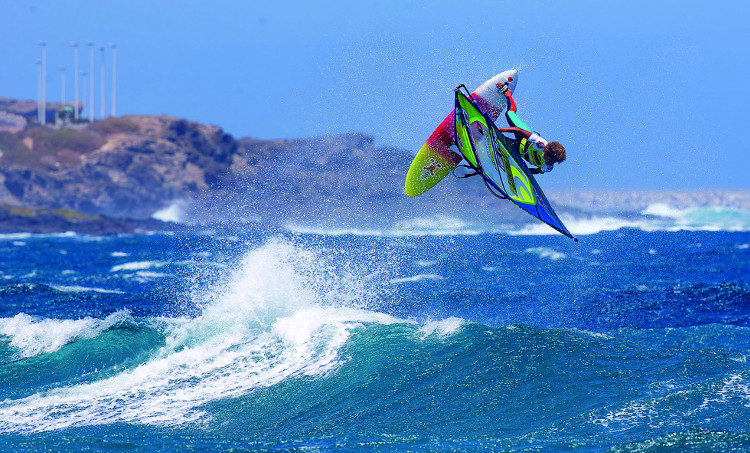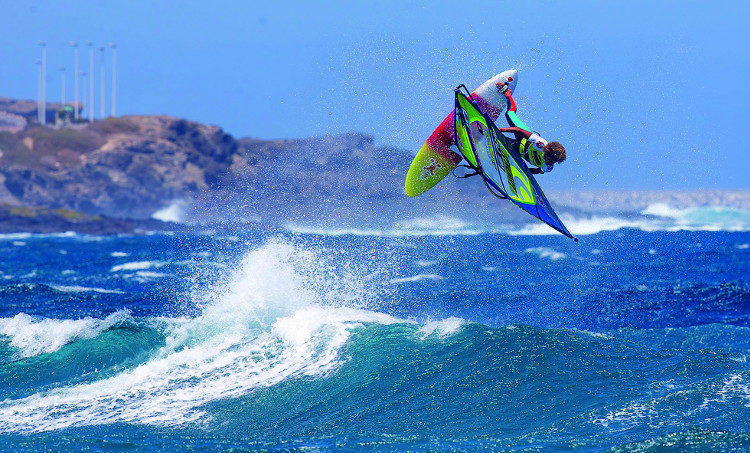 And I'm certainly not the only one who thinks so.  In January 2016, I attended the premiere of Sarah's biographical windsurfing documentary, Cabeibusha – The Curly Gem.  During the event, attended by both young and old, there was a palpable sense of pride and adoration in the theater.  The local community is incredibly proud and fond of this young woman who represents the island of Aruba so beautifully on the international stage.  She is Aruba's cherished darling, and rightly so.
Last updated November 10, 2019