Published on:
Save Room for Dessert!
Text by Debbie Kunder / Images by Steve Keith
Most people heading to a steakhouse for dinner are fantasizing hours in advance about the big juicy steak they're going to order. But me? Well, I don't eat meat nowadays, so the idea of dining at a steakhouse for the evening doesn't really tickle my fancy…that is, until I consider the fact that steakhouses always seem to have the best desserts! Why is that? I'm guessing that it has something to do with the fact that steakhouses already toe the line of debauchery with their marbled steaks and billowy clouds of buttery mashed potatoes. Why stop there? Why not just take it all the way to the hedonistic end with rich, no-holds-barred desserts?
Aruba's steakhouses are no different: after serving mouthwatering appetizers, the meaty main attractions, and an array of tantalizing sides, they tempt diners to finish it all off with the kinds of desserts that dreams are made of. I recently took my fork to some of the desserts offered by four of Aruba's steakhouses, just to get the lay of the land, and as you might imagine, it was an absolutely divine undertaking!
Executive Chef Matt Boland and Chef de Partie Alejandro Cuzano created the nuts and bolts of Sunset's dessert menu, but it was Helen Thiel and Darren Romero, both chefs de partie, who worked together to improve the quality and update the presentation of each dessert. They're clearly a solid team—not only do the refined presentations perfectly reflect Sunset's modern, upscale vibe, but the quality is spot on.
Coconut-Crusted Chocolate Soufflé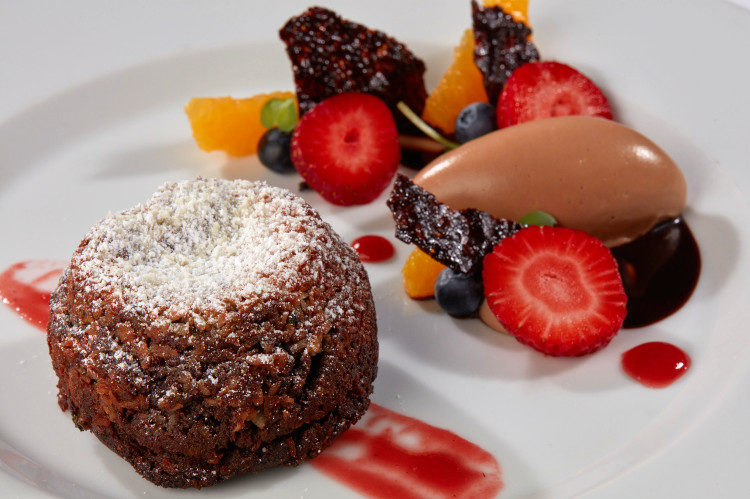 This is one of those desserts that you agree to share with your dining partner, only to end up fighting each other for spoon space down to the very last bite. So order your own, gosh darn it! To me, it verges on a molten lava cake. A rich chocolate soufflé promising an oozy molten center is ensconced within a crunchy jacket of caramelized coconut. Then there's the whipped chocolate ganache, reclining on a bed of fresh fruit and microgreens, its moussey creaminess perfectly complementing the coconut crunch. A chocolate-nib tuile with a rich, toasty flavor and a satisfying snap adds a nice 3D effect. If chocolate is your pleasure, then this soufflé is surely the way to go.
Amaretto Cheesecake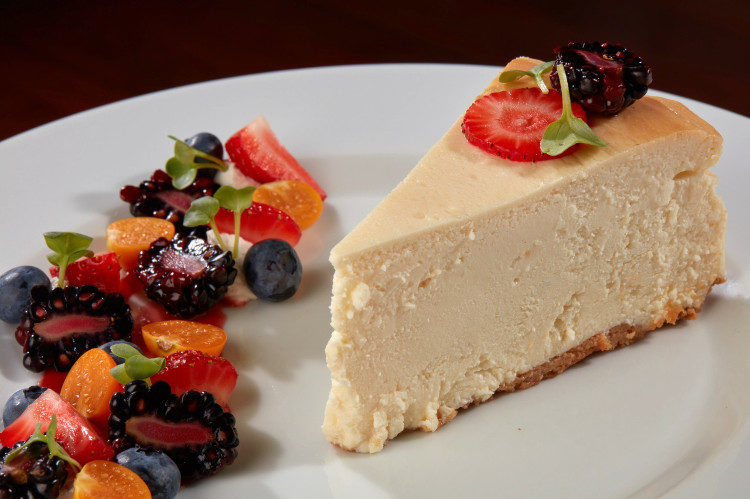 I've always been a big fan of cheesecake, and what I like about this one is that it's not too sweet, which means you can eat more of it! Served as a towering, good-old-American-sized slice, it's a decidedly "cheesy" cheesecake, which I appreciate very much, and the mixed fresh berries create a nice balance of flavors. If you enjoy after-dinner fruit and cheese plates, you'll love this dessert.
While every dessert option on the Ruth's Chris menu calls for attention, I opted for two quintessential New Orleans desserts as a tribute to the restaurant's birthplace.
White Chocolate Bread Pudding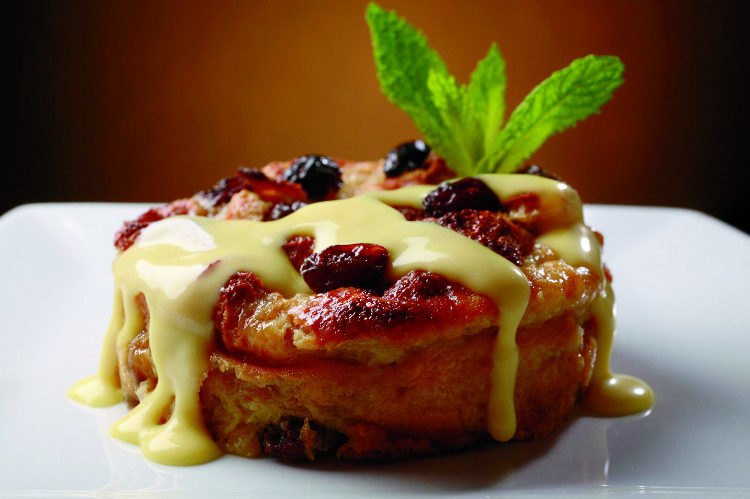 I've loved bread pudding ever since I was little, when my frugal grandmother would whip up a batch using stale white bread, but her version has nothing on Ruth's (sorry Nan). Ruth's is super buttery and moist, with a delicate crème anglaise sauce spiked with the diner's choice of orange Cognac, Frangelico, Chambord, or Tia Maria. I chose Frangelico, which imparted a nice, nutty flavor to the whole ensemble.
Crème Brûlée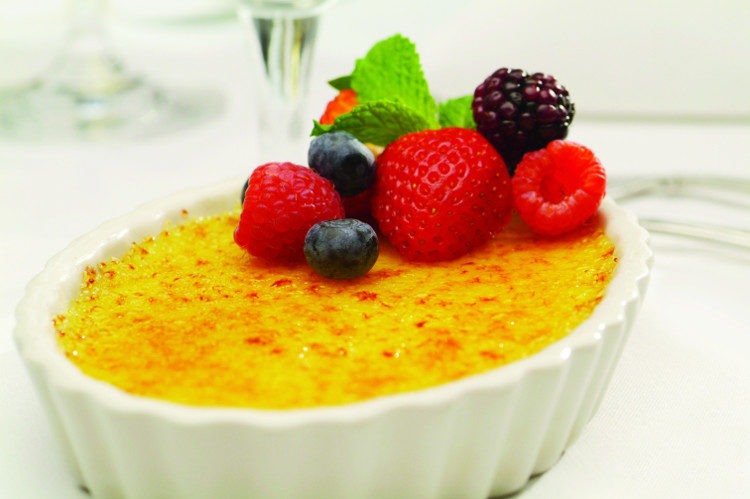 Ruth's signature crème brûlée is by far the best-selling dessert at Ruth's Chris in Aruba. It's no surprise, really—who doesn't love cracking open the crunchy caramelized top to get to that rich, creamy custard? Ruth's version is a classic Creole egg custard topped with fresh berries and mint. The vanilla flavor comes through beautifully, and visible vanilla beans are proof that we're dealing with the real thing here, people. The custard is impressively smooth and quite light, so even if you're already filled to the brim with steak and sides, you could probably still fit in a few (or more) spoonfuls.
Just thinking about the complimentary gruyère popovers served at BLT Steak puts me into a dreamy state, and now I can include BLT's mini doughnuts and crepe soufflé as the stuff of my dreams.
Mini Doughnuts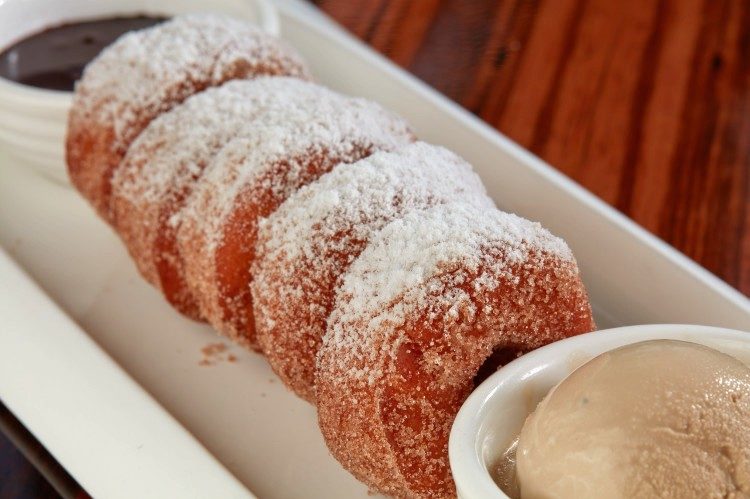 A native of doughnut-worshipping Pennsylvania Deutsch country, I know my doughnuts, and I'm glad to report that BLT's mini doughnuts hold up to my high standards. Covered in both granulated sugar and confectioner's sugar—because why not?—they're nice and light, and pair well with the dark chocolate dipping sauce. Very churro-esque. The coffee ice cream adds the perfect touch.
Crepe Soufflé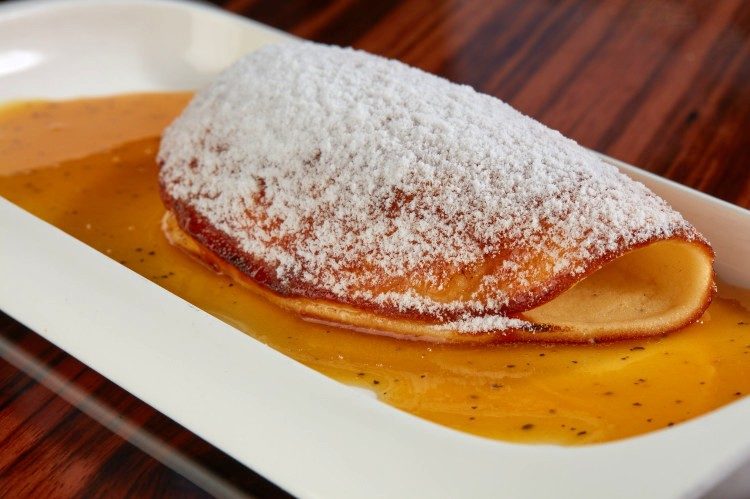 Feeling bogged down by the heavy steak you just devoured? BLT's crepe soufflé is so light that I think it might actually REVERSE that weighed-down feeling! The delicate crepe is filled with a fluffy, cloud-like soufflé that melts when its touches your tongue. The tangy passionfruit sauce perfectly balances the sweetness of the soufflé. At first glance, you might think you need someone to share it with, but you'd be wrong!
Overlooking the Renaissance Marina, this classic chop house has added new appetizers, entrées, and desserts to its menu, taking guests' favorites and giving them a modern, Americana twist.
Warm Apple Pie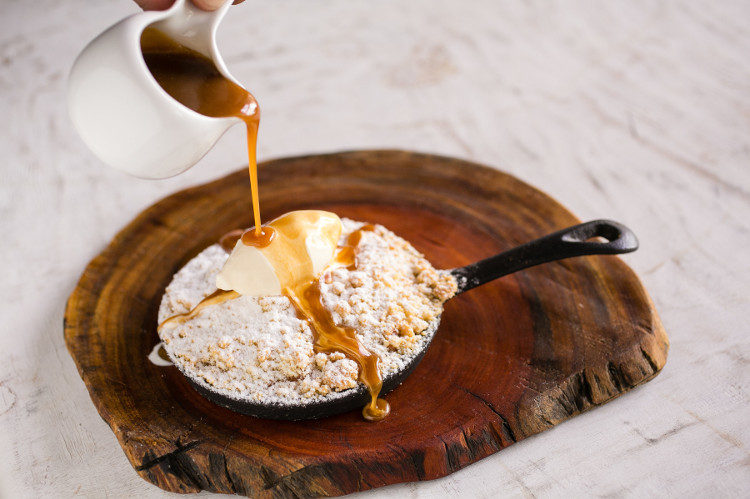 There's certainly nothing more Americana when it comes to desserts than warm apple pie! L.G. Smith's apple pie comes sans crust, which lets the buttery crumble on top of the soft, perfectly spiced apples have its full say. L.G. Smith's wisely decided not to meddle with the classic combination of apple pie and vanilla ice cream. For that, we thank them. And that caramel drizzle? Oh là là.
The Dome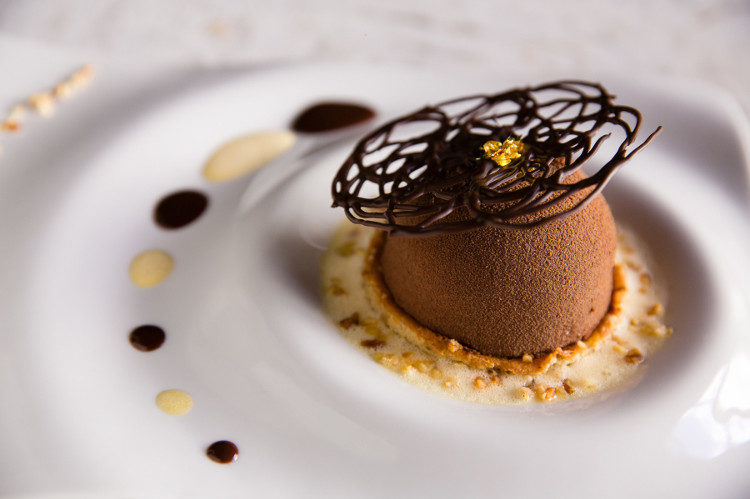 L.G. Smith's takes classic dark chocolate mousse enriched with Nutella and shapes it into a perfect dome for a modern twist. The dome of light and fluffy mousse sits atop a hidden butter-cake bottom for an extra surprise, and toasted hazelnuts add a satisfying crunch. My husband, who helped me polish this one off, is a self-described mousse connoisseur, and he approved of The Dome 100%.
And there you have it. Four stellar steakhouses, eight amazing desserts. Where are YOU going to start?