Published on:
Sea Turtles are Hatching on Aruba!
Text by Tina Causey-Bislick / Video and last image by Patrick van den Berg
This week, I was fortunate to witness the hatching of a sea turtle's nest on the beach at Manchebo Beach Resort. Around 80 little Leatherback sea turtles emerged from the sand, innately knowing to make a mad scramble for the surf. This was one of the first hatchings of the season. Another nest located adjacent to this one should hatch in the next couple of weeks, with several more located on Eagle Beach and a couple of other beaches around the island.
All sea turtles are endangered worldwide, and Aruba's shores have become a favorite nesting place for the Leatherback, Hawksbill, Green, and Loggerhead species. Turtugaruba Foundation, established in 2003 and a member of the Wider Caribbean Sea Turtle Conservation Network, is the local foundation that protects the four endangered species of sea turtles nesting on Aruba. These turtles invariably return to their natal beach to lay their eggs, and Turtugaruba volunteers know exactly where to patrol in order to spot, monitor, and protect turtle nests on the island, primarily at Eagle Beach, Boca Grandi, and Arikok National Park, with occasional nests on Palm beach and Malmok Beach.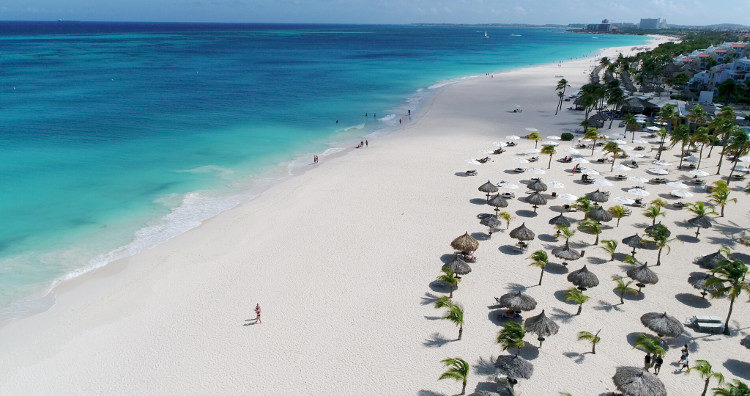 Sea turtles begin their nesting season on Aruba in April, and hatching can continue all the way into December. Volunteers comb the beach during the season looking for nesting turtles so the area can be cordoned off and protected. These marked nests are then monitored, especially in the days nearing hatching, to record the number of babies and to safeguard their journey from the beach to the sea. For information on how to assist the organization, email inquiries to [email protected]. Check out their Facebook page for updates on current nesting and hatching activities, as well as the continued efforts of the foundation. Here are a few tips from the Sea Turtle Conservancy to help our sea turtles:
 Limit night-time beach activity during nesting season.
 Keep beach clean of trash, especially balloons, ribbons, and plastic bags.
 Keep beach furniture and toys out of nesting areas.
 Do not disturb sea turtle tracks, eggs, adults, hatchlings, or nest markers.
 Report all incidents of disturbance that you may witness to the appropriate authorities.
 Never use flash photography or flashlights at a nest site. Even lights from cell phones can disturb the hatchlings if they are near the top of the nest.
 Heed instructions from patrol volunteers if you are fortunate enough to witness a nest emergence.