Published on:
Seduced By Soil
Text by Debbie Kunder / Images by Steve Keith
Most of Aruba's agricultural products are shipped in from abroad, but some locals are trying to change that. In July 2018, 15 local growers joined United Farmers Aruba, a co-op for both large- and small-scale farmers on Aruba working together to successfully produce high quality, sustainable agricultural products for the local community. Interested in what kinds of things these farmers are up to, I visited one of the co-op members, Eco Living Aruba, a husband-and-wife duo. Here is their story:
Eleven years ago, Roos Poels fled Holland and made the great escape to sunny Aruba. She stayed on longer than expected, finding work as a teacher. After a few years, she was ready to leave the island with plans of perhaps moving to Australia, and that's when she met the guy.
The guy—Daniel Barros—had returned to his home of Aruba from culinary school in the States and was working at his family's restaurant, Gasparito, tucked away along a quiet street in Bubali. It was 2014. They fell in love.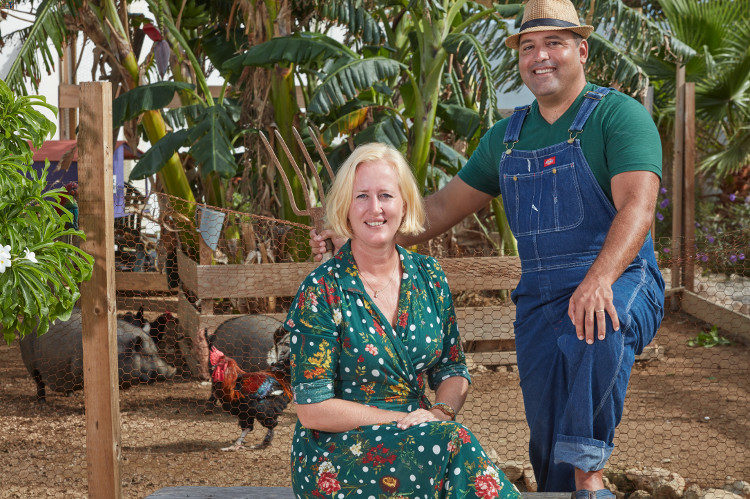 So where does Eco Living Aruba fit into this love story? With a big garden in her yard as a kid, Roos had always loved growing things, and when she moved to Aruba, she harbored the dream of owning a house on a plot of land big enough for a garden—a mere pipe dream in space-crunched Holland. She was initially disappointed when people kept telling her that nothing grows in Aruba, but she still held out hope. Then Daniel came along with his own interest in growing, piqued by his culinary background. The stage was set. Supporting each other's interest in growing, the two set out to show that you could grow things in Aruba.
The couple claimed an empty space on Gasparito's property and started researching and experimenting to create their garden. From the beginning, they both agreed that they wanted to grow in a sustainable, eco-friendly way. "We wanted to work with Aruba's nature and figure out through trial and error what works here," explains Roos. They basically stick to the principles of permaculture—the development of agriculture ecosystems that work with rather than against nature—and even presented a course in it in 2015.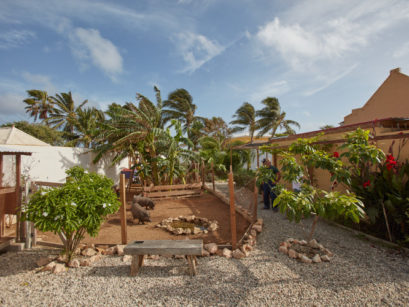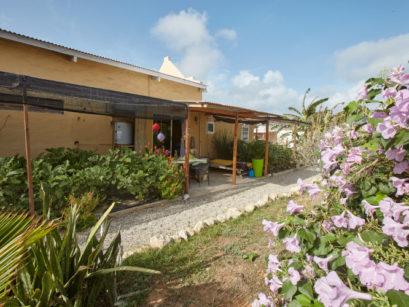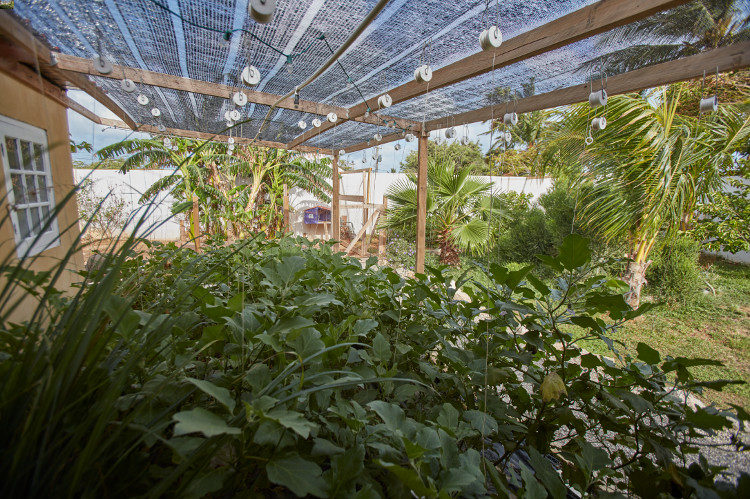 Roos and Daniel are fortunate to be able to tap water from a freshwater well on Gasparito's premises to keep their plants happy, but they've discovered that what keeps their plants the happiest is healthy soil. "Seventy percent of your production success comes down to the health of your soil," explains Daniel. "If you have healthy soil, you're plants will be strong enough to ward off pests on their own, which means no pesticides, which means 100% organic produce." After researching the heck out of composting, the couple set up their own nifty composting system that yields wonderfully rich, healthy soil. Two pigs and some chickens provide the manure.
To figure out what works and what doesn't on Aruba, Roos and Daniel have experimented with a variety of vegetables, including tomatoes, peppers, tobacco, beans, eggplants, and corn, including an almost extinct variety from North Carolina called Jimmy Red corn, as well as Hopi Blue corn from Arizona. They grow one vegetable at a time—the control, if you will—in order to test different variables. It really sounds more like a laboratory than a garden. "In fact, I call it my lab," Daniel confirms.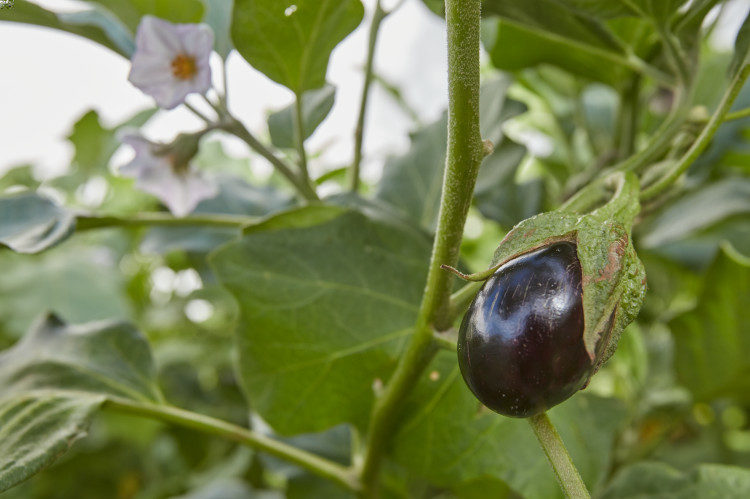 Once Roos and Daniel figure out what works well, they share the results with others. Roos explains, "So at this point, Eco Living is more a business of inspiration. We find out what works well and disseminate that information to others. We're basically saying, 'If you have a small space to grow things in Aruba, here is what you can do, and here's the best way to do it.'"
With the limited space they have, Roos and Daniel are only growing enough for themselves and a little extra to take to community events. When more land becomes available, they plan to increase their production volume. In fact, they're currently waiting on the government for a piece of land that is roughly six times bigger than their plot at Gasparito. When they acquire this land, they can begin producing semi-commercially. Achieving greater production fits in with Daniel's vision for Aruba's future. He shares, "Tourists want an experience when they come to Aruba. Eating locally grown food is part of that experience. If we can figure out how to grow an abundance of food here, on this 'desert' island, that's going to make Aruba unique."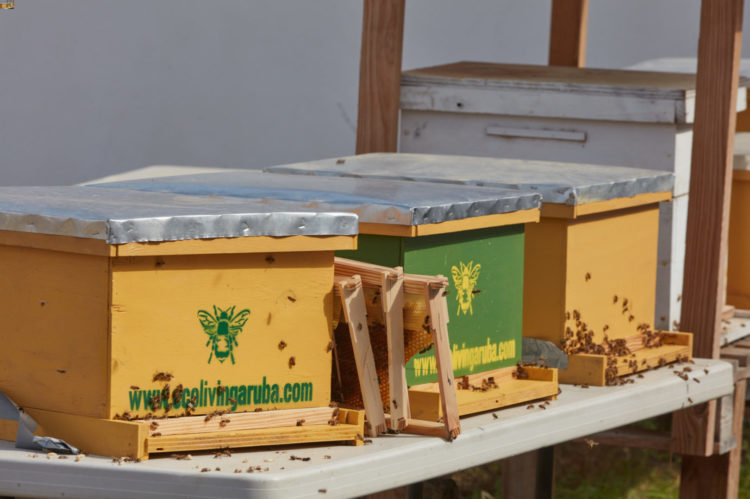 Roos and Daniel are crossing their fingers that the land is granted soon, but they are extremely laid-back and patient, trusting that they'll get the land when the time is right. For now, they're having fun experimenting and inspiring, and there seem to be no bounds to their experimentation. "Since Dan's a chef, he's used to having his hands in more than one pot at once," Roos says with a playful wink. She's referring to the fact that Daniel has also thrown himself into beekeeping. He has five hives on the Gasparito property that he's experimenting with. He also sells hive boxes, helps others set up their boxes, and now, he's even tinkering with the idea of making his own queens. Yes, you heard that right. He's truly unstoppable.
For information on Eco Living Aruba's consulting services, courses, plant swaps, and upcoming events they will be attending, visit @ecolivingaua on Facebook.