Published on:
Shaking Things Up at Gilligan's Seafood Shack
By Rona Coster
Executive Chef Matt Boland of the Hilton Aruba Caribbean Resort & Casino has recently refreshed Gilligan's Seafood Shack lunch menu with a number of new items.
True to the restaurant's name, the menu highlights a number of lobster and crab presentations as well as various just-caught fish preparations, which all pair well with the extraordinary beach location of the terrace restaurant.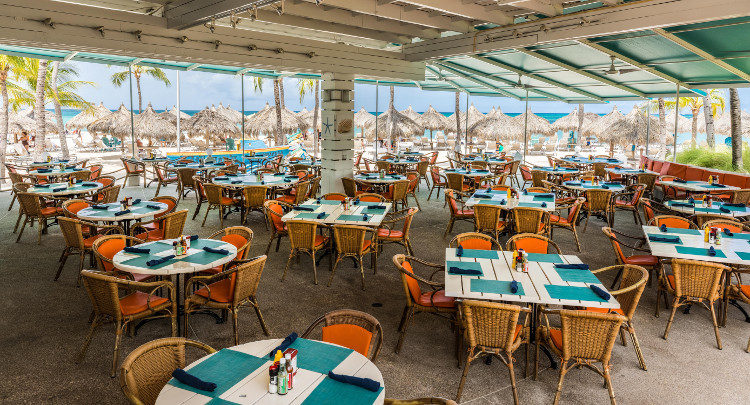 New items added to the already extensive lunch menu include the following: Flash Fried Crispy Bay Scallops, with local pica de papaya tartar sauce; Lobster and Crab Skillet Nachos, with mango fruit salsa; and Portabella Mushroom Melt, on brioche bread with pesto mayo.
The popular beachside terrace restaurant also serves other attractive lunch combos, including Lobster, Shrimp & Corn Fritters, with a citrus chili sauce; the Millionaire's Lobster Roll, with lobster and crab salad, celery, tarragon herb mayo, Dijon mustard, and a squirt of lemon on a buttery toasted bun; and Crab Cake Burger BLT, with an Old Bay lump crab cake, bacon, lettuce, tomato, crispy onions, coleslaw, and a lemon-herb tartar sauce with French fries.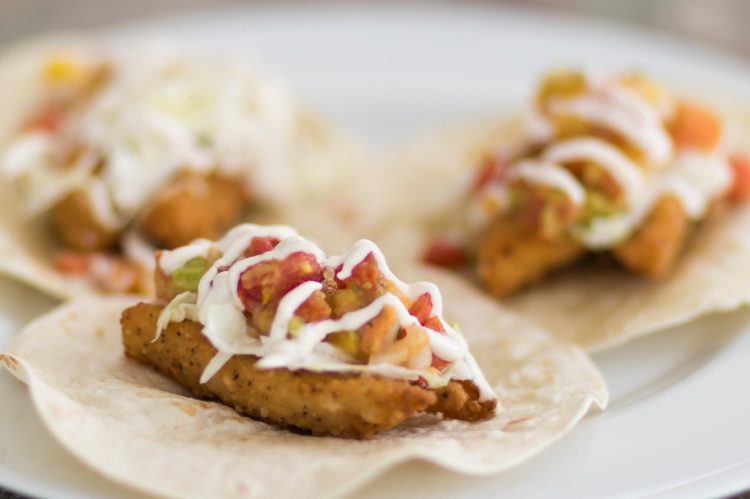 Other notable dishes on the menu are named after the characters of Gilligan's Island, the legendary sitcom from the '60s, which is when the resort was originally constructed.
Shrimp lovers will delight in the Coconut Shrimp, served with mango sauce, and those watching their caloric intake will enjoy the Ahi Tuna Salad, with sweet chili orange vinaigrette on a bed of greens, and the Grilled Salmon Salad, with a mango salsa.
Fish Tacos? Of course, filled with crispy grouper and chipotle cream.
The restaurant wait staff reveals that Freddy's Crispy Fish Fry is the most popular lunch item, competing with the S.S. Minnow Grouper Sandwich. The menu's "Land Side" is filled with wonders, including Castaways Chicken Sate, escorted by coconut peanut sauce and shrimp crackers, and jaw-breaking USDA half-pound burgers.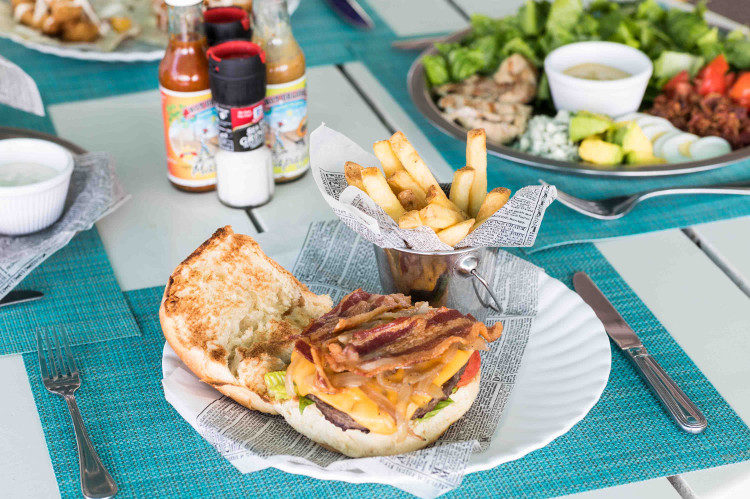 Everything is served with Chef Matt's signature throw-caution-to-the-wind-let's-just-make-it-as-delicious-as-possible attitude.
Great carefree, casual ambiance to match the serious food!